Health care stocks are playing catch-up after about six quarters of underperformance, with many stocks still in the bargain bin, particularly beaten-up biotechs.
Is health care a buy? We think a selective approach is appropriate. Health care has a lower stock correlation than other sectors, reflecting variations in innovation cycles, drug patents and pipelines. That dynamic reinforces the importance of selecting winners and avoiding losers.
Health care stocks have historically traded at a premium to the broader equity market, partly reflecting their growth characteristics and popularity as a source of income. Yet today some sub-industries such as biotech sell at a discount. Many trade near the bottom of their historical valuation range, as the Bargain bin chart shows.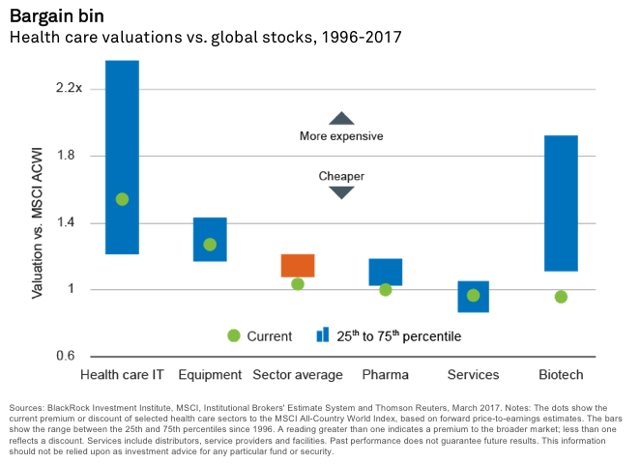 The health care sector is made up of haves (those with potential category-killer medical products including drugs, devices and diagnostics) and have-nots (companies in areas that face generic competition or product obsolescence). An appropriate strategy is focusing on the merits of individual stocks rather than the attributes of the entire sector.
A challenge for drug makers is that politicians, regulators and consumers are clamoring to curb growth in drug prices. U.S. prescription drug prices rose 5.2% in 2016, the largest increase since 2001, according to the Bureau of Economic Analysis. An ongoing Republican attempt to "repeal and replace" Obamacare may lead to more political uncertainties for some health insurers and hospitals. Yet, worries about drug pricing and other policy risks are largely reflected in valuations.
With most large-cap pharma companies in the mature stage of product development, many are seeking to buy growth. U.S. tax reforms encouraging repatriation of overseas cash could trigger a surge in mergers and acquisitions. Pharmaceutical companies will dominate M&A in 2017 if history is a guide.
Bottom line
We see opportunities in biotech, medical device makers, U.S. managed care companies and selected big pharma with promising drug pipelines. Investors can wait for a catalyst such as a takeover (selected small and mid caps) or pocket steady dividends until the market reprices the value of a pipeline. When investing in health care, it's important to be selective.
This post originally appeared on the BlackRock Blog.