By Anwiti Bahuguna, Ph.D., Senior Portfolio Manager, Global Asset Allocation
Consumers feel good about the growth possibilities in the U.S. This coincides with two things: the election of Donald Trump and an improving economy. Will this confidence endure?
The last time consumer confidence was this high was during the 1997-2000 technology boom - a rare occurrence in the more than 50-year history of the Conference Board Index of Consumer Confidence. We haven't seen such strong consumer confidence in the entire recovery period following the 2008 global financial crisis. In fact, all of the components of the confidence survey are much stronger, including consumers' characterization of current economic and labor market conditions and expectations of future economic, job and income growth.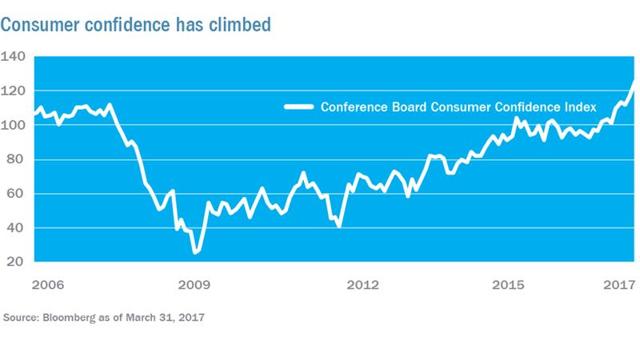 The overall increase in consumer confidence has coincided with the election of President Trump, and confidence levels reflect that expectations are high for a business-friendly political agenda. Therefore, unsuccessful implementation of pro-growth policies would be disappointing to markets. We saw an example of that play out recently when the repeal and replace of the Affordable Care Act failed to move forward, and equity markets temporarily declined as investors questioned if the pro-growth policy agenda will come to fruition.
"The failure of the repeal and replace of the Affordable Care Act gave us a glimpse into what may happen if legislative changes don't materialize."

- Anwiti Bahuguna
However, the strength in consumer confidence has also coincided with cyclical improvements in the economy. It reflects the improving employment and wage data reported in the past few months, and it bodes well for future consumer spending and GDP growth. Even if increasing inflation keeps first-quarter GDP on the lower end of the predicted 2017 GDP growth range, we expect this weakness to be temporary.
Bottom line
Consumer confidence overall is at record high levels, and it may be hard to believe it can get much higher without the legislative action that some of it is based on. Regardless, the improvement in consumer confidence does not only coincide with the election of Trump; there is also real evidence of an improving economy. Even if there are periods of temporary market volatility when legislative setbacks occur, we expect overall growth to continue.
© 2017 Columbia Management Investment Advisers, LLC. All rights reserved.
With respect to mutual funds and Tri-Continental Corporation, investors should consider the investment objectives, risks, charges and expenses of a fund carefully before investing. To learn more about this and other important information about each fund, download a free prospectus. The prospectus should be read carefully before investing.
Investors should consider the investment objectives, risks, charges, and expenses of Columbia Seligman Premium Technology Growth Fund carefully before investing. To obtain the Fund's most recent periodic reports and other regulatory filings, contact your financial advisor or download reports here. These reports and other filings can also be found on the Securities and Exchange Commission's EDGAR Database. You should read these reports and other filings carefully before investing.
The views expressed are as of the date given, may change as market or other conditions change and may differ from views expressed by other Columbia Management Investment Advisers, LLC (OTC:CMIA) associates or affiliates. Actual investments or investment decisions made by CMIA and its affiliates, whether for its own account or on behalf of clients, may not necessarily reflect the views expressed. This information is not intended to provide investment advice and does not take into consideration individual investor circumstances. Investment decisions should always be made based on an investor's specific financial needs, objectives, goals, time horizon and risk tolerance. Asset classes described may not be suitable for all investors. Past performance does not guarantee future results, and no forecast should be considered a guarantee either. Since economic and market conditions change frequently, there can be no assurance that the trends described here will continue or that any forecasts are accurate.
Columbia Funds and Columbia Acorn Funds are distributed by Columbia Management Investment Distributors, Inc., member FINRA. Columbia Funds are managed by Columbia Management Investment Advisers, LLC and Columbia Acorn Funds are managed by Columbia Wanger Asset Management, LLC, a subsidiary of Columbia Management Investment Advisers, LLC.
Columbia Threadneedle Investments is the global brand name of the Columbia and Threadneedle group of companies.
NOT FDIC INSURED · No Bank Guarantee · May Lose Value