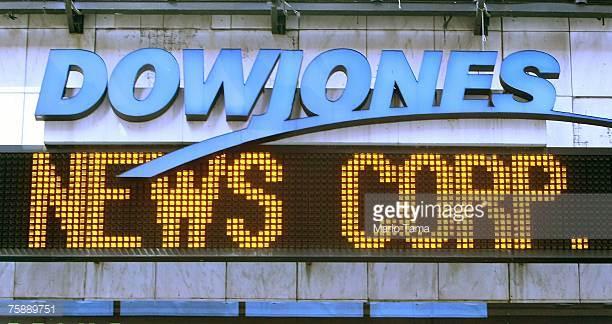 Dividend investing has never been more popular. With interest rates still near all-time lows, investors continue to search for yield wherever they can find it. I generally don't look for stocks with the highest yields, since many companies have put themselves in positions where they can't service the dividend. This forces them to either cut the dividend or even worse, increase debt. I look for stocks that have a nice yield today, but are also in a position to continue increasing future dividend payments. With all that being said, this analysis is fairly narrow in that it only considers the 30 stocks listed on the Dow Jones Industrial Average. Of those 30 stocks, I further narrowed the analysis down to the Dow's 15 highest stocks in terms of dividend yield. In general, I looked for the following key attributes:
Capacity to sustain and increase dividend payments (i.e. the lower the payout ratio, the better)
History of increasing dividends
Attractive valuation
Projected earnings growth
Healthy balance sheet
Based on my analysis in the table below, I recommend buying Pfizer (NYSE:PFE), Cisco Systems (NASDAQ:CSCO), and Intel (NASDAQ:INTC). Each of these stocks is a cash flow machine, the most important aspect of being a high-quality dividend stock, in my opinion. Each of these stocks also is attractively valued, has a clean balance sheet, and a high-likelihood of increasing dividend payments in future quarters.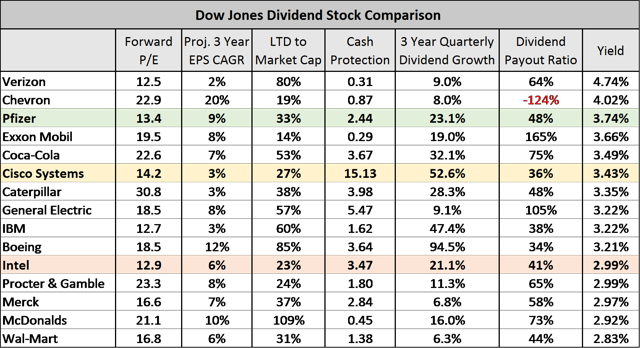 Forward P/E & Projected 3 Year EPS CAGR data provided by S&P 500 IQ Reports
Cash Protection is calculated with the most recent quarter's cash balance divided by the previous fiscal year's dividend payments (i.e. a 1 would indicate that a company could cover their dividend payment with cash reserves for 1 year with everything else held constant. A higher number is better and means more cash reserve coverage).
3 Year Quarterly Dividend Growth is the total growth over the most recent 3 years, it is not a compounded growth measure.
Dividend Payout Ratio is calculated using the company's average free cash flow production divided by average dividend payments over the previous 3 years. Free cash flow was calculated using cash flow from operations and deducting capital expenditures.
Pfizer - 3.74% Dividend Yield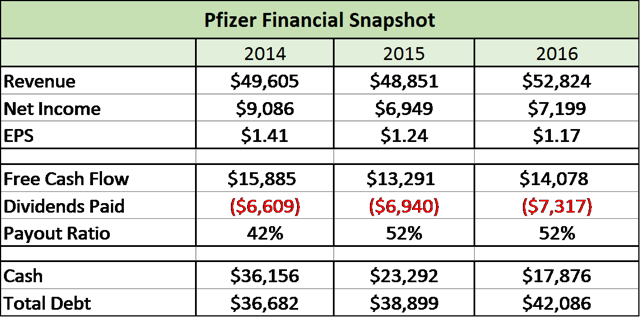 Pfizer has one of the longest running dividends of any pharmaceutical company and with a payout ratio of approximately 50%, there is plenty of safety and room to grow. What I like most about Pfizer is that it's attractively valued (13.4x forward P/E), but also has a high projected EPS growth rate of 9%. This equals a PEG ratio of 1.5x, which is very low for a large-cap blue-chip stock.
Cisco Systems - 3.43% Dividend Yield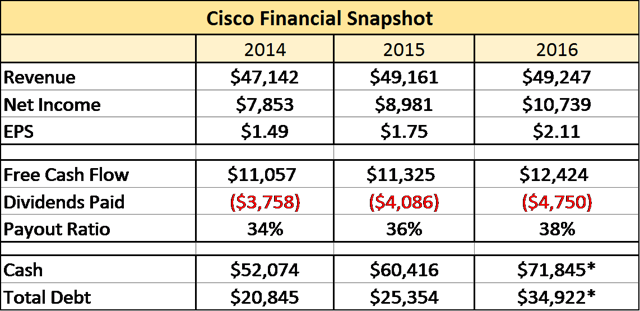 Even though Cisco isn't much of a growth play, their numbers are quite impressive across the board. Cisco is a cash generating machine and has a low payout ratio (36%), attractive valuation (forward P/E of 14.2x), low amount of leverage, and monster cash balance. I was actually surprised to see just how big Cisco's cash balance actually was ($72 billion in cash vs. a market cap of $168 billion). Cisco kind of reminds me of Apple (NASDAQ:AAPL) in the fact that they have so much cash, they simply don't know what to do with it all. I believe Cisco will have the Dow's highest yield in couple of years. They have been drastically increasing it (52% over the last 3 years) and since they don't need to horde any more cash, they are free to put a high percentage of their cash flow to dividend payments.
Intel - 2.99% Dividend Yield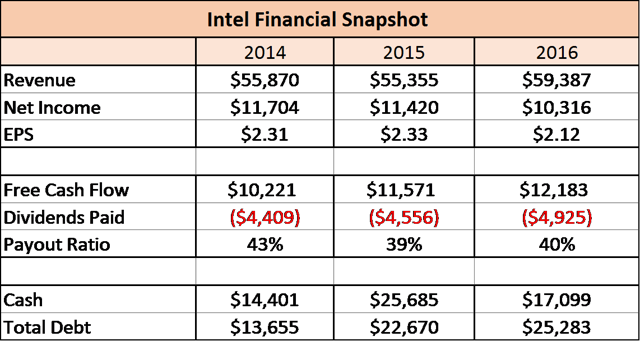 Intel is another stock that's just solid across just about every metric. I liked their low payout ratio, low leverage, modest growth, and out of the 15 stocks analyzed, only IBM has a lower forward P/E ratio.
Stocks That Are Always Solid Choices
After Pfizer, Cisco, and Intel, there are still some great dividend stocks leftover on the Dow. The stocks listed below are some of the top blue-chips that investors have relied on for many decades. They have strong brands, long standing dividends, and long histories of profitability. Because of those factors, they also generally trade at higher multiples. So while I consider these stocks as good investments, you're probably not going to find any hidden value here:
Stocks With Potential Dividend Cuts Looming
So far, I've covered 12 of the 15 highest yielding dividend stocks on the Dow Jones. That leaves 3 that I'm a skeptical of in the short-term. I'm not necessarily saying that these stocks are bad investments over the long-term, but each has increased their dividend to unsustainable near-term levels. Dividend cuts are generally not perceived favorably by the market, so I'd avoid buying these in the near-term if your focus is on dividend income and growth.
Verizon (VZ) currently tops all other stocks on the Dow in terms of yield, but don't let that fool you. Verizon is over-leveraged and doesn't have much in cash reserves. Verizon will have difficulty maintaining its dividend with any deterioration in performance. Verizon also stacks up very poorly against AT&T (NYSE:T), which has a comparable yield, but better growth prospects, a strategic advantage (i.e. DirecTV acquisition and pending Time Warner acquisition), and lower leverage.
Chevron (NYSE:CVX) actually produced negative free cash flow every year for the last 3 years, which caused them to use cash reserves to fund dividend payments (I'm not a fan of this). 2017 and 2018 are expected to be much stronger years, but it might not be enough to cover dividend payments. Chevron does have a clean balance sheet and could use debt to fund short-term funding gaps, but I'm generally against this in any circumstance.
Exxon (NYSE:XOM) is in a better situation than Chevron, but its a similar story. The oil business just isn't as attractive as it was a few years back. High capital investment costs eat away at free cash flow, which there is now less of due to cheaper oil prices, which leaves far less cash leftover to pay dividends.
Conclusion

In the table above, I've summed up where Pfizer, Cisco, and Intel stack up against the 15 highest dividend yielding stocks on the Dow Jones. Each generally has an attractive valuation, growth potential, a clean balance sheet, and is in a position to continue increasing its dividend.
Disclosure: I am/we are long AAPL.
I wrote this article myself, and it expresses my own opinions. I am not receiving compensation for it (other than from Seeking Alpha). I have no business relationship with any company whose stock is mentioned in this article.