With three simple criteria, I developed a short list of large cap dividend stocks that every conservative investor should consider adding to their portfolio. The goal was to find a number of stocks with an above average dividend yields, ultra conservative balance sheets and reasonable payout ratios. Below, I outline the screen I created and the 8 stocks that passed the test.
The Screen
Equity Universe: S&P 500 (in the future, I might well do this analysis on smaller cap stocks as well)
Criteria:
Dividend Yield greater than 3%
Payout Ratio less than 70%
Net Long Term Debt to Market Cap less than 10%
The Results (ranked from largest to smallest based on market cap)
Intel (NASDAQ:INTC)
Dividend Yield = 3.01%
Payout Ratio = 36%
LT Debt to Market Cap = 5%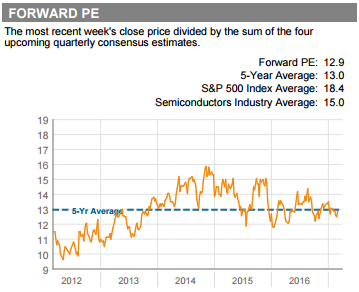 Intel's debt may soon rise about the 10% threshold thanks to its acquisition of Mobileye (NYSE:MBLY). While the majority of dividend investors are likely confused by the massive multiple that Intel paid for Mobileye, the firm has the balance sheet strength necessary to make the deal and continue paying above average dividends. Trading at a reasonable forward multiple (it's cheaper than the market and slightly cheaper than its 5 year average), Intel is certainly worth considering.
Cisco Systems (NASDAQ:CSCO)
Dividend Yield = 3.45%
Payout Ratio = 53%
LT Debt to Market Cap = -22% (net cash)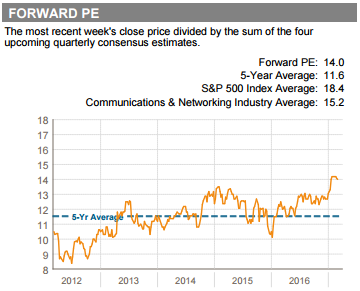 Cisco has by far the largest net cash balance of any of these 8 companies. However, it is also trading at a higher forward earnings multiple than it has at any point over the last 5 year period. A solid dividend paying stock, but difficult to buy at these levels.
Altria Group (NYSE:MO)
Dividend Yield = 3.41%
Payout Ratio = 32%
LT Debt to Market Cap = 7%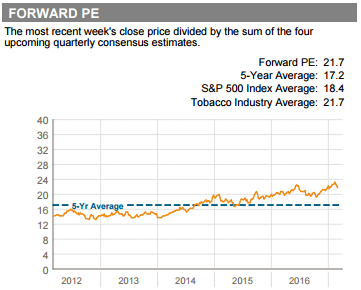 Altria has been a fantastic dividend growth story over the last decade. However, like Cisco, the stock currently trades well above its five year average forward multiple. It is worth adding to a watch list and possibly adding to if a market correction occurs, but difficult buying at more than 21x forward earnings.
Boeing (NYSE:BA)
Dividend Yield = 3.22%
Payout Ratio = 56%
LT Debt to Market Cap = 0%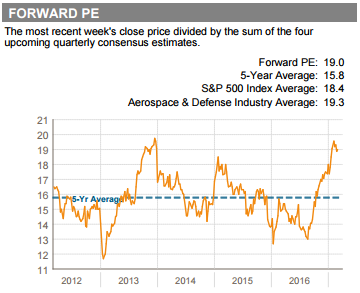 6 months ago, trading at the low end of its valuation range, Boeing looked like a compelling opportunity. However, after a gain of nearly 35%, the shares now appear fairly expensive. Boeing has a free cash flow yield of over 7%, suggesting that future dividend increases can be expected. Unfortunately, this is another high quality stock which is currently too expensive to buy with confidence.
Qualcomm (NASDAQ:QCOM)
Dividend Yield = 3.75%
Payout Ratio = 63%
LT Debt to Market Cap = -8% (net cash)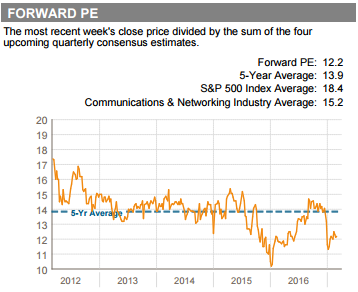 Qualcomm is certainly priced attractively compared to the market as a whole and its historic average. There are plenty of negative headlines about lawsuits, the company is in the midst of a large acquisition (NASDAQ:NXPI) and despite the low multiple, some believe that the stock remains overvalued. Like Intel, Qualcomm's balance sheet will look different after its major transaction is completed. There are definitely reasons to be cautious about Qualcomm's outlook, but if you are a dividend investor looking for an above average yield trading at a discounted multiple, it's tough to ignore this stock.
VF Corp (NYSE:VFC)
Dividend Yield = 3.07%
Payout Ratio = 59%
LT Debt to Market Cap = 5%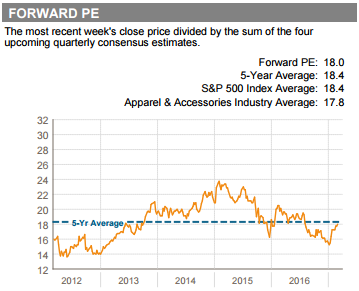 VF Corp does not have the highest dividend yield of the group. Nor does it have the most attractive valuation. However, the company has a 40+ year track record of consistent dividend growth, a conservative balance sheet and is not being sued by one of its largest customers (like Qualcomm is). While the stock has rebounded recently, the above chart demonstrates that its current valuation is in line with its historical average. If you are looking to buy a dividend aristocrat at a reasonable price without the legal risks associated with Qualcomm, VF Corp is a strong choice.
CA Technologies (NASDAQ:CA)
Dividend Yield = 3.23%
Payout Ratio = 54%
LT Debt to Market Cap = -6% (net cash)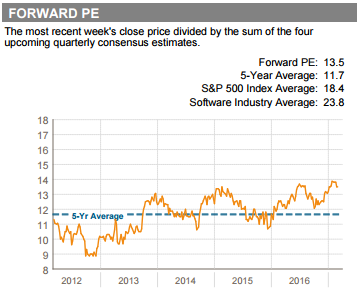 CA is a difficult stock to get excited about. Performance has been roughly flat over the last year, but the valuation remains elevated compared to its historical average. It generates strong levels of free cash flow, but revenue has been declining since 2012 and the firm has not generated any sort of meaningful dividend growth during the last 4 years. Although CA meets all of the criteria in my dividend screen, there are other stocks that should be considered ahead of it.
Gap (NYSE:GPS)
Dividend Yield = 3.88%
Payout Ratio = 54%
LT Debt to Market Cap = -5% (net cash)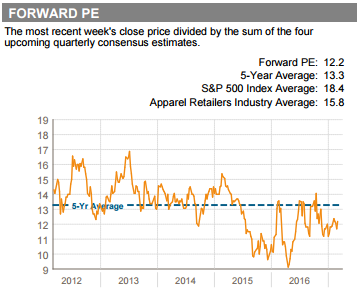 For all the gloom and doom surrounding the retail sector, analysts estimate that The Gap will see modest sales growth, both this year and next. The cyclicality of retail tends to scare many dividend investors off, but Gap offers one of the more conservative balance sheets in the sector. With a yield of nearly 4% and a payout ratio of only slightly above 50%, Gap deserves more attention by value-oriented dividend investors.
Conclusion
Despite the elevated valuation of the S&P 500 and dividend paying stocks in particular, a few compelling opportunities do still exist. While Intel, Altria, Cisco and Boeing are all solid dividend paying companies that can easily form the foundation of a strong portfolio, the analysis suggests that Qualcomm, VF Corp and The Gap offer better value at their current prices.
For very different reasons, Qualcomm and The Gap trade at significant discounts to their historical averages. However, if you are willing to pay a higher multiple for a long dividend growth track record and less operational and legal risk, VF Corp is a particularly attractive option.
Disclosure: I/we have no positions in any stocks mentioned, and no plans to initiate any positions within the next 72 hours.
I wrote this article myself, and it expresses my own opinions. I am not receiving compensation for it (other than from Seeking Alpha). I have no business relationship with any company whose stock is mentioned in this article.