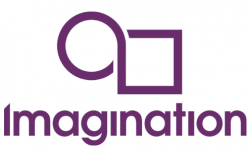 Monday's share price collapse at Imagination Technologies (OTC:IMGTY) (OTCPK:IGNMF) saw the stock fall as far as 66% during trading - and many private investors will be feeling the pain. It was triggered by news that Imagination's biggest client Apple (NASDAQ:AAPL) is set to pull out of a long-standing licensing deal with the company.
Before Monday, Imagination showed the worrying signs of being a Momentum Trap. In its favour, its shares were supported by positive price momentum and brokers had been upgrading their earnings forecasts in recent months. But it was still financially weak and the stock looked expensively priced. Monday's slump shows just how Momentum Traps can suffer when sudden disaster strikes. So what were the warnings signs and how can investors be aware of them?
What's the deal?
Imagination supplies the technology behind the Graphics Processor Units used in Apple's most popular devices. Last year, Apple paid £60.7 million in fees and royalties for the privilege. That accounted for about half of Imagination's total revenue. This year the figure will be closer to £65 million.
But the deal will now end over the next 15 to 24 months, although legal wrangles and negotiations could ensue. In a statement, Imagination questioned Apple's ability to bring the technology in-house without infringing on its intellectual property rights. It suggested that talks were now focused on "potential alternative commercial arrangements for the current license and royalty agreement."
But Apple isn't just Imagination's biggest customer, it's also one of its biggest shareholders, with a reported stake last year of 8.48%. Indeed, just a year ago Apple confirmed that it had been in talks to buy Imagination, but those discussions apparently went nowhere. If Apple now starts selling down its stake in the company, it could put extra downward pressure on the price.
Strong momentum...
A sequence of profit warnings and poor interim figures wrapped up a dire year for Imagination in 2015. But a restructuring of the business helped the share price recover through 2016 and the stock ended the year up 88%.
These changing fortunes were reflected in increasingly optimistic broker forecasts. Since last September, the broker consensus EPS forecast for 2017 has risen from 5.4p to 6.3p (last month).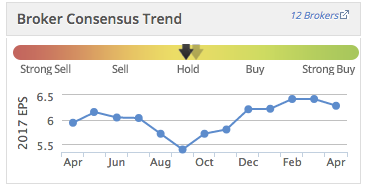 Together, these two momentum indicators contributed to a rise in Imagination's Momentum Rank from just 8 (out of 100) in January 2016 to 87 in February this year. The stock had clearly caught the attention of analysts and investors and its popularity was driving the share price.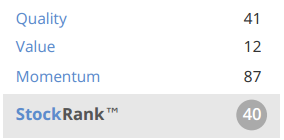 However, there were warning signs that this momentum was at risk in recent weeks. In March, brokers trimmed back their forecasts and the share price lost ground. As a result, Imagination's Momentum Rank fell sharply to an unremarkable 55.
… but questionable Quality and Value
With a market cap of £761 million just prior to the Apple announcement, Imagination doesn't fit the mould of the typical blue sky story stock. But it's clear that hope played an important factor underpinning the price - as well as the presence of Apple as a major customer and shareholder.
The company has posted net losses over the past two years, while earnings, margins and return on capital employed have all slumped over the past five years. Imagination achieves a lowly three out of a possible nine passes against the Piotroski F-Score of improving financial strength. As a result, its Quality Rank is just 41.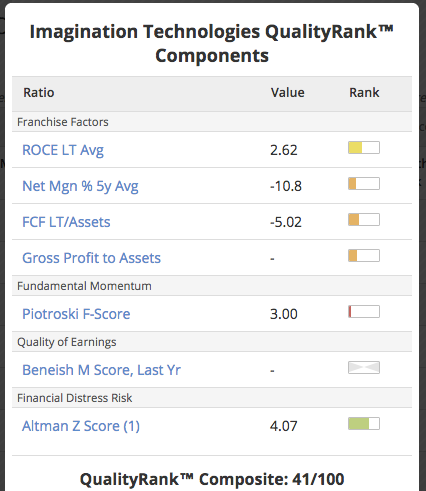 Yet, despite these concerning quality scores, Imagination shares have consistently looked expensive. With a Value Rank of just 11, the stock is on the cusp of being one of the top 10% most expensive shares in the market. The strong momentum in the shares over the past year has exacerbated this.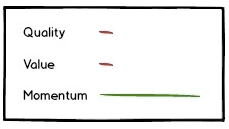 Put together, Imagination's strong momentum but lacking quality and expensive valuation positioned it as a classic Momentum Trap. At the first sign of trouble, investors with high hopes and expectations were always likely to run for cover. The news that Apple is set to end its current arrangements with Imagination is perhaps their worst nightmare.
Stocks with this kind of single-factor exposure are often worth avoiding. With an overall StockRank of 25 before Monday, Imagination had very little exposure to the factors that have historically driven investment returns. In the absence of any momentum, it's likely that it will sadly find itself in Sucker Stock territory in the near future.
Editor's Note: This article discusses one or more securities that do not trade on a major U.S. exchange. Please be aware of the risks associated with these stocks.