Following the debacle of 2007-2008, the U.S. real estate market has since been characterized by a significant improvement in prices, number of transactions and mortgage originations. This has been the result of an economic recovery that will be completing its 8th year in June 2017, coupled with the generally expansionary monetary policy of the Federal Reserve. To understand how real estate markets in 2017 and beyond will unfold, it is necessary to look at various determining elements, including 1) Mortgage originations 2) Economic growth 3) Housing affordability 4) Interest rate policy and 5) Construction activity. This article analyses what has been driving real estate in the years since the 2007-2008 financial crises, what are the current price trends and what can be expected this year and onwards.
The US Real Estate Market since 2007
The years 2007-2009 proved to be a historical event for American housing. The economic crisis, in great part caused by the proliferation of subprime mortgages, led to significant bankruptcies in the financial sector and a recession which shrunk GDP by 0.3% in 2008 and 3.1% in 2009. The effects on real estate prices was swift and significant, as for the first time ever the USA experienced a nationwide fall in housing prices: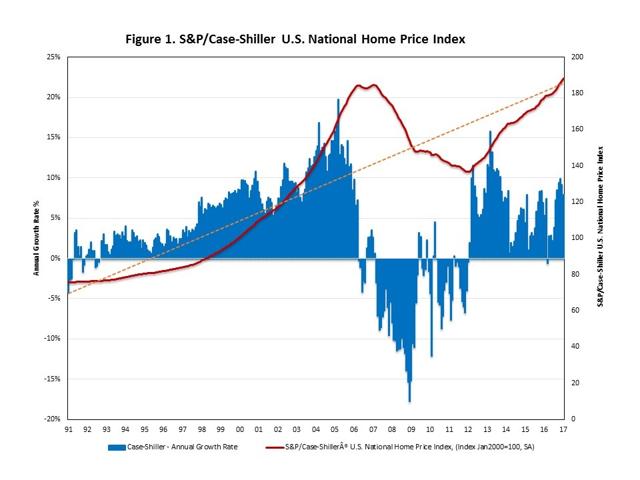 The S&P/Case-Shiller U.S. National Home Price Index from a peak of 184.62 in July 2006 reached a nadir of 134.01 in February 2012, or a fall of 27%. Regional markets, in particular Las Vegas, Phoenix, Miami and California, were hit with bigger corrections, ranging from 40% to 65%. Construction activity was likewise hit, with housing starts falling from 1.49 MLN a month in March 2007 to below 0.5 MLN monthly in Q1 2009: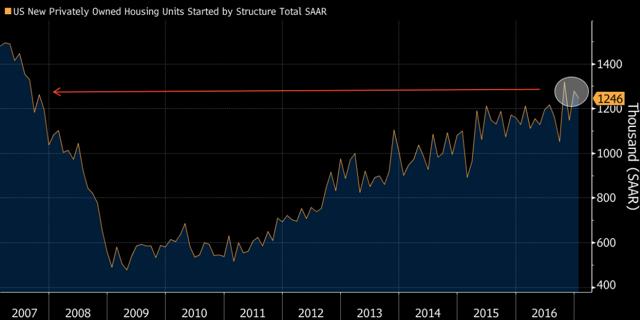 With the introduction of low interest policy by the Fed and a return of economic growth, the rebound in prices has been substantial and sustained. Nationwide prices have risen to an all-time high of 185.51 in January 2017, after eclipsing the July 2016 high for the first time in November 2016. This represents a gain of 38.4% from the February 2012 trough, with regional markets, mostly the hardest-hit ones of the Southwest and Southeast, registering even larger gains (Las Vegas: 72.1%, San Francisco: 82.1%, Miami: 58.3%).
In addition, global macroeconomic and political uncertainty has been a driver of US real estate purchases by foreigners, especially in major cities. In 2013 foreign purchases made up 7% ($92.2 BLN) of total residential transactions of $1.2 TLN, rising to $104 BLN in 2015. The latter number was more than 2.5 times the 2009 figure: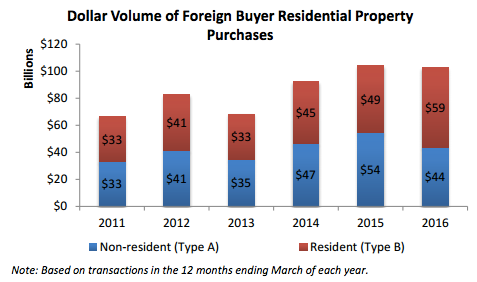 The Residential Mortgage Market
The mortgage market is a fundamental driver of real estate transactions and prices in the USA. It is the largest in the world, with a total outstanding balance of $8.48 TLN as of Q4 2016, a $130 BLN increase from Q3. According to data from the Federal Reserve, mortgage originations in Q4 2016 totaled $617 BLN, up 41.2% from $437 BLN in Q4 2015: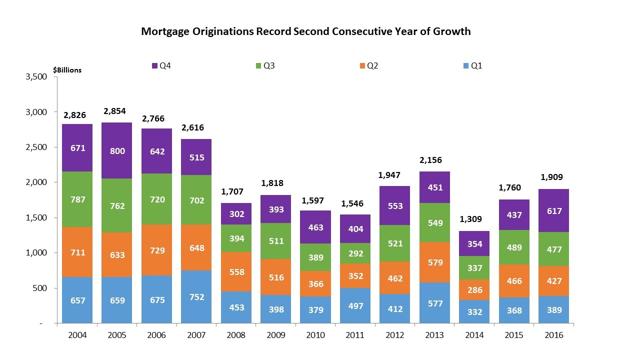 Uncertainty over the incoming Trump administration since November 2016 has resulted in an increase in mortgage rates, which rose back above 4% for the first time since 2015: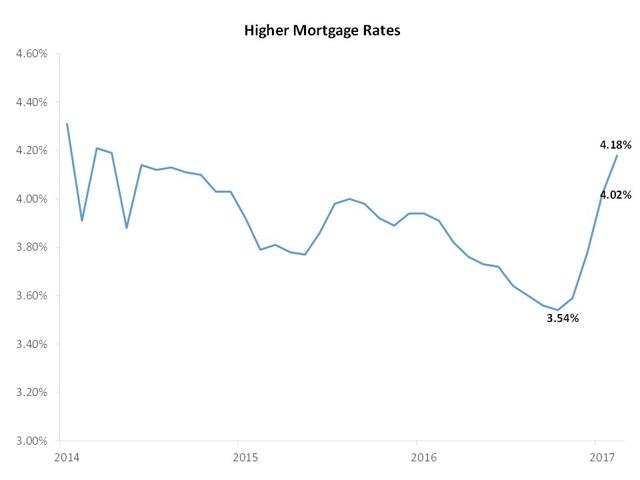 Historically they however remain close to the all-time low of 3.31% in November 2012 and significantly below the 18% high of Q1 1981. February 2017 mortgage rates for single-family newly constructed homes increased by 16 basis points to 4.18%. This is the highest rate since H2 2014 and 64 basis points above the low of 3.54% of October 2016.
Despite the rise, the mortgage demand remains strong. Q4 2016 originations were the largest quarterly figures since the $642 BLN of Q4 2006. Largely thanks to Q4 growth, origination volume in 2016 exceeded the $1.76 TLN of 2015 by 8.5%, reaching $1.91 TLN and marking the second consecutive year of origination growth.
Residential Housing Starts
Housing starts during February 2017 improved 3.0% to 1.288 MLN from 1.251 MLN in January: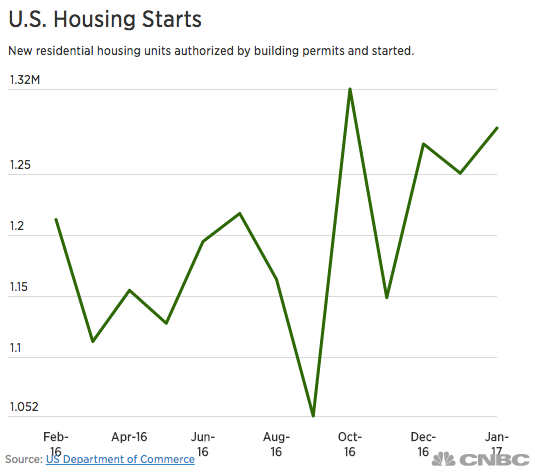 Although partially helped by unseasonably warm weather, this was the highest figure in 9 and a half years, close to pre-crisis levels: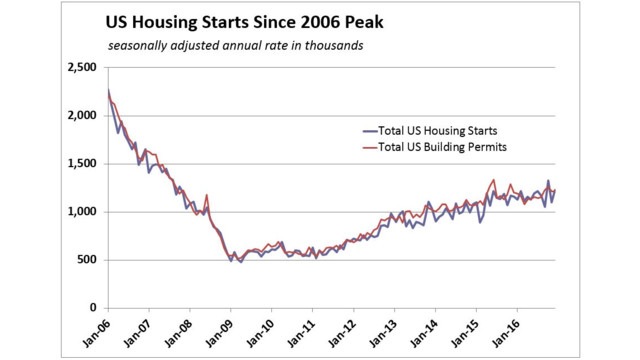 The Commercial Real Estate Market
Like residential housing, the commercial real estate (CRE) market (offices, retail and industrial premises) has also experienced significant appreciation in the past decade. Since bottoming out in Q4 2009, prices have roughly doubled while national office rents have risen by approximately 15%: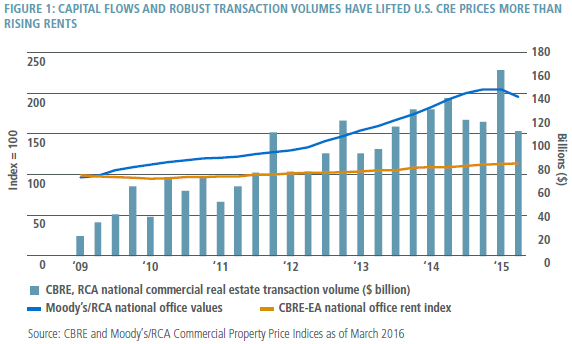 The faster growth of prices vis- à-vis rents can be attributed to steady capital flows and a search for yield on the part of institutional investors. This trend has gradually reduced the yield (as measured by the cap rate) of CRE assets since 2009: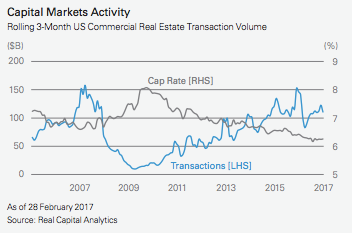 In addition, combination of negative interest rate policy in the EU and Japan, in addition to the poor performance of emerging market currencies, have made US commercial real estate a safe haven for foreign yield-seeking investors since 2012. Foreign private investment has risen from $22 BLN in 2012 (8% of total transactions) to $84 billion in 2015 (16%).
Transactions and prices began to shows signs of slowing in 2016. Overall office sales fell 7% from 2015, to $140.5 BLN. The slowdown has strengthened in 2017, as commercial property deal volume fell 47% YOY in January, the biggest monthly decline since 2009: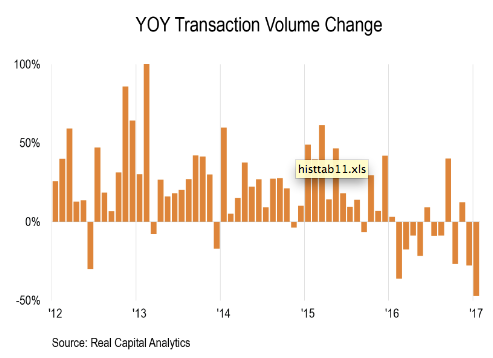 Nevertheless, loans to commercial real estate remain strong, having reached an all-time high of $1.99 TLN in 2016: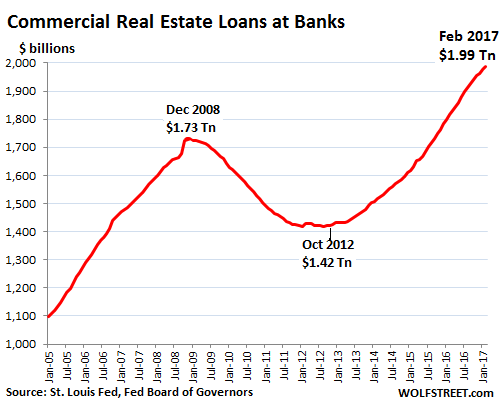 Foreign investors have picked up part of the slack in purchases, with office investment surpassing $20 BLN in 2016 and representing 16% of the overall acquisition volume. At the higher end of the market, of the 50 largest commercial real estate acquisitions in the US in 2016, non-US buyers accounted for 43%.
Recent Price Trends - Residential
Housing prices have began to show signs of weakness. Median s ales prices for new homes broke below the $300,000 barrier in February 2017 for the first time since July 2016. Prices remain in line with the figures of late 2014: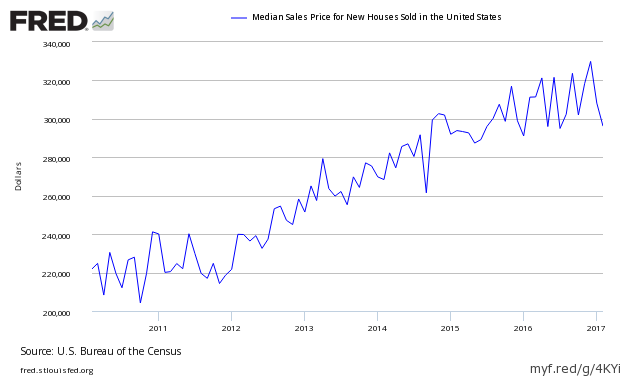 Housing prices MOM changes have now reached a 5-year low and are close to becoming negative: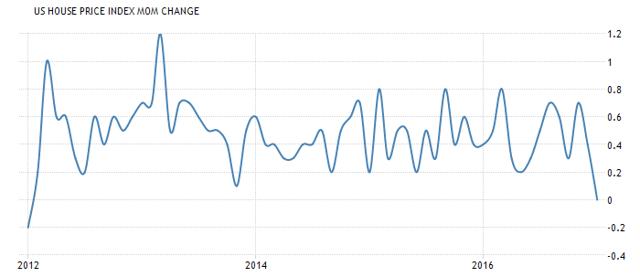 The Case-Shiller U.S. National Home Price Index rose 7.9% in January 2017, slower than the 9.2% increase in December 2016. Nineteen of the largest 20 metropolitan areas had positive home price appreciation: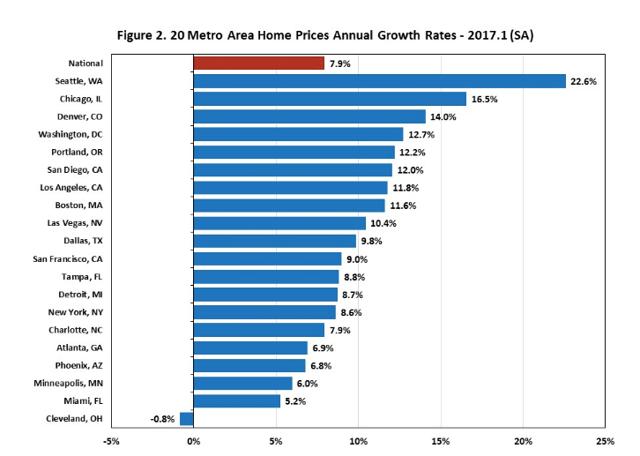 Despite the continued price growth, vacancy rates slightly moved upward in 2016 over 2015: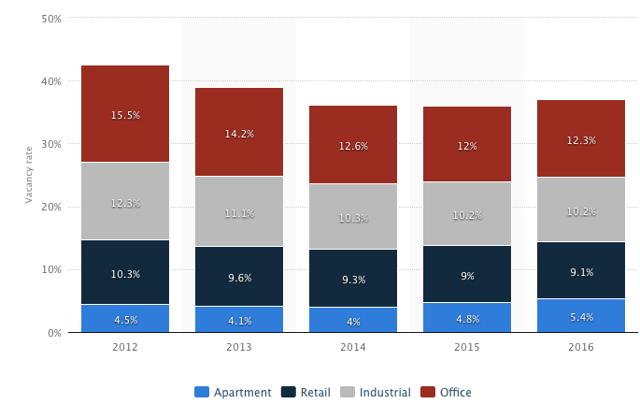 This has contributed to tempering price growth. The average price of a single-family house was unchanged in January 2017 over the previous month, following a 0.4% rise in December and below an expected 0.4% gain. The YOY gain was 5.7%, slightly below the 6.2% of December. The supply of homes on the market remains tight. There were 1.69 MLN units available in January, up 2.4% QOQ over the all-time low of 1.65 MLN units of December 2016. Housing inventory was down 7.1% YOY, completing a 20 month stretch of declines on a YOY basis.
Recent Price Trends - Commercial
As in the case of residential properties, price growth has begun to taper. The GPPI index of commercial property prices in February was flat for the fourth month in a row at 126.7: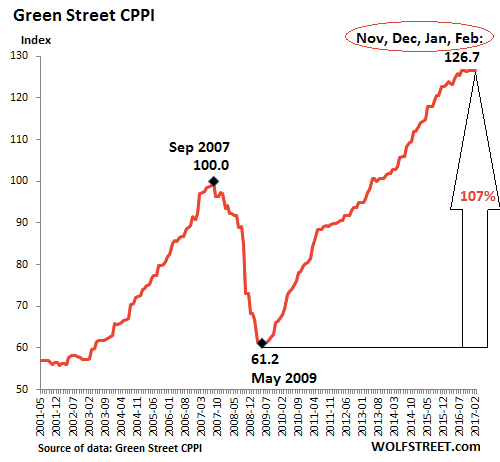 This was the first series of 4 consecutive no-growth months since 2000. The YOY growth for February 2017 was 2%, lower than the 3% figure for 2016.
Housing Affordability
The combination of a fall in real estate prices in 2007-2012 and a GDP growth returning after June 2009 has contributed to an improvement in housing affordability nationwide. After the nationwide price-to-rent ratio rose from 22.73 (in 2005) to 24.50 (in 2007), it proceeded to contract to below 20 in 2011, reaching 19.21 as of Q4 2016. The ratio is now 30% than during the 2006 peak: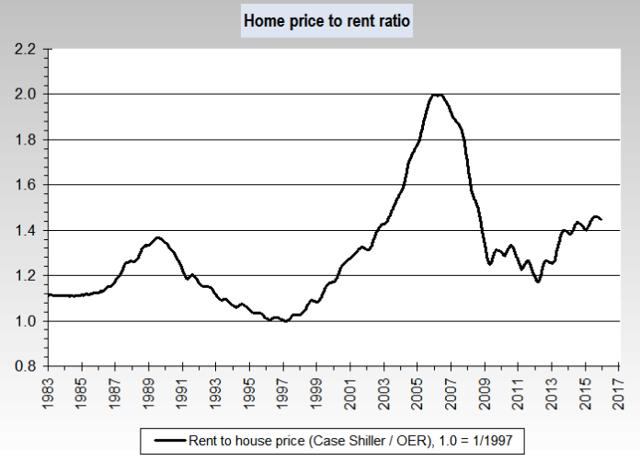 While price-to-rent ratios have deteriorated, data from H2 2016 has shown signs of stability in price-to-income affordability. The National Association of Realtors affordability index is now approximately at the 160 level compared to a high of 215 in January 2013: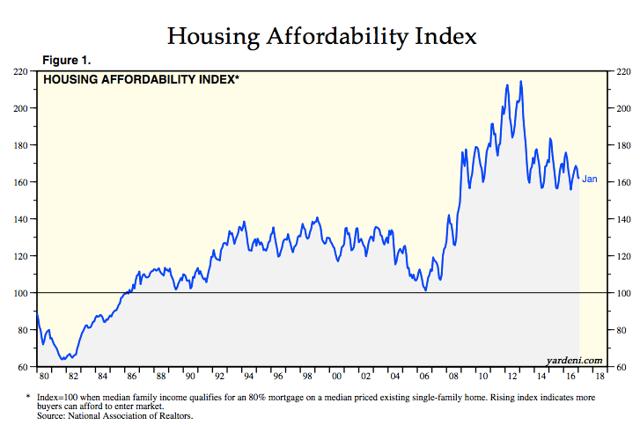 Despite the deterioration, the figure remains comfortably above the 100 figure reached during the 2006 housing peak.
The Outlook
Of foremost importance to the real estate market in 2017 will be 1) a more restrictive interest rate policy outlook and its consequences on residential mortgage rates 2) the US economic outlook and 3) a potential pickup in inflation on the activity of real estate investor decisions.
There are emerging signs of frothiness in major urban centers including New York, San Francisco and Miami. Prices in Manhattan for the higher-bracket market, namely properties above the $1 MLN threshold, fell 8.7% YOY in Q4 2016 and 2.2% QOQ. Foreign buyers, especially active in luxury residential properties, are now feeling the pressure of a strong dollar on their willingness to purchase.
In terms of the economic outlook, despite a slowdown to a 1.6% GDP increase in 2016, growth accelerated in H2 to 2.7%. Job growth remains strong and unemployment contained. A total of 661,000 office-using jobs were added in 2016, 66% of which in H2. American employers added 235,000 jobs in February, the largest gain in 5 months and significantly above market expectations. The unemployment rate declined slightly to 4.7%. Job creation remains strongly above the 165,000 monthly average for Q4 2016.
Despite a resilient economy, inflation remains tame. The CPI rose at a seasonally adjusted annual rate of 1.5% in February 2017, the smallest increase since July 2016. The Federal Reserve met expectations with a 25 basis point increase in the target range for the federal funds rate on March 15th to 0.75-1%. This was the third consecutive increase and has been reflected on mortgages, which however remained buoyant through Q4 2016.
Overall, the picture for residential and commercial real estate remains broadly positive. Despite some price weaknesses in residential housing, there are little signs of financial distress among homeowners, due to the relative affordability of homes and a positive employment situation. Supplies of homes remains restrained compared to demand. Commercial properties also remain in demand, but there are growing weaknesses which are starting to show in prices. What will be important in 2017 is the continued strong showing of the US economy and relative attractiveness of yields. This is of special importance as 37% of all homes sold in the U.S. last year were purchased for investment purposes. The homeownership rate in 2016 was the lowest in 50 years, as renting has been increasingly the more frequent choice compared to purchasing. Were interest rates or inflation surprise to the upside in 2017, the negative price movements of the last months are likely to not only persist, but become more significant.