Stocks discussed on the in-depth session of Jim Cramer's Mad Money TV Program, Tuesday, April 4.
Tesla's valuation just surpassed that of Ford (NYSE:F) and General Motors (NYSE:GM). Is Tesla really more valuable than these auto giants, pondered Cramer. He looked at the companies objectively to give an opinion. "Tesla isn't worth more than Ford. It's just that there are institutions who are willing to pay more for Tesla's stock than for Ford's right now, and that's the key issue here," said Cramer.
Ford's market cap has gone down from $60B to $45B in the period from 2013 to 2016 while its revenues have gone up from $146B to $151B in the same period. Ford's gross profits has gone down by $2.5B in the same period and their EPS slid from $1.90 to $1.74.
"Not only that, but given how weak Ford's sales have been this year and how many incentives the automakers have had to offer to sell vehicles, it's entirely possible that we're in what's known as peak auto sales. If that's the case, then 2017 could be a down year for Ford," said Cramer.
Tesla, on the other hand, went from $2B in sales to $7B in the same time. Its market cap grew from $18B to $49B. Ford produced 3.2M cars in 2016 and Tesla made only 83,000. Tesla has plenty of top line growth and that's what money managers want. That is why Ford has become the cheapest stock in the S&P 500 while Tesla is expensive looking at earnings.
The money manager would not want to touch Ford but is drooling over Tesla. "He's not deterred by the losses because he's thinking, 'Hey, judging by those revenues, there's relentless demand for what Tesla makes.' As long as Tesla doesn't run out of money, it can keep making cars and charging a fortune for those cars, so eventually, it will make a killing. Emphasis on 'eventually'," said Cramer.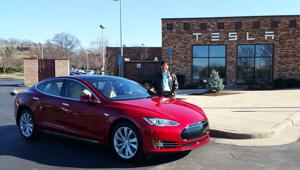 Short-sellers got this fact terribly wrong as they did not think Tesla would be able to raise cash. When Tencent (OTCPK:TCEHY) bought a 5% stake in Tesla, their stock rallied. This gives Elon Musk room to produce 500,000 cars per year by 2018.
The value of a stock is what investors are willing to pay for future earnings and revenue. "Those are the ones who buy Tesla stock every day and many other growth stocks that to you seem overvalued," said Cramer. He doesn't advise betting against a company simply because you believe it is overvalued, even though his discipline tells him to stay out of the stock.
"The bottom line is you need to stop being hung up on the valuation of individual stocks. Right now, Tesla and a bunch of other biotech, social, mobile and cloud stocks are being bid up furiously by these growth hounds. If they're right, they'll get even more money in and they'll keep buying their favorites, no doubt including Tesla," concluded Cramer.
Off the charts
Oil price closed at $51.03 on Tuesday. Cramer went to the charts with the help of technician Carolyn Boroden to get a direction on oil price. Boroden said that oil price charts show that crude has made higher highs and higher lows, which could mean a near-term upside.
"As long as oil can stay above its floor of support at the $45 to $47 area, Boroden believes it can go higher, and if it clears just a few more hurdles of resistance, then she wouldn't be surprised to see if crude ends up rallying from $50 and change all the way up to $57," said Cramer. If the oil prices are to move up, there would be clues in the stock prices of big oil producers.
The stock chart of Exxon (NYSE:XOM) shows key support levels of $79 and the next being $76-77. It currently trades around $82 and as long as it can trade over the floor of support, it will likely rally to $91. If it keeps the momentum, it can go to $99.
Chevron (NYSE:CVX) trades at $108 and has a floor of support at $104-105 and the next being $100-102. "Longer term, she wouldn't be surprised if Chevron can sail to $122," said Cramer. If either of the stocks break their floor of support, then all bets are off.
The charts of Pioneer Natural Resources' (NYSE:PXD) and EOG Resources' (NYSE:EOG) recent moves were less symmetrical, and were each followed by a nudge upward. "The key here is that these symmetry projections identify an important floor of support for Pioneer running from $171 to $176. Given the stock's recent run up to $187, that floor might not seem all that comforting, but as long as this support holds, then Boroden believes that Pioneer can keep climbing," said Cramer.
The charts suggest that oil stocks are ready to rally given the recent rebound in oil price. "If you believe oil can hold here or even keep rallying, then you've got to do some buying, and Boroden will turn out to be absolutely right," said Cramer.
Panera Bread (NASDAQ:PNRA)
Discipline helps investors stay out of trouble when the market falls or corrects, but sometimes it can also lead to missed opportunities. That's what happened when there were takeover rumors of Panera Bread. The stock got acquired eventually. "You have to be willing to say you missed it. Yesterday when Panera Bread was screaming higher on takeover rumors, I got a tweet that said I should've held onto Panera for the charitable trust. No kidding. You think I didn't feel that way?" said Cramer.
The key thing is to manage your regret, else it can lead to another disaster trade. "Regret - it can be costly, but not in the way you think. Regret is costly because it blinds you to the next moment. Too busy, head's in the wrong place. Regret is costly when you let a losing stock run. Regret is costly when you're reckless and you put too much money to work at one level and then it drops again," he added.
"Worry about losing money, not making money. You cut out the heavy losses and the winners take care of themselves," he said. One can win by disregarding discipline only sometimes, but for the rest of the time it's a recipe for disaster.
"So you miss it. Big deal. You didn't expose yourself when you thought the market shouldn't be making a lot of headway. You didn't expose yourself when you thought, because of the season and the week and last week's mark-up, that the market should go down," concluded Cramer.
CEO interview - CyrusOne (NASDAQ:CONE)
The stock of data center REIT CyrusOne is up 14% for the year and has an attractive yield of 3.25%. Cramer interviewed CEO Gary Wojtaszek to hear what lies ahead.
"We've come across our biggest year ever since we IPO'ed. We were up 33% last year and we expect more of the same heading into '17 and actually for the next several years, frankly," said Wojtaszek. He expects more growth in 2017 and the following years. Amazon and Oracle are likely to see growth in cloud business and they are the customers of the company.
Right now, there are not enough data centers to meet consumer demand. Hence the company is building more to increase capacity which will go online later this year. They are focused on healthcare as 15% of all data created in the next five years will be from the healthcare sector.
Viewer calls taken by Cramer
Sysco Foods (NYSE:SYY): Hold the stock. Nelson Peltz also has a position in the company which is also the dominant player in the restaurant industry.
Ulta Beauty (NASDAQ:ULTA): Stock split does not create value. Wait for it to come down before buying.
Disney (NYSE:DIS): It's a good buy. Buy half at current levels and the rest when it comes down.
::::::::::::::::::::::::::::::::::::::::::::::::::::::::::::::::::::
Jim Cramer's Action Alerts PLUS: Check out Cramer's multi-million dollar charitable trust portfolio and uncover the stocks he thinks could be HUGE winners. Start your FREE 14-day trial now!
Get Cramer's Picks by email - it's free and takes only a few seconds to sign up.
Editor's Note: This article discusses one or more securities that do not trade on a major U.S. exchange. Please be aware of the risks associated with these stocks.