One sector that should do well if the economy continues to improve is business development companies. This is especially true given the overall pullback in bank lending. These development companies should do well as the companies they invest in should perform much better in a more robust economy. Here is one company worth considering that is currently yielding more than 10% and that also has significant net insider buying.
TICC Capital (NASDAQ:TICC) - "TICC Capital Corp., a business development company, operates as a closed-end, non-diversified management investment company. The firm invests in both public and private companies." (Business Description from Yahoo Finance).
7 Reasons to pick up TICC at under $10 a share:

The stock pays a robust 10.1% yield. In addition, although dividends have gone up and down over the last eight years; they are up 150% since 2004.
Insiders bought more than $1mm in new shares over the last six months.
The stock looks like it has bottomed, showing increasing technical strength and just crossing its 200-day moving average
(Click chart to expand)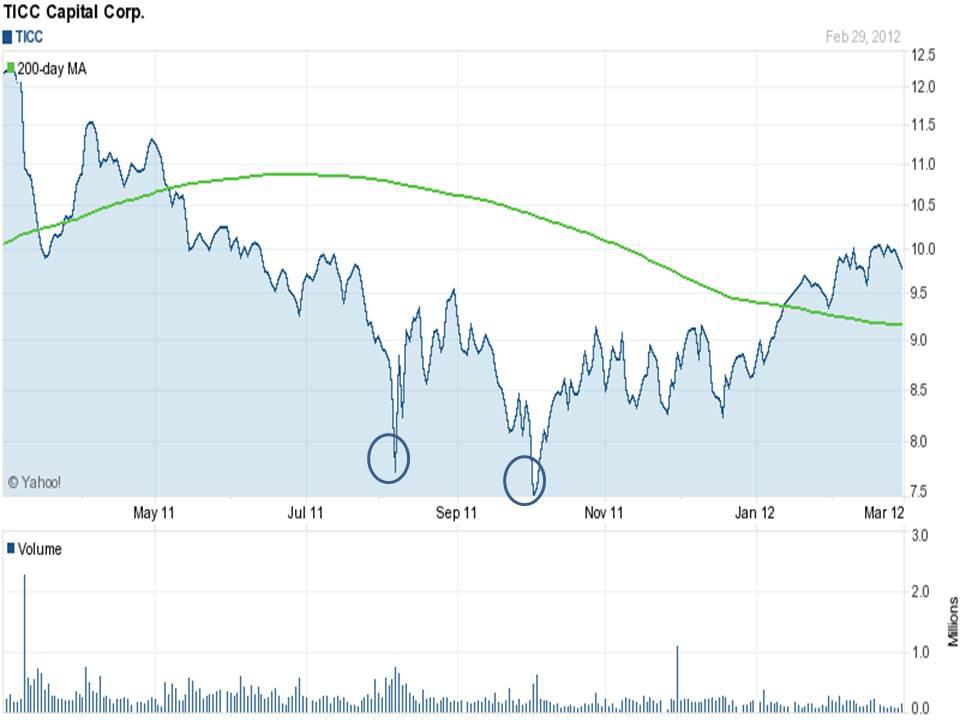 It has a low five-year projected PEG (.70) and sells for just 5% over book value.
Consensus earnings estimates for FY2011 and FY2012 have gone up slightly over the last 60 days and the stock sells for 9.5 times forward earnings.
Revenue is showing solid growth. TICC had around $33mm in sales in FY2010, should book $44mm in revenue in FY2011 and analysts project revenue north of $50mm for FY2012.
The company recently obtained credit on attractive terms to expand its investments.
Disclosure: I have no positions in any stocks mentioned, but may initiate a long position in TICC over the next 72 hours.