By Parke Shall
It is pretty clear that the post election rally is over and it is becoming clearer and clearer on a daily basis that the market doesn't seem to have any idea as to what direction it is going to head next. Bulls continue to push a narrative about coming tax reform but the stark reality remains that stocks are aggressively valued and the Trump administration's first go round in trying to get legislation passed was nothing short of a disaster.
And so while the market has retained the 12% added immediately after the election, we have now traded sideways for a couple of weeks.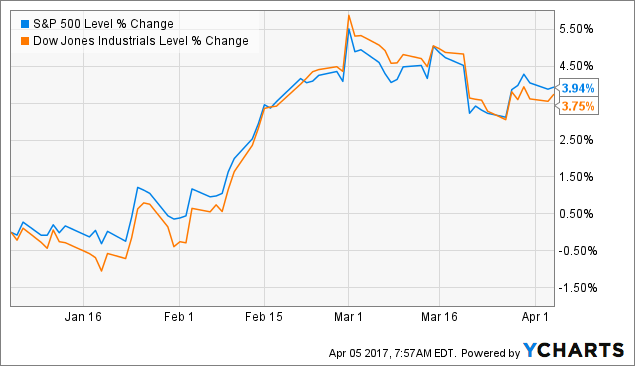 The only consistent theme to the last few weeks has been that volatility is low and the market has yet to make any big decisive moves in one direction or the other. We think that the recipe of arguments from both the bull and the bear end could continue to come together to create a tonic that sees equity markets only move sideways, or perhaps drift lower and sit around 20,000, for sometime to come.
It gets more difficult each day to envision a recession scenario in the capital markets given that the Federal Reserve has apparently made their only job to monitor equity markets and make sure they are supported. We're sure that if we saw a 2008 style crisis that there may be enough selling to move markets lower temporarily but barring another major economic catastrophe, it doesn't seem as though the markets want to move decidedly lower. If Brexit couldn't do it and we bought back a 800 point drop in the Dow futures after Trump is elected, it's going to take something major for us to move decidedly lower.
While we do think there are negative catalysts on the horizon, namely subprime automobile financing, peer-to-peer lending and garbage grade consumer credit that has been issued, we're not sure these are going to be enough to push the market lower than 5% or 10% from where we are now. We actually think that the scenario for upcoming quarters is more likely to be that stocks trade sideways and we move from a "bull market" to a "stock pickers market".
There are some routine adjustments that investors can make to compensate for the shifting landscape that the market is changing to. For us, it was allocating a little bit more towards our short book in a little bit less toward our long book. While we are generally always net long, we have moved our allocations to about 60% long and about 40% short, which is generally as conservative as we will take things.
At the same time, we look for companies that we think will individually move lower to short and we continue to look for deep value on the long side. Some of the names that we think are good shorts here are peer to peer lenders like OnDeck (NYSE:ONDK) and Lending Club (NYSE:LC). We also think second tier regional banks with questionable lending standards like Bank of Internet (NASDAQ:BOFI) and Opus Bank (NASDAQ:OPB) also remain decent shorts. On top of that we are short a few names that are unable to generate cash or are just overvalued, companies like Exact Sciences (NASDAQ:EXAS), and Eros International (NYSE:EROS).
On the long side, we continue to focus on sectors that are in distress as we believe they provide the most value at a time like this as long as you are selective with the choices you make. Over the last two weeks, we wrote two articles about buying retail stocks and buying pharmaceutical stocks that are underpriced along with their sector and represent good value. We try to stick to names with a large asset base behind them and positive cash generation as well as a good balance sheet. And on the pharmaceutical side, we are long Mylan (NASDAQ:MYL) and Gilead (NASDAQ:GILD), amongst very small allocations in other long-term names like Amgen (NASDAQ:AMGN) and Pfizer (NYSE:PFE). In retail, we are long names like GameStop (NYSE:GME) and Macy's (NYSE:M), as we believe they have severely compressed valuations and our turnaround stories in progress. We are also long Target (NYSE:TGT).
We have some hedges on in retail, including having a net neutral options position on in L Brands (NYSE:LB). We're long gold miners as a outright portfolio hedge and own call options in the Gold Miners ETF (NYSEARCA:GDX) and the Junior Gold Miners (NYSEARCA:GDXJ).
In addition to these names, we have a lot of other net neutral positions on using options. We hope to benefit from directional moves in Tesla (NASDAQ:TSLA) and in the indices (NYSEARCA:SPY). We establish a lot of positions that benefit from volatility and swings in names which actually hasn't turned out to be the best strategy over the last few months as volatility has been at an all time low. However, If the VIX finally starts to move up a little bit, we anticipate this strategy will be slightly more lucrative than it has proven to be so far.
But the point is that we believe we are in a stock pickers market. Eight years ago, anybody could've thrown a dart at any company and made money. Now, because the Federal Reserve won't allow a proper recession in capital markets, investors are being conditioned to always buy the dip regardless of what the news is. Because of this, we don't believe that we will see a marked correction in stocks as soon as we would like. However we do think that there is a real case for stocks simply trading sideways over the next few quarters and maybe even over the next few years. The equity market trading sideways while earnings ostensibly continue to increase would almost be the equivalent of a bear market, as valuations would compress, but the optics of the scenario wouldn't be as bad as a full-scale recession. This is the situation we think that the Federal Reserve might actually allowed to happen.
We continue to have numerous events globally that could cause volatility, but the markets just simply don't seem concerned. The continued investigations into the Trump administration regarding Russia and new conflict arising with North Korea don't seem to be of any concern to equity markets. We are not sure what it will take to create some volatility in the markets, and there's part of us that doesn't even want to know what this point.
Regardless, valuations have become far too frothy. We think that investors would be better served picking individual stocks here and avoiding things like index funds and index ETFs that could turn out to be dead money over the next couple of years. Formerly, we used to believe that the market would see a marked pull back from highs of about 20% or maybe even more. Now, we have shifted our view to possibly seeing another 5% or 10% move lower from here, but with the market eventually trading sideways over time.
Disclosure: I am/we are long M GME MYL LB TSLA GM FDX GDXJ TGT SPY.
I wrote this article myself, and it expresses my own opinions. I am not receiving compensation for it (other than from Seeking Alpha). I have no business relationship with any company whose stock is mentioned in this article.
Additional disclosure: All positions are disclosed in the article