The last time I wrote an article on SA, I suggested that for the most part, agricultural commodities would stay in a bear market given improved global crops, too heavy a long position in such markets at soybeans (NYSEARCA:SOYB), and worries over the weak Chinese yuan. Other than cocoa (NYSEARCA:NIB) which has temporarily bottomed, almost all ag commodities have indeed had a precipitous break lately. Traders may begin to worry about renewed concerns for Argentina soybeans, where flood issues this weekend may bring about psychological fears of what happened a year ago with crop damage. Also, psychological worries over a possible El Nino have helped create a temporary floor in cocoa prices.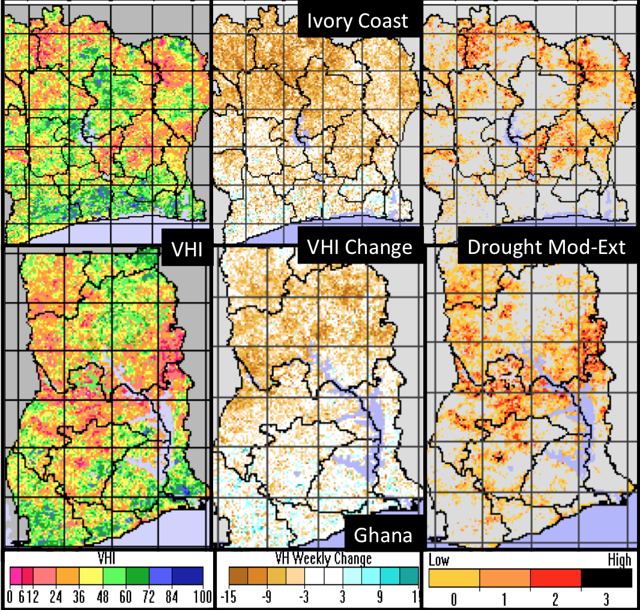 Veggie Health Index. Source: Noaa Star Center of Satellite Applications and Research
For 8 months I was bearish cocoa last fall and winter due to a rebound in global production Climatech; forecasted and my feeling of a heavy long position in the market. A month ago, areas of dryness in west Africa (red above), psychological fears of a developing El Nino and demand picking up at cheap prices, have helped cocoa, but a sea of red has prevailed for most ag commodities.
Most Grains Under Pressure, while California Farmers' Go Nuts
The drought in the U.S. western Plains is easing, helping to create a 15% break in wheat prices (NYSEARCA:WEAT) in recent weeks. This is in the midst of the lowest U.S. acreage since 1919. So any little weather problems in Europe or Russia this spring and summer could end the bull market, but right now we are not excited about any major crop issue.
A combination of increased U.S. acreage for soybeans this spring/summer and a huge crop in South American from weak El Nino type weather and ideal growing conditions, have been right on track. For more about our call in the soybean market recently, click here. However, dry weather is needed in Argentina otherwise soybean prices have found a short term bottom in prices. If rains happen to be as bad in Argentina as they were a year ago, soybeans could rally 5-10% in coming weeks, but I expect, only a short term reaction on Argentina harvest delays. Nevertheless, flooding in Argentina will occur this weekend for soybeans.
Some springs following warm winters and record breaking western rains and snows (best ski season in years for Snowbird, Utah, etc.) can result in a wet spring and planting delays. Something traders will begin to monitor the next 6 weeks and whether this will be a bullish factor for (NYSEARCA:CORN). However, the odds of a summer bull market in corn is probably unlikely at this point.
While the rains will save western crops from despair, in some cases it has been way too much, too fast in California. Cauliflower and lettuce prices have soared in recent weeks and some growers and major food chains such as Whole Foods Market (WFM), Sprouts Farmers Market (NASDAQ:SFM) and Testa Produce in Chicago are scraping sales and displaying less produce, because they can't guarantee a steady supply.
Almond growers out west have been going "nuts." Close to 30 inches of rain this winter in California has kept bees from flying out to pollinate nut trees and the $5.3 billion California supply of almonds may be at risk, again! First, 5 years of drought and now floods? Hence, some grocery food prices that normally should come down these next 6 months, will not.
The wet weather has not been confined to California. Historical floods have hit Peru destroying ancient monuments, while mudslides have killed dozens in Colombia and Australia saw temps over 115 degrees in February. "Something has to give." Speaking of Australia, Cylone Debbie a couple weeks ago damaged rail systems enough to cause a major spike in international coal prices. Over 6% of the world's coal supply.
Coal Prices Soar on Cyclone Debbie, But that Industry is Dead, Longer term
Queenland, Australia coking coal exports look set for weeks of major disruptions following cyclone Debbie a couple weeks ago.
Commodity analysts at S&P Global Platts warn that the disruption to exports could be almost as large as the roughly 20 million tonnes seen during Cyclone Yasi in 2011.
Cumulatively, this could potentially disrupt approximately 15-20 million tonnes of met[allurgical] coal exports, according to three separate mining sources Monday, and could have significant implications on global seaborne met coal supply," they wrote in a note.
Metallurgical coal miners have been suffering from a drop-off in prices after a steep rally saw a high of $US310 per tonne reached on November 18 last year. However, prices have soared in recent days.
Stocks such as Cloud Peak Energy (NYSE:CLD) and many others have soared in the wake of Trump's nomination, followed by the weather issues in Australia, but the bottom line is, that renewable energies will take over in the years ahead and coal is a dead industry in my opinion. China will be investing billions in renewable energy infrastructure in the years ahead and the U.S. can ill afford to be left behind. Thank goodness for Elon Musk. Tesla (NASDAQ:TSLA) by the way just made new highs. Eventually, there will probably be solar panels on cars.
World Weather Going HayWire, Floods in Peru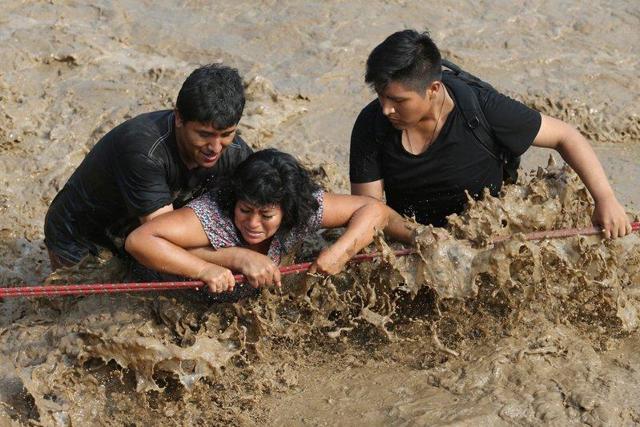 How bad have the floods in Peru been? Click here
Given all the rain around the globe, almost certainly, there will be droughts somewhere this summer and fall, but where? Will they be in agricultural crop regions?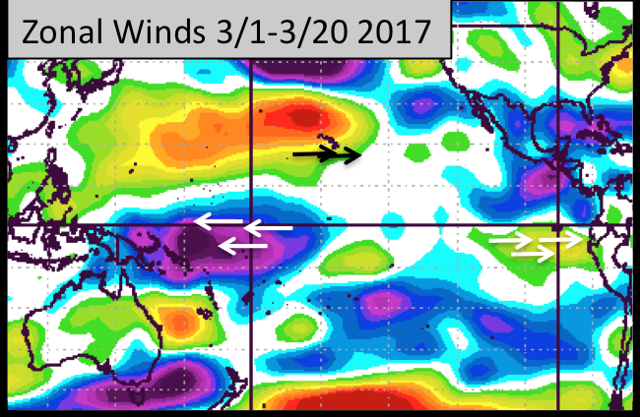 Source:NOAA
While global ocean temperatures have warmed, signifying yet more evidence of a warming planet, the winds to the right (above) need to switch more to the west. If so, El Nino will form, but probably not to the extent we saw 2 years ago which decimated global sugar and robusta coffee crops--too big bull markets a year or two ago
In sugar (NYSEARCA:SGG) a 20% break in prices has occurred due to prospects too of a big Brazil crop, an overzealous big long position and ideas that El Nino will occur too late in the summer to have a negative impact on global sugar production. See how I called the bear market in sugar last fall. Traders will be paying close attention to India's sugar planting prospects and the Indian Monsoon this summer. Any problems would set this market rallying again.
Why is natural gas rallying in the face of warm April weather?
Natural Gas (NYSEARCA:UNG) soared 4.7% on Tuesday and was the winner of all commodities. There is lots of optimism surrounding this market via floating infrastructure. There is continued ideas about bringing down coal production, while Japan renewed its commitment to develop a region LNG Hub. You can see below how U.S. LNG exports have soared in recent weeks, thus ending the winter natural gas market, in which a warm late winter pressured prices more than 20%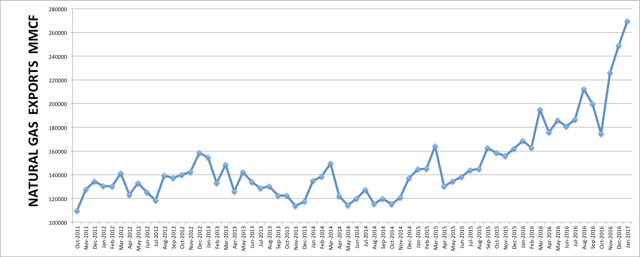 (Chart above) Natural gas exports are soaring
The price charts below show March through April price moves of natural gas following big price declines in February, such as what happened this year on the warmest February ever. Interestingly, some of the years listed below had cold spring and some warm, but notice how the "majority" of years, regardless of temps, had a pretty healthy spring rally in prices. The key point is that the market sometimes gets oversold and already builds in bearish winter weather, when short-covering can occur due to other non weather related reasons. If the summer is not hot and El Nino happens to result in a weak hurricane season again this year, natural gas prices would return, later, to a bearish market, in contrast to last summer's hot temperatures and slow bull run. The market presently is too difficult to trade just on weather.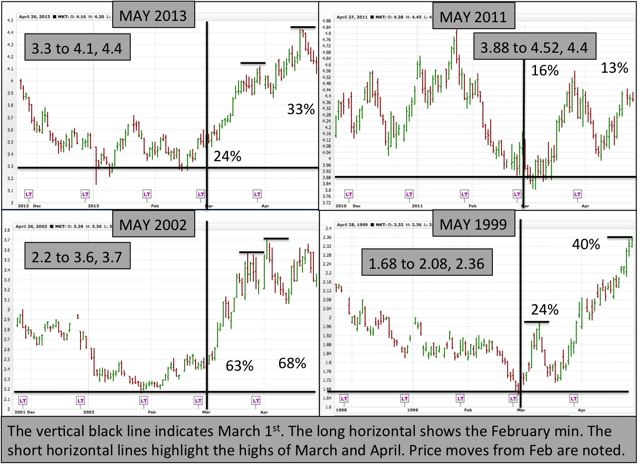 Charts from Matt Davey of BestWeather, Inc.
The key points to the article above, is look for investment opportunities in some renewable stocks and perhaps even in China. Also, while many ag commodities have taken it on the chin, I am not convinced at this point we are looking at any major bull market at this point, but soybeans may rally short term on flood issues in Argentina. Given all the flooding in the world and a possible weak El Nino, I am sure there will be some areas of droughts and weather extremes in the next few months for some markets, but a little too premature to say where. Natural gas prices are not weather related at the moment but technicals and other factors are bullish vs. benign, bearish weather. Given OPEC cuts, worries over North Korea, it is the crude complex, which has again gotten the most notice in commodities, as well as precious metals such as silver (NYSEARCA:DBS), due to industrial demand picking up.
Disclosure: I/we have no positions in any stocks mentioned, and no plans to initiate any positions within the next 72 hours. I wrote this article myself, and it expresses my own opinions. I am not receiving compensation for it. I have no business relationship with any company whose stock is mentioned in this article.