Stock market investors have had a good return since Trump won the election in November 2016. In this article, I'll give a quick view on what to expect going forward.
Following the debt ceiling holiday expiration in March 2017, cash in the U.S. treasury plunged to almost zero (blue chart below from FRED). The red chart shows how the Federal Reserve balance sheet was basically flat since 2015 when QE3 ended. The little blip in 2017 managed to push the stock market to all-time highs by adding bank reserve liquidity.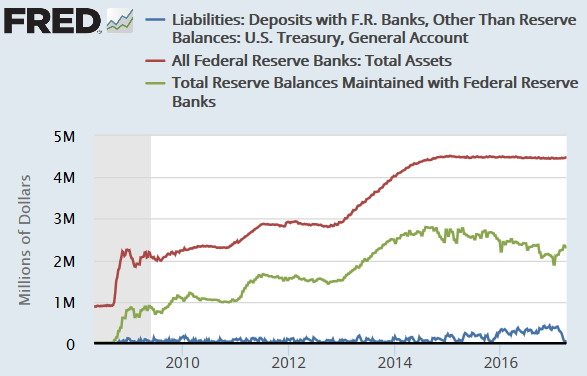 This boost in bank reserves is also visible in the increase in the monetary base in 2017.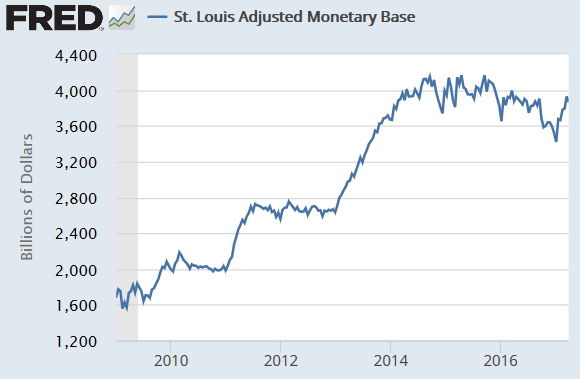 So, while we haven't heard anything on QE4, we actually had an increase in monetary base due to the depletion of cash at the U.S. treasury to prop up the stock market one last time before the debt ceiling holiday expired in March 2017. Now that this cash is fully used, there is nothing that will stop the stock market from declining.
On the contrary, the latest Fed minutes released on April 5th, 2017, suggest that the Federal Reserve could start reducing its balance sheet later this year. This has several consequences, which I will cover here, and one of them is an unhappy stock market. The Dow Jones immediately sold off following the release of the Fed minutes.
Before I get into these consequences, let's see what the status is on the economy. We are already seeing the decay in the leading indicator and a rise in the misery index, which inspired investors to run into precious metals in 2017 (see charts from FRED below).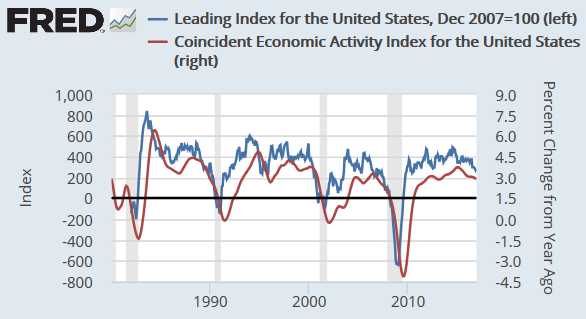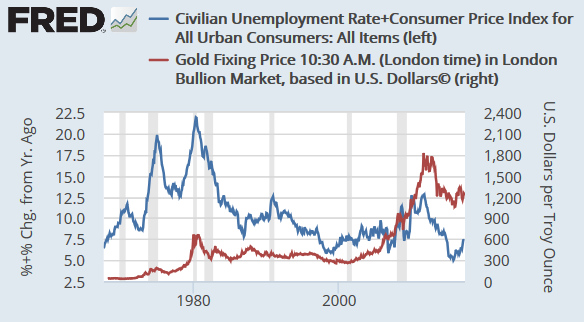 GDP growth is already starting to underperform with Q1 GDP estimated at just 0.9% growth (see chart below from GDPNow).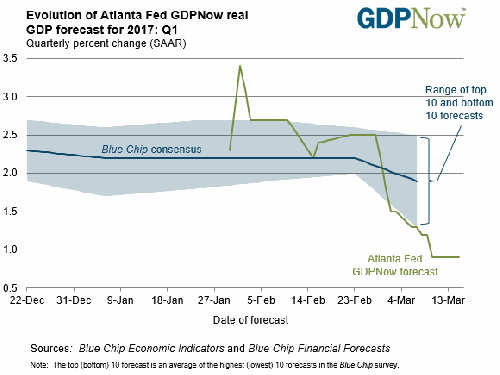 Another phenomenon that has emerged is the collapse in loan growth (see chart from FRED below). This collapse in loan growth was spurred by tightening lending standards from banks which started in October 2015.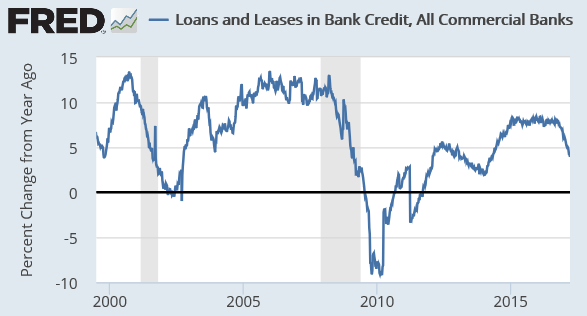 Coincidentally, October 2015 was the period where the Federal Reserve started to hike interest rates and tapered its Quantitative Easing policy ((QE3)). The Federal Reserve hiked interest rates as LIBOR (the benchmark rate on interbank loans) started to go up (see chart from FRED below). When both rates diverge from each other, we can say that this is a warning sign for credit risk. It also means there isn't enough liquidity in the system. This is reflected in the higher cost of borrowing from banks.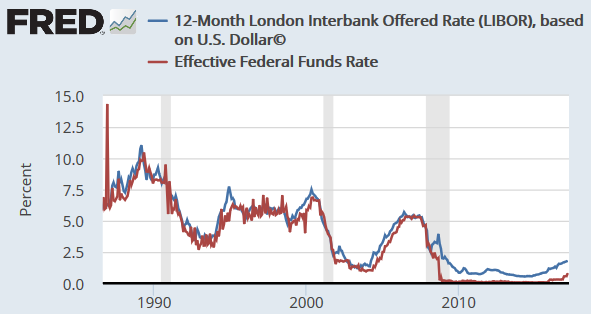 The increase in interest rates also had negative consequences on the housing market (see figure below from Zerohedge). As the Federal Reserve hiked interest rates, also mortgage rates had to increase with it. This put a lid on refinances and, consequently, led to a drop in housing prices.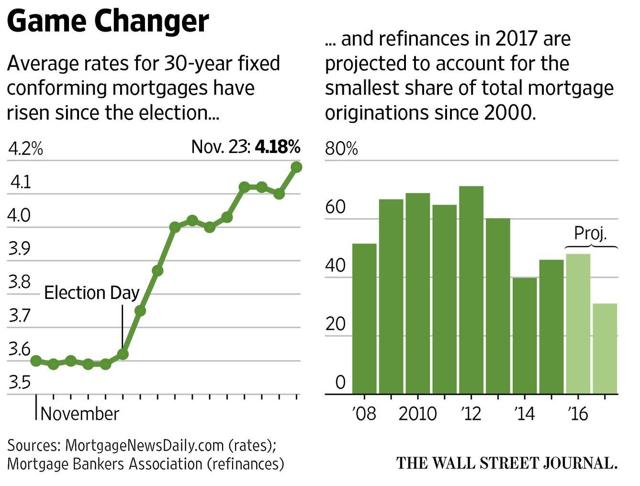 As an example, apartment prices in Manhattan have started to decline (see figure below from Zerohedge).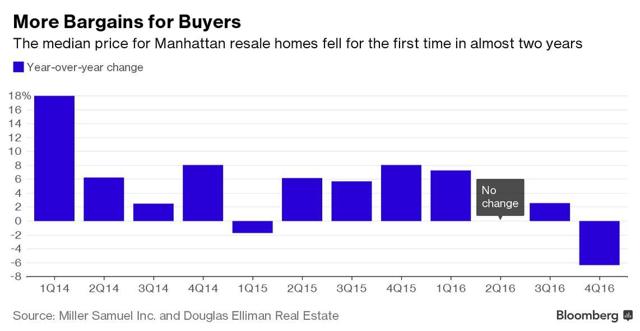 So when the Federal Reserve tightens, either through an increase in interest rates or a reduction in its balance sheet, we basically see a tightening in money supply. A reduction in the Federal Reserve's balance sheet is equal to a reverse quantitative easing (reverse QE). Asset prices will no longer go up, and this will have a negative impact on the economy. A recession will likely start due to this asset price deflation. The consequences are the same: this will reduce GDP growth, loan growth, and lead to asset price deflation especially in the real estate market and the stock market.
The Federal Reserve has $4.5 trillion in assets of which $1.75 trillion are mortgage-backed securities (MBS). The Federal Reserve will most probably start to sell these MBSs. This will extend the duration of these MBSs. The private sector will need to start buying these MBSs, pushing up yields and widening spreads. This will have a huge impact on real estate. The Fed bought $387 billion worth of mortgage bonds last year alone in order to maintain its holdings. If it decides to unwind, I sure don't want to be invested in the real estate sector. Moody's Analytics estimates that 30-year treasury yields could hit 6% in three years.
The stock market has mostly followed the balance sheet of the Federal Reserve. A reduction in the balance sheet will, therefore, lead to a decline in the stock market if we believe that the correlation holds up. Currently, the stock market is stuck in fantasy land with P/E ratios of 18 on average for the S&P 500 (see chart below from Yardeni).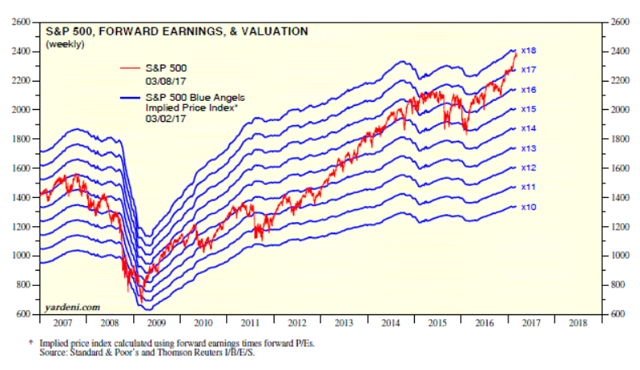 As yields go up to 3%, we will see that the stock market will shift to lower P/E ratios and, consequently, stock prices will need to go down to accommodate lower P/E ratios (see figure below from Zerohedge).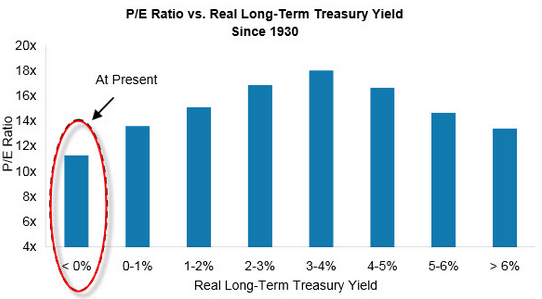 Moreover, I should remind investors that the promised tax reform and infrastructure spending is highly unlikely to happen when the Fed tightens. This is because these higher deficits need to be funded from somewhere. Not to mention that we still have the debt ceiling debacle with a possible government shutdown on 28 April.
The conclusion is that when the Fed holds its promise to tighten its balance sheet and stick to its rate hiking path, we will definitely see some turmoil in the markets.
Disclosure: I/we have no positions in any stocks mentioned, and no plans to initiate any positions within the next 72 hours.
I wrote this article myself, and it expresses my own opinions. I am not receiving compensation for it (other than from Seeking Alpha). I have no business relationship with any company whose stock is mentioned in this article.