Well, the bottom fell out for stocks (NYSEARCA:SPY) after the Fed Minutes.
Maybe you noticed.
As I've warned repeatedly, human beings are predisposed to assigning causality when in many cases, no proximate cause can plausibly be assigned.
So in the interest of avoiding that, I'm not going to give you some long-winded, tick-for-tick analysis that purports to explain exactly what went wrong on Wednesday, a day which, considering the blockbuster-ish ADP print, should have been a risk-on session. Rather, I just want to make a quick observation that I hope you'll find interesting.
Let me touch on the obvious first. The following bit from the Minutes wasn't good:
Some participants viewed equity prices as quite high relative to standard valuation measures. It was observed that prices of other risk assets, such as emerging market stocks, high-yield corporate bonds, and commercial real estate, had also risen significantly in recent months.
That's not what you want to hear from the folks who for eight years have kept a bid under risk assets. So that undoubtedly played a part.
But it's my hope that if you've gleaned anything from my prolific missives both here and elsewhere, it's that watching USDJPY and 10Y yields (NASDAQ:TLT) is important.
Both serve as real-time barometers of the market's faith in the reflation narrative (i.e. the "Trump trade") and seasoned traders are well aware of USDJPY's status as the go-to, carry "ignition" mechanism when markets look shaky.
Well as you're acutely aware if you've been following along, 10Y yields have been under a whole lot of scrutiny over the past couple of weeks after a "dovish" Fed hike and the failure of the GOP health bill triggered a sharp repricing lower. That move lower was exacerbated (i.e. the rally was supercharged) by a truly dramatic bout of short-covering in a crowded bearish bet on 10s. That's not me spouting some Heisenberg-ish, esoteric nonsense. It's a fact. Here's what I mean: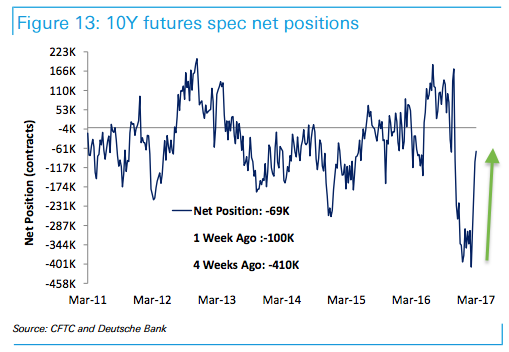 (Deutsche Bank)
Yields came under even more pressure on Monday when disappointing US auto sales cast further doubt on the outlook for the economy.
So considering all of that, it's interesting to note that lurking behind today's supposedly Fed-driven reversal in stocks was a 10Y that simply refused to sell off. Have a look at this chart:

That ADP print (which handily beat estimates) should all else equal have caused yields to rise materially and sustainably. But it didn't. Similarly, it's not entirely clear to me why yields fell after the Minutes given that there was no shortage of discussion re: balance sheet rolloff. To wit, from the Fed:
When the time comes to implement a change to reinvestment policy, participants generally preferred to phase out or cease reinvestments of both Treasury securities and agency MBS.

Most participants anticipated that gradual increases in the federal funds rate would continue and judged that a change to the committee's reinvestment policy would likely be appropriate later this year.
Let me try and break this down in bullet points to make it easier to digest.
The Minutes seem to support this idea that some traders have about balance sheet reduction being a substitute for FF hikes in terms of tightening...
...a popular way to think about that is that tightening by balance sheet (as opposed to outright hikes) is less likely to fuel dollar strength...
...so it makes sense that the dollar fell post-Minutes...
... and it makes sense that 5s30s steepened for a fifth straight session, the longest streak since September, to 113 basis points.
So that's all fine, good, and (sort of) consistent, but ignoring the nuance for a moment and reverting to a kind of common sense approach devoid of any attempts to think too hard, I cannot seem to wrap my head around why 10Y yields wouldn't have moved higher on Wednesday. Here's what I said just prior to the release of the Minutes:
In the lead up to the release of the Fed minutes, stocks were buoyant as was the broad dollar following Wednesday morning's ADP beat. Meanwhile, 10Y yields exhibited a bit less enthusiasm, falling after EIA data turned out to be a bit more "supply-ish" than Tuesday's API print seemed to presage and perhaps indicating that Japanese buyers are back in the market for USD assets especially with XCCY basis having come in or perhaps simply reflecting covering of the last vestiges of the 10Y short.
Does that sound like a bunch of gibberish/esoteric nonsense to you? Yes? Well, you may be right, but as it turns out I wasn't the only one thinking along those lines on Wednesday. Check this out from RBC's Charlie McElligott:
Conversations with a number of clients shows me that many have been recently debating internally on 'throwing in the towel' on the [reflation] trade-especially after the brutal start to the week with the US rates rally.

That is what makes today's move in US rates after the strong headline ADP print so remarkable and further anxiety-inducing for said 'reflationistas.' Treasuries suddenly cannot sell-off. The ADP number should speak positively of course for potential upside in Friday's NFP and thus, likely higher US rates (labor mkt impact on Fed hike trajectory)….yet on the day, TY is now FLAT.

So what is happening here? I believe that the Asian buyers of USTs are back-especially the Japanese-in conjunction with the start of their new fiscal year. Posit: they are ready to deploy cash after having significantly scaled-back activity over the past months into YE. The year-end Yen repatriation flows are done with…so they are back 'buying dollars' as USTs look cheap, especially with hedging costs so low (as cross-currency basis has cheapened enormously since January) and USDJPY at year's lows (USD assets attractive). Makes some sense right? New incremental buyer returns to market, especially after having missed a buying opportunity at the start of their fiscal year, as the rally forced them to miss the move yet again.
See what I mean?
Put simply, if Treasurys couldn't sell off today, then it makes me wonder how they're going to sell off in the future. And if we can't get a move higher in yields, then that's going to end up presenting what amounts to a structural headwind for the reflation trade going forward.
Let me just close with one chart that gives you a kind of 30,000 ft. view of what I'm talking about:

Disclosure: I/we have no positions in any stocks mentioned, and no plans to initiate any positions within the next 72 hours. I wrote this article myself, and it expresses my own opinions. I am not receiving compensation for it (other than from Seeking Alpha). I have no business relationship with any company whose stock is mentioned in this article.