The U.S. Economy
We are entering what is likely to be a period of accelerated interest rate hikes. In March, Federal Reserve policymakers raised the target for the Fed Funds policy interest rate by a quarter of a percentage point to a range of 0.75-1.00%. The move raised short-term interest rates, but dovish commentary from Fed Chair Janet Yellen pushed rates on longer-dated bonds slightly lower, resulting in a flattening of the overall yield curve and a rally in Treasury securities.
The decision to hike now sets a new, faster pace for the normalization of monetary policy, and although U.S. economic growth is by no means "off to the races," we too believe the domestic economy no longer requires such intense support. Labor markets continue to tighten, inflation is accelerating by several different measures, and indeed, recent comments from several senior Fed officials suggest a significant interest in getting rates off of zero, painting a picture for 2017 that could include several more hikes.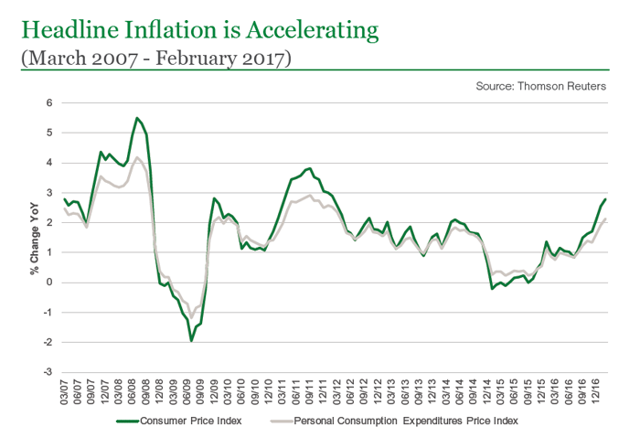 It is our view that rates will indeed move higher, albeit gradually. There are decreasing marginal benefits to ultra-low interest rates. Credit growth from lower borrowing costs is at least partially offset by lower bank profitability and interest income. Instead of maintaining ultra-low rates, future efforts to stimulate the economy might be more effective if they come not from the central bank, but from our newly elected officials in the form of fiscal measures and/or structural reforms.
As a follow-up to last month's newsletter, we discussed the higher, post-election sentiment in certain "soft data" surveys, which has not yet been followed by a related increase in the economic "hard data." This is something we are monitoring closely, as we believe there is an elevated risk of increased market volatility, should economic activity not follow through. Further, recent work we have done on the topic shows a loose correlation between certain "soft data" sentiment indicators and economic "hard data," and that correlation gets increasingly poor over time.
Elevated expectations-driven sentiment has begun to show fragility as political wins prove challenging. In late March, President Trump and Republican legislators failed to proceed with healthcare reform, highlighting the challenges that a seemingly unified government is still likely to face in its attempts to push through key elements of its pro-business agenda.
The recent eight-day slide in the Dow Jones Industrial Average, the longest such losing streak since 2011, partly reflects the degree to which full valuation levels demand some eventual uptick in the "hard data." Whether that uptick arises from sentiment-driven consumption or from the successful implementation of certain pro-growth reforms is something that still remains to be seen.
The Global Economy
On March 29, UK Prime Minister Theresa May triggered Article 50, formally beginning Britain's two-year process of withdrawal from the EU. Although few expect a speedy withdrawal, it appears as if the pace of negotiations will be sluggish.
Intent on keeping PM May waiting as long as possible, European Union leaders will hold off until a scheduled Brexit summit on April 29 before even beginning to outline basic negotiation goals. After that, based on those goals, the European Commission must then draw up more detailed directives that will require the unanimous approval of the remaining 27 EU nations. This initial process could take several months or more, pushing off actual discussions with the UK until the summer at the earliest.
Meanwhile, UK households are beginning to feel the adverse effect of Brexit and the subsequent sell-off of the British pound. The now weaker currency is driving up inflation, while simultaneously hampering retail sales. Imported goods become more expensive as the currency weakens.
Worse, accelerating inflation is eating into any material jump in wages. The most recent data from the UK Office of National Statistics shows both inflation and wage growth at 2.3%, meaning that for the first time since 2014, the typical annual pay raise is completely offset by inflation.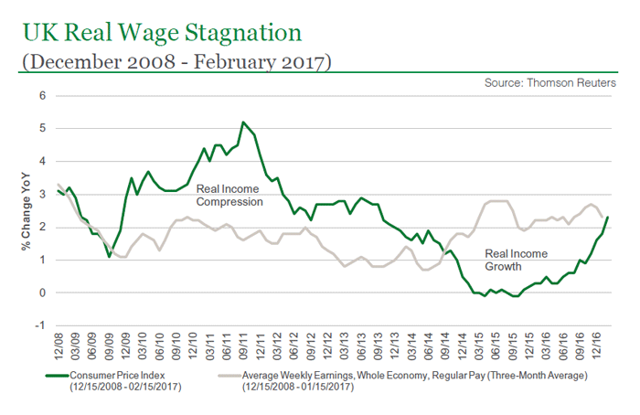 With British households merely jogging in place, unsurprisingly, IHS Markit reports that not since 2013 have UK households felt this pessimistic about their financial prospects.
Elsewhere, major family empires in South Korea, known as chaebols, have become embroiled in public scandal. In early March, President Park Geun-hye, accused of conspiring to extort millions from Korean businessmen for government favors, was officially thrown from office by the Constitutional Court. Park, whose father ruled Seoul as an autocrat in the mid-1900s, has denied wrongdoing. On March 31, she was arrested, making her South Korea's third former president since 1990 to be put behind bars.
Also in March, several key family members from the Lotte Group business empire, the fifth-largest conglomerate in South Korea, were put on trial on charges of embezzlement, tax evasion, and fraud. Founder Shin Kyuk-ho and his two sons were indicted. Already in prison is Mr. Kyuk-ho's daughter. Adding to the intrigue, a top Lotte Group executive died last year in an apparent suicide, only hours before a scheduled questioning for a corruption probe.
The scandals reflect a country that has undergone a tremendous multi-decade transformation, but still faces further issues with modernization. For starters, the chaebols continue to have enormous influence over the South Korean economy. As of 2015, the five largest chaebols accounted for 58% of total gross domestic product, deterring politicians from interfering with major business interests.
We do, however, remain constructive on the South Korean economy. Supporting our view are solid fiscal, debt, and external positions, as well as the (increasingly visible) likelihood for reform.
Our Perspective
U.S. equity markets were flat to modestly positive during March, and are up approximately 6% on a year-to-date basis. International equity markets - driven by strength in emerging markets - were up nearly 3% for the month and have returned approximately 8% year to date. Valuations in the broad U.S. stock market remain somewhat elevated, but we continue to see few unsustainable excesses in the U.S. economy that would suggest the economy is at risk of collapsing under its own weight. In this environment, discernment and flexibility are critical.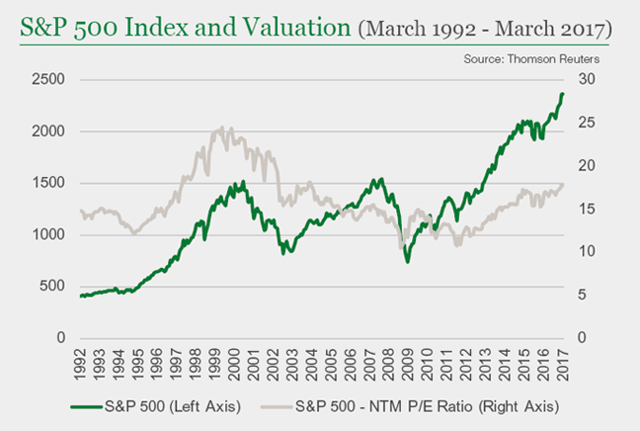 Given the slow global growth environment, in portfolios geared toward investors that need capital growth, we are targeting investments in fundamentally strong businesses that are not heavily reliant upon macroeconomic growth to drive sales and earnings. More specifically, we see value in businesses that we believe have control of their destiny and are taking share in large established markets or are creating new markets on their own. Our goal is to identify companies trading at attractive valuations relative to their growth potential.
Regarding fixed income, our economic outlook remains constructive toward credit, and although credit spreads have tightened, they remain relatively attractive on a fundamental basis. Considering these dynamics, we maintain a sizeable allocation to corporate bonds. As we are in the later stages of the economic cycle and valuations are not as compelling as they were previously, we may look to reduce credit exposure over time if credit spreads tighten further or if our outlook for the economy and/or macro risks changes. Portfolios also have a notable allocation to U.S. Treasury securities - which includes some Treasury Inflation-Protected Securities (TIPS) - and Agency securities, as well as asset-backed Pass-Through securities.
Portfolios generally maintain a modest duration. Despite the post-election rise in rates and the March Fed Funds rate hike, interest rates are still historically low. Since the excess yield for holding a long-term bond instead of a series of shorter-term bonds remains low, we maintain our view that investors are not being adequately compensated to hold significant amounts of long-term debt. Should rates increase to more attractive levels, we would look to increase duration through the purchase of longer-maturity Treasuries or Agencies to take advantage of higher levels of income. Conversely, if rates consolidate and prices rise, we may look to reduce duration.
In our view, short-term and income-oriented investors should also explore equities that display stable fundamentals and are trading at attractive valuations. We believe companies that generate strong, stable cash flows and pay an attractive dividend could be compelling options for these types of investors in the current environment.
Source: Thomson Reuters. Analysis: Manning & Napier Advisors, LLC (Manning & Napier).