BrainStorm Cell Therapeutics (NASDAQ:BCLI) is pursuing a noble and difficult goal, a stem cell based treatment for patients suffering from Amyotrophic Lateral Sclerosis ("ALS"), commonly known as Lou Gehrig's disease as a recognition of one of the disease's most notable victims.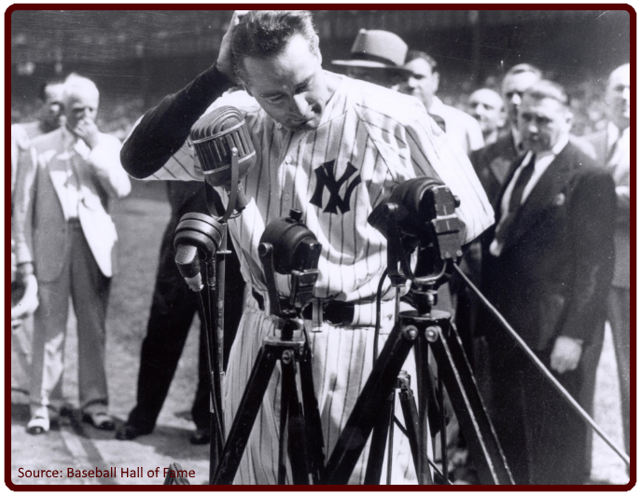 ALS is progressive, debilitating neuromuscular disease that causes a person to become gradually and progressively weaker and is almost always a death sentence. This progressive weakness is due to the degeneration of nerves in the anterior horn of the spinal cord, which transmit information from the brain to the muscles of the body. ALS is a relatively rare disease. According to the Center for Disease Control, about 12,000-15,000 people in the United States have ALS and every year about 5,000 more people are afflicted.
BCLI's ALS therapy is based on its version of autologous mesenchymal stem cells that are grown under proprietary conditions to enhance the cells' production of neurotrophic factors (NTFs). NTFs are growth factors known to support the survival of neurons in a variety of conditions and in animal models of many neurodegenerative diseases. These cells are trademarked under the name, NurOwn. A complete explanation of the production process of NurOwn can be found here.
In July 2016, BrainStorm released Phase II results for its ALS trial where the primary endpoint was safety and tolerability. The trial was not powered to show efficacy. On clinicaltrials.gov, the primary endpoint for the trial was stated as: "Number of patients with adverse events [Time Frame: At all study visits: Visit 1 through visit 10]". Although the company announced in its July 18, 2016, press release that the trial met this primary endpoint, it was clear that there were more adverse effects seen in the treated group than in the placebo group. This table from a BrainStorm presentation makes this abundantly clear: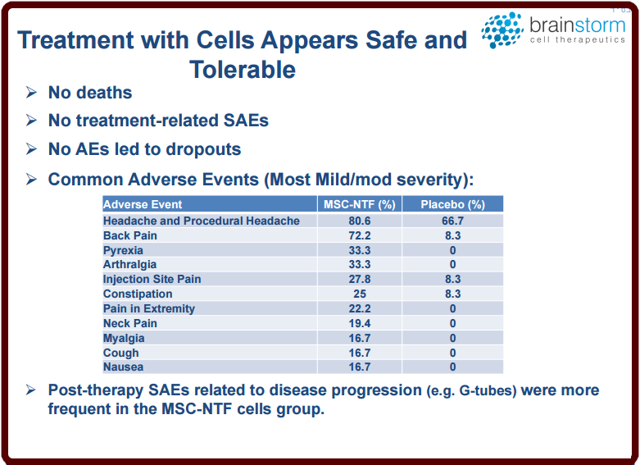 Note the last words on the page: "Post-therapy SAEs related to disease progression (e.g. G-tubes) were more frequent in the MSC-NTF cells group." SAEs are serious adverse effects and G-Tubes, just one example given of post therapy SAEs, are feeding tubes through an opening into the stomach.
Given the seriousness of ALS, patients suffering from the disease would welcome any treatment that could stabilize or, better yet, reverse the onslaught of this hideous disease even if some serious adverse effects were the price to pay. However, despite promising headlines from the company about the Phase II clinical results, there is no evidence that the patients treated with NurOwn have seen the disease either stabilize or reverse by the end of the 24 week trial.
There were two secondary endpoints of the trial that were designed to measure efficacy based upon the slopes of these two well-established ALS measurements:
ALSFRS-R - a 48-point measurement scale that covers 12 activities of daily living and global function for patients with Amyotrophic Lateral Sclerosis (ALS). The ALSFRS-R provides a physicians-generated estimate of patient's degree of functional impairment, which can be evaluated serially to objectively assess any response to treatment or progression of disease.
Forced Vital Capacity (FVC) - an index of respiratory function that may be used to indicate potential respiratory compromise in ALS.
From ClinicalTrials.Gov:
Secondary Outcome Measures:

Change in Amyotrophic Lateral Sclerosis (ALS) Functional Rating Scale (ALS-FRS) slopes from the pre-transplantation period to the post-transplantation period between the treatment and placebo groups through 24 weeks post-transplantation. [Time Frame: At all study visits: Visit 1 through visit 10 ]
Change in SVC slopes from the pre-transplantation period to the post-transplantation period between the treatment and placebo groups through 24 weeks post-transplantation [ Time Frame: Visits 1,2,3,5,6,7,8,9,10 ]
It's only natural for a company to tout the parts of data that cast the results in the brightest light. However, an investor needs to look at the overall essence of the data that provide the most realistic assessment of potential efficacy.
There are many charts and tables in the BrainStorm BCT-001-US Phase II clinical trial presentation and interested investors are encouraged to review all of it, make their own evaluations and also listen to the associated webcast. However, in my view, the following single chart best captures the picture with regard to the overall efficacy of all patients in the trial. It compares the treated group to the placebo group with regard to the slope of the ALSFRS-R score: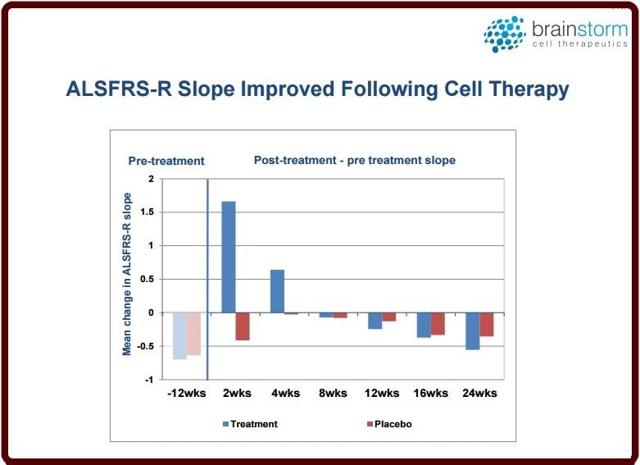 In my view, the most significant aspect of a successful ALS treatment is not whether disease progression has slowed down. It should be about whether patients are actually stabilizing or improving. In the above chart, anything below the 0 line means continued deterioration in patients' well being and anything above the line indicates patients' improvement. At 2 weeks and 4 weeks, the treated group on average actually showed improvement, while the placebo group continued to decline. However, at 8 weeks, the treated group started to regress once again and at weeks 12-24, the treated group was actually doing worse than the placebo group on the ALSFRS-R scale.
Equally significant is what is NOT shown in the BrainStorm presentation. Why is there no mention at all of the other important secondary efficacy endpoint, Forced Vital Capacity? FVC a very important predictor of survival and disease progression according to this excerpt from a study on this topic that can be found here:
Our data demonstrate that baseline FVC, easily obtained early in the disease course, and typically at the first clinical visit, may serve as an early predictor of survival and disease progression in an ALS clinic population. Because FVC directly assesses pulmonary function, the decline of which is the most common cause of death or chronic respiratory support in ALS patients our findings were not surprising. However, to our knowledge, no previous positive data about the predictive value of FVC on disease progression in ALS have been published, and other investigators were unable to confirm a correlation between ALS functional rating scale and FVC.
It is not difficult to take an educated guess on why FVC data were not reported. They likely didn't support the premise that NurOwn shows promise in treating ALS.
Recently, BrainStorm issued a press release that was the catalyst that lead me to take this new look at the company and led me to write this article. This is the first paragraph of that press release:
HACKENSACK, N.J. and PETACH TIKVAH, Israel, March 1, 2017 /PRNewswire/ -- BrainStorm Cell Therapeutics Inc., a leading developer of adult stem cell technologies for neurodegenerative diseases, announced today that is has signed a Memorandum of Understanding (MOU) with The Medical Research, Infrastructure, and Health Services Fund of the Tel Aviv Sourasky Medical Center (Ichilov Hospital) to explore the possibility of making NurOwn® available to Amyotrophic Lateral Sclerosis (ALS) patients under the provisions of Hospital Exemption regulation. The MOU also covers the participation of Tel Aviv Sourasky Medical Center in the planned Phase 3 trial that will investigate NurOwn in ALS.
At first glance, it seemed possible from the press release that BrainStorm could have an early revenue stream even if there is little evidence that NurOwn provides any meaningful benefit. However, upon further investigation, if this therapy is made available to patients in advance of the planned Phase III trial, it would require payment by patients for an experimental treatment with no public funding. This is an excerpt from a form letter sent out by the participating hospital in Israel to inquiries about the BCLI press release (the capitalization of the word small was directly from the letter):
Please take also into account that the results shown with this technology indicate a SMALL improvement, and every patient has to make a balanced decision between this small effect and the costs of the treatment and costs and logistics of overseas travel.
The entire letter is attached to this article.
Brainstorm has disclosed that it recently completed a successful End-of-Phase 2 Meeting with the FDA and has reached general agreement to proceed to a Phase 3 trial. The FDA has accepted the key elements of the Phase 3 program to support a Biologic License Application (BLA) for NurOwn in ALS. The planned Phase 3 clinical trial will be a randomized, double-blinded, placebo-controlled multi-dose trial that will be conducted at multiple sites in the U.S. and in Israel. The trial is expected to begin enrolling patients in the second quarter of 2017.
Conclusion:
Is it possible that a multi-dose regimen of NurOwn in the Phase III trial will reverse the course of ALS? Anything is possible but based on the Phase II ALSFRS-R data, there is little reason for optimism. Furthermore, the lack of ANY information regarding Forced Vital Capacity data in presentations to investors can only be viewed as a big red flag. Finally, as an autologous cell therapy, NurOwn will no doubt be extremely expensive, especially with the added steps of cryopreservation and multiple dosing. It will likely need to cure ALS or at least stop disease progression in its tracks to convince insurance companies that it is worth the price.
Supporting Documents
Editor's Note: This article covers one or more microcap stocks. Please be aware of the risks associated with these stocks.