I decided to write this article on Under Armour (NYSE: NYSE:UAA) after noticing some bullish sentiment on the stock over the past couple of weeks. A Barron's article released last week made headlines as its author expressed bullish sentiment on the company, arguing that the stock has 30% upside potential this year. I haven't written any new articles on the company after its post-earnings collapse at the end of January, but wanted to provide my two cents on the company's future trajectory and argue that buying the company's shares, even now, is a very risky prospect.
Sales Slowdown
In this article, I'll cite and respond to points made in the Barron's article - I believe the article is a good summary of the bull case on Under Armour and warrants a response.
The author writes, "Whatever Under Armour's challenges, it is likely to grow sales at a double-digit clip for years to come".
While this statement may have made sense a couple quarters ago, the past few months have made me question whether or not Under Armour will be able to continue growing sales at a double-digit rate.
This chart details how sales growth has been over the past few quarters versus expectations: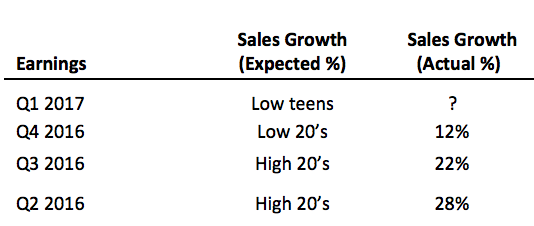 The past few quarters have given rise to an alarming trend in which the company has consistently failed to meet previously iterated expectations. After meeting expectations of revenue growth in the high 20's on a percentage basis for Q2 2016, the company missed its target for Q3 2016 and was forced to lower revenue growth forecasts to the low 20's on a percentage basis.
The company shocked investors again with its Q4 results, as revenue growth fell to just 12%. Management lowered revenue growth targets to the low teens, and the company's upcoming Q1 2017 ER should provide insight as to whether or not the company will be able to maintain that level of growth for the foreseeable future.
Projected revenue growth in the low teens is a drastic change for a company growing at nearly 30% just a few quarters ago, so I would advise potential investors to stay away until the company can prove that it can consistently meet guidance and maintain solid sales growth.
North American sales growth was just 6% during Q4 2016, a worrying number for a company that generates the vast majority of its revenues domestically. International sales have been a bright spot for the company, and were up 55% in Q4 2016. However, this was down from 74% and 68% increases in Q3 and Q2 2016, respectively. While I do expect international revenue growth to remain robust, it should continue to slow as the sources for its domestic slowdown manifest overseas.
The Footwear Problem
Under Armour is now relying on footwear growth to maintain sales growth. The company's apparel revenues grew by just 7 percent as per its Q4 2016 earnings, while its footwear revenues grew by 36 percent.
I strongly doubt that the company's footwear segment will be able to continue growing at a high clip. Adidas (OTCQX: ADDYY) announced fantastic earnings and guidance early last month, propelling shares to a record-high. The company's strong earnings came on the back of a North American comeback, which led it to forecast sales growth of 10-12 percent for 2017, a higher growth rate than is expected for Nike (NYSE: NKE).
Adidas's results confirm the trend shift to casual, lifestyle apparel and footwear which I've written about at length in prior articles. This was also mentioned in Foot Locker's Q4 earnings call, in which management spoke about a "casualization" in the way people dress - confirming and echoing numerous reports about a trend shift towards casual apparel and footwear.
I've said this before and will reiterate it as it is one of the primary reasons why I believe Under Armour will continue to struggle - UA products are seen and used primarily as performance gear, and as such are not viewed as fashionable. Under Armour needs to find a way to change this perception of its brand if it wants to be able to continue growing and compete with Nike and Adidas.
Brand Perception and Geography
A couple of months ago, I conducted an online survey which was sent out to students at various colleges, including Cornell University, University of Pennsylvania, UC Santa Barbara, UC Berkeley, and others. While not a scientific or comprehensive survey by any means, I feel that its results are an effective means of gauging footwear preferences and consumer sentiment. The responses to this question in particular demonstrate that Under Armour faces an uphill battle in its efforts to steal footwear market share from Adidas and Nike: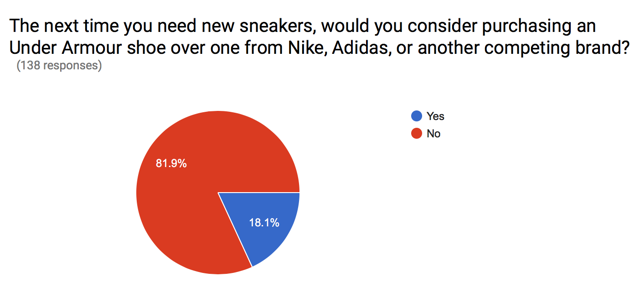 The fact that only 18% of respondents would even consider purchasing an Under Armour shoe demonstrates that at least among college students, Under Armour products are not seen as very desirable. I've written extensively about the company's lack of popularity among teenagers and millennials, which is one of the core areas that it needs to improve on.
Another issue for Under Armour is its relative lack of popularity on the west coast. As per Google Trends data, Maryland, North Dakota, and South Dakota are the top three states in terms of search interest for Under Armour, while California, Oregon, and Washington rank dead last.
Valuation
Despite the beating shares have taken over the past few months, the company remains highly valued. Under Armour's EPS in 2016 was 45 cents, which corresponds to a TTM PE multiple of 43.7. Given that operating income is forecast to decline in 2017, it's unlikely that we will see a PE ratio expansion.
The Barron's article presented a valid point in that Under Armour shares now trade at a 1.6x PS ratio, which is lower than that of Nike and Adidas. Below is an industry comparison chart to compare valuations of Under Armour and its primary competitors:

As you can see, Under Armour's valuation metrics are quite conflicting: its PE multiple indicates that the company's shares are overvalued, yet the price-sales multiple is quite reasonable and is the second-lowest of the companies listed. However, I believe its relatively low PS ratio is justified as the company's margins and overall profitability have been under pressure, purportedly to continue growing.
Deteriorating sales growth and profitability should serve both as a justification for the company's low PS multiple and as a warning sign for potential shareholders. I would personally avoid considering a long position in Under Armour until the company is able to show that it can turn profitability around and maintain consistent revenue growth. Profitability is unlikely to improve in the near future, especially as the company partners with low-price chains such as DSW and Kohl's.
Conclusion
Despite the sharp deterioration of its share price, Under Armour still does not look like an attractive long-term investment. Adidas's resurgence, fashion trends favoring casual gear, and weak product desirability are just a few factors that keep me from recommending Under Armour as a buy.
While I do believe Under Armour will be able to continue growing due to international expansion and partnerships with domestic retailers, I don't believe the company's shares represent an attractive buying opportunity at this level.
I will keep readers updated via articles on this site and am always welcome to any questions or disagreements either in the comments section or via email (email address is in my Seeking Alpha bio). Thanks for reading!