Precious metals are having a good year so far in 2017. Gold is trading at around $100 higher than the price at the end of 2016; silver is $2.30 above the level on December 31; and palladium has rallied by about 125 bucks. The three precious metals have become more valuable and more lustrous over the course of the first three months and a week this year.
The price of platinum is up as well, but it has only managed to post a $55 rally which considering its nickname as "rich man's gold" is a relatively poor performance so far in 2017. Platinum is an industrial and a precious metal. It is more than ten times rarer than gold and has a higher production cost than the yellow metal as it is deeper in the crust of the earth. Platinum has many more industrial applications that gold on a per ounce produced basis because of its higher density and melting point.
Unlike silver, platinum does not tarnish, and it has earned a reputation as a cut above gold over the years. The platinum American Express card is more prestigious than gold, but given that the metal has not traded at a premium to the yellow metal since 2014 I am thinking about asking Amex for a rebate on my annual fee for the Platinum card. All joking aside, platinum has performed poorly over recent years, and it continues to be a laggard with a capital L.
A laggard with a capital L
The price action in platinum has been weak, to say the least. Platinum was the worst performing precious metal in 2016, posting a gain of only 1.58% and in Q1 2017 it was once again at the bottom of the heap despite a gain of 5.21% for the three month period.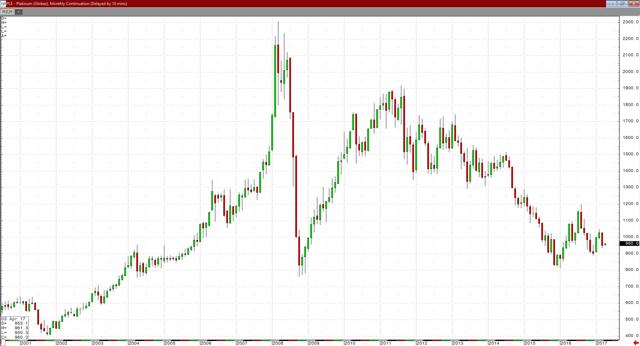 Source: CQG
As the monthly chart of NYMEX platinum illustrates, platinum has been in a downtrend making lower highs since 2011. An attempt at a rally in 2016 failed, and the price is now sitting at the $965 level. Gold, silver and especially palladium have all posted more impressive rebounds since late 2015, but platinum has been the laggard in the precious metals sector despite the metal's fundamentals.
Fundamentals are positive
According to the World Platinum Investment Council, platinum entered its sixth year of a structural deficit in 2017. Supplies are lower than demand on an annual basis, but the price has not responded.
Platinum has been a head-scratcher for anyone holding the precious metal and waiting for the price to reflect its supply-demand imbalance. In the world of precious metals, the path of least resistance for prices each year tends to be a function of investment demand. When I first got started in the precious metals trading business in the early 1980s, a senior trader once told me that prices move higher when there are more buyers than sellers and lower when the opposite occurs. I thought he was joking around by stating the obvious. However, I have learned over the past thirty-five years that there is so much truth in that simple statement and it is often easy to overlook something that is staring you right in the eyes.
Little or no investment demand
Each year, there is only around 250 tons of platinum production from primary sources and as a byproduct of other mining such as nickel output. That means that only around 8 million ounces of new platinum comes on the scene each year and at a price of $965 per ounce the value of that metal is around $7.72 billion.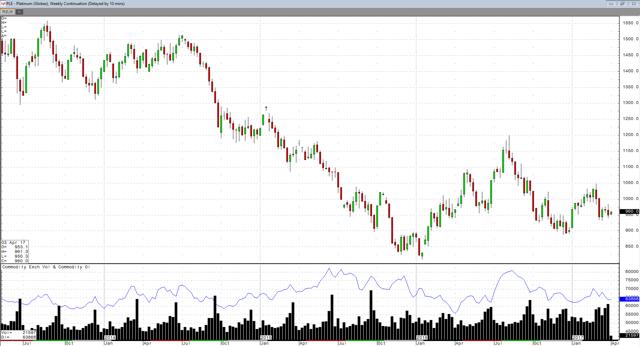 Source: CQG
As the weekly chart of NYMEX platinum futures shows, total open interest is currently at 63,868 contracts which represent 3,193,400 ounces of the metal. Since August 2016, each time the price fails to follow through on the upside, open interest declines. The longs throw in the towel in disappointment. The price action and the flow of open interest in the futures market tell us that investment demand is both fickle and fleeting these days. Moreover the total market capitalization of ETFS Physical Platinum Shares (NYSEARCA:PPLT), the platinum ETF product stood at $566.78 million as of Wednesday, April 5. Considering that the SPDR Gold Trust (NYSEARCA:GLD), the major gold ETF product, had a market cap of almost $34 billion - and iShares Silver Trust (NYSEARCA:SLV), the silver ETF product's, was over $6.1 billion on that date - platinum is struggling when it comes to investment demand. Platinum's nickname is "rich man's gold," but it has not traded at a higher price than the yellow metal since 2014.
One of the reasons I believe investors and speculators have avoided platinum over recent years is that they have long memories of getting burned in the industrial and precious metal back in 2008.
Long memories could be depressing the precious and industrial metal
Before the financial crisis nine years ago, platinum traded at its all-time high.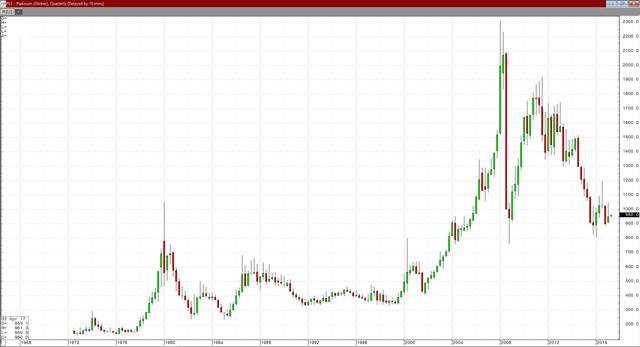 Source: CQG
As the quarterly chart highlights, platinum futures traded to a peak of $2308.80 per ounce in March 2008 and fell off a cliff to a low of $761.80 during October of the same year. The decline of 67% over a seven month period burned many investors, traders, and speculators who likely swore never to return to the volatile metal. During that time, gold only experienced a 34% decline, and silver fell by 60%. However, both gold and silver offer market participants much more liquidity than platinum in the futures market and the likelihood is that many decided never to return to the platinum market.
Platinum has had a scarlet letter since the events of 2008 unfolded. The fact that many have abandoned the market with long memories of the pain of the 67% plunge could be a great reason to consider adding the metal to your portfolio right now.
Eventually platinum will wake from its hibernation
In 2008, platinum declined by $1547 in seven months. Today the price of the metal is right around the $965 level. With gold above where it traded at its highs in 2008 at $1033.90, platinum remains a cheap alternative to the yellow metal.
It may take time and require the patience of Job, but platinum will once again awaken from its hibernation and surprise on the upside. The fundamentals favor platinum. The price action in other precious metals markets supports platinum as a cheaper alternative from a historical perspective. The bottom line on this rare and industrial metal is that it is inexpensive on a value basis these days and it will eventually have its day in the sun once again.
When it comes to analyzing the current market action in platinum to figure out what is wrong with the metal, the only answer I can come up with is that there are not enough buyers in the market to spur a rally yet. The simple truth is that without buyers, the price cannot go higher but when they eventually show up, the rebound could be as dramatic as the fall in 2008.
I want to inform you about an upcoming price increase for The Hecht Commodity Report. On May 1, we are raising our price for the first time. Current subscribers and anyone who signs up before April 30, 2017 will lock in our legacy price. For any new subscriber, I am offering a two-week free trial for the report. The Hecht Commodity Report features a detailed report on the major commodity sectors, covering over 30 individual commodity markets, with analysis on the technical and fundamental state of each market. I also share ways to play those conditions. Sign up for The Hecht Commodity Report and have a look before the price goes up!
Disclosure: I/we have no positions in any stocks mentioned, and no plans to initiate any positions within the next 72 hours.
I wrote this article myself, and it expresses my own opinions. I am not receiving compensation for it (other than from Seeking Alpha). I have no business relationship with any company whose stock is mentioned in this article.