This article series documents my journey as a young father of two towards my eventual retirement. The goal of my portfolio is to generate a growing income stream for my wife and I during our golden years. In an ideal world, this will not require selling of assets to fund our desired lifestyle.
For anyone interested in seeing changes in real time, I have my portfolio and dividends tracked on Dividend Derek.
This article will summarize my March activities as well as wrap up Q1 of 2017!
March was a rather slow month for me in terms of account activity, certainly not in dividends received! Note, I did not say boring - there's nothing boring about collecting more and more dividends. I collected another record amount, $764.30, in March. I wish this were steady for every month. Alas, the last month in each quarter is my powerhouse month.
To recap my portfolio plan for this year:
2017 Goals
I want my holdings to have a weighted 1-year dividend growth rate of at least 5%.
By the end of 2017, I want to have a projected dividend income of at least $5,800.
I aim to suffer no dividend cuts.
March was quiet on the dividend increase front for my holdings, but I am still averaging 11.8% for the year for the names that have increased.
For my second goal, I'm sitting at a projected income of $5,235, so I have to get moving to hit my income goal.
To recap, here's how I came to $5,800:
| | |
| --- | --- |
| Starting Income | $5,000 |
| 5% Organic Dividend Growth | $250 |
| Maxing 401 New Money | $540 |
| End of 2017 Income | $5,790 |
I started by rounding my starting income to $5,000 ($4,993 is close enough for me). From there, I added 5% average organic dividend growth.
Next is the money coming from maxing my 401 contributions. The cap was not changed for 2017, so I can contribute a maximum of $18,000. For the sake of this exercise, I won't consider employer matches. I am also assuming the money buys an average of a current 3% yield.
That brings us to the $5,790 figure, which I am then rounding up to $5,800.
Portfolio Strategy
Buying Criteria
These are the general guidelines I will review to see if something is worthy of adding to my portfolio or whether I will add to an existing position.
Being a member of the CCC list, obviously a longer streak is preferred.
No one individual holding should be weighted >7% of the portfolio's total cost or weighted >7% of the portfolio's total dividend income.
Investment grade holdings >BBB+ should generate 95% of the portfolio's dividend income.
I want to see steady earnings growth over time; this will generally remove commodity-based companies.
I like cash cows. Good profit margins (> 10%) are appreciated, though not required, if the company has a wide moat due to its business.
I like to see shareholder-friendly management, a healthy and rising dividend and willingness to buy back shares, though in practice, the buybacks aren't always done at opportune times.
Though a small part of my portfolio, I do have some non-dividend paying stocks like Facebook (NASDAQ:FB), Google (GOOG, GOOGL) and Amazon (NASDAQ:AMZN).
Perhaps most importantly, the valuation needs to be right per F.A.S.T. Graphs. The stock should be trading at fair value or better for an appropriate timeline (12+ years if possible).
I will also use Simply Safe Dividends and the information provided by Brian on his site. Amongst a plethora of information available, he has a dividend scorecard where companies are ranked in terms of dividend safety, growth and yield. I aim to pick companies that are in the 80+ safety range, though not always.

A lot of times, I will start to find candidates either through articles here or on a simple screener from Finviz. Basically, start with large dividend-paying companies, sort them by how close they are to a 52-week low and then start diving into some of the names left.
Every month, I update this screenshot to show what I am looking at.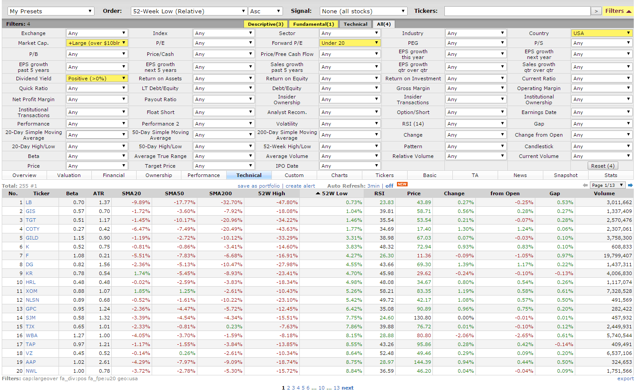 From last month's list, I wrote an article about Kellogg (NYSE:K). In fact, several big food names were on the list, including Hormel (NYSE:HRL), General Mills (NYSE:GIS) and J.M. Smucker (NYSE:SJM). I am still reviewing those names for future articles.
Another name that's interesting on the list is Walgreens (NASDAQ:WBA). I own CVS, but at the right price it would make sense to own both.
Selling Criteria
There are only a few reasons I'll sell a stock, though any of these events is not a guarantee I'll do so.
Dividend cut.
Company degradation - This could be things like deteriorating balance sheets, loss of competitive advantage, loss of credit ratings.
Wild overvaluation - This becomes a bigger factor if there is something at a fair valuation that I wish to purchase with the proceeds.
Position size wildly outgrows the rest of the portfolio.
I just don't want to own it.
Portfolio Changes
New Positions
None this month.
Existing Positions
None here either. I didn't find much in March, I know everyone is getting tired hearing about how expensive the market is. But unfortunately, it's the truth. I'm looking for quality companies trading at or below their intrinsic value (aren't we all?), and they are hard to come by these days.
Sells
BHP Billiton (BBL)
I sold part of my stake in BHP Billiton this month. Boy, what a mistake it was getting into this. This was "catching a falling knife" at its finest. I originally bought BHP in November 2014, as the price was still rapidly falling. My original basis was $51.69, and I doubled down after the dam accident. I did better on that second lot, getting more shares at a cost basis of $29, but the stock still slid further.
I reinvested my dividends, even as the company slashed its payout. I sold part of my stake at $33/share, so my new cost basis is just under $40 with my reinvested shares. After the dividend cut, the stock was on my hit list, but I just wasn't ready to pull the trigger and sell at a big loss. The company still maintains an A credit rating, but its income is too cyclical for my liking, being tied entirely to the price of iron ore.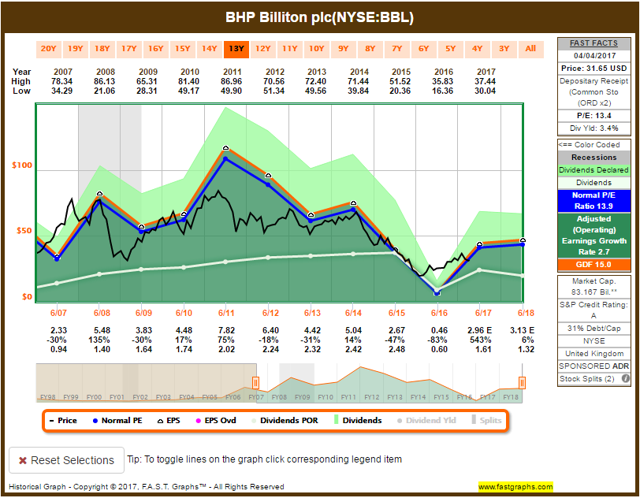 The F.A.S.T. Graph for BHP Billiton does not give me any sort of "rest easy" feeling. The company's earnings are highly volatile, though the stock price itself appears slightly less volatile.
Lastly, after my doubling down maneuver, the stock became a very sizable portion of my portfolio. Until I sold, it was actually the second-largest position behind Apple (NASDAQ:AAPL). That was just unacceptable for something I no longer desired to own. At least with a smaller current position, I can continue to ride the storm until, hopefully, I can sell the rest down the road. Ultimately, BHP was a loser for multiple reasons for my sell criteria.
Oracle (ORCL)
Oracle was a company I became disillusioned with. I owned a very small position, about 1/4th of what a full size position might look like. This is insignificant in scale. Also, I use a lot of its products in my day job, which is another source of angst.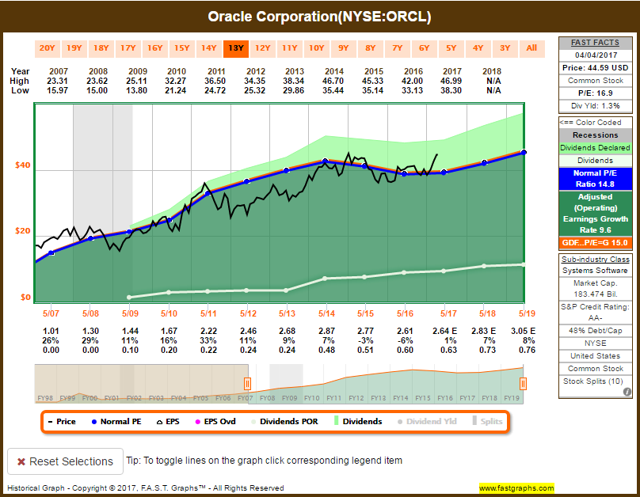 I won't argue the current yield is low, but growing rapidly. The company announced a nice increase after I sold. I don't like how much of its business comes from selling database when I see someone like Amazon (with AWS) rapidly eating BHP's lunch.
My reasoning isn't nearly strong as with BHP Billiton, I just don't want to own it. I have several other legacy tech titans I could buy more shares of than owning an additional one. For those interested, I did close a small gain.
Dividend Increases
None.
Dividend Cuts
None!
New Rules
None.
Stocks I'm Watching
I am still using Custom Stock Alerts every day to track stocks I either own or am interested in.
Here is a screenshot of just some of the 52-week low stocks I'd be interested in.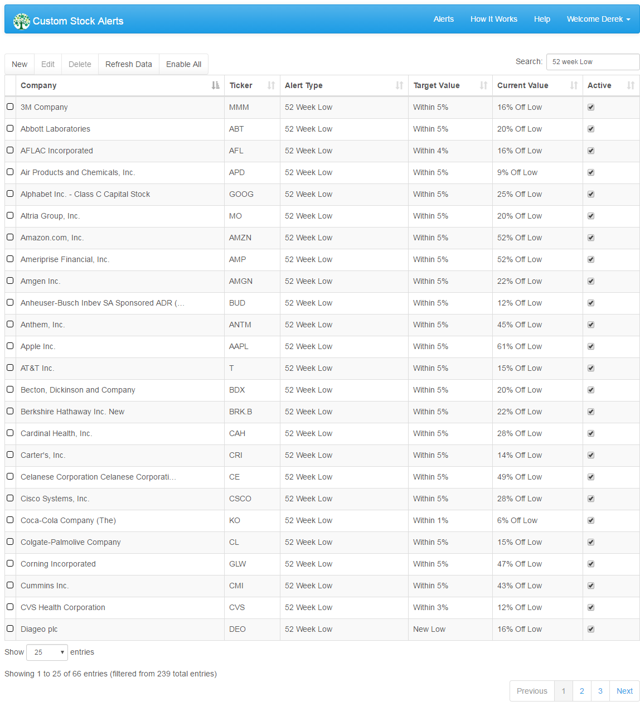 As you can see, I have 66 of just this alert type set up out of my current 239 total alerts. Come check it out. You can have a list like this setup and get an email or text if something hits too.
Charts and Graphs
2017 Dividends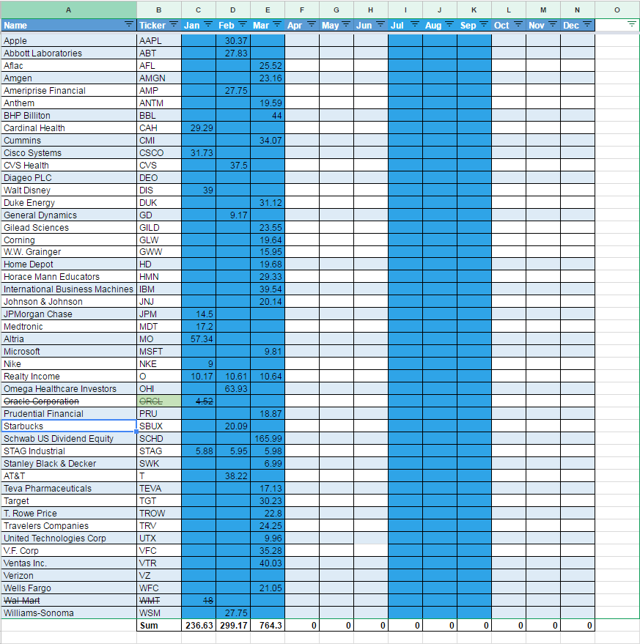 As I mentioned in the summary, I received a personal best of $764 in dividends during March! 27 of my companies paid me, which I won't argue with. While the Schwab U.S. Dividend Equity ETF (NYSEARCA:SCHD) is my favorite dividend ETF, the payout is certainly variable. This happened to be a low quarter for the year at "only" $165 versus $201 received in December.
V.F. Corp. (NYSE:VFC) was also a new payer for me, as I purchased shares in December.
Growth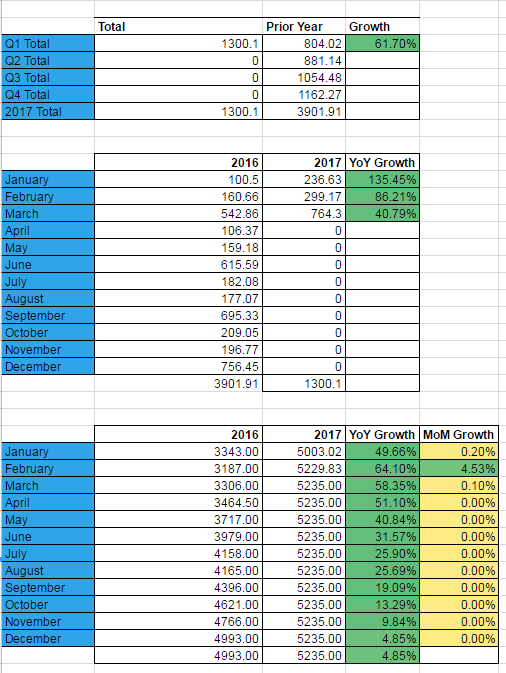 I have a few items to hit here. The top graph shows my quarterly dividends received compared to the quarter in the prior year. I changed that this month; previously I compared income to the prior quarter. At least this way I can keep it apples to apples; in case particular companies don't pay quarterly, it won't throw off the next quarter. With that in mind, I grew my dividend income 61% over the same quarter last year!
The second graph shows my monthly income with another year-over-year comparison. As I mentioned, the third month in a given quarter is my brightest spot, and that is not a new phenomenon. So April was a 40% dividend increase over 2016 - not too shabby!
The last graph shows my forward-looking income. If you took the current shares of all my stocks, multiplied that by the current dividends and summed up all of that, that's my income. It only moved slightly up in March because of the counterbalancing forcing of selling some shares and compounding in others.
The Portfolio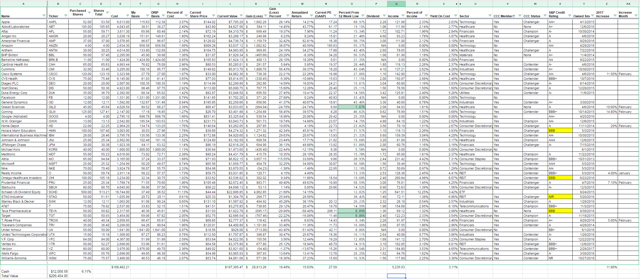 This chart contains everything, including my non-dividend payers. Through use of Google Finance and importing some data from Yahoo Finance, I have some additional columns with dynamic data.
Here are the column definitions for the ones that may not be evident:
Purchased Shares: The shares I actually bought
Shares Total: Total shares after dividend reinvestment / splits
Cost: My transaction cost, including fees
My Basis: "Cost" / Purchased Shares
DRIP Basis: "Cost" / Shares Total
Percent of Cost: "Cost" / sum(All Costs)
Current Value: This will use Google Finance to get the price for the ticket * "Shares Total"
Gain (Loss): "Current Value" - "Cost"
Gain (Loss) Percent: "Gain (Loss)" represented as a percent
Annualized Return: ("Gain (Loss) Percent" * 365.25) / (NOW - "Owned Since"). It won't be perfect because each tax lot will have a different return, but it's close enough.
Current P/E (GAAP): This is another Google Finance call to pull the P/E. I haven't decided if I'll keep this, but it's interesting.
Percent From 52-Week Low: Using all Google Finance calls, this subtracts the 52-week low from the current price to determine the percent away. This can make a stock more interesting to me if it's been hated by the market.
Dividend: The annualized dividend - this is sourced dynamically from Yahoo Finance. This code will be specific for Google Sheets, but if anyone wants it, use this: =IMPORTDATA(CONCATENATE("finance.yahoo.com/d/quotes.csv?s=";,INSERT_TICKER_HERE,"&f=d"))
Income: Dividend * Shares Total
Percent of Income: Income / Sum(All Income)
Yield On Cost: Income / Cost
CCC Member: Is it part of the Dividend Champion, Challenger or Contender list?
I would like to get the dividend increase percent mapped in here, and some other values could be useful also. I want the dividend growth figure to be automatically mapped so I don't have to keep track of it.
I may create an API to allow this data to be pulled and host it on Custom Stock Alerts. There's the potential I could pull and store David Fish's CCC list and provide API access to it for anyone that uses MS Excel or Sheets to manage their portfolio. This could then automatically populate the CCC status, 2017 Increase and Increase Month.
Current Total Balance: $209,454 (up from $204,510)
Current Cash: $12,058 (down from $2,854)
Cash jumped up quite a bit this month. I sold $4,600 in equities, but this was also bonus payout month, so combining those events pushed my cash up $10k. Based on the total account value, I am a little over 6% cash.
The yellow indicators on the credit rating just keep me informed of the holdings I have that are below my desired threshold. Horace Mann Educators (NYSE:HMN), Omega Healthcare Investors (NYSE:OHI), STAG Industrial (NYSE:STAG) and Teva Pharmaceutical (NYSE:TEVA) are all below. This is another field I would like to have automatically populated for when ratings change.
Visualizations
Simplywall.st provides my infographics, which are very pretty and something I have been looking for. I have my transactions loaded into their system. The only thing missing is having it calculate dividend reinvestment, but it gives a really close representation of my actual portfolio.
You can check out my portfolio here.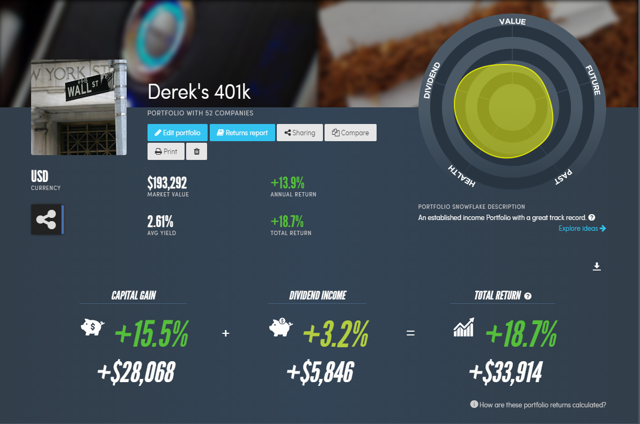 The numbers they show in terms of gains, dividend income and total return are pretty close to what I'm tracking. Like I said, if dividend reinvestment was in there, then we would be golden.
Performance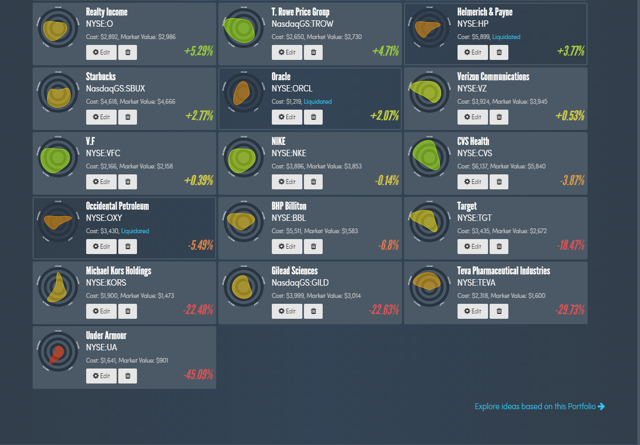 I'm going to change it up this month - here are my biggest losers. I think it's easy to get caught up with the things performing very well, so I will publicly show what I have that is not doing well. One thing we should be doing as investors is adding when our favorite companies are beaten down. It's also worth analyzing if the original buy thesis is still intact. Prices will always fluctuate, and we can't change it, but we can try to profit from it.
Gilead (NASDAQ:GILD) continued to struggle, I made multiple purchases of this stock, based on its value maybe I'm due for one more but I'd like to reevaluate a thesis at this point.
Michael Kors (KORS) was a stock I bought back in 2014, partly based on cheap valuation, with the aim of holding until it returned to a reasonable valuation. That still hasn't happened yet, and with no dividend, this dog has been sitting idle doing nothing for me for a while now.
Looking slightly up the list, I still have some room to add more Nike (NYSE:NKE), VFC, T. Rowe Price (NASDAQ:TROW) and maybe even some Realty Income (NYSE:O) or Starbucks (NASDAQ:SBUX). These are still quality companies sitting roughly where I originally bought them.
Diversification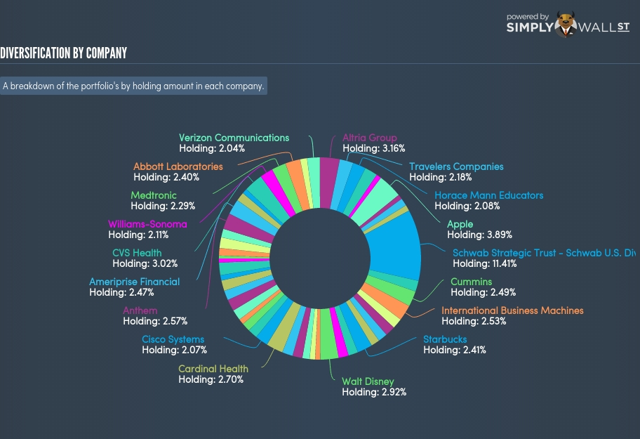 For anyone who has followed my articles, it should be no surprise that diversification is an important tenet I follow. That is readily visible in this graphic via the many different small colored slices that make up the whole pie. The biggest slice is SCHD, my dividend ETF, which itself is diversified.
Income by Sector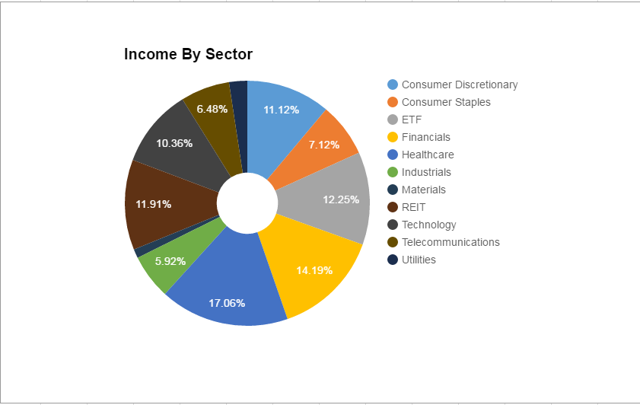 This picture only changed a little bit this month with my general inactivity. I'm pretty much where I want to be with my diversification. I could use some more utility exposure, but that sector is still a little expensive for my taste.
Champion, Contender, Challenger View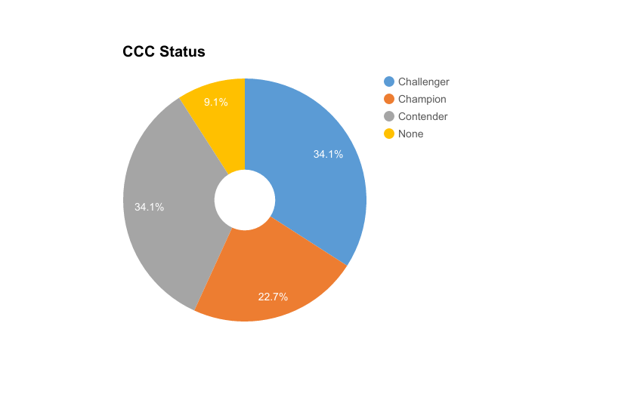 My Dividend "Champions, Contenders and Challengers" list is also about where I want it to be. Generally speaking, most companies I own have a very long history of dividend increases, and over 90% have at least a 5-year history!
Other Notes
I finished Lowell Miller's book, "The Single Best Investment: Creating Wealth with Dividend Growth," this month. It was a good read, and I'd recommend it if you haven't read it. A few of his examples have since changed their thesis. There was a section on how GE became so great because of GE Capital, which has now shown to be a thorn in its side.
Also, my investing career has basically been entirely in a ZIRP environment, so seeing so casually 4-5% yielding stocks with fast dividend growth rates seems entirely foreign to me. I am hopeful we will get back to that at some point.
The general premise of the book could be summarized as:
High Current Yield
+ High Dividend Growth
---------------------------
High Total Return
Here are some of the summarized tips, if you haven't read it:
Look for financially strong companies, BBB+ by S&P or better.
Current high yield; recommended 150% of current yield of the S&P. Prefer double the average or better.
Yield must be expected to grow substantially, at least 5%, to beat inflation in perpetuity. The payout ratio should be less than 50%, except for utilities and REITs.
Companies should offer at least moderate consistent historical and prospective earnings growth. Earnings growth of 5-10% can be sustainable for large companies.
Management must be excellent.
P/S <= 1.5, ideally < 1. P/E and book value ratios should be less than that of the market.
Consider the "story" behind the stock. Look for stocks that are #1 or #2 in their industry. Also try to determine a growth "kicker" that can provide future earnings.
Sell when the dividend is in jeopardy or has not been increased in the last 12 months without a damn good excuse.
Hold for the long term.
Diversify among many stocks that qualify with the above.
The Portfolio
The portfolio now contains the following companies: Abbott Laboratories (NYSE:ABT), Aflac (NYSE:AFL), Altria (NYSE:MO), Amazon, Ameriprise Financial (NYSE:AMP), Apple, Amgen (NASDAQ:AMGN), Anthem (NYSE:ANTM), AT&T (NYSE:T), Berkshire Hathaway (NYSE:BRK.B), BHP Billiton, Cardinal Health (NYSE:CAH), Cisco Systems (NASDAQ:CSCO), Corning (NYSE:GLW), Cummins (NYSE:CMI), CVS Health (NYSE:CVS), Diageo (NYSE:DEO), Disney (NYSE:DIS), Duke Energy (NYSE:DUK), General Dynamics (NYSE:GD), Gilead Sciences, Facebook, Google, Home Depot (NYSE:HD), Horace Mann Educators, International Business Machines (NYSE:IBM), Johnson & Johnson (NYSE:JNJ), JPMorgan Chase (NYSE:JPM), Medtronic (NYSE:MDT), Michael Kors, Microsoft (NASDAQ:MSFT), Nike, Omega Healthcare Investors , Prudential (NYSE:PRU), Realty Income, Schwab U.S. Dividend Equity ETF, STAG Industrial, Stanley Black & Decker (NYSE:SWK), Starbucks, T. Rowe Price, Target (NYSE:TGT), Teva Pharmaceutical, Travelers Companies (NYSE:TRV), Under Armour (NYSE:UA), United Technologies Corporation (NYSE:UTX), Ventas Inc. (NYSE:VTR), W.W. Grainger (NYSE:GWW), Verizon (NYSE:VZ), V.F. Corp., Wal-Mart (NYSE:WMT), Wells Fargo (NYSE:WFC) and Williams-Sonoma (NYSE:WSM).
Conclusion and To-Do
March wasn't the most exciting market month for me, but that's what a portfolio should be. Get it all set up and let it ride with an occasional trade here and there. All in all, I'm very happy with my dividend growth progress for the month and quarter.
In case you were wondering, I feel awesome after my bout with appendicitis!
Let me know your thoughts on my portfolio, and also check out Custom Stock Alerts.
Disclosure: I am/we are long ALL STOCKS MENTIONED. I wrote this article myself, and it expresses my own opinions. I am not receiving compensation for it (other than from Seeking Alpha). I have no business relationship with any company whose stock is mentioned in this article.