In my Permania: Drilling Rig Update articles (January 2017, March 2017) I typically provide readers with an update regarding drilling activity in the Permian basin and provide company-level commentary and analysis.
While analyzing drilling rig data provides valuable insight into future production, I find that analyzing well permitting activity is a helpful compliment to analyzing drilling trends when seeking opportunities in the stocks of E&P companies and drilling contractors. While drilling and permitting activity is not a perfect indicator of future production, given the lag in completion reporting data it is often the most transparent data point.
In this article I will outline the number of new well permits approved in the Permian over the last 3 months as well as look at the last 12 months to highlight the recent acceleration. Additionally, I will provide some drilling contractor and E&P-specific insights and discuss some implications of the data.
Permitting Overview
For the purpose of this and future articles, it is important to note that when I mention "permits", I am referring to approved horizontal/directional well permits and do not include vertical permits in my analysis.
During 1Q2017 there were 1,572 new horizontal/directional wells permitted in the Permian Basin; nearly 3x the number permitted during the 1Q2016 (526).
Reflecting the momentum in the basin, there was a significant acceleration of permitting activity in March 2017. During the month there were 668 permits approved vs. 487 for February 2017 with many operators increasing their permitting activity levels by over 50%. In the table below, which ranks E&P companies by the number of new permits they had approved during March, it is evident that many companies including Anadarko (NYSE:APC), Apache (NYSE:APA), Parsley (NYSE:PE) and EP Energy (NYSE:EPE) have ramped up their permitting activity and are presumably preparing to increase their rig counts.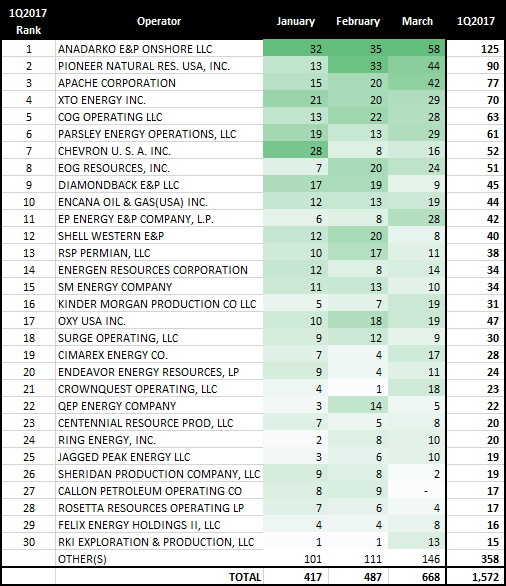 To put the recent acceleration of Permian permitting activity in context, below is a table that shows permitting activity by operator since the beginning of 2016. While operators such as PXD have been relatively consistent over the last 6 months or so, it was interesting to see the breadth of permitting activity during the 1Q2017 and especially during March. A few of the operators that saw a sharp month-over-month percentage increase of approved permits in March vs. February include APA (+22; +110%), EOG (+20; 250%), Cimarex (+13; 325%), RKI E&P - owned by WPX Energy (+13; +433%) and PE (+16;+123%).

Opportunities in Permitting Data
Believing that permitting activity is typically a reliable indicator of increased drilling activity and production in the near-term, analysis of the data has helped me reveal opportunities in the past. For example, increased permitting activity should be a leading indicator for land drilling rig day rates overall and specifically, the utilization rates of rig contractors currently doing work with E&Ps ramping up permitting activity.
For example, based on the chart below, which I recently included in my Permania: Drilling Activity Update March 2017 article, it would appear that Precision Drilling Corporation (NYSE:PDS), Trinidad Drilling (OTCPK:TDGCF) and Helmerich and Payne (NYSE:HP) will benefit the most if APC drilling activity accelerates over the next few months as permitting data would indicate.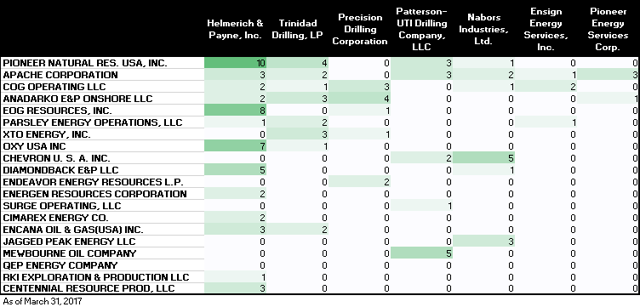 Given that PDS and TDGCF are down meaningfully YTD, both of those companies represent interesting opportunities in advance of their 1Q2017 conference calls. My strategy will be to buy bull spreads a few months out with the expectation that their fleet utilization has and/or should increase due to APC's accelerated drilling activity and day rates should increase due to overall market activity.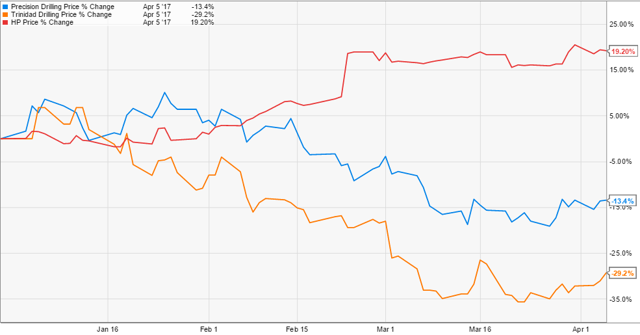 Source: Stockcharts.com
Permits Map
As seen in the map below, which shows permits approved during the 1Q2017 across the Permian basin, it is clear that operators have been aggressively permitting across both basins with notable density in the Delaware basin led by Anadarko and EOG Resources . In the Midland Basin, Pioneer remain the most active, while Apache (APA), Parsley Energy (PE), Concho (NYSE:CXO) and XTO (NYSE:XOM) are actively permitting in both the Delaware and Midland. Notably, APA is permitting in the Midland, Northern Delaware and their Alpine High Play further to the southwest.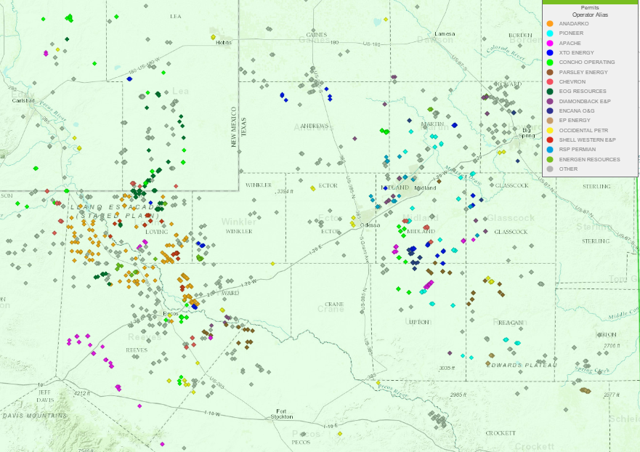 Source: DrillingInfo
Major Operators
In an effort to more clearly show the permits of the top 15 operators by March permitting activity, below is a map that only shows their locations. Based on this map it is clear that E&Ps are focused on the southern Midland and northern Delaware, both areas that have emerged as top tier sub-markets over the last year.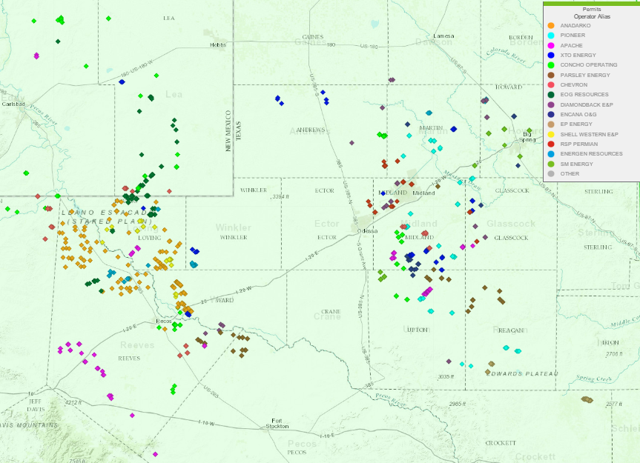 Source: DrillingInfo
Similar to drilling contractors, I believe permitting data analysis has the capability to highlight E&P companies that are set to increase production in the near term. Given their recent surge in permitting and relative price underperformance relative to other Permian E&Ps (as seen below in EV/EBITDA (Forward) chart) I believe APC, APA, ECA and EGN represent the most attractive risk/reward opportunities.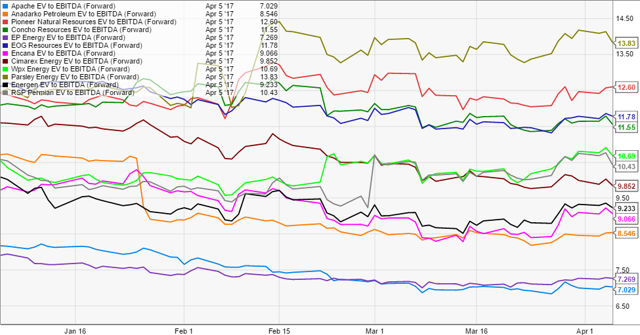 Source: Stockcharts.com
Summary
The first quarter of 2017 saw an acceleration of permitting activity in the Permian, with activity in March reflecting the most dramatic uptick we have seen since the downturn.
While the performance of drilling contractor and E&P operator equities will continue to be highly correlated with the price of WTI, should WTI prices remain relatively stable, I believe analyzing permitting and drilling data should provide investors with the information necessary to take advantage of specific opportunities.
I will continue to provide regular drilling and permitting updates for the Permian Basin so if you found this piece valuable follow me and feel free to message me if you have specific questions or requests for the next update.
Disclosure: I am/we are long APC.
I wrote this article myself, and it expresses my own opinions. I am not receiving compensation for it (other than from Seeking Alpha). I have no business relationship with any company whose stock is mentioned in this article.
Editor's Note: This article discusses one or more securities that do not trade on a major U.S. exchange. Please be aware of the risks associated with these stocks.