The Buy Thesis
STAG Industrial (NYSE:STAG) presents a healthy mix of value and growth which has propelled it to new highs. Despite the market performance, we think there are aspects of its growth that the market is missing including a leverage neutral adjustment and refinancing opportunities. These, along with a substantial spread between ROIC and WACC, should yield 10%+ growth for the next few years and unlock a higher multiple.
All-Time High Yet Low Multiple
On 3/2/2017, STAG hit an all-time high of $26.24.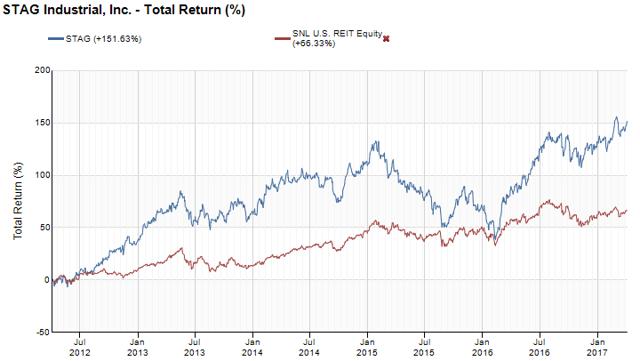 Source: SNL Financial (4/5/17)
We do not find it surprising that STAG's market price has done well given the consistently strong execution and growth. Market participants have become more comfortable with STAG as it builds a track record as a public company, so they have been content to pay a higher price for shares.
As a value investor, I tend to stay away from stocks near their highs, but STAG is different because the improved market price does not translate to a higher multiple. In fact, the company's forward multiple has actually declined over the last three years.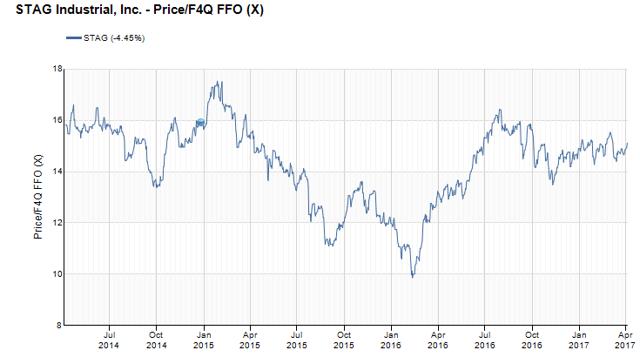 Source: SNL Financial (4/5/17)
This is a result of steady fundamental growth which has allowed FFO/share to keep pace with STAG's market price.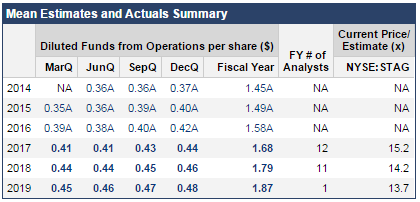 Source: SNL Financial (4/5/17)
STAG's reported growth rate represents steady performance but somewhat slow growth with most years coming in at 3% to 6%. Given this growth rate, the multiple seems roughly correct at 15.2X forward earnings. Such a multiple would be typical of a steady REIT.
However, I believe the market has it wrong. Specifically, the analysts' estimates are missing two key aspects of STAG's growth which could make it a growth company rather than a steady company:
Leverage neutral growth
Refinancing
Leverage Neutral Growth
STAG's growth has come despite a substantial deleveraging effort. Over the past few years, total debt to gross properties has declined from roughly 50% to about 40%.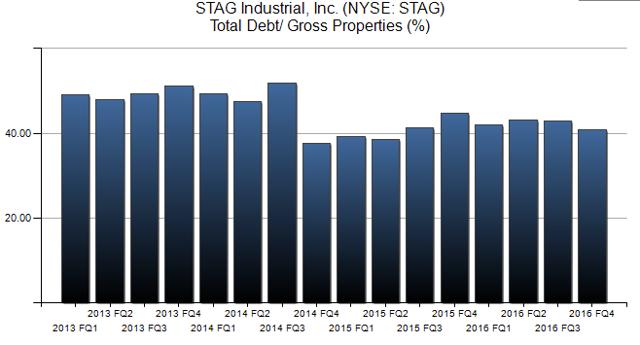 Source: SNL Financial (4/5/17)
Those familiar with finance know that the cost of equity capital is always higher than the cost of debt capital. Therefore, STAG would have grown its FFO/share materially faster if it had grown in a leverage neutral fashion. Instead, STAG sacrificed some of its growth rate to bring its balance sheet to a healthier, sustainable level of leverage. With its new profile, the company has earned an investment grade rating and can issue both debt and equity at lower cost.
Going forward, STAG does not need to lower its leverage so it can grow in a leverage neutral fashion, which means a faster growth rate than when it was reducing leverage. Further, STAG's spread between ROIC and WACC has widened as its cost of capital is reduced. This brings us to our next source of accelerated growth.
Refinancing
In November of 2016, STAG redeemed its 9.0% Series A Preferred and replaced it with a 6.875% Series C Preferred. Given the $69mm par value of the Series A, we calculate annual savings of $1.46mm or about $0.017 per share. Almost none of this hit the earnings in 2016 due to timing, so it represents true incremental growth in 2017.
Additionally, STAG has $104mm of debt coming due in 2017 at a weighted average rate of 5.9%.

Source: STAG filing
Given its most recent issuance of senior notes just under 4%, we believe a 4% note could be issued to replace the maturing debt. This saves an additional $1.9mm annually or about $0.024 per share.
Between the two refinancings, STAG can grow its FFO/share by 2.5% and this should be summative with its external growth and the added pace from no longer needing to reduce leverage. Overall, I think this will take STAG's forward growth rate to low double digits as opposed to the roughly 6% that the Street is estimating.
If this is the case, STAG's market price grossly underestimates its value.
Deep Relative Value
Most industrial REITs trade at a premium valuation with the sector's mean coming in at 18.9X forward FFO.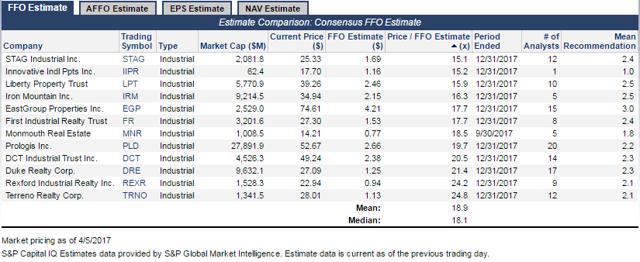 STAG remains the cheapest at 15.1X and one could argue that IIPR, the second cheapest, is not a legitimate peer as it has only one property. Essentially STAG is traded at the lowest multiple because the market believes it is slower growing and riskier than peers.
Both of these descriptions were accurate over recent years, but are no longer true. As discussed above, we believe STAG's growth will accelerate to low double digits making it among the faster growers of the sector. As for the risk, the aforementioned reduced leverage and investment grade rating help, but the bigger factor for consideration is STAG's transition from a new REIT to a proven entity.
Transition to Proven Entity
Those familiar with STAG know it has a slightly different business model than peers in that it uses highly statistical acquisition criteria.
Having examined the criteria, I thought it was brilliant as detailed in this article, so I have owned STAG for quite some time. However, I will admit that at that time it was still just a theory. There are many sophisticated processes that work in theory, but not in practice, so there was significant risk in STAG. In my opinion, that is no longer the case.
STAG's acquisitions have gone full cycle and demonstrated remarkable fidelity to the performance hypothesized in the underwriting. Ben Butcher discusses the binary risk of single tenant industrial properties in that most will perform well but those which don't can fail hard. This binary risk can be mitigated through owning an entire diversified portfolio of single tenant industrial such that individual property failures are washed with other successes resulting in stable cash flows at the company level.
This proved to be the case as STAG had a series of property failures resulting in impairment charges summarized in its 10-K below.

Over the same time period, STAG's portfolio had some properties performing well above expectations including the six shown below which sold for sizable profits:

Source: STAG Filing
Additionally, STAG sold a portfolio of assets for $81mm which were initially acquired for a total of $54.4mm

Source: SNL Financial
Importantly, the magnitude of property outperformance is greater than that of the failures with total impairments of just under $17mm and disposition profits of $44.6mm. On a portfolio level, STAG is growing its same-store NOI as shown below: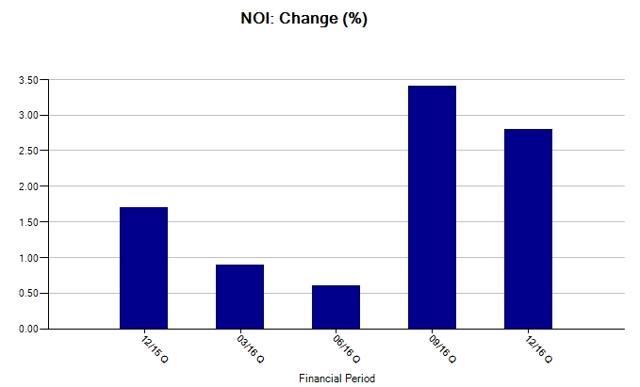 Source: SNL Financial (4/6/17)
This internal growth stacks summatively with the external growth and refinancing opportunity we discussed above.
STAG's portfolio has worked in practice, demonstrating the theory and affording it a greater multiple. Given its earned place as an established REIT and its improved growth rate and balance sheet, we believe STAG should trade at 18X forward FFO or about $30.50, which represents about 20% upside from today's price ($25.25 on 4/6/17).
How It Could Get There
As a value investor, the term momentum makes me uncomfortable as it is usually synonymous with overpriced. In many cases, investing in momentum stocks can be risky as overvalued stocks can come crashing down to intrinsic value once the momentum breaks.
STAG is in a rare spot of having both value and momentum. This being the case, I think its momentum could easily carry it up to intrinsic value. With pricing of the REIT index close to flat on the year and the company accelerating upward, it is clear that investors are showing a preference for STAG.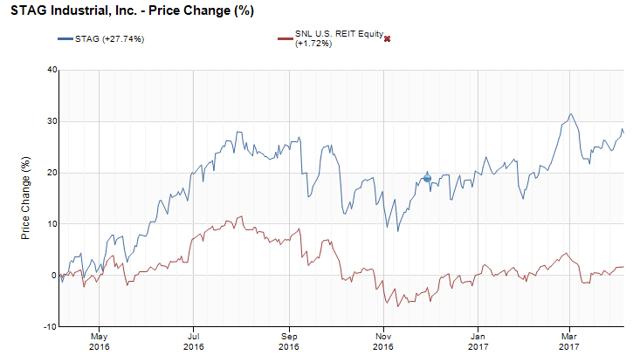 If we are right about the improved growth rate, I do not see there being many incremental sellers. Usually, someone would only sell a winner in their portfolio if it is approaching full valuation, and by our measurement, STAG is still materially below its fair value.
On the flip side, we think demand for shares will remain strong as the company's relative value is compelling. Trading at a steep discount to peers, STAG is the most value conscious way to invest in the industrial REIT sector. Some money will likely flow into the sector given the seemingly secular tailwind of logistics demand and STAG could capture market share within the sector as the valuation disparity is greater than the fundamental disparity.
Icing On The Cake
Our thesis does not require governmental action, but a couple proposals being tossed around could be beneficial to STAG. A border adjustment tax or tariffs would discourage imports and encourage domestic manufacturing. While I express no opinion as to whether this is good or bad for America, it would clearly be good for the industrial portion of the rust belt and STAG is uniquely exposed to this region.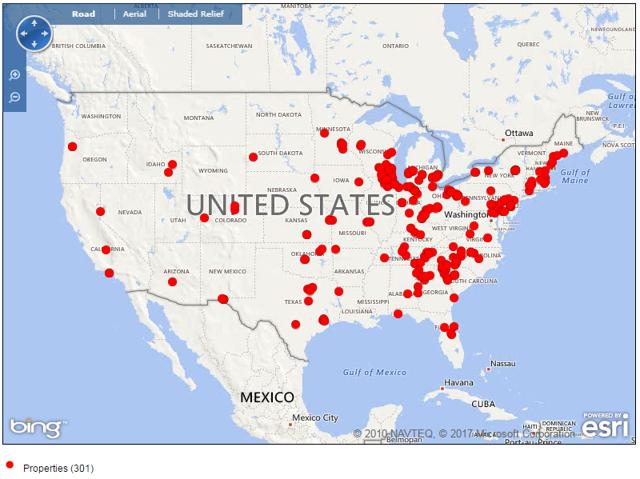 Source: SNL Financial
In contrast, most other industrial REITs have primarily coastal locations which would potentially be hurt by reduced import volume.
Risks and Concerns
While I believe STAG has demonstrated the viability of its business model, it is somewhat sensitive to the macro-economy. Our thesis relies upon an economy that is tepid or better and growth may fall short of our estimates in the event of recession.
During the Financial Crisis, industrial REITs were among the hardest hit as evaporating demand was exacerbated by freshly built supply. Sector fundamentals are healthier now than they were in 2007, so a recession would likely be less devastating, but it could still hurt. In my opinion, the earliest sign of fundamental troubles would be a couple quarters in a row of roll-downs on lease renewal.
Disclosure: 2nd Market capital and its affiliated accounts are long STAG. I am personally long STAG. This article is for informational purposes only. It is not a recommendation to buy or sell any security and is strictly the opinion of the writer. Investing in publicly held securities is speculative and involves risk, including the possible loss of principal. The reader must determine whether any investment is suitable and accepts responsibility for their investment decisions. Dane Bowler is an investment advisor representative of 2MCAC, a Wisconsin registered investment advisor. Commentary may contain forward looking statements which are by definition uncertain. Actual results may differ materially from our forecasts or estimations, and 2MCAC cannot be held liable for the use of and reliance upon the opinions, estimates, forecasts and findings in this article.
This article is part of Seeking Alpha PRO. PRO members receive exclusive access to Seeking Alpha's best ideas and professional tools to fully leverage the platform.
Disclosure: I am/we are long STAG.
I wrote this article myself, and it expresses my own opinions. I am not receiving compensation for it (other than from Seeking Alpha). I have no business relationship with any company whose stock is mentioned in this article.