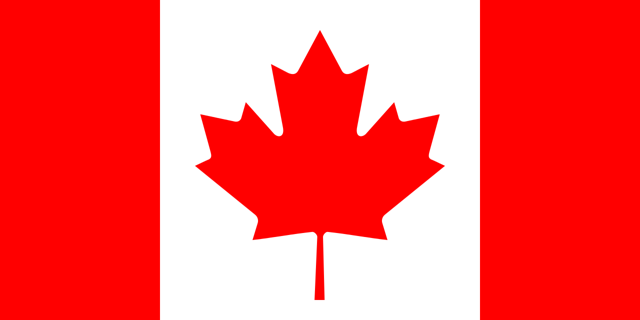 A History of Oil Drilling In Canada
Canada does not have a long history with oil. In fact, the vast majority of oil production has occurred within the last two decades, and the growth has been exponential. Improvements in technology and efficiency have allowed bitumen, the oil-rich sand that blankets the Athabasca oil basin, to be mined efficiently. The two big early players in this was Suncor (NYSE:SU) and Syncrude, the latter of which became Canadian Oil Sands, which has since been taken over by Suncor.
Improvements in steam assisted gravity drainage technology allowed bitumen found deep in the ground to be drilled for the first time, which greatly increased Canadian production. Even more recently, the explosion of the shale industry in the United States has brought a similar growth in certain basins that cover Western BC and Eastern Alberta. All of these technological advancements allowed the oil industry to flourish throughout the last twenty years. The Canadian oil and gas industry also enjoyed the benefit of a pro-oil Conservative Party leadership under Stephen Harper from 2006 to 2015, which fostered more investment into the country.
Over the last couple of decades we have witnessed history repeat itself a couple of times for the Canadian oil industry. There was rapid capital expansion up until when the 2009 collapse in oil prices occurred, which caused major consolidation to the industry. Most of these very profitable companies soon were producing negative earnings, and many over leveraged companies were bought at a cheap price by larger and less leveraged companies. Despite this powerful lesson in the cyclical nature of the oil industry, few heeded the message. While a handful of companies like Suncor (SU) and Imperial Oil Limited (NYSEMKT:IMO) kept debt at reasonable levels and held reasonable cash reserves to take advantage of a downturn, the vast majority kept on spending as if oil would go up forever.
After the failed 2014 OPEC meeting occurred, once again the Canadian oil industry was in a similar, but even worse position, than in 2009. Dozens of companies began slashing capital spending, trying to cover debt obligations, and began selling equity at the bottom of the market. Then a late 2016 OPEC production cut sent a renewed spark to the oil industry in Canada, and once again companies immediately began increasing debt and capital spending. While a handful of companies continue to do things differently, the vast majority of the pack has been following this trend. The most recent example of this is the Cenovus Energy $17.7 billion dollar asset purchase from Conocco Phillips that involved both an equity offering, and taking on an enormous amount of debt. The chart below shows how the two big index funds for the Canadian oil and gas industry have fared over the last few years.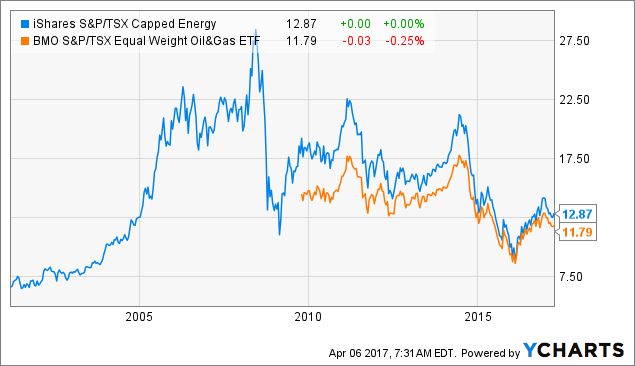 The last twenty years in the Canadian oil and gas industry was marked by explosive growth in investment, rapid technological advancement, and periods of irrational exuberance with investors being overly hopeful with expectations; this rapid surge of capital was interrupted twice by two very sudden decreases in the price of oil, compounded by a federal regime change that is less friendly to the oil industry. Despite this poor track record of return on investment, I believe now is still a fantastic time to invest in the Canadian oil industry, or at least parts of it.
The Dynamics of the Canadian Energy Industry
Canada's relative high cost of oil production makes it much more vulnerable to the swings of the market. Therefore, compared to other regions in the world, the Canadian oil industry has had greater difficulty in maintaining consistent operations, and has become one of the swing producers of the world.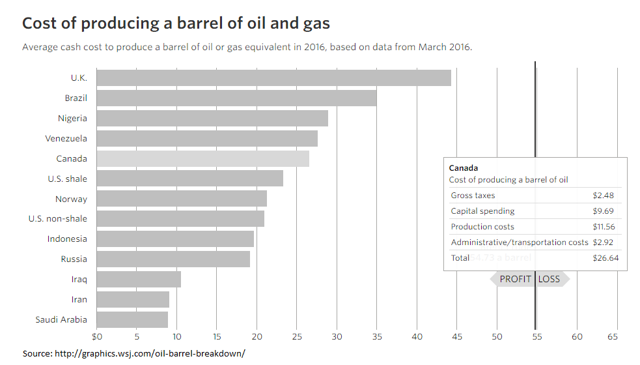 Many of the more growth aggressive producing companies were still able to allow the boom profits to more than compensate for their losses during the downturns. The same, however, cannot be said for the Canadian energy services industry. To understand why this is, I will need to explain some more about how the dynamics work in the oil industry.
Producer companies are generally much larger than oil services companies, which are contracted by the producers. These producers are always establishing new projects to raise their oil production, and typically many more projects are started when the oil price is high, and therefore these companies can justify a higher cost base to justify going forward with the project. When the price of oil drops, these producers slash capital spending, and typically survive on cash flow from already existing and producing wells. Although this production gradually declines with time, usually the amount of wells added during the boom allows these companies to maintain decent cash flow figures for quite some time, depending on the lifespan of the wells.
The energy services industry does not generally enjoy a consistent means of cash flow during a downturn as they are contracted out by the larger producing companies. Although there are many 'midstream' service companies that respond to the needs of pipeline and refining companies and tend to experience relatively consistent demand regardless of the price of oil, the majority of oil and gas servicing work is done when a new well is being drilled and completed.
Many of these companies try and offset the fluctuations by establishing long term contracts. However, as we have seen over the last couple of years, these companies will experience cash flow shortfalls if their contract rollovers happen before the recovery. For example, if the price of oil overnight goes from $80 to $40, the producers will instantly have half the revenue; however, if the producers completely halt new production, the energy services companies revenue falls to zero once the contracts roll over. This is similar to what has happened to the drilling and completion aspect of the energy services industry in 2016, and pushed almost every single Canadian energy services companies retained earnings to a negative value (High Arctic Energy Services is the only exception that came to mind, which is pretty impressive considering they had fairly significant negative retained earnings in 2014). This has caused many investors to 'write off' the entire industry, which is why I think this is actually a hidden opportunity.
Finding Diamonds in the Rough
Fortunately, not all Canadian oil and gas companies are ran the same, and some have shown a record of saving during booms, and investing during downturns. These companies tend to outperform peers during a downturn, but underperform during a boom; yet when taking the long term view, these more conservative companies almost always are leading the pack in long term performance. This is where I believe there is enormous hidden value in the Canadian oil industry. Most of the companies that come to mind are large integrated producer companies, however, there were some in the services industry. A couple of great examples of this include High Arctic Energy Services (OTCPK:HGHAF) and Total Energy Services (OTC:TOTZF), which picked up cheap assets and completed a hostile takeover at the bottom of the market, respectively. I have written articles about both of these companies in the past few months, so feel free to read more about High Arctic Energy Services and Total Energy Services.
Even some of the less fiscally conservative companies appear to be in buy territory at this time due to significant debt reduction achieved by selling equity at the peak of the market over the last few months. Although they were recently diluted, some of these companies appear to be very cheap as they are still discounted as if they have massive debt levels. A great recent example of this is Trinidad Drilling (OTCPK:TDGCF), which sold off equity at a significant premium to the current share price, and reduced debt to a very safe level. I tend to take a shorter term view on these companies, and plan on selling them on the next big rally, as I worry that their long term performance may suffer compared to some of my other picks.
Why You Should Invest In This Down and Out Industry
As a whole, the Canadian oil industry has not been managed well. I find management to be lacking in forward thinking, and instead, fall into the trap of expecting previous trends to repeat themselves forever. The constant competition for revenue growth during a boom caused many teams to lose sight of the big picture, and get careless with their balance sheet. Although it's not fair to blame management entirely, as they are getting constant pressure to improve their quarterly numbers. This resulted in most companies competing for growth at any cost to satisfy shareholders expectations.
The last few months have confirmed my belief that the animal spirits are far too strong for most people to control their emotions of fear and greed when it comes to making rational decisions in the business world. There are no indicators, at least right now, that suggest anything but the Canadian energy industry following the exact same trend in the future. This doesn't bother me because I know it's just a matter of time before I will end up owning the assets of the overly aggressive companies indirectly when one of my companies takes them out on the next dip.
The oil industry is not going anywhere. Global population growth, developing economies, and increased globalization will continue to cause oil consumption to rise. The EIA predicts that this trend will continue until 2040, and although there are a number of opinions on this topic, the EIA prediction seems to be somewhat in the middle. The EIA also predicts that this will be accompanied by a long term increase in oil, as shown in the chart below.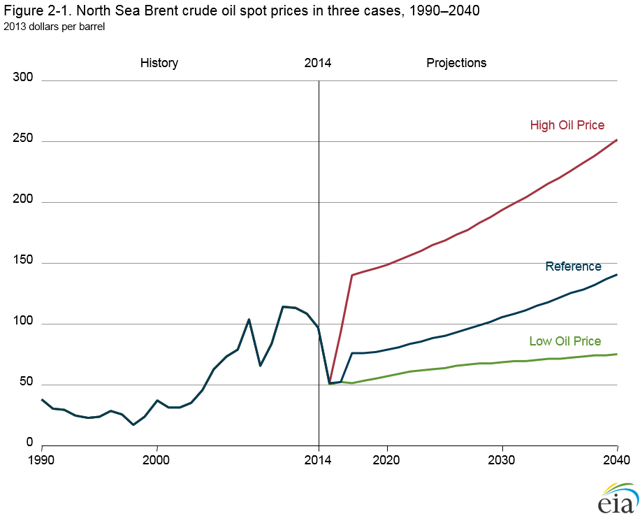 Canada still has the third largest oil reserves in the world. Our oil is not particularly easy to get to, but we have an enormous amount. While the world continues to drill the 'easy' oil into non-existence, the Canadian oil industry will appear increasingly more attractive. There has been a trend of unconventional plays like oil sands, offshore, and to a lesser extent fracking, being responsible for more of the percent of the world's oil production. As this trend continues, we will see larger fluctuations in price.
The Role of Discipline
Discipline is always important to be a successful value investor, however, I would argue that it is even more important for investing in the oil and gas services industry. The relatively high leverage that has become the norm for the industry, combined with the cyclical nature of the oil industry, has made timing absolutely essential when investing in the Canadian oil industry. It is crucial to be aware that the oil industry is exposed to much more fluctuations than the broad market, and therefore requires extra discipline to make sure you are not buying or selling the right wrong time.
Why Now Is A Good Time To Invest in the Energy Services Industry Specifically
I think for a long term investor, there are many ways to utilize the Canadian oil industry to outperform the market. It is important to take positions in large, relatively integrated, producing companies such as Suncor or Imperial Oil. However, I can only rationalize this at the bottom of the market due to the premiums attached to these companies. These companies won't make you rich, but they definitely won't make you poor either. They have a long record of growth during a downturn, and consistently growing shareholder value.
For a more aggressive investment strategy, consider buying into some of the Canadian energy services industry names that have a track record of being conservative in the boom, and aggressive in the downturn; I have written about a number of such companies in the past, and I strongly suggest reading more to gain more familiarity with the investment thesis specific to that company. Fortunately, many of these names do not require the precise timing of the premium producers such as Suncor or Imperial, and are still selling at reasonable prices.
There is a fairly significant valuation gap between the producers and the energy services industry right now because the producers are enjoying the increased revenue of a higher oil price, yet the energy services industry has not been obtaining enough contract work to show as big of a rebound in activity. The chart below shows the change in share price value over the last 3 years (near the peak, until now) of Ensign Energy Services (OTCPK:ESVIF), Precision Drilling Corporation (NYSE:PDS), Western Energy Services (OTC:WEEEF), Trinidad Drilling (OTCPK:TDGCF), Xtreme Drilling Corporation (OTCPK:XTMCF), Savanna Energy Services (OTC:SVGYF), and the iShares TSX Capped Energy Index Fund; this offers a direct comparison of how the biggest Canadian contract drillers compared with an index of 48 large Canadian energy companies.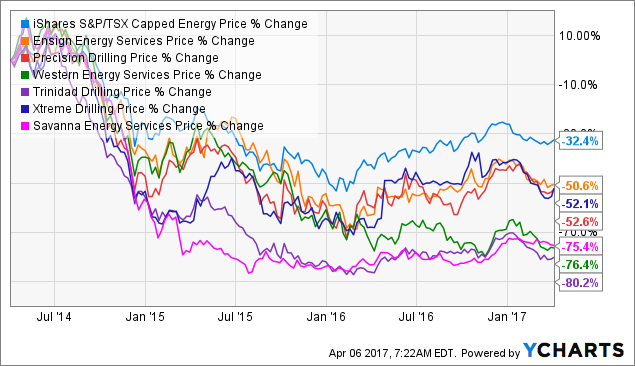 Furthermore, day rates continued falling throughout 2016 until Q4, when they finally started to rise; while the price of oil has gone from $26 a barrel in February 2016, to over $50 a barrel today, day rates are actually lower now than in Q1 2016. This is another reason why we are seeing a big gap between the producers and the energy services industry, especially the drillers. In short, the producers are still keeping capex costs down at the expense of the services industry, which ultimately enhances their revenue and cash flow in the meantime relative to the services industry. I believe that this has resulted in some analysts giving too much weight to the current cash flow and EBITDA figures, which has led to the services industry being a better bargain.
My Trading Strategy
The market hates the Canadian oil industry right now, but I don't hold a grudge; in fact, these are the opportunities I wait patiently for. If you haven't made any positions in the Canadian energy services industry, you certainly missed the best time, yet you haven't missed the boat yet. I have employed this strategy throughout the downturn, and so far, it has been tremendously successful.
As the price of oil fell, I invested more and more money into oil, and divested out of other areas; by February 2016, I literally went 'all in' with respect to oil investments, and had a 100% oil weighted portfolio. This produced very significant profits, however, I have since divested most of my assets during the last rally. The oil glut is far from over, and there is significant supply to be worked through the system. Although I still hold a portfolio that consists mostly of oil and gas stocks, I have a significant amount of cash that is waiting in the event of another downturn.
One rule that I established at the start of the downturn, was the "40-60" rule, that I established after a huge amount of research in early 2015. I reached the conclusion that the most realistic scenario for the next few years would be for oil to fluctuate in the $40-$60 range. My theory was that once oil drops below $40, it is approaching the break even cost of oil for much of the world's production; this to me created a natural long term 'floor' for oil. Although oil could easily drop below $40 in the short and medium term, I assumed that investors could only pour money into loosing assets for so long, and eventually would force bankruptcy and bring a decrease in production. My rationale for a $60 ceiling was that there were far too many North American companies 'ready to go' the second the well became profitable, and the backlog of hundreds of drilled, but not completed, wells suggested that any rally above $60 would be short lived as the US quickly brought in supply.
This thesis, so far, has been largely correct. My strategy was very simple. As oil dropped to $40 dollars, I would cover shorts and replace them with long positions (not the same company of course); my rule was that I would hold no short positions in oil below $45, and I would hold no long positions in oil above $60. I focused on the energy services industry due to the massive sell-off, the incredibly volatility, and I found countless examples of valuation gaps in comparable companies.
I will admit that I did not expect oil to dip as low as $26 dollars, and therefore I had to modify my strategy when this happened. As oil dropped below $40, I didn't sell any energy stocks, but rather sold off all of my non-energy stocks to add to my positions. This was an incredibly risky strategy, but I was willing to go 'all in' in the Canadian oil industry because I do not see any plausible scenario where the entire industry fails. This is what would need to happen to wipe me out, however, because I was mostly investing in the best businesses. I don't believe in diversifying your portfolio when there are major valuation gaps all within one industry, and the oil industry was the only sector that was under any real pressure over the last two years.
I don't ever try and predict where I think oil is going, as I'm just not that smart; I also believe, however, that nobody is smart enough to consider that many variables to actually make an accurate prediction. Instead, we can only consider a price range for oil under a number of different circumstances.
I have argued in the past that the longer that the price of oil stays at an unreasonable level (e.g., the average cost of production), the greater the rebound we will experience. This is because the oil industry has changed so much in the last couple of decades, and the 'easy oil' continues to be depleted. A greater proportion of the world's oil is being produced from unconventional sources such as oil sands or offshore drilling, both of which require massive capital investments over a long period of time.
When these wells eventually start producing, however, they tend to be more profitable than a smaller project. They also produce massive amounts of oil, and thus play a huge role in the supply/demand balance. As the proportion of oil from these projects increases, the more difficulty the market will have in establishing a supply/demand balance. Therefore, as these unconventional sources occupy a larger role in production, we will experience wider long term fluctuations in the price of oil as the industry cycles from overproduction to underproduction.
Another consideration that has not been given much attention recently, is the decreasing role of OPEC. Although after the last few months it is tough to still make the argument that OPEC is dead, but I still believe that OPEC is dying. As non-OPEC countries continue to grow in market share, we will see less market manipulation and more of a natural fluctuation in price. I believe that the dissolution of OPEC, compounded with the average start-up time from planning to producing increasing, will largely be responsible for this new oil environment. This is why I think playing the oil markets will offer the best returns in the future.
The fact that oil has traded mostly in the $40-60 range over the last couple of years has removed hope for me of experiencing a dramatic rebound. I think the only scenario that would result in greater than $100 a barrel oil within the next few years, would be for oil to consistently trade in the under $40 range for at least three or four years. This should lead to such a drop in capital spending that almost no major mega-projects will be established in that time frame, causing a fairly significant shortage once some of the current production declines. Since we are seeing oil find a safe zone around the $50 mark, this suggests to me that $100 oil is absolutely nowhere in sight at this point in time. This means that when oil rises to $60, I am likely to continue unloading all of my assets at that point in time. If oil had remained in the sub $30 range for a long period of time, I would likely sell at a higher price, as I would anticipate a bigger rebound. This pattern reinforces to me that the $40 to $60 strategy is still the best one going forward.
Conclusion
Canadian oil companies are still somewhat oversold compared to other countries, and the energy services industry specifically still appears to be even more oversold. There are a number of well managed companies that are still a good buy at current prices, although we are not seeing anything close to the bargains we saw this time last year. I believe oil will likely continue to trade in the $40-60 range in the short and near term, and I will not make any predictions on the long term potential oil price until more information is available. By utilizing this simple trading strategy I believe that one should be able to greatly outperform both the energy index and the broad market index over the long term.
Disclosure: I am/we are long SU, IMO, HGHAF, SVGYF, TDGCF, ESVIF.
I wrote this article myself, and it expresses my own opinions. I am not receiving compensation for it (other than from Seeking Alpha). I have no business relationship with any company whose stock is mentioned in this article.
Additional disclosure: I own all of these on the TSX.
Editor's Note: This article discusses one or more securities that do not trade on a major U.S. exchange. Please be aware of the risks associated with these stocks.