Last week I discussed the risks and time horizons and how an investor can be affected, but even if your time horizon is long, and your risk tolerance is wonderful, it all boils down to actually doing something - and I have found that the two toughest actions to take for us regular investors are buying and selling!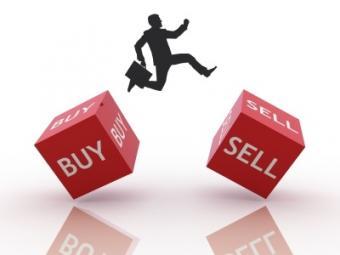 Why Does The Average Investor Buy Or Sell A Stock?
I can probably think of a few of the "excuses" the average investor uses when they decide to buy a stock and when they decide to sell a stock. Now don't me wrong, and please don't throw rotten tomatoes at me, yet, because these are my own observations, and maybe I just hang out with too many of these types of investors. At least follow along as I give this a shot:
Some investors buy a stock when the stock appears cheap.
Some investors will buy a stock when everyone else is buying it.
Some investors will buy a stock after doing three months of research and the stock shows up in a financial magazine.
Some investors will chase the higher-yielding stocks almost at any price.
Some investors will sell a stock when they believe they have made enough money.
Some investors will sell a stock when they feel they have lost enough money.
Some investors will sell a stock because everyone else is.
Some investors will sell when they feel fear and panic.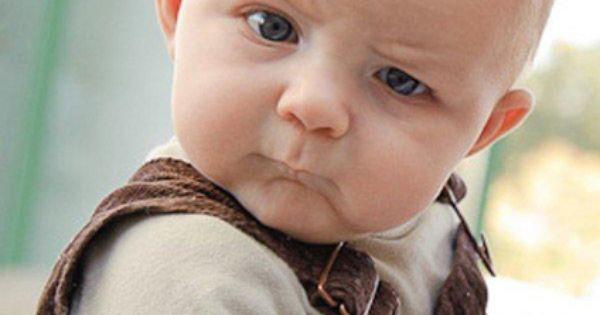 I think you get the picture, and I am not saying these are wrong decisions, just not the best, and perhaps why many average investors buy high and sell low!
As A Dividend Growth Investor For Retirement Income, I Think I Have An Advantage
While there are all sorts of dividend growth investors, I myself tend to take a conservative approach for the most part and stick with mainly blue-chip, well-known brand names that fall into the elite dividend aristocrat category of paying and increasing dividends for a minimum of 25 consecutive years.
So, like anything else I figured out, I devised my completely non-scientific way of when to buy or add shares of a stock I love, and when to trim or sell shares when I want to.
Here are my buying and selling basic rules:
1) I buy or add shares when I want to add income, at the best price possible.
2) I only sell in an extreme emergency or if a company cuts or stops paying a dividend.
3) Other than rules number 1 and 2, I will hold great stocks forever, and collect dividends forever.
Now comes the fun part; I have a little formula that keeps ME disciplined. As you know, discipline is a must when investing in the markets. Of course I also want to keep my approach as simple as possible, so here is what I myself do:
I monitor the 52-week highs and lows of each stock I own or want to own.
When a stock is in the mid range of those two numbers, it falls into my "buy zone," which means I will consider buying or adding shares. Obviously, this will never guarantee that I am buying at the lowest price, but I will never pay the highest price either. To me, I feel I am getting a dividend aristocrat at a fair price no matter what because as I have stated over and over, the long-term trajectory of these stocks has ALWAYS been up! Plus I won't be selling very often either, so price fluctuations are secondary to my approach.
Conversely, when considering selling shares of a dividend aristocrat, I use another simple formula:
When the share price increases by 50%, I consider selling 25% of my position. When the share price increases by 100%, I consider selling 50% of my position.
This does not mean that I will do it unless I have a place to redeploy my money into another wonderful dividend aristocrat that will increase my income, OR if I need to raise cash for an overall market downturn when my great stocks are on sale!
Let's Look At The Team Alpha Retirement Portfolio Chart To Bring It All Together
The model portfolio currently consists of the following stocks: Exxon (NYSE:XOM), Johnson & Johnson (NYSE:JNJ), AT&T (NYSE:T), Procter & Gamble (NYSE:PG), Coca-Cola (NYSE:KO), Realty Income (NYSE:O), Main St. Capital (NYSE:MAIN), Microsoft (NASDAQ:MSFT), Con Edison (NYSE:ED), Altria (NYSE:MO), Ohio Valley Banc (NASDAQ:OVBC), Mattel (NASDAQ:MAT) and Apollo Global Management (NYSE:APO).

In order to drive home and illustrate my strategy, take a look at the following stocks that fall into my buy zone:
1) XOM: Anything less than $87.50/share, I will consider adding shares to.
2) KO: Anything less than $41.00/share, I will consider adding shares to
3) O: Anything less than $62.50/share, I will consider adding shares to
4) MAT: Anything less than $29.00/share, I will consider adding shares to.
This will not preclude me to do additional research on each company to see if I will pull the trigger. Quite frankly, I will not add shares to MAT until I know how reliable the dividend is, and with all the speculation of KO going through a rough patch, I will hold off on adding more shares for now.
XOM and O passed my research tests, and as you know, I have added shares already.
There are two stocks that also fall into my "sell zone":
1) O: The share price has exceeded the 25% level, which means the price has risen about 50% (or more) than my original cost. If this was not the greatest REIT on the planet, I might consider selling rather than buying 25% of the shares. O is too wonderful, and I will likely keep it forever if it keeps behaving nicely!
2) MO: This one has also exceeded the 25% level and is closing in on the 50% level. Normally, I might consider selling at least 25% of the shares held or more likely wait to hit the higher level to sell 50% of the shares! Now, my thinking here is that even though MO is a wonderful aristocrat, I am not thrilled with the sector. That being said, it keeps on paying and evolving and I see no reason for me to trim the shares right now. If they continue to re-invent themselves, then I will keep holding all shares unless something better comes along that has been as reliable and wonderful as MO has over the years.
For now I am not trimming or selling any of these two stocks' shares.
This Is MY Strategy And I Have Found That It Keeps Everything Simple!
Your own approach could be completely different and probably be a heck of a lot more professional, unless you fall into the group (a large group) of investors I noted at the beginning of this article!
Keep in mind that this strategy has worked for me simply because I am a dividend growth investor who owns mainly dividend aristocrats, which has an all time trend of going UP. I would NOT use this approach with dividend opportunity stocks or with speculative growth stocks.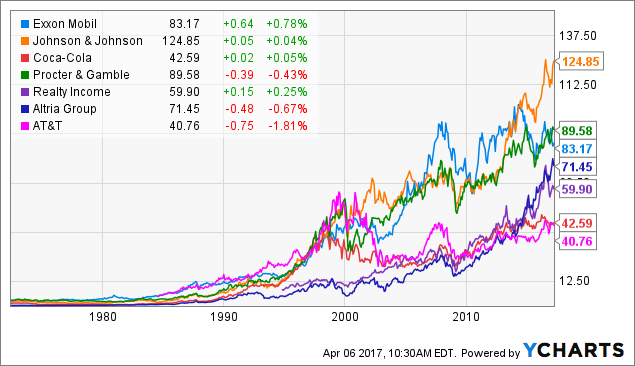 Not ONE has fallen off the chart and the share price as ALWAYS gone up over the long term!
The Bottom Line
I am not suggesting that this approach is for everyone, but you just might find this "KISS" approach right up your alley! It does NOT replace hard research of course, but for me, it makes the entire picture much more real for an average investor.
When do YOU decide to buy and sell?
Not To Bore You, But ...
Knowledge is power, and many folks shy away from the investing world because that very world makes it more confusing each and every day in an effort to sell you something: stock picks, technical strategies, books, videos, subscriptions with "secret ideas," gadgets, and even snake oil.
My promise to you is that my work here will remain free to all of my followers, with the hope of giving to you some of the things that took years for me to learn myself. That being said, let me reach out to you with my usual ending:
**One final note: The only favor I ask is that you click the "Follow" button so I can grow my Seeking Alpha friendships. That is my personal blessing in doing this, and how I can offer my experiences to as many regular folks as possible, who might not otherwise receive it.
Disclosure: I am/we are long APO, ED, JNJ, KO, MAIN, MO, MSFT, O, OVBC, PG, T, XOM.
I wrote this article myself, and it expresses my own opinions. I am not receiving compensation for it (other than from Seeking Alpha). I have no business relationship with any company whose stock is mentioned in this article.
Additional disclosure: The portfolio is for educational purposes only, and not an actual portfolio.