Margin debt in the U.S. just hit a new all-time high in February and the warnings are out. This is not without reason since margin debt does have a history of peaking right before the stock market plunges. This was evident in 2000 and 2007 as the chart below constructed by Doug Short and Advisor Perspectives clearly demonstrates. But does the current new peak suggest a stock market correction is imminent?
With a margin loan, investors are able to borrow funds to be used directly for the purpose of buying of shares. As I have explained elsewhere in some detail, increased margin lending is one of the factors that directly puts upward pressure on stock prices as the demand for stocks increases as a result.
As the stocks bought serve as collateral for the lender, higher stock prices also facilitate yet more lending. The amount of margin loans therefore tends to increase in a positive feedback loop fashion whenever stock prices rise- increased margin lending positively affects stock market prices which again facilitates yet more lending as the value of the collateral increases and so on.
Margin debt and broader measures of the stock market therefore necessarily, almost by definition, tend to move fairly closely together as the chart above shows. If stocks fall sharply, margin lending will, more or less automatically, drop too as a consequence. That is the prime reason new peaks in margin lending by themselves should not be used for predictive purposes - that is, the level needs to be put in context. Furthermore, margin lending does increase over time in tandem with an ever-inflating money supply - new highs is therefore the rule during bull markets, not the exception.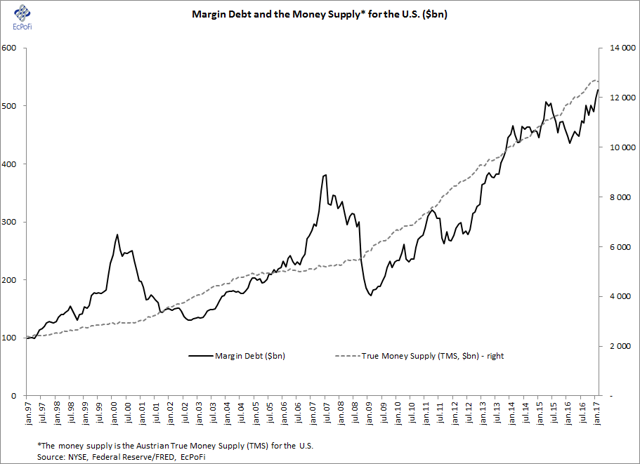 When margin lending by banks increases, the money supply increases as well. Comparing margin debt with the money supply then, the current levels of margin debt turns out to be relatively low compared to what was the case when the S&P 500 peaked in October 2007.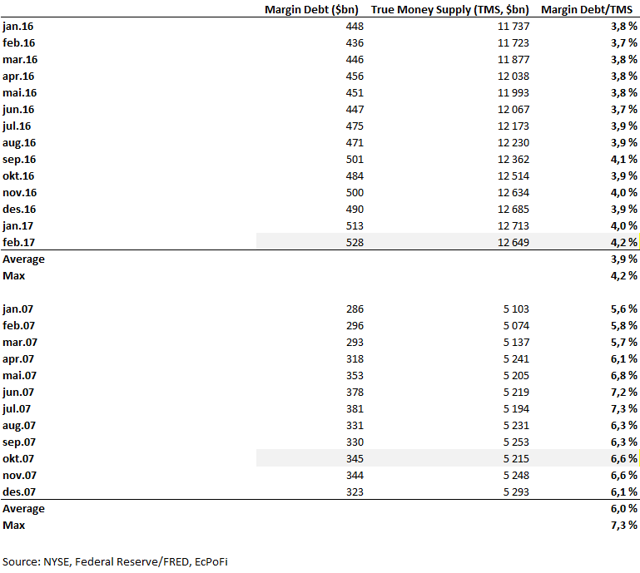 As the numbers show, margin debt today makes up 4.2% of the money supply, substantially lower than the 6.6% from October 2007. Looking at the ratio going back to 1997, current margin debt levels are in fact below average.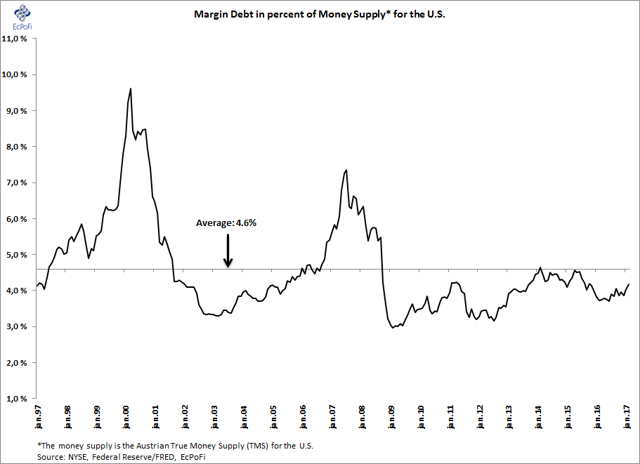 The historical relationship between margin debt and the money supply suggests that there might be room for margin debt and stock prices to move higher still.
However, there is no room for investors to become complacent as one thing is for certain: margin lending and the stock market cannot continuously expand over time without setbacks as the bank credit cycle and with it margin lending must eventually come to an end. In this sense, new all-time highs in margin lending is an important risk gauge investors ought to keep an eye on - the risks posed by high levels of margin lending is ever-present, and has been so for especially the past ten years.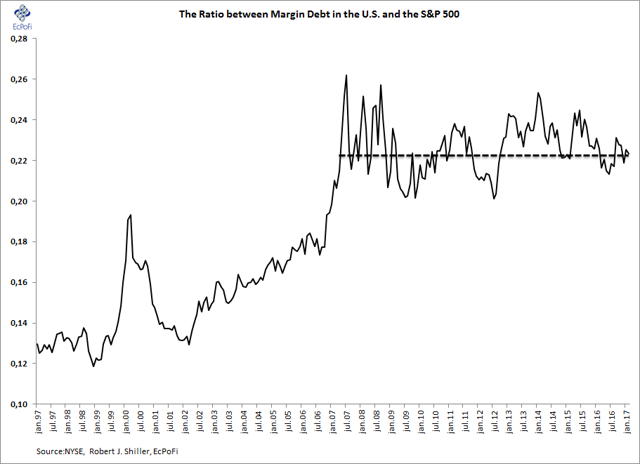 In conclusion, the bigger risks facing the stock market is not margin debt hitting new highs but a credit cycle that appears to have turned and a stock market that has greatly dislocated from a range of important fundamentals.
Disclosure: I/we have no positions in any stocks mentioned, and no plans to initiate any positions within the next 72 hours.
I wrote this article myself, and it expresses my own opinions. I am not receiving compensation for it (other than from Seeking Alpha). I have no business relationship with any company whose stock is mentioned in this article.