Note: This article was originally published March 23rd on Value Investor's Edge, a Seeking Alpha subscription service.
Overview
VLCC stands for Very Large Crude Carrier and they typically can transport 2,000,000 barrels of oil. Companies engaged in the ownership of these vessels include DHT Holdings (NYSE:DHT), Euronav (NYSE:EURN), Frontline (NYSE:FRO), Gener8 Maritime Inc. (NYSE:GNRT), Navios Maritime Midstream Partners L.P. (NYSE:NAP), and Ship Finance International Limited (NYSE:SFL).
Since the start of 2017 VLCC rates have steadily soured. In just a few short months rates in several benchmark routes have seen negative pressure result in significant declines. This has led to a nearly 50% drop in overall TCE averages.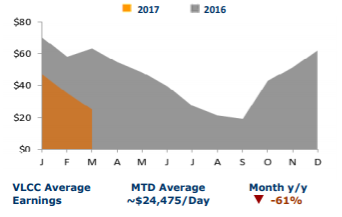 Source: Weber Weekly Tanker Report
These fresh lows have prompted several readers to contact me asking for my thoughts about the market. Here I will review some of the causes that are responsible for this decline, which was widely anticipated, but we will also introduce a new factor that appears to be responsible for much of this short term/seasonal pressure.
Background
For those familiar with my work the drop in crude tanker rates shouldn't be a surprise. We have discussed many factors over the past year which were setting up for this current bear market.
But for those new to the segment let's review:
One of the most influential factors is the amount of new tonnage hitting the water over the past months which will continue throughout 2017 and well into 2018.
The supply of crude tankers rose by a net 5.7% in 2016, more than for the entire 2013-15 period combined.
Furthermore, the VLCC fleet grew from 684 ships at the end of 2016 to 702 vessels at present.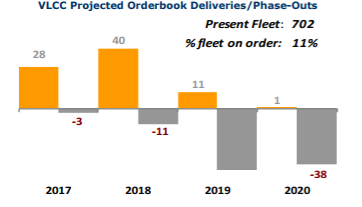 Source: Weber
The increased competition in the market resulted in significant rate discounts as demand growth failed to keep pace with the new supply. Another 28 newbuildings are scheduled to hit the water this year, and while the pace of entry has slowed, there have been only two scrappings so far in 2017 and only three are projected for this year. This situation should persist until 2019 when scrapping finally begins to outpace tonnage hitting the water resulting in a rebalancing of the market.
Fleet efficiency is better now because of de-congestion at ports while the trade patterns are changing resulting in less ballasting of ships. The average waiting time for VLCCs at Chinese ports has declined to six days last quarter from over nine days in the first quarter of 2016. Of course, less time spent in ports frees up supply increasing further exacerbating the oversupply problem.
Global crude oil stocks remain high. Though recent months have seen some drawdown from the record high levels last August the declines have not been enough to inspire restocking in a meaningful way.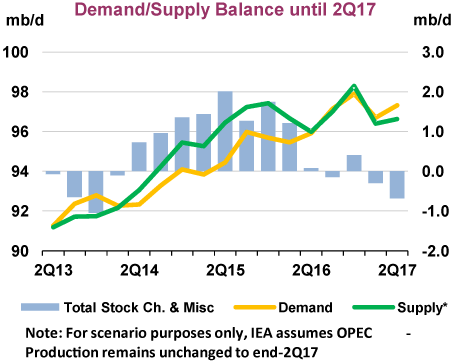 Source: IEA
The IEA notes, " the market is still dealing with a vast amount of past supply, which will take time to work its way through the system. Meanwhile, demand growth has not provided any further encouragement."
Platts reports, "The high stockpiles [of crude] are set to limit trade flows in the near-term," Michael Xu, a Singapore-based partner at SSY, told the 7th Enmore International Oil Tanker Summit in Beijing last week."
OPEC output cuts have been successful. Even in February when crude output rose by 170 kb/d to 32 mb/d, compliance with the group remained at 91% for the month, well above what many thought was likely.
Since the VLCC trade is largely dependent on the Middle East Gulf to Asia routes this cut has had a significant impact on VLCC rates as crude is sourced from alternative suppliers who may utilize different vessels for their voyage through the Suez Canal or out of Russia.
For instance Platts reports that "the bulk of West African crude exports loading in February and March are headed to Asia. The trend has been most pronounced in Angola, with Platts data showing three-quarters of the March-loading program scheduled for Asian destinations, up from the 62% in March 2016." Of course, cargoes originating in West Africa must utilize the Suez Canal which limits the size of the ship to the Suezmax class.
This last fact brings us to one factor that has had a significant impact on VLCC rates and hasn't been discussed in my long term outlook due to the seasonal nature, but is responsible for some of the current trouble in the VLCC market - the MEG-East Asia trade.
MEG-East Asia
Demand for crude in Asia plays a major role in the VLCC market with much of that supply coming from the Middle East. Collective changes in benchmark routes such as MEG-Singapore, MEG-China, MEG-Japan, MEG-South Korea have a profound impact on overall VLCC demand.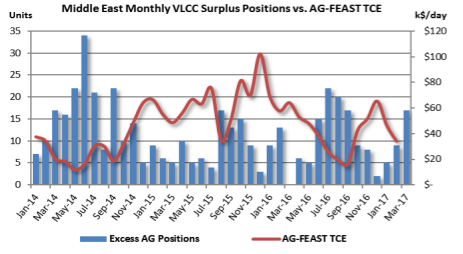 Source: Weber
This is reflected in the chart above showing the increasing availability of vessels resulting in lower rates for these Far East routes originating from the Arabian Gulf.
Much of this Asian demand comes from refineries which process that crude. We often find a direct correlation between the amount of refineries offline in Asia and lower VLCC demand, which consequently impacts the availability of vessels and therefore rates.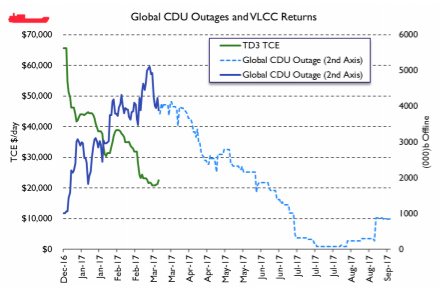 Source: MJLF
Platts reported that "in the first half of this year, 2.9 million barrels per day is expected to be shut for maintenance, out of a total refining capacity of around 32 million b/d in Asia." March saw an estimated 2.0 million b/d offline in Asia. That number is expected to stay relatively steady through May as Platts further estimates that "Asia's refiners will shut 1.824 million b/d, in May."
Already this year has eclipsed the level of CDU maintenance we saw in 2016 and has started at a more robust pace than the previous two years.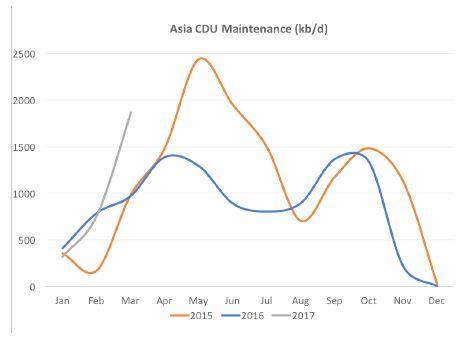 Source: OFE Insights
This goes a long way in explaining why the move in rates has been so quick and significant when compared to last year and even the year before.
If we manage to replicate 2014, which saw major levels of CDU maintenance resulting in the lowest rates and highest vessel availability in three years, we could witness further rate drops before conditions improve.
Conclusion
Seasonal demand plays a key role in crude tanker rates. For VLCC's the refinery maintenance season in Asia means less crude is sourced, vessel availability increases, and rates fall. But as these refineries come back online to supply increasing summer demand, more crude will need to be sourced and VLCC demand could normalize and perhaps provide a brief uptick in spot rates.
However, as rates begin to potentially recover a bit based on increasing refinery utilization it would be wise for investors to keep in mind the other factors which should continue to create headwinds in the market over the coming couple years.
Therefore, this article hopefully serves two purposes. First as an explanation of why rates have fallen so far especially for VLCC's. Second as a warning to balance any enthusiasm once refineries come back online against a medium-term outlook which still remains bearish.
Value Investor's Edge
Value Investor's Edge is a top-rated Seeking Alpha research service which focuses primarily on the volatile and therefore potentially very profitable, shipping industry. Members receive a two-week lead time on all reports by James Catlin alongside exclusive content by J Mintzmyer, a top tier deep value analyst. This platform offers actionable trades and strategic income opportunities through Mr. Catlin's data driven macro analysis which often complements Mr. Mintzmyer's company-specific analysis. This winning team has developed a dedicated following of highly knowledgeable investors and industry professionals who also share their own thoughts and ideas on Value Investor's Edge.
Disclosure: I am/we are long GNRT. I wrote this article myself, and it expresses my own opinions. I am not receiving compensation for it (other than from Seeking Alpha). I have no business relationship with any company whose stock is mentioned in this article.