Whenever I pitch growth stocks as high-conviction long, I am often questioned, "Everything looks so fantastic, but what have been misunderstood by the market?" It is nothing but growth is often underestimated.
Imagine you were in January 2015, how would you value Amazon's (NASDAQ:AMZN) stock? It would be insane if you projected 200% upside in 24 months for a mega-cap company that is well followed by over 40 top analysts. What could you find anything that is invisible to them? People tend not to be brave enough to plot growth prospects, which is one of the reasons they end up with making less money.
Like Amazon back to 2015, Tencent (OTCPK:TCEHY) is again an underestimated growth giant.
Recommendation
My recommendation is to buy Tencent with a 12-month price target of $38 (ADR), representing 28% upside from the current price as of April 5, 2017. Tencent is essentially not a catalyst-driven investment, not about market time, but it is just a fantastic investment in great franchise so as to enjoy sustainable earnings growth for many years to come.
Tangible drivers include: Enhanced leadership in mobile games; plenty of room for mobile ad monetization, and explosive growth of WePay towards a cashless world.
Business Overview
Tencent is a dominant player operating five main platforms: IM - QQ, Weixin, SNS, online game, media (self-media, microblog, video), and utilities (video browser, mobile browser). It owns the world's third largest social platform with 90% penetration in China. It is the No.1 global leader in online games which owns 100% Riot Games and 84.3% Supercell. It is also the No.2 payments player competing with Alipay.
Tencent is essentially the business leveraging connections across its social platform including the mobile-native Weixin/WeChat and the classical QQ. They are the Top 2 popular apps with 80% and 60% penetrations, respectively, in China. On this platform, Tencent runs a variety of businesses, and it is the No.1 leader in almost all categories.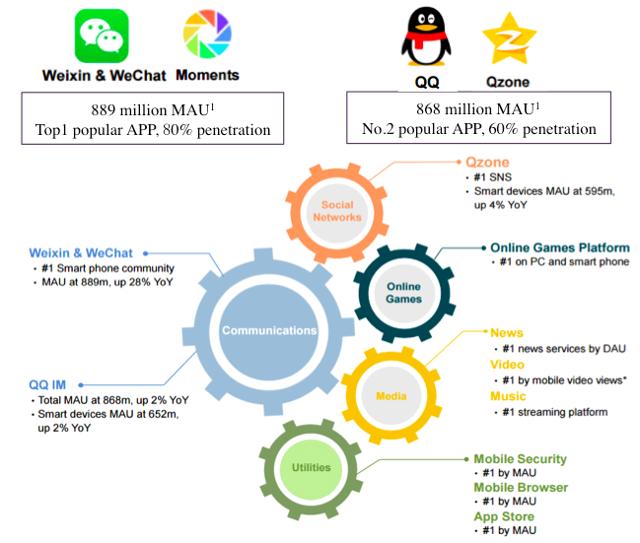 Source: Company presentation
Tencent reports in three segments: VAS including SNS and online games, online advertising and others (payments and cloud service). Online games is the cash cow, 62% of total revenue, 16% YoY growth in 2016. Mobile games account for 25% of this segment revenue, and enjoy 51% YoY growth in 2016. Online advertising revenue in 2016 is 3.3 times of the total ad revenues of the Top 4 China portals combined. Payments growth is significant, quickly closing the gap with Alipay. The market share of WePay tripled to 38.3% within a single year during Q1 2016 to Q1 2015.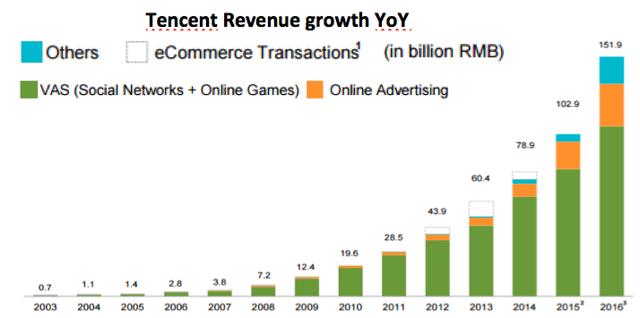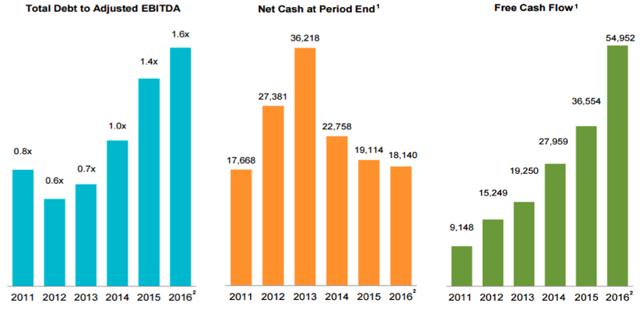 Source: Company presentation
Tencent, as the growth story, has three key drivers: Mobile games, mobile ad and the mobile ecosystem as a whole including mobile payments.
Investment Argument #1: Enhanced leadership in mobile games drives accelerated growth; estimated EPS contribution Rmb8.1 by 2020
The online games market in China showed a significant shift to mobile games, which grow at 77% YoY and account for 57% of the market. Another big trend is the market is becoming integrated, significant synergy across IP, content, distribution and marketing. Deep-pocketed players will win.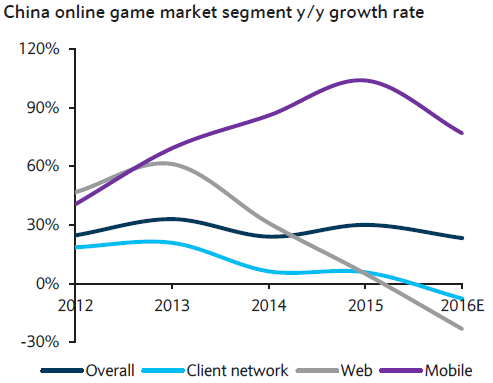 Source: Barclays Research
In the online games market in China, Tencent used to compete with NetEase (NASDAQ:NTES) fiercely. The shift to mobile games I believe is a big positive to Tencent, because it is so well positioned to mobile games. According to the recent monthly gross share data, Tencent is the No.1 leader with 37% market share, 2.3x of the next player NetEase. So far, Tencent has captured a large proportion of top-ranked mobile games on the iOS grossing ranking chart in Dec. 2016; five of top 10 mobile games, 15 of top 50, 25 of top 100.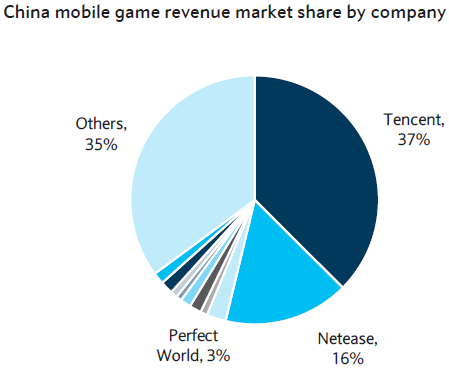 Source: iResearch
E-sports game is gaining tremendous traction in China. League of Kings, one kind of Tencent game, demonstrated awesome performance since November 2015. League of Kings was launched in Oct. 2015. According to management, DAU of League of Kings reached more than 40m while registered users reached 200m as of O3 2016.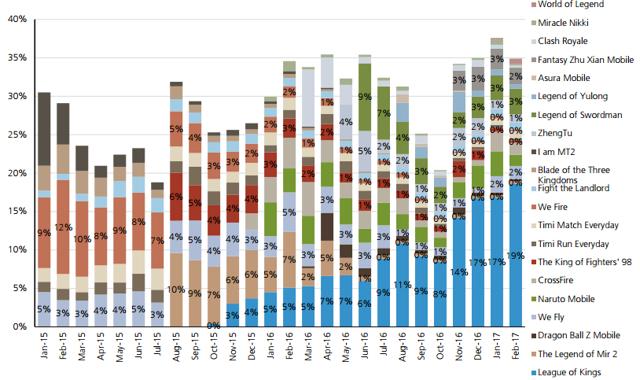 Source: UBS Research
Tencent is now collaborating with a number of client-based game developers to adapt its premium PC IP to mobile including the Legend of Mir 2, Zheng Tu, Legend of Swordsman Mobile, Fantasy Zhu Xian Mobile. What an attractive pipeline! Investors might worry about that the PC games will incur faster-than-expected shrinking. However, believe Tencent will have the capability to quickly ramp up.
I projected that the mobile game growth momentum will boost the growth of the overall online games segment for Tencent, and this segment could contribute EPS Rmb 8.1 by 2020E.

Investment Argument #2
With world-third MAU, 2x MAU growth of Facebook (NASDAQ:FB), 3x user stickiness of Facebook while 1/2 Ad ARPU of Facebook APAC and 1/5 Ad ARPU of Facebook Worldwide, Tencent Mobile Ad will have plenty of room to grow.
Tencent Ad's two business lines:
GuangDianTong (GDT): Social ad platform, including WeChat Moments, WeChat OA, QQ and QZone (both PC and mobile) ZhiHuiTui (ZHT): News and entertainment online properties. Tencent Video (PC and mobile), Tencent News, Tiantian Kuaibao.
First and foremost, Tencent social platform is an ideal platform for Mobile Ad:
High penetration: 90% penetration means that Weixin/WeChat is irreplaceable in China. It is also worth mentioning that Tencent has 18 years' experience in running SNS.
High user stickiness: According to the WeChat user report of 2016, I calculated the average time spent on WeChat per person per day (using median data) is around 102 minutes. In contrast, average time spent in US social network is 32 minutes.
Rich contents: As Helen Wang wrote on Forbes, "It's Time For Facebook To Copy WeChat". In this article, Helen mentioned:
"In the example of Tencent's WeChat, the Chinese social media platform, Western equivalents such as Facebook Messenger, WhatsApp, or Twitter (NYSE:TWTR) look hopelessly inferior."
Weixin/WeChat allows not only companies, but also individuals to open official accounts on this platform. 560k companies are now on WeChat including all the retail banks. For example, these days the easiest way to reach out to credit card services is through WeChat official accounts. In addition, 10 million individuals have created personal official account as "self-media" channel. Rich contents are being offered every day.
Rich utilities: Recently WeChat launched Mini-Program, which is not allowed to name as App Store, but it is essentially an App Store. So far over 2,000 merchants have opted for this Mini-Program. Eventually WeChat will be a super app that hosts a variety of sub-apps and we will never bother to download numerous apps to our mobiles again.
Tencent's dominance can be clearly explained by the following two charts. Tencent's dominant MAU only sees Weibo (NASDAQ:WB) as a distant competitor. In 2016, the combined ad revenue for Top 4 news portals in China is $1.2bn, which only accounts for 30% of Tencent's total ad revenues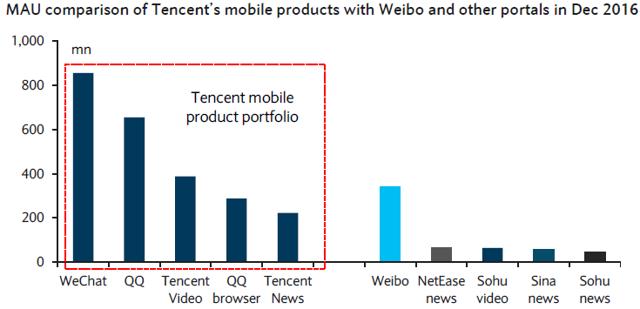 Source: Barclays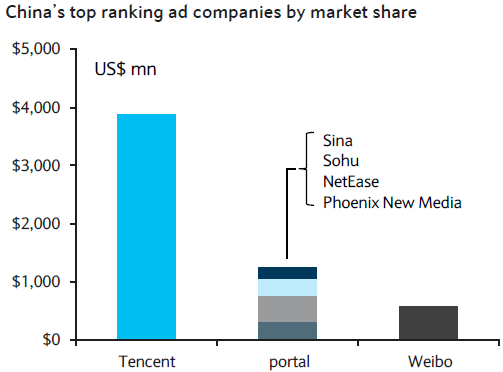 Source: Barclays
Right now, Tencent is taking a very prudent approach in the mobile ad monetization, which I could not agree more with, as user experience always comes first. According to the initial design, customers are only able to see one ad within a 48-hour time window. For me as a frequent Weixin/WeChat user, I barely notice any ads. The ad load of Weixin/WeChat is 1%, significantly lower than Facebook's 7-10% (UBS estimate) or Weibo's 4.1% (company disclosure). The ad ARPU shows that Tencent ad ARPU is only 1/5th of Facebook global. I would not believe Tencent ad ARPU can catch up with FB North America. Even when we compare Tencent with Facebook APAC, its ad ARPU is 1/2 of FB APAC. I believe Tencent ad ARPU can easily outpace FB APAC and stay in line with FB global.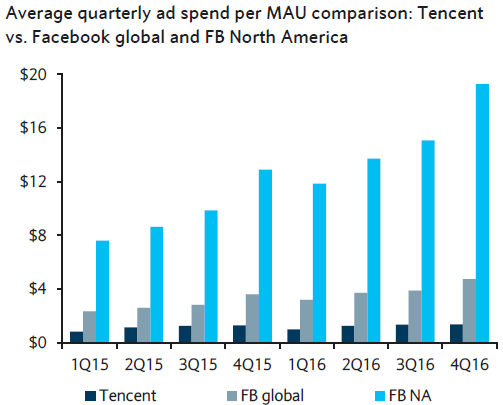 Source: Barclays
My projection shows that Tencent ad will contribute Rmb 3.7 in EPS by 2020.

Investment Argument #3: New revenue streams are expected from the WeChat-centered, content-rich and utility-rich mobile ecosystem. Payments are a proven success, and Mini-Programming is the latest launch that is worth attention.
Tencent has a very viable "connection" strategy considering the network effect of 899M users and 560k merchants.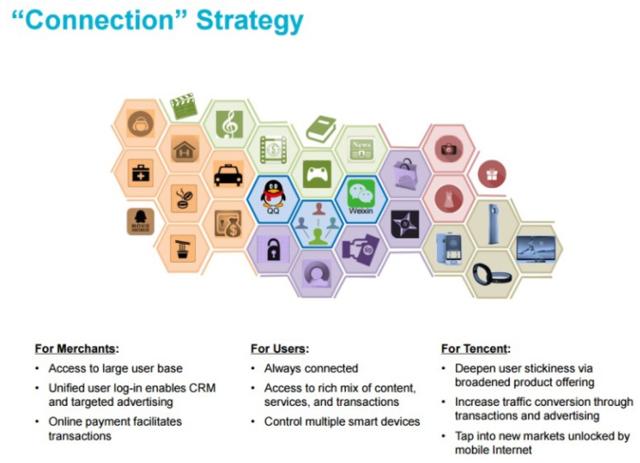 Source: Company presentation
The very unique aspect of Weixin/WeChat is that each user and each merchant have unique digital IDs - WeChat QR code. Given its 90% penetration and broad connections with all the other utility apps, this becomes an important digital identity for each person and merchant. The brilliance of this digital identity has not been fully recognized by the market. As a loyal user of Weixin/WeChat who lives overseas, I very much appreciate the benefits of this digital identify brings. This is also why WePay becomes superior. WePay allowed me to easily make payments without being asked to fill a verification code that can only be received from a China mobile number that I unfortunately do not own anymore.
Tencent is making huge efforts in this connection strategy. One important way is through equity investments. Tencent has its own M&A teams who source deals, negotiate deals and manage portfolio companies. Some impressive data to share is, according to the recent CB Insights report, Tencent is among the Top 10 global capitals that have invested in 17 global unicorns valued at above $1 billion.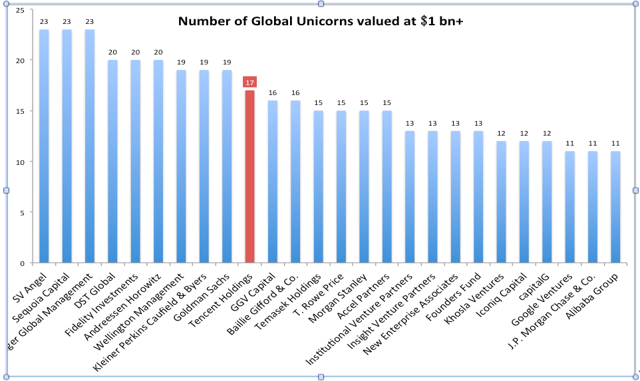 Source: CB Insights
Below is a list of all the investments by Tencent since 2008. Over 40 deals in 2015 and 2016 respectively.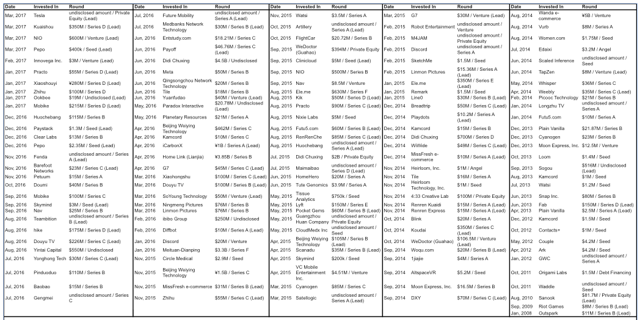 Source: Crunchbase
The connection strategy works really well, which I did not tie up with my valuation. However, I am indeed bullish on Tencent's long-term prospects. I believe Tencent could continue to be a leader in the next generation of commerce, such as social commerce or contextual commerce.
One more thing I wanted to point out is the scalability of original contents. According to WeChat user report in 2016, by June 2016, 10 million personal official accounts on this platform and on average ~700k articles being published every day. On WeChat, there are a bunch of personal official accounts, a kind of self-media, valued above Rmb 100 million. Yansubagua is one of my favorite accounts that I follow on a daily basis. It has 1 million followers and 100,000 average readership per article. Tencent's platform hosts enormous original contents that are very much liked by the general critical mass. I am not sure about exactly how Tencent will monetize from this piece in the future, but I do believe it has many runways such as ad, content IPs, etc.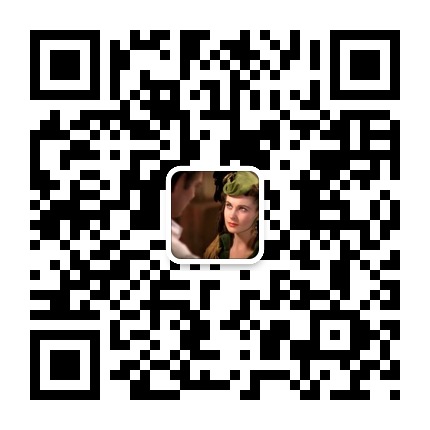 Source: WeChat
Undoubtedly numerous new revenue streams could be produced from this irreplaceable Tencent platform. It is a challenge to my imagination to articulate how many ways for it to monetize. Anyway I think the explosive growth of Tencent Payments represents a proven success. WePay is definitely not an early mover in payments; however, it is quickly closing the gap with Alipay. Market share tripled in a single year. The Q4 2016 financial reports shared a bunch of exciting numbers: 14bn red packets in 2017 CNY, up 76% YoY. Mobile payments MAU 600M, 67.5% of WeChat MAU. "Other" revenue went up 280% YoY as primarily fueled by payments and cloud service.

Source: iResearch
Furthermore, I would argue that WePay will continue to gain market share in the future. Besides superior product, massive users, another key driver is that Tencent, as the largest shareholder (21.25%) of JD.com (NASDAQ:JD), enjoys about 30% payment volume via WePay. JD.com is the second e-commerce business in China. Its GMV in 2016 is Rmb 111 billion vs. Amazon's GMV of $250 billion. JD.com's GMV YoY growth is expected to stay at 40% in the near future.
Valuation
I used 27x 2018E EPS to value Tencent. 27x is in line with the average of the comp group. My projected 2018E EPS is Rmb 9.6, which means Tencent would double its earnings during 2016 to 2018. Rmb 9.6 earnings is 20% higher than consensus while I think it is relatively conservative as I only countered currently tangible revenue streams. Meanwhile I think Tencent is a high-conviction, long-term investment.

Source: Bloomberg
Investment Risks
I think the No.1 risk is the cannibalization effect. Tencent will have to be cautious on this for both its online games and online advertising. No.2 risk is the competition with Alibaba (NYSE:BABA) and NetEase. Tencent is the best positioned for the mobile economy, which is true; however, competition should never be underestimated.
Disclosure: I/we have no positions in any stocks mentioned, and no plans to initiate any positions within the next 72 hours.
I wrote this article myself, and it expresses my own opinions. I am not receiving compensation for it (other than from Seeking Alpha). I have no business relationship with any company whose stock is mentioned in this article.
Editor's Note: This article discusses one or more securities that do not trade on a major U.S. exchange. Please be aware of the risks associated with these stocks.