By Andy Hyer
Trend followers love environments with stable leadership, but the reality is that markets don't always comply. As shown below, those sectors that had the best performance in 2016 (Energy, Telecom, Financials) tended to have the worst performance in Q1 2017 while the sectors that tended to have the worst 2016 (Healthcare, Consumer Staples, Consumer Discretionary) tended to have the best performance in Q1 2017. However, there has been some stability in leadership. Technology, for example, performed well both last year and in the first quarter of this year.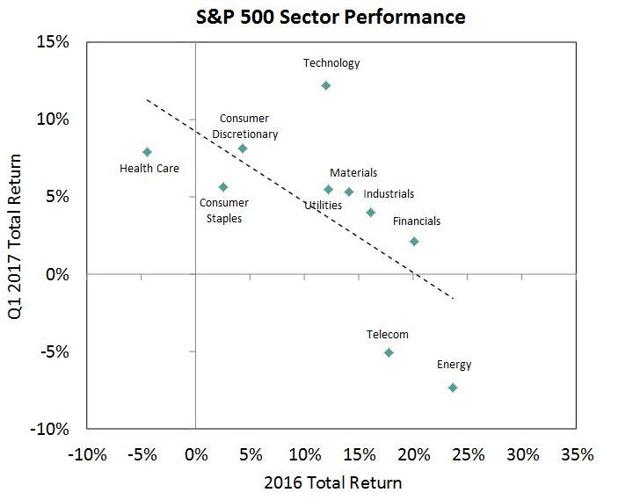 Source: Twitter @Econompic. As of 3/31/2017. Returns are inclusive of dividends, but do not include fees or transaction costs.
Dorsey Wright's relative strength work is designed to pick up intermediate to longer-term relative strength trends and it is designed to allow us to adapt and change as leadership changes in the market. In the table below, we show the sector exposure in our Systematic Relative Strength Aggressive Portfolio. This is a separately managed account strategy that we have been managing since 3/31/2005. The strategy starts with an investment universe of about 900 U.S. mid and large cap stocks and then ends up with a portfolio of 20-25 stocks. The nature of the strategy is to seek to overweight strong sectors and to underweight weak sectors. A relative strength score is assigned to each stock in the investment universe and that score determines when we buy and sell a stock out of the portfolio. Buys are made from stocks that are in the top decile of our ranks and then stay in the portfolio as long as they remain in the top quartile of our ranks. Trades are done on a weekly basis if needed.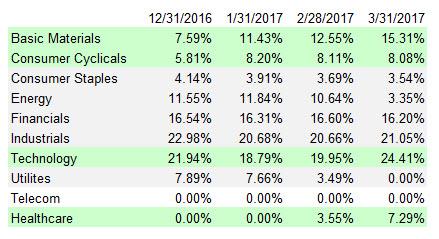 Source: Dorsey Wright
As shown above, Technology exposure in our Systematic Relative Strength Aggressive Portfolio has been relatively high over the last number of months. However, other sectors have had some pretty significant shifts as we have seen some changes in relative strength. Healthcare and Basic Materials are two sectors where our exposure has increased in recent months (exposure to Consumer Cyclicals has also slightly increased). Those sectors shaded in gray have seen drops in exposure since the beginning of the year.
Sometimes sector strength can be short-lived; other times sector strength (or weakness) can persist for years at a time. Outside of Technology, we have seen quite a few shifts in sector strength in recent months. The great thing about relative strength is that it allows us to be adaptive and to shift exposure as needed.
Neither the information within this article, nor any opinion expressed shall constitute an offer to sell or a solicitation or an offer to buy any securities. This email does not purport to be complete description of the securities or commodities, markets or developments to which reference is made. The relative strength strategy is NOT a guarantee. There may be times where all investments and strategies are unfavorable and depreciate in value. Relative Strength is a measure of price momentum based on historical price activity. Relative Strength is not predictive and there is no assurance that forecasts based on relative strength can be relied upon.