This post was written by Cristiano Bellavitis, Ph.D. for Integer Investments.
As some of our readers might know, we are very cautious in this stock market. We have mentioned over a few articles how we are positioned with cash, options, short ETFs and "safer" equities. The recent Fed meeting strengthens this view. In fact, the central bank is not only planning to raise rates, but it is also planning to reduce its balance sheet. These two instruments are classic monetary levers that the Fed can pull during economic recessions. Here we explain why the change of direction will affect equity valuations.
A bit of history
The U.S. central bank started raising rates at the end of 2015 and now rates stand at 0.75%. The graph below shows that interest rates are quite cyclical, but also that they are currently extremely low compared to historical standards. Yet, this does not mean they will always be low.
Source: Macrotrends.net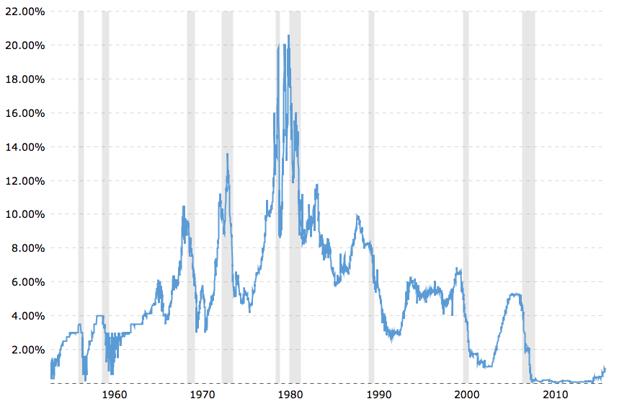 In addition, the Fed has not only reduced interest rates to very low levels, it has also increased its balance sheet to 4.5 trillion dollars (!). This is a huge sum that, again, is unprecedented. The Fed can buy and sell assets such as government bonds and this goes into its balance sheet. The Fed went to these extremes to support global markets and to counteract the panic that started during the last financial crisis. In particular, it learned from lessons of the financial crisis of the 1930s. So far, this strategy has worked very well, labour markets have recovered, panic has subsided and the stock market has boomed.
Source: Fed

Although the two mechanisms are distinct, in practice they achieve similar objectives. With low interest rates it is cheaper for individuals to buy a house (with a mortgage), it is cheaper for corporations to borrow capital and invest in either factories, buybacks or M&A. On the other hand, when the Fed buys government bonds, it means that investors have an additional competitor for the same amount of assets available on the market, and this will push prices higher and, consequently, yields down. As we mentioned above, the Fed has currently a balance sheet of $4.5 trillion. Although the Fed does not buy equities directly (for example, the central bank of Japan buys ETFs), it removes opportunities in the bond market and if bond investors cannot find opportunities there, they will move onto other markets such as the equity market.
Yet, the equation is made of two sides. As mentioned, it is cheaper for debtors such as corporations and investors to buy assets, but it is more expensive for savers such as pensioners to contribute to their retirement. A saver that used to get 5% on his savings, now gets much less from banks or bonds or rental yields. At current levels, the 10-year US government bond offers a mere 2.34%. Therefore, there is an increasing competition between corporations and individuals to find attractive investment opportunities. This led to one of the longest bull markets ever. If the economic actors cannot find yield where they used to, they start to look for alternatives such as high dividend yield securities or alternative asset classes such as venture capital.
A bit of present times
Now the Fed thinks that it is time to put an end to this. At the last Fed meeting, the Fed members started talking about increasing interest rates at a sustained pace, but also it started talking about reducing its balance sheet. As the Financial Times reports, "most Federal Reserve policymakers expect to begin the process of reducing the size of the central bank's balance sheet later this year if the economy stays on track, in a sign of rate-setters' growing confidence in the strength of the recovery, minutes from the latest policy meeting showed."
It is not clear how and how quickly the balance sheet will be reduced. "While several participants in the March meeting felt the timing should be based on a threshold tied to the level of the Federal Funds target range, others thought it should depend on a "qualitative" judgment about broader economic and financial conditions. Ms Yellen has signalled support for the latter approach. In addition, Fed officials were divided as to the mechanics of reducing the portfolio's size. Some argued that the central bank should end reinvestments of the proceeds of maturing securities all at once, saying this would be easy to communicate. By contrast, others thought it would be better to phase out reinvestments, believing this would reduce the risk of market volatility."
In addition, Fed "discussed the implications of the strength in equity prices, with some members saying prices were "quite high" relative to standard valuation measures. A few said they thought values were being driven more by hopes for corporate tax cuts or higher risk tolerance, than expectations of stronger growth."
And a bit of stock market
As previously mentioned, the Fed has been a huge buyer of securities. Therefore, it replaced private investors, for example, in buying government bonds. In turn, these investors went buying something else and so on. The graph below shows the relationship between the S&P 500 (NYSEARCA:SPY) and the balance sheet of the Fed. The correlation is impressive. Clearly, if the correlations continue, a smaller balance sheet will mean lower values for the stock market.

Conclusion
It is unclear how quickly the Fed will decrease the size of its balance sheet, but for sure, sooner or later, this will be a drag on the future performance of the stock market. Over the last few weeks, we have provided some suggestions on how to protect your portfolio and income. We encourage investors to approach this market with extreme attention. The U.S. stock market will be higher than now in ten years, but not necessarily so in two years.
As always, thank you for reading. If you wish to follow our future articles, just click the "Follow" button next to our name at the top. If you would like us to cover a company, please let us know in the comments. For information about Integer Investments, visit our website. Thank you for reading.
Disclosure: I am/we are long SPXU, SQQQ. I wrote this article myself, and it expresses my own opinions. I am not receiving compensation for it (other than from Seeking Alpha). I have no business relationship with any company whose stock is mentioned in this article.