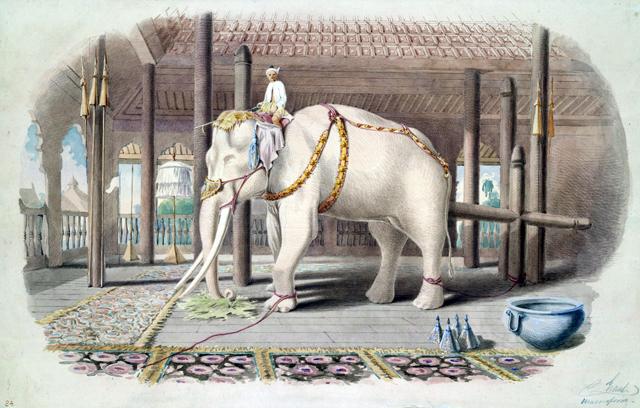 Picture: Colesworthy Grant, "A Series of Views in Burmah" (1855)
A "white elephant" is a possession which its owner cannot dispose of and whose cost, particularly that of maintenance, is out of proportion to its usefulness. This term has been traced back to what is now known as Myanmar. The kings there would give a present of one of these animals to courtiers who had rendered themselves obnoxious, to ruin the recipient by the cost of maintenance. Today the usage of the term is an object, building project, scheme, business venture, facility, etc., considered expensive but without use or value.
What better example for applying this historical usage for an entity where the possessor's ownership has no value to support the ownership of that item: MannKind (NASDAQ:MNKD). We have just concluded the second full calendar year where Afrezza has been available on the market where patients could obtain their product - Afrezza.
The reality being that MannKind's leadership publicly confirms they consume $10 million dollars per month to keep the corporation operating. Therefore, for the two years their product has been available for generating enough money to pay their operating cost, we have seen $240 million being spent.
For this same period, we have seen MannKind generate gross product revenues of less than $10 million, where this creates a classic example of what a White Elephant personifies. As if this disparity for currently showing expenses exceeding revenue by $230 million, MannKind is currently into the 3rd launch of the product where the same disastrous results still prevail in the marketplace.
MannKind publicly states worthless fluff to investor's where their promised results are constantly being moved to a future date. A little over a year ago, MannKind hired a new CCO. His promises still resound as being unfulfilled when you consider his first major effort was to hire an outside sales force. As of November, 2016, the CCO was claiming great success with "his" team and what they had accomplished.
However, within weeks of this exaltation about success, MannKind announced they had decided the outside sales force approach had failed and they were opting for their third launch of their product. Now as we move into the second quarter of 2017, we see the same paltry results being achieved by this third set of sales representatives calling on the same medical doctors, with the same attributes that limits what they are able to share with the medical community and potential patients.
Nothing has changed other than the face and names of their field force trying to market Afrezza. And the trend for the achievement of needed prescriptions certainly hasn't changed!
A classic example of the need for new attributes to promote the product is the current clamoring for getting Afrezza approved for pediatric patients. Notice how the marketing emphasis for his product has evolved: 1st, Type II patients; 2nd, Type I patients; and now 3rd, the pediatric patients being the solution for revenue.
The classic example for moving the target when the originally stated goal doesn't work - and blame Sanofi (NYSE:SNY) for everything. Always blame Sanofi for them not knowing what they were doing, other than bailing out of the pending disaster.
Let's assume the current goal is the magical solution - achieving FDA approval to market Afrezza into the pediatric market segment.
Sanofi saw there was no future in them attempting to marketing Afrezza into the marketplace, so they cut their ties with MannKind at the end of 2015. However, we know now that Sanofi apparently saw the need for quickly implementing a clinical trial to obtain approval for Afrezza in the pediatric market.
We know that Sanofi submitted their request to the FDA for such a trial on August 17, 2015, thus proving they were acting responsibly to fulfill their obligations under the MannKind partnership. We can further note the FDA moved expeditiously in approving this trial because we know three months later (October 2015) they were enrolling patients in Aurora, Colorado and Gainesville, Florida.
Now jump ahead to March 14, 2016, (4 months) we see the FDA indicating this pediatric trial was suspended for this reason:
Due to transfer of ownership of Afrezza IND and NDA back to MannKind Corporation, enrollment into the TDR14323 study was suspended.
This flies in direct contradiction for why MannKind claimed their hands were tied for most of 2016, due to continuing restrictions from Sanofi where they still controlled Afrezza. The reality being Sanofi had an approved FDA clinical trial for using Afrezza in the now claimed critical market for making Afrezza a successful drug. All MannKind had to do was take over the management of this pediatric trial since it was now under their ownership.
But instead of MannKind taking the simple and logical route, all they have done for one year is drag their feet and delay, delay, delay, by spinning a yarn where they "think" they know how to expedite a pediatric trial. MannKind has allowed an approved FDA clinical trial lying fallow for more than a year, but they are working with the FDA to approve another clinical trial!
Basically, this means that MannKind has lost the potential for one year's collection of critical and vital data that might save the company by giving them what they now indicate is a massively important turning point for revenue options.
The loss of this time is mystifying when you consider that Sanofi and the FDA projected it would take two years to collect the needed data - August 2015 to August 2017. So instead of being 4 months from having the critical data for marketing Afrezza into the pediatric market, when MannKind actually starts such a trial, they are 24 months away from having the data for FDA consideration.
What is MannKind now claiming for getting this needed data? Now they are working with the FDA in securing approval for a trial where they believe they can expedite the period for gathering the data. How hypocritical! They are obviously dragging out the process because they don't have the luxury for delaying what they claim is critical trial data. If time was the grave factor, why have they delayed for more than year in getting FDA clearance for an expansion clinical trial for a product already on the market?
As reflected in the Sanofi effort, they obtained FDA clearance in less than 4 months to start a pediatric trial. MannKind, for more than a year, merely extends out the period for starting a pediatric trial because they haven't obtained FDA approval for their trial protocol. Plain and simple - the FDA has already decided what is needed for getting Afrezza approved for pediatric patients.
Amazing! MannKind, the company that took three NDA attempts in getting the initial approval for Afrezza, and now they are the experts in telling the FDA they know how to expedite a drug's expansion approval! The FDA already knew, and it has been further validated for two years with Afrezza being on the market, adults can't master the complexity of dosing Afrezza, and now MannKind wants the FDA to think that a four-year-old can do better.
The FDA has guidelines for a drug's validation, and the specificity of what data is needed. As for a pediatric trial for Afrezza, they outlined this in the approved and implementation of the Sanofi trial in 2015. Get real if you think the FDA is now going to capitulate in allowing MannKind to lessen the requirements for a pediatric trial with Afrezza.
Based on the last two years of turmoil and consternation on dosing and the multitude of other management issues related to Afrezza, if anything, the FDA is going to make MannKind wish they had taken the Sanofi clearance - if MannKind truly wants to run a pediatric trial!
In my opinion, this is the classic case of a white elephant owner merely delaying the inevitable.
The Anatomy of a White Elephant
A year ago, MannKind hired a new CCO where the ensuing claims of action were nothing short of blustering personified hype. With all of this being based on the claim that Sanofi hadn't undertaken the needed marketing plan that would bring success for Afrezza in the marketplace. With vehement certainty, the new CCO claimed he would quickly exceed the Sanofi effort - with fewer sales representatives and fewer dollars being spent. So now with the CCO moving into the second year, with him sitting in the saddle of this White Elephant, we can begin to evaluate his job accomplishments.
Based on Afrezza being launched by Sanofi in February 2015, and them ending their marketing effort by December, 2015, one can see that by taking the 10 weeks with the highest IMS total prescriptions being filled, we see Sanofi achieved a total of 6,311 prescriptions from patients. Now jump to the 10 highest weeks of achievement for the CCO who said he would show Sanofi, and the world, how to market Afrezza, we have the actual results for what he boasted about. One must remember that Sanofi had handed over to MannKind a list of actual prescribing physicians and a foundation of nearly 20,000 prescriptions having been filled.
Now with a year under his tutelage we can see that for the 10 highest weeks of total prescriptions being filled the comparable number to Sanofi totals a meager 2,918 prescriptions. So instead of showing how feeble Sanofi's efforts were, we find that Sanofi achieved more than 2.2 times what MannKind's marketing guru achieved with him being the mahout on the White Elephant, leading the parade down Main Street, USA, to celebrate MannKind's disastrous marketing efforts.
The Numbers Tell the Truth:
Afrezza Prescriptions Per Q to Generate Net of $120M

Based on Net of $200 Per Prescription

Required

Obtained

Shortage

Cumulative Shortage

Q1 2016

150,000

1,027

-148,973

Q2 2016

150,000

3,313

-146,687

-295,660

Q3 2016

150,000

3,694

-146,306

-441,966

Q4 2016

150,000

3,569

-146,431

-588,397

Q1 2017

150,000

3,203

-146,797

-735,194
We know that MannKind has a cash burn rate of $10 million per month. Therefore, they will need gross revenues $120 million per year based on a net profit of $200 per prescription to cover this annual expenditure. Looking at this on a quarterly basis, and going back to the 1st quarter 2016 (when we knew that Sanofi had bailed out of their partnership) we can see the glaring reality in the above chart.
Looking at actual results for 2016, we find that Afrezza sales totaled less than $2 million for the full year 2016. And more revealing is the fact this lack of revenue shortfall is continuing to prevail in 2017, as we see in the Q1 results. Q1 results shows a sequential quarter drop of 10% in prescriptions being filled for patients.
The Two Mahouts Riding This White Elephant Are Speeding Toward the Waiting Abyss:
If one reads the various internet chat boards for MannKind, it is very sad reading the wild speculations and simplistic projection that the stock would immediately skyrocket if MannKind could get weekly prescriptions to a mere 300 per week. As I've shown, the basic number to merely break even based on just the net of COGs, it will require 150,000 prescriptions per quarter.
Using my bare minimum of a weekly increase of 10% for total prescriptions, at the end of the first quarter we see the run rate for new prescriptions are missing the 10% growth rate by a massive amount.
(Needed 8,085 and Obtained 3,203 Creating A Shortfall of a Mere 4,882 Prescriptions-AKA-about a 60% shortage for a mere 10% growth in prescriptions. 150,000 needed-results 3,203 for the 1st quarter of 2016.)
Tracking 2017: Sizzle or Fizzle Campaign

Based on a Weekly Growth Rate of 10%

Start:300

Projected

Actual

(+) (-)

Cumulative

Revenue

(+) (-)

Cumulative

Scrips

Scrips

Scrips

(+) (-)

$Amts.

$Amts.

$ Amts

1/6/2017

330

238

-92

-92

$47,000

($18,000)

1/13/2017

363

208

-155

-247

$41,600

($31,000)

($49,400)

1/20/2017

399

224

-175

-422

$44,800

($35,000)

($84,400)

1/27/2017

439

267

-172

-594

$53,400

($34,400)

($118,800)

2/3/2017

483

269

-214

-808

$53,800

($43,200)

($162,000)

2/10/2017

531

236

-295

-1,103

$47,200

($59,000)

($221,000)

2/17/2017

584

247

-337

-1,440

$49,400

($67,400)

($288,400)

2/24/2017

642

225

-417

-1857

$45,000

($83,400)

($371,800)

3/3/2017

706

239

-467

-2324

$47,800

($93,400)

($465,200)

3/10/2016

777

248

-529

-2853

$49,600

($105,800)

($571,000)

3/17/2017

855

258

-597

-3450

$51,600

($119,400)

($690,400)

3/24/2017

941

256

-685

-4135

$51,200

($136,600)

($827,000)

3/31/2017

1035

288

-747

-4882

$57,600

($149,600)

($976,600)
For those thinking that by achieving a mere 300 prescriptions, on a weekly basis, will bring success for your investment, you need to reevaluate your thinking. It doesn't take an advanced degree in mathematics to see the needed increase in prescriptions aren't 300 a week, rather they are in the order of about 11,500 per week. Denying this, is your option! However, the current price, on a pre-split basis, being about $0.25 should give you a clue about the truth of the matter.
Promises, Promises. What MannKind needs: Prescriptions being filled!
The CCO has now been on the job for more than a year. Promises are a dime a dozen, until you actually deliver on your promises. The following is an example between a Twitter user and the CCO, March 30, 2017:
ru going to deliver a growing Afrezza script count as promised so as to silence critics who predict company being on deathbed?
Response by CCO:
Yes I always deliver.
I'm not saying the company is on their deathbed. However, the money to pay for their oxygen supply is running out. Merely delaying and not delivering on the most critical issues facing MannKind doesn't bode well for solving the financial issues the company faces.
For many decades now, and two years with Afrezza being on the market, if the CEO and CCO are riding and steering this white elephant, the elephant needs a rest, water break, and something to eat. Your promises no longer suffice for keeping him on the grueling road you have him traveling.
It is my sincere hope and desire that Afrezza will remain available for those patients needing options in addressing their medical needs.
Good luck with your future investment decisions.
Disclosure: I/we have no positions in any stocks mentioned, and no plans to initiate any positions within the next 72 hours.
I wrote this article myself, and it expresses my own opinions. I am not receiving compensation for it (other than from Seeking Alpha). I have no business relationship with any company whose stock is mentioned in this article.