This report covers the week ending April 7, 2017.
Total Supply/Demand Balance
We estimate that total demand for American natural gas fell to around 496-498 bcf this week (down 0.4% w-o-w, and down 3.5% y-o-y). National consumption plunged almost 8% y-o-y, but total exports increased by more than 40% over the same period, thus off-setting most of the weakness in domestic demand. The deviation from the norm increased from just under 5% to over 11%.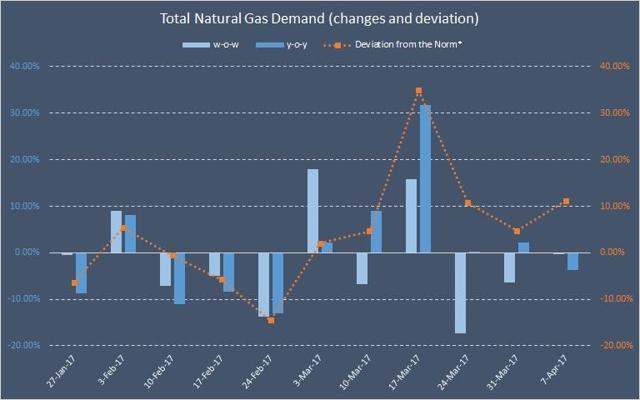 Source: GeckoiCapital
*norm defined as simple average over the last nine years
Dry natural gas production fell for a third week in a row. Imports from Canada, however, were up more than 3% y-o-y and total supply is estimated to have reached around 547-550 bcf. Overall, total SD Balance is expected to be positive at no less than 50 bcf, which is some 6 bcf below 5-year average for this time of the year. Please note, that total SD Balance does not equal storage flows.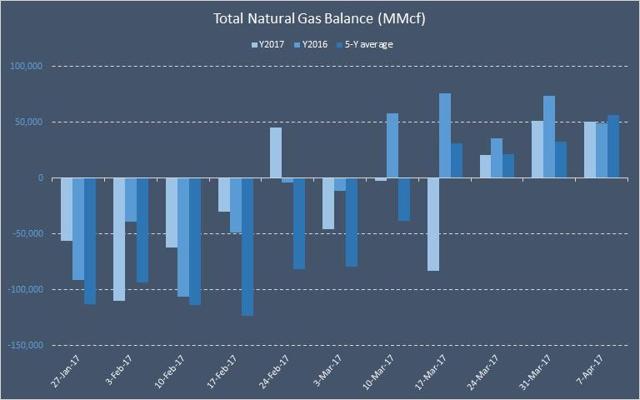 Source: GeckoiCapital
Storage
Currently, we expect EIA to report an injection of 8 bcf next week (final estimate will be released next Tuesday). Our projection is 3 bcf lower than the comparable figure in the ICE's latest report for EII-US EIA Financial Weekly Index, implying a potential "bullish surprise". Overall, at this point in time, we expect flows to storage to average 30 bcf over next three reports. Natural gas inventories' deviation from 5-year average should decline from 14.8% today to 13.2% by April 21.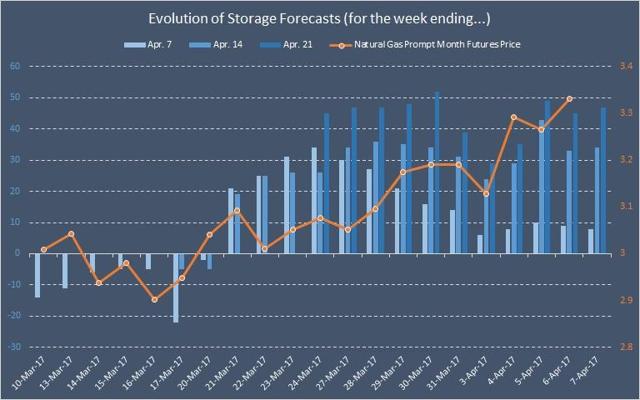 Source: GeckoiCapital
Since February 24, the ratio of natural gas inventories to their 5-year average has barely changed, yet natural gas price is up more than 24%. As we said in our previous weekly report, the market is clearly not concerned by the relative weakness of near-term fundamentals right now. Its primary focus is on the end-of-injection season (EOS) storage forecast. Today, our EOS storage index jumped 70 bcf to 3,654 bcf. We think that it is bearish in relative terms (because it is above market expectations of 3,625 bcf). At the same time, it is bullish in absolute terms (because it is below a comfortable level of 3,900 bcf). Therefore, our view is that the net impact on the long-term is neutral. Remember, that EOS is a volatile index and can change considerably over the weekend.
Disclosure: I/we have no positions in any stocks mentioned, and no plans to initiate any positions within the next 72 hours.
I wrote this article myself, and it expresses my own opinions. I am not receiving compensation for it (other than from Seeking Alpha). I have no business relationship with any company whose stock is mentioned in this article.