"Headlines, in a way, are what mislead you, because bad news is a headline, and gradual improvement is not." - Bill Gates
I have used that opening quote before. It truly fits what has taken place and what continues to take place during the secular bull market advance. When headlines dominate the scene to the point where it drowns out what is really going on, it is better to step back and take a look at the situation from 30,000 feet. Too often we get caught up in the trap of the hour to hour, day to day news, and allow it to sway judgment.
Keeping it simple, a secular bull market can be defined as those bull markets with a steady advance in the averages without enduring a generation losing drawdown of 40% or more. Note that there can be and probably will be a quick cyclical bear thrown in (drop of 20%). Many believe this bull market began in 2009.

My work indicates otherwise, simply because a new secular bull market does not begin until the previous bear market has ended. That requires a substantial upward move off the bear market lows. For sure March 2009 was the bear market low, and only in hindsight can anyone say that it was the start of anything.
Mr. Gates reminds us that Mr. Market doesn't care about good or bad; it's looking for change, and change for the better was taking place. Yes the advance that started in 2009 was predicated on change from the worst financial crisis ever seen. Over the last nine years, it's impossible to deny that things have gotten better. I should rephrase that. It is possible because there are some that say things aren't any better now, and it's also said that things are about to get worse.
The subtle changes that were taking place underneath the surface were positive relative to what investors just witnessed in 2009. However, the headlines from 2009 to 2013 for the most part continued to be negative. So those years and years of headlines that presented worry after worry were all interpreted as reasons for one, not get involved, or two, if anyone had gains off the lows, the market should be sold.
With almost no one interested in equities, March of 2013 presented quite a different story, regarding the secular bull market. The major averages broke out of a 13 year base pattern and vaulted to new all time highs. No hindsight required, it was presented to us on a silver platter. Ironically many were swept away by the headlines that weren't bullish. Then they added the idea that the advance from the S&P lows of 666 to S&P 1550 was a move that had run its course, and was about to end. All of that added up to a message that it was no time to consider stocks. Wrong. In my view that is when the secular bull market started.

It's also a time period when many investors just lost their way. They either didn't acknowledge the breakout as real, or simply got caught up in the worries and let emotion stand in the way. In doing so they forgot THE signal that was flashed.
I could see why that was the case for most analysts and investors. 2013 brought us;
Talk of the Fiscal cliff

Taper tantrum - Rates go from 2.5%-3%

Cypress

U.S Government shutdown
Here we are today, April 2017, and the same conclusions are being forged, as the headlines are overruling the change that is taking place. This bull market is no different from any other that I have witnessed. Well, maybe that isn't entirely true. It is one of the strongest and easily one of the most hated. It has also followed the EXACT same pattern of the other secular bull markets before it. The chart presented below was first rolled in one of my articles here in 2014.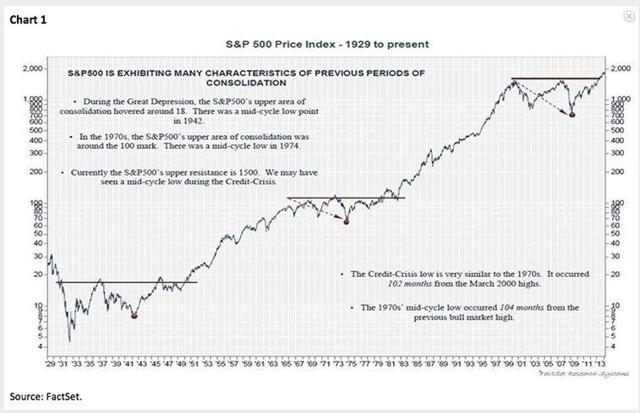 Periods of multi year consolidation culminated by a breakout to new highs. In my view there was little to no doubt that this signal was real, despite what the headlines being presented were promoting. The chart is dated as it stops at the breakout year, but it's easy to now picture an upward leg from there that has lasted multiple years. However, even as I write this, the duration pales in comparison to the prior secular bull markets before it, and that is also telling.

What I have just presented was the primary reason for my bullish message in 2013. April 2017 is the four year anniversary of that call. That message was called into question many times over, as worry after worry dominated the scene. The sternest test was in early 2016. A peak to trough drop of 16% for the S&P. While the major averages didn't make it into official bear market territory (20% or more decline), many technicians and analysts alike now view that period as a cyclical bear market.
Their thesis revolves around the fact that many sectors rotated down to losses of 20% or more. As I look back on that period and reflect on the evidence, I am also inclined to go along with that analysis. Regardless of what one wants to believe, the secular bull market suffered a scare, but remained in place.
Another breakout for the major indexes in late 2016 and early in 2017, combined with across the board breadth suggest strength and momentum. Add in another Dow Theory buy signal, and it all confirms my belief that we haven't seen the highs in the equity market.
This recap of history is presented for two reasons. First to recall the factors involved in setting the stage for this bull market, and second to point out that after four plus years nothing has changed at all. Headlines rule the day, and the underlying change that is occurring is being ignored.

Economy
The final U.S. Manufacturing PMI fell to 53.3 from the earlier print of 53.4. That is the lowest reading in six months. Keeping things in context, manufacturing PMI averaged 53.6 from 2012 to present.
After hitting its highest level in over two years in February, ISM Manufacturing for March saw a modest pullback. Economists were expecting the headline reading to fall to 57.2 from last month's reading of 57.7, and that is exactly where it came in. ISM Manufacturing Employment is at its highest level since April 2011.
U.S. Services PMI was reported at 52.8, missing expectations. This was the weakest reading in the last 6 months. It was down from the February report of 53.8, which was the highest reading since October 2015.
Construction spending for February posted a slight miss of analysts' expectations. However, the upward trajectory from the recession lows remains intact with an annual rate of $1.193 trillion, highest since April 2006.

U.S. Auto Sales Off To A Poor Start In March Reporting compared to the record pace from last year. 2016 was also the seventh straight year of record sales. Initial reports indicate total sales are tracking at a pace of 16.5 million units. Unless you are bearish, Put your ear muffs on. The critics of this stock market are going to get real loud over this one. In preparation for the barrage, here is evidence that it doesn't necessarily mean a recession is around the next bend.

Source: Federal Reserve Economic Data
The chart above indicates vehicle sale autos and light trucks. Note the time between the areas shaded in yellow and the following recessionary period. In the last two instances it was years before the economy went south.
Bloomberg was one of the first to roll out their view. Click on that Bloomberg link and you will see that they first rolled out their concerns in April of 2016! The auto sales market then made that report look silly when it rebounded and remaining strong, until this latest report. It's never wise to jump to conclusions over ONE headline. Data points have to be put in perspective. By the way, last year's March sales miss was bigger than this year's miss.
While the media was having a field day on how the recent auto sales spells trouble, CarMax comes out and says that their earnings were fine and in their report indicates the auto sales industry isn't falling apart.
An article from the Washington Post places the auto loan issue in proper context;
"An increase in the delinquency of risky auto loans probably won't send the U.S. economy into the doldrums the way the mortgage loan crisis did in 2008-09, but it will likely pinch car sales."

March non farm payrolls disappointed the analysts by showing a gain of only 98,000. There has been a lot of discussion on the impact of the bad weather that the country experienced in this period. Construction adds were the lowest in seven months. That may have some merit as the good weather experienced in February boosted the number (219k) which beat expectations handily. Then again, there is the observation that with no repeal and replacement of Obamacare, some business owners decided to sit back and wait. With an unemployment rate at 4.3% it isn't a stretch to believe that we could be at full employment.
Also of note, job openings are at a very high level, and that suggests businesses are hard pressed to fill positions with qualified workers. Bottom line, it isn't worth getting excited over one unusual report either way.

Global Economy
The theme that has been expressed here since late 2016 has been one of a synchronized global growth story. This is the first period of synchronized growth since 2010.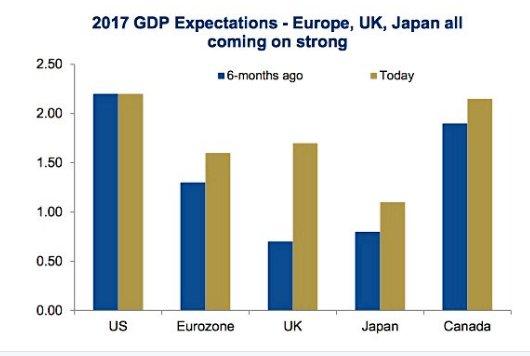 Chart courtesy of Seeitmarket
Global Manufacturing PMI held steady at 53 which matched the 69 month high posted in February. David Hensley, Director of Global Economic Coordination at J.P.Morgan;
"The global manufacturing sector recorded its fastest rate of quarterly expansion for almost six years over the first quarter as a whole. The March PMI survey suggests little change in March, with rates of expansion in output and new orders still either at, or near to, February's highs."

Final Eurozone Composite PMI comes in a at 56.4 for March, continuing its upward trend, and is now at a 6 year high.
Germany Services PMI Activity Index reading was 55.6 (54.4 in February), a 15-month high. German PMI Construction for March came in above expectations at 56.4, rising from the February read of 54.1. That is the fastest rise in German construction activity since February 2016.
Markit France Services Activity Index was reported at 57.5 (56.4 in February), a 70 -month high.
Italy Services PMI was lower in March with a reading of 52.9. That was down from the 14 month high (54.1) recorded in February
Spain Services PMI was strong as well. Activity rose sharply and confidence picked up to 15 month high. Andrew Harker, Senior Economist at IHS Markit;
"Service providers solidified the gains made in February during March, seeing sharp increases in activity and new business that were little-changed from those seen in the previous month."
Eurozone retail PMI results were mixed, Germany is at a 6 month high, while France is at a 4 month low and Italy a 6 month low.

Japanese Industrial Production surprised to the upside by increasing 4.8% in February. Unemployment there fell to its lowest level since 1994.
Japan Services PMI is now at a 19 month high with the index reported at 52.9, up from the February report of 51.3

Markit Caixin China Services PMI was reported this past week with a reading of 52.1, that was a decline from the February read of 52.6. It represented the slowest increase for China Services in 6 months.

Earnings Observations and Valuation
With the global growth story comes global earnings improvements. It is the primary reason for the stock performance we have seen in other equity markets across the globe. Here's a look at global equities earnings acceleration / deceleration. The chart, which appeared in the latest edition of the Weekly Macro Themes, tracks the number of countries seeing a material acceleration in forward earnings growth. The blue line is the proportion of countries with forward earnings growth greater than 10% year over year.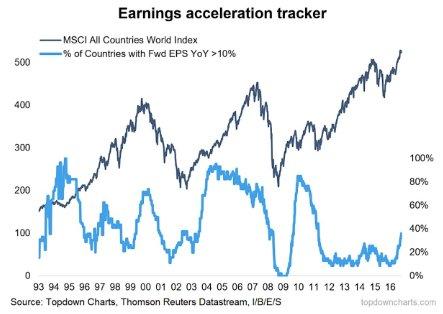 There is a clear breakout being shown in earnings growth. A continuation of this trend bodes well for further market gains. While many claim the markets have gotten ahead of the earnings picture, the direction of this trend gives credence to the idea that earnings can in fact catch up to present valuations.
Tax reform dominates the headlines now as many studies can be found to let us know how much a reduction of corporate taxes here in the U.S. means to the bottom line. That's all well and good but without any tax reform, Factset Research and other reputable firms tell us that 2017 earnings are set to come in at $135 for this year. I have kept my forecast at $130. Energy, Financials, Technology, and Materials will be the four sectors expected to drive consensus estimates of 10% earnings growth.
A PE of 18 then suggests the S&P should trade around 2,340, give or take the angst created by the next issue. The S&P closed at 2,356 this past Friday.
Factset Research in their weekly update reports;
For Q1 2017, the estimated earnings growth rate for the S&P 500 is 8.9%. If 8.9% is the actual growth rate for the quarter, it will mark the highest (year-over-year) earnings growth for the index since Q4 2013 (8.9%). I can add that I have seen other firms calling for 10% growth in the first quarter.
The forward 12-month P/E ratio for the S&P 500 is 17.5. This P/E ratio is based on Thursday's closing price (2358.84) and forward 12-month EPS estimate ($135.12).

The Political Scene
This past week saw a day when geopolitical risk dominated the headlines. North Korea's recent nuclear weapons test, followed by the Syrian chemical weapons attack lit up the airwaves. The subsequent U.S. missile response initially sent the S&P futures plummeting overnight. They recovered and were flat by morning. While all of the geopolitics is troubling, what a market participant needs to observe is the price action that is occurring.
On Thursday in the midst of the headlines, ALL of the major averages closed higher led by the Russell 2000 up 1% on the day. While that was happening the VIX fell 3.8%. It's clear as the nose on our faces, the amateurs and the computer algorithms are trading on tweets, words and headlines, and pushing the market around hour by hour. At the same time the institutional players are stepping in at every opportunity. Until that changes the skeptics are hard pressed to make any bear case stick.

The Fed
Just when I thought the Fed was basically out of the picture, the equity markets reversed sharply when the Fed Minutes of their March 15th meeting were released. The issue, the reduction of their balance sheet.
The prevailing view for quite some time now was that the Fed would embark on this reduction, and in my view this should come as no surprise.
The Fed recognized the slowdown in consumer spending, but viewed that as being due to transitory factors. Officials continued to see uncertainty regarding the timing, size, and character of fiscal stimulus, but generally don't see this having an impact until 2018.
Then there was a mention of current stock market valuations;
"Some participants viewed equity prices as quite high relative to standard valuation measures. It was observed that prices of other risk assets, such as emerging market stocks, high yield corporate bonds, and commercial real estate, had also risen significantly in recent months."
It doesn't take much these days for traders to get nervous and take profits. The same holds true for the computer driven algorithms to home in on the words, equity prices are high.

Sentiment
For those that don't like the AAII surveys presented here, this will be more to your liking, and fits in with the skeptical view that euphoria is everywhere very nicely.
Factset Research reports;
"Bullish sentiment increased to 55.8% from 49.5% in the latest US Investor's Intelligence poll; Bearish sentiment increased to 18.3% from 18.1%; those expecting a market correction decreased to 25.9% from 32.4%."

According to the weekly sentiment survey from AAII, only 28.3% of individual investors considered themselves bullish in the last week. That's down from an already low reading of 30.2% last week, and it's the lowest weekly reading seen since before the election. This week's decline also extends the record streak of consecutive weekly readings below 50% to 118.
So readers now have a choice of what they wish to follow. Then again maybe others will want a tiebreaker to decide. The Financial Times reports that investors pulled out 14.5 billion from U.S based equity funds in their latest summary dated April 5th. The article cites the doubts surrounding the administration's agenda and a new found love for European equities as reasons for the reallocation.
The words doubt, administration, love and European equities in the same article tipped the scale and persuaded me to stay with my opinion. My daily observations in the real world tell me there is little to no euphoria for buying U.S. equities present.

Crude Oil
A headline suggesting the crude oil market is rebalancing as OPEC's secretary general sees recent cuts making a difference. On the other hand, U.S. Energy Information Administration's Weekly Petroleum Status Report showed that U.S. commercial crude oil inventories increased by 1.6 million barrels from the previous week.
The price of WTI closed the week at $52.18, up $1.45 for the week. That move represents back to back weeks of increased prices.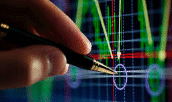 The Technical Picture
Chris Ciovacco provides evidence why the recent push to new highs is significant. This stays in the theme on my view from 30,000 feet. He labels the chart below the "Mother of All Breakouts"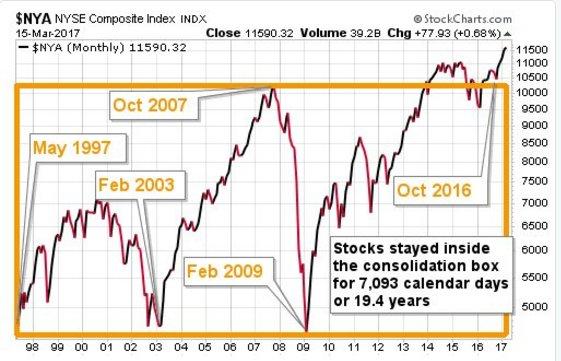 Chart courtesy of Chris Ciovacco
The graphic comes complete with a terrific explanation of what the ramifications could be going forward. In my view it dovetails with the historical evidence presented earlier. Vaulting up and out of a long term consolidation period shouldn't be feared.
For the many that continue to remind me that there could be a crash, this is probably THE top, we are on the precipice of a huge decline similar to 2000 or 2008, I present the following picture from the work of Chris Ciovacco;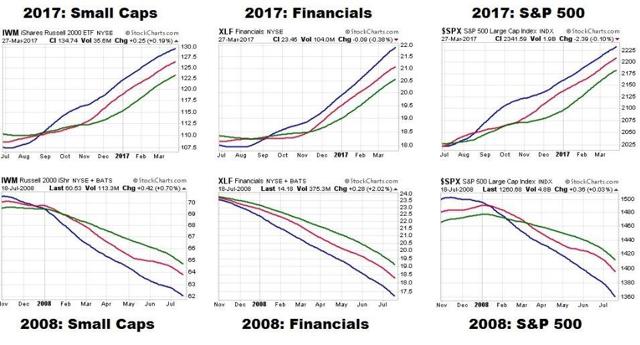 The long term (150, 200, and 250 day) moving averages depicted above do not appear ready to roll over in 2017, and they certainly don't look like they did in 2008. Since they are long term trends, it takes plenty of time before they level off and turn.
Strength begets strength in a bull market. The idea is not only consistent but logical. The recent long string of closes without a 1% drop in the S&P indicates a strong trend. Trends tend to weaken before they reverse. In other words, momentum persists. When they finally do reverse there will be plenty of time to make the proper portfolio adjustments. First to protect, then profit from any future bear market decline.
Coming back down to the street level view the daily chart below reveals how support and resistance play out. Two weeks ago it was the support level of 2321 that held creating a bounce higher. That move up met resistance on Wednesday when after a gap up opening, the S&P traded up to resistance in the 2377- 2385 range and reversed sharply. As always there are multitude of reasons that could have triggered that reversal including the issue I mentioned in the Fed minutes earlier. Bottom line, these short term levels can and will rule the action in the daily/weekly trading patterns.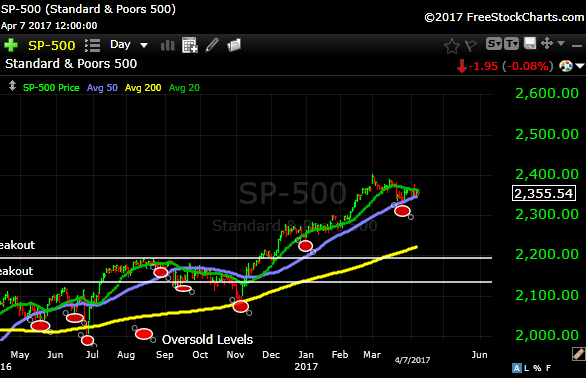 Chart courtesy of FreeStockCharts.com
The 3.5% decline in the S&P 500 from March 1 to March 27 looks like a normal pullback at this point. So far this decline ended at the 50 day moving average (Blue Line). Notice how the index is now riding that trendline.
The idea put forth last week takes on more weight this week;
"If this rally is to have legs it has to challenge then overtake the 2385 pivot."
Should the market fail at resistance and resume the decline, then break the 2321 pivot range, I would have to consider that a correction is underway. The first clue would be a decisive close below the 50 day moving average. However, given the recent underlying strength, my view is that the downside would remain contained within the bounds of normal market pullbacks. My work then says contained equates to a retracement to the pivot of 2286 coming first, then 2270. Below that lies solid support at 2234. That major level of support resides 5% below Friday's close. It is too early to jump to any conclusion and get ahead of ourselves in the short term. One day at a time.
The reason for being patient? Despite the headlines and the multitude of opinions concerning a correction, the evidence presented is telling me that there is nothing overwhelmingly bullish or bearish occurring right here. The stock market's tug of war continues.
Short term support is at the 2336 and 2321 pivots, with resistance at 2385 followed by the 2411 pivot point.

Individual Stocks and Sectors
The pattern of sector rotation is still holding true. Many of the hot sectors and individual stocks have already pulled back 10% or more and entered into a consolidation phase. In the meantime the S&P has suffered only a minor pullback of some 3% from the highs. It confirms my views that individual stock selection during those periods of consolidation is the way to proceed. At the moment, markets are as neutral as they've been in some time. Only one sector is overbought and one oversold.
A stock mentioned here and a recent purchase of mine, Applied Optoelectronics (NASDAQ:AAOI) came under pressure last Wednesday with the stock down close to 9% on the day. Reports have surfaced that there may be delays in 3D sensing opportunities. Rumors swirled that Applied was in the midst of this issue. Applied Optoelectronics isn't part of the 3D sensing supply chain.
The company is not involved in the recent initiatives to secure design positions for 3D sensing in mobile devices. IF that was truly the cause for the large decline, it is unwarranted. I am inclined to believe it was profit taking in a stock that has outperformed all year. The stock moved right to its 50 day MA where I scaled in and added more shares. My original comments on the company are confirmed by the recent price action. This is not a stock for widows and orphans.

While it isn't time to abandon this bull market yet, it should also be concluded that it won't be a straight line moon shot to new highs. There are sure to be hiccups along the way, there always are. The skeptics will now point to the next round of worries, geopolitical issues, the French election, pro growth agenda in jeopardy, debt ceiling debate, etc. More issues like these and others will be tossed at investors all with the same message. The bull market is in jeopardy and may be ready to end. Admittedly the next two weeks are usually weak due to the overhang of the Income Tax deadline, but I'm not in the equity market for just the next two weeks. This Bull market isn't done yet.

Where will the stock market go next? It depends on an individual's perspective. Assuming one is investing for the long haul, "next" is higher. The body of evidence is showing how this secular bull market is no different from others. That alone suggests higher equity prices down the road. There are no guarantees in life and that translates to investing as well.
Keeping that in mind, my objective has always been to put the odds in my favor when I form a strategy during any given market period. In this case that is accomplished by looking at evidence that has been on display for a while now. Some of which has been reinforced in this missive. The chances that the long term secular bull chart patterns displayed will be different this time, are lower than the chances of this pattern repeating. I see no need to go out on a limb and say the famous line that this time will be different. Those that have already uttered those words have been proven wrong.
Given the political challenges that lie ahead along with the recent rally, a move well beyond the recent intraday high of 2400 is a challenge for the near term. So while there still remains a chance that the S&P could retest the highs, investors need to be reminded after this smooth uninterrupted rally from last November, the very near term is likely to change to a more back and fill type of action.
In this kind of environment, with interest rates barely back to normal levels, history suggests that the current market PE doesn't represent wild over valuations across the board. The froth that many want to see to maintain their skeptical viewpoint isn't there. As I mentioned earlier the Fed doesn't agree with that assessment. Neither does Larry Fink, chief executive of BlackRock. He along with a growing mob now focus on the fact that in their view, nothing has been done by the new administration to warrant the stock market's advance. While their comments may have some merit, they do not take into account what is happening with the positive global economic change on display, nor the market's price action.

The geopolitical risks and subsequent market action were highlighted earlier, and so far the market has shrugged it all off. That is telling and shouldn't be dismissed. It confirms what I have been saying since the market broke out in July 2016. We are in a positive feedback loop, positives are highlighted, negative news is diminished. That adds up to a strong underlying bid to this market, and until that changes pullbacks will be contained. Yet many remain in their never ending search of why the equity market has to go down.
Earnings are always a key and all eyes will be focused to see if we get the growth that is being forecast. Many of the skeptics aren't factoring the view that earnings could now play catch up as the S&P trades sideways, keeping the lid on froth and exuberance.
Investors should ask themselves if they fall into the club that parses every word or political move in D.C., or are they part of the crowd that is watching broad based earnings improvement and reborn confidence. Is your focus on the daily market gyrations or the view from 30,000 feet? Are you waiting and waiting and waiting for the next cyclical bear or do you believe we're in the midst of a long term secular bull?
So far there has been only one winner. The investors that have subscribed to all of the latter options put forth, and I believe anyone that continues to follow that strategy will continue to profit.
Best of Luck to All!
Disclosure: I am/we are long AAOI.
I wrote this article myself, and it expresses my own opinions. I am not receiving compensation for it (other than from Seeking Alpha). I have no business relationship with any company whose stock is mentioned in this article.
Additional disclosure: The opinions rendered here, are just that – opinions – and along with positions can change at any time. As always I encourage readers to use common sense when it comes to managing any ideas that I decide to share with the community. Nowhere is it implied that any stock should be bought and put away until you die. Periodic reviews are mandatory to adjust to changes in the macro backdrop that will take place over time.