CVS Health Corporation (CVS) ranked third in the March edition of my 10 Dividend Growth Stocks series of articles on Seeking Alpha:

In this article, I explain why I'm adding CVS to DivGro, my portfolio of dividend growth stocks.

About CVS Health
Founded in 1892 and headquartered in Woonsocket, Rhode Island, CVS provides integrated pharmacy health care services. The company offers a range of products and services, including advising patients on their medications at CVS Pharmacy locations; providing cost control programs through CVS Caremark; delivering care to patients with conditions through CVS Specialty; and pharmacy care for the senior community through Omnicare.
CVS is a Dividend Contender with a track record of 14 consecutive years of dividend increases and an impressive 10-year dividend growth rate of 27%. The stock pays quarterly dividends of 50¢ per share in the months of February, May, August, and November.
To determine if I want to add a stock to my DivGro portfolio, I look at the quality of the company and its ability to continue paying ever-increasing dividends. I also look at how the market prices the stock, because I prefer to buy shares at a discount to fair value.
Stocks trading at a discount have increased upside potential, as gains can come from earnings growth and the share price trending back to fair value.
Dividend History
CVS has an impressive track record of paying and increasing dividends.
Let's look at the dividend yield first. At the current price of $76.75 per share, CVS yields 2.61%. CVS's yield is near its 5-year high yield of 2.67% and well above the 5-year average yield of 1.56%, as illustrated in the following chart from Dividend Channel: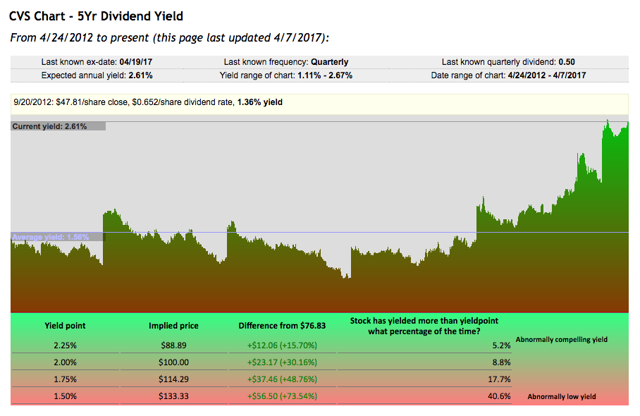 Simply Wall St presents another view of a stock's dividend history:

Here, CVS's dividend yield is shown relative the average yield of the Food and Staples Retailing industry. Clearly, CVS now yields significantly more than the industry average.
The following table presents CVS's dividend growth rates according to data available at tesselation.com:
CVS Dividend Compound Annual Growth Rate
1-Year
3-Year
5-Year
10-Year
25-Year
21.43%
23.61%
27.73%
27.06%
6.41%
The stock's dividend growth over the last ten years is very impressive. Here is a chart showing the quarterly dividends paid since February 2003: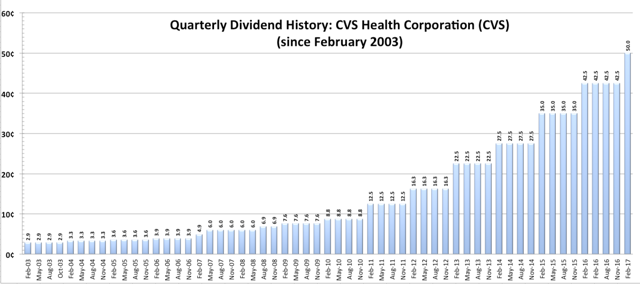 Data source: gurufocus
I like to see how dividend payments relate to EPS (earnings per share) and FCF (free cash flow) because the relationship is one indication of dividend safety: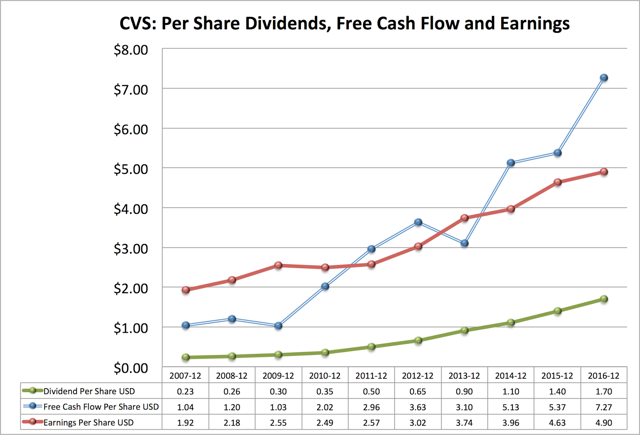 Data source: Morningstar
CVS's dividends are easily covered by both earnings and free cash. I consider a payout ratio of 60% or less to be a good measure of dividend sustainability. For the fiscal year ending in December 2016, CVS's EPS payout ratio was 35% and its FCF payout ratio was 23%. These are impressive numbers and gives me confidence in CVS's ability to continue paying and increasing dividends.
Stock Performance
The main goal of dividend growth investing is generating a growing dividend income stream.
For dividend growth to be sustainable, earnings would need to grow sufficiently. And if earnings grow, the company's fair value should increase over time and the stock price should follow suit. Of course, many other factors will influence the stock price, including market forces beyond the company management's control.
Looking at CVS's 10-year price history, the stock price increased rapidly following the great recession of 2007-2009, peaking at $112.47 in July 2015. Since then, the stock price has steadily declined. Nevertheless, CVS has outperformed the S&P 500 by about 50% over the last decade.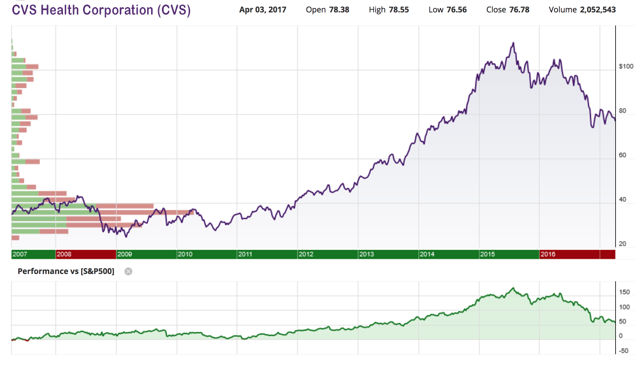 Source: Scottrade
The following tables provide total returns for three different periods, courtesy of longrundata.com. An investment in CVS ten years ago would have returned 10% on an annualized basis with dividends reinvested. The stock performed much better over the last five years, with annualized returns of about 14%. Investing $1,000 in CVS in 1992 would have returned about $10,500 (or 10% on an annualized basis).

Stock Valuation
We can use some common valuation metrics to see if CVS is attractive at the current share price. The following table compares CVS's trailing twelve-month price to earnings (P/E), price to free cash flow (P/FCF), price to book (P/B), and price to sales (P/S) ratios to 5-year averages. I also include a comparison of dividend yield to five-year average dividend yield.
CVS
Current (TTM)
5-Year
Average
Relative
Valuation
Industry
Average
S&P 500
Average
P/E
16.0
20.0
-20%
19.4
20.6
P/FCF
11.1
18.6
-40%
13.4
31.9
P/B
2.2
2.3
-4%
2.8
2.8
P/S
0.5
0.7
-29%
0.6
3.8
Yield
2.2
1.5
-47%
1.1
2.2
Data source: Morningstar
.
The relative valuation metrics point to CVS being significantly undervalued: every valuation metric suggests that CVS is trading at a discount to fair value.
I've also done a discounted cash flow analysis for CVS, resulting in a fair value estimate of $93.33. To arrive at a fair value estimate, I use a multi-stage DDM (dividend discount model) with proprietary adjustments to determine fair value. I set a required rate of return of 10% and use estimates of the annual EPS growth rate for the next five years. After that, I taper growth to a constant rate of 3% after ten years. I adjust the calculated fair value based on various factors, including an assessment of dividend safety.
For comparison, Morningstar's fair value estimate is $104.00 and S&P Capital IQ's fair value calculation is $96.60. According to TipRanks, based on 9 ranked analysts offering 12-month price targets for CVS in the last three months, the average price target is $86.89.
The following earnings and price correlated F.A.S.T. Graphs chart for a 13-year period indicates an estimated price of $105.14 for the Normal P/E Ratio of 16.3 for CVS.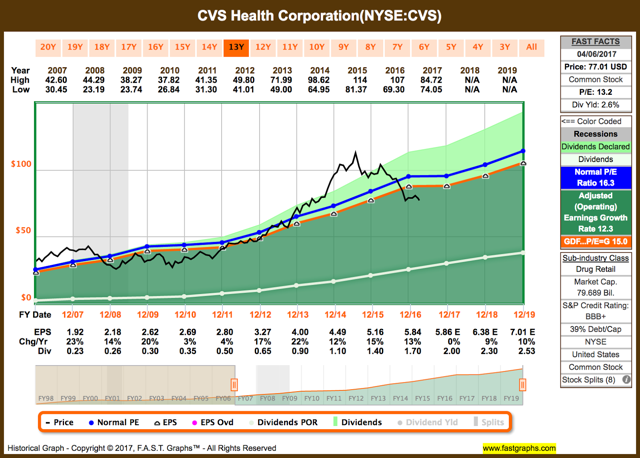 Finally, I use the fundamental analysis tools available at finbox.io when doing my fair value analysis. The company provides a comprehensive list of stock valuation models and a quick way to view the average fair value estimate with default settings.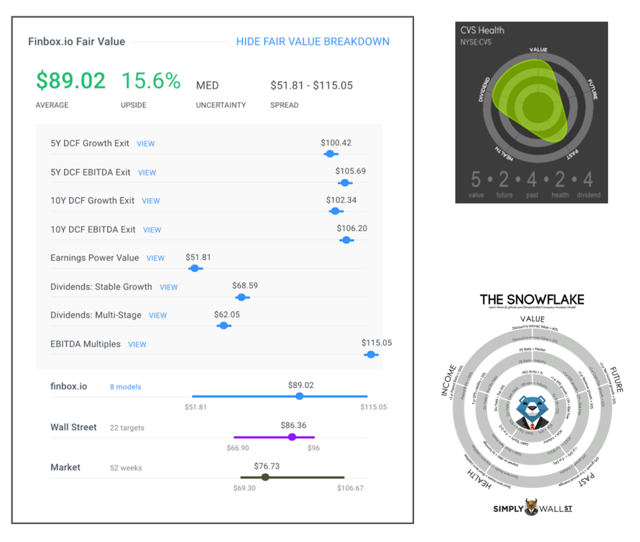 According to finbox.io, the average fair value of CVS is $89.02, implying an upside of about 16%.
I like Simply Wall St's snowflake graphic, which presents a visual summary of a stock's fundamentals and investment profile. You can read more about the company's analysis model at Github. The snowflake graphic indicates a value score of 5, so, according to Simply Wall St, CVS is trading at a discount to intrinsic value of at least 20%.
| | | |
| --- | --- | --- |
| Source | FV | high / low |
| Mine | $92.64 | |
| Morningstar | $104.00 | |
| TipRanks | $86.89 | lowest |
| F.A.S.T. Graphs | $105.14 | highest |
| Finbox.io | $89.02 | |
| S&P Capital IQ | $96.60 | |
Excluding the highest and lowest of these estimates and using the average of the remaining estimates, I get a fair value of $95.57. Recently, CVS traded at $76.75 per share, or at a discount to fair value of about 20%.
Key Statistics and Rating
The following table provides some key statistics for CVS. Data sources include the CCC spreadsheet, Finviz, and gurufocus.

CVS passes the following of my selection criteria:
Dividend Streak: At least five consecutive years of dividend increases (14 years)
Dividend Yield: At least 2% but less than 8% (2.61%)
Dividend Growth: Median of 1-year, 3-year, and 5-year CAGR (compound annual growth rate) is at least 6% (23.6%)
Equity Valuation Multiple: Price to earnings ratio is less than 16 (15.6x)
Dividend Payout Ratio: Ratio of dividend to EPS (earnings per share) is less than 60% (34.7%)
Fair Value Estimate: Price discount is at least 10% of fair value estimate (20%)
CVS fails the following of my selection criteria:
Debt Ratio: Debt to equity ratio is below 60% (70.0%)
Based on my analysis, CVS earns 7 out of a possible seven stars: (★★★★★★★)
Other Ratings
The following table presents ratings of CVS from several sources, for comparison to my rating:

For a description of the various stock ratings referenced in the table, please see my Ratings page.
Concluding Remarks
Dividend Contender CVS yields 2.61% at $76.75 per share. With a streak of 14 years of dividend increases and an impressive 10-year dividend growth rate of 27%, the stock looks very attractive at current levels. In my estimate, CVS is trading at a discount to fair value of at least 20%.
Several risks are noteworthy. There is rising pressure to reduce reimbursement rates for generic drugs. The company's profitability would be impacted if prescription drug prices and pharmacy reimbursement rates are reduced. CVS operates in a highly competitive market. In 2016, the company was out-hustled by Walgreens, which took away prescription contracts from CVS. As a result, CVS lowered its guidance. Margin pressure presents a stiff challenge, too. In the Q4-2016, for example, gross margin declined by 12 bps (0.12%) to 16.5%, while operating margin declined by 12 bps to 6.5%.
On the other hand, the Omnicare acquisition is driving sales growth, while the Target Pharmacy buyout is expanding CVS's customer base to several new markets such as Seattle, Denver, Portland, and Salt Lake City.
CVS has a strong balance sheet and it continues to return cash to shareholders in the form of dividend payments and share repurchases. The company ended fiscal 2016 with net cash from operations of $10B, up from 19.7% from a year ago. CVS generated $8.1B of free cash in 2016, which came in at the high end of it guidance range. It repurchased shares of $4.5B in 2016 and has $18.2B remaining for future buybacks.
Earlier this week, I bought 40 shares of CVS just below $78 per share for a yield on cost of 2.56%. My buy was a little premature, as the stock is now selling for about $77 per share for a yield on cost of 2.60%.
With this buy, DivGro's projected annual dividend income increases by $80.
Thanks for reading! If you like this article and would like to read similar ones in future, please click the Follow link at the top of this article.
Disclosure: I am/we are long CVS.
I wrote this article myself, and it expresses my own opinions. I am not receiving compensation for it (other than from Seeking Alpha). I have no business relationship with any company whose stock is mentioned in this article.