ConocoPhillips (NYSE:COP) recently was the large winner in a transaction with Cenovus Energy (NYSE:CVE). Divesting Canadian oil sands assets for nearly C$17.7 billion allows the company to have significantly higher financial stability and secured longevity. While I'll analyze the impact this transaction has on the company, it's worth noting that there's been a setback in the company's production by a sizable amount. This will impact the Q2 2017 earnings report, so investors should be cautious in their expectations for upside over the coming months. Overall, this company is in a much better position than it was prior to the transaction with Cenovus and the stock is a clear buy.

Source: ConocoPhillips
Reviewing The Deal With Cenovus Energy
A C$17.7 billion deal will never go unnoticed by the market and COP made up nearly all of its YTD losses in a single day by jumping from $44 to nearly $50. The stock is down just 0.65% YTD now, and on a trailing twelve-month total return of 26.55%, ConocoPhillips has outperformed for shareholders. I expect this trend to continue, especially over the long term. In the near term, COP should be able to make up the gap from $50 to $52 in the coming weeks, creating a small 4% return, but I believe in Q2, we'll witness the stock edge up towards $55, provided crude also continues to rally.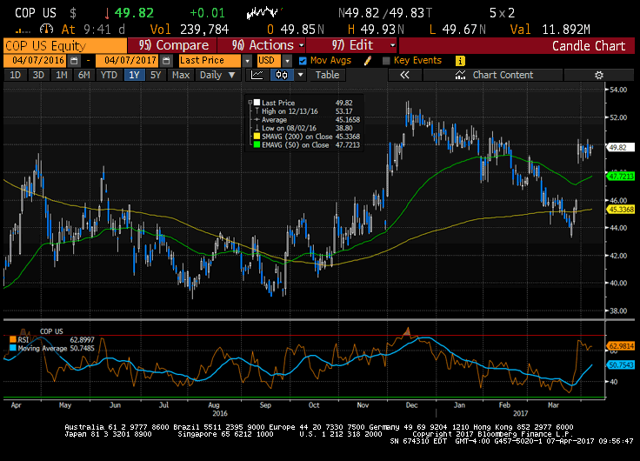 Source: Bloomberg
The company sold off its FCCL, Deep Basin, Kaybob-Edson and Clearwater resource plays, which totaled 265 MBOED of production and 3 million acres. However, the company retained its Blueberry and Surmont assets, the former which represents 82 million acres and the latter which represents 35 MBOED. Now, the transaction does scale back production of the company, but expectations will adjust for earnings reports and clearly the market didn't view this as a negative, considering what the proceeds are being used for. The key points of this transaction are as follows:
Significant debt reduction
Doubling of share buyback program
Coverage of the dividend drastically increases
Dividend growth also becomes reinstated
At the end of last quarter, the company had $26.16 billion in total debt. The maturity distribution that the company has is well spaced out, with only two years out of the next ten having more than $2 billion due. This year, there is $1 billion in debt due on December 15. These are 1.05% notes currently trading at 99.731. Considering the total proceeds from the transaction are $13.3 billion and $3 billion of that is going towards increasing the authorized share repurchase program, the company could put nearly $10 billion towards debt reduction this year.
It could effectively buy up the next 5 years worth of maturities and have a clear window through 2021 to grow production or take on later-dated leverage to significantly grow. Now, the company has indicated that it's being much more disciplined in the allocation of cash than a straight debt reduction and plans on reducing debt down to $20 billion by the end of the year. The company plans on paying down the 2017, 2018, 2019 and half of the 2020 maturities this year. Reduction in the maturities from 2020-2024 is expected to be achieved by the end of 2019. Either way, it increases the growth profile of this company and I'm optimistic in that regard.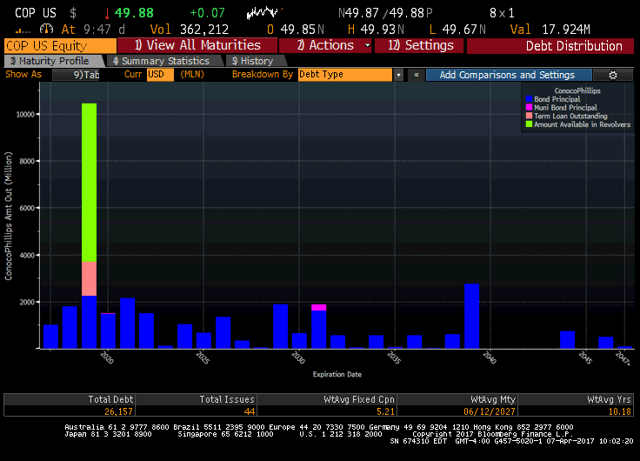 Source: Bloomberg
The company authorized a $3 billion share buyback program in November 2016, which means that this deal allows that program to increase to $6 billion. Based upon the current market cap of COP, the company may now have plans to purchase up to 10% of shares outstanding. That's going to help to drive this stock higher over the medium term and creates stronger support on dips and provides quite the headwind to shorts. Approximately $3 billion worth of share repurchases, or 5% of current shares outstanding, will happen this year.
Next, the dividend will finally see some strength. As shareholders know by now, this company was forced to cut its dividend during the downturn. Many other E&Ps experienced the same fate and it was just an unfortunate product of the downturn. The company currently spends $1.25 billion dividends each year, which is down from the pre-cut level of $3.6 billion. The cut naturally helped this company to stabilize its balance sheet, but came at the expense of shareholders.
That's all about to change. While there's no set guidance on how much the dividend will grow, the company has indicated consistent annual growth will follow this transaction and I expect we'll receive more guidance on this after the Q1 2017 earnings report early next month. The commitment now is that it will grow the dividend as operating cash flow increases. The company has guided in excess of 30% of operating cash flow will be returned to shareholders, so we'll see what that looks like on a yield basis after we receive Q1 earnings.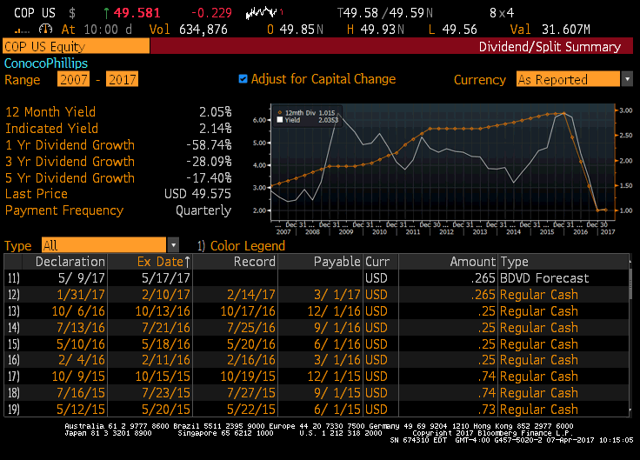 Source: Bloomberg
The risk of the dividend also decreases with this transaction. Coverage at YE 2016 was negative in light of -$4.2 billion in operating income, but with the projection that operating income will increase to $2.81 billion, coverage will improve to 2.25x. That makes the current dividend much more sustainable and allows significant room for the company to begin growing it. The current yield of 2.05%, in my opinion, is inadequate and would like to see a 3-4% yield by the end of next year.
Production Setback
Not to take away from the positivity of this transaction, but it was announced earlier this week that ConocoPhillips will have output reduced by 40% (56k barrels/day). Surmont, as previously discussed, is one of the remaining Canadian oil sands assets that was not included in the deal with Cenovus. Scaling back production here definitely hurts the company in terms of the efficacy of operating cash flow on the Q2 2017 earnings report, but it's also been reported that this production will be back online by the first week of May.
Surmont was on track to scale an extra 10k barrels/day by the end of this year, so hopefully that goal isn't impacted by this short-term setback. This is going to be a critical year for earnings for this company because the expectations, right now, are that COP breaks into positive EPS territory on the Q1 2017 report and continues to grow earnings by about $0.10 per quarter (adjusted).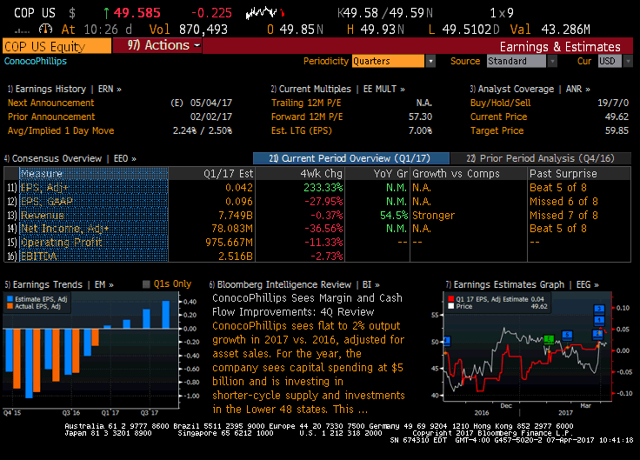 Source: Bloomberg
Conclusion
We're just under a month away from Q1 earnings, so investors have time to reevaluate their position in this stock. Because of the significant debt reduction, we can expect the stock to be less volatile over the medium term and for the company to have significantly better opportunities for growth. Additionally, with an increased share buyback program and an expected increase in the dividend soon, this company is really giving shareholders everything they need to generate an outperforming return. Tough to find a better buy in this market than ConocoPhillips right now.
Disclosure: I/we have no positions in any stocks mentioned, but may initiate a long position in COP over the next 72 hours.
I wrote this article myself, and it expresses my own opinions. I am not receiving compensation for it (other than from Seeking Alpha). I have no business relationship with any company whose stock is mentioned in this article.