Ford Motor (NYSE:F) is not in an enviable position. The auto company reported sliding vehicle sales for the month of February that ticked investors off. What's more, Ford Motor shocked investors at the beginning of the month with a sharp drop in U.S. vehicle sales in March, too. As a result, Ford Motor's shares have crossed into the 5 percent yield territory. That said, though, Ford Motor is everything but an investor favorite right now, suggesting that shares can drop even further over the short haul.
Ford Motor's sales in the U.S. dipped 4 percent in February compared to the same month a year ago, adding to concerns that auto makers have seen the peak in auto sales. With investor sentiment already being negative, it was unfortunate that Ford Motor had to report yet another sharp drop in vehicle sales for the month of March.
In March 2017, Ford Motor's vehicle sales in the United States dropped a whopping 7.2 percent to 236,250 vehicles due to lower fleet and retail sales. Compare this to February 2016 when the auto company sold 254,711 vehicles, and one can understand the anxiety that is holding investors back from investing in the auto sector. Year to date, Ford Motor has sold 617,302 vehicles in the U.S., reflecting a 4.4 percent decline compared to the first three months of 2016 when the auto company sold 645,626 vehicles. Weak auto sales in the 1st quarter 2017 as well as a muted profit outlook for the full year have taken a toll on investor sentiment... and on Ford Motor's share price.
Ford Motor's shares have slumped 7.42 percent so far this year, and since Ford Motor is not at the top of investors' shopping lists right now, more downside may loom just around the corner.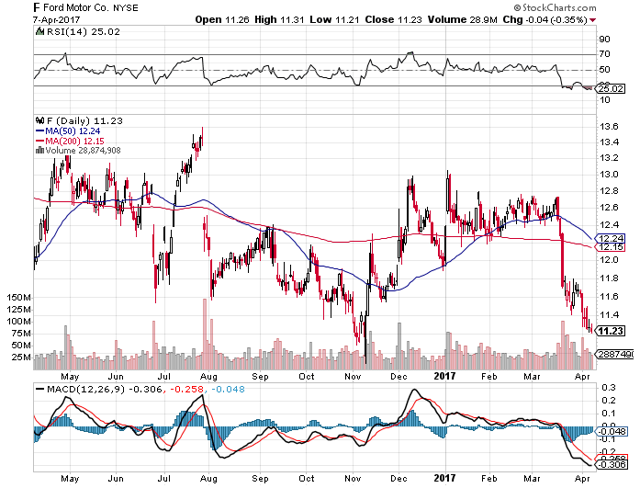 Source: StockCharts.com
How Low Can It Go?
If negative investor sentiment persists, Ford's April U.S. sales continue to slide, and bulls don't show up at the exchanges, there is a good chance that Ford Motor's shares will continue to drop. In fact, a drop towards $10 is entirely within the realms of possibility given how little investors currently appreciate Ford Motor.
That said, though, Ford Motor's dividend yield - thanks to the sell-off in the last several weeks - has crossed into the 5 percent yield territory... and this is a big deal for income investors.
One would expect a rising dividend yield to cushion Ford Motor's slide at some point. Since Ford Motor's dividend is quite safe (though Ford Motor may decide not to pay a special dividend in the 1st quarter of 2018), the reward-to-risk ratio actually gets more compelling if Ford Motor's shares fall towards $10.
Your Takeaway
Shareholders had to put up with a lot of bad news lately, and the sharp drop in March U.S. sales is only the latest reminder that auto companies are facing a tougher industry environment in 2017. However, this doesn't mean investors need to panic and sell their shares. Ford Motor is very reasonably priced today, selling for less than seven times next year's estimated profits, and it's now throwing off a very robust 5.34 percent dividend. Again, another drop in Ford Motor's valuation actually makes the auto company more compelling as a top-shelf income vehicle.
If you like to read more of my articles, and like to be kept up to date with the companies I cover, I kindly ask you that you scroll to the top of this page and click 'follow'. I am largely investing in dividend paying stocks, but also venture out occasionally and cover special situations that offer appealing reward-to-risk ratios and have potential for significant capital appreciation. Above all, my immediate investment goal is to achieve financial independence.