Sand companies have been on an incredible run lately in the stock market. The macro environment clearly supports this trend. The U.S. rig count is coming back which means more drilling activity. As drilling becomes more efficient, more wells are completed, and these wells are being completed with increasing amounts of proppant. The numbers support a frac sand explosion, as seen in the graphic at the bottom of the article. The difficulty becomes deciding which company is the most likely to outperform their peers. I believe Hi-Crush LP is the best bet in the sand space.

Hi-Crush Partners LP (NYSE:HCLP) sells the sand they produce as frac sand to companies specializing in oil well completion, such as Halliburton (NYSE:HAL) or Liberty Oilfield Services.
Hi-Crush Plants
Hi-Crush owns five properties and four of them have production facilities offering an annual total capacity of 10.4 million tons per year. They own over 315 million tons of Northern White sand, and approximately 54 million tons of Texas Brown sand at their new property. Hi-Crush has unit train capabilities at all their current facilities, including Whitehall. Utilizing unit trains can save $7-8 a ton in logistics cost, so having this capability is important. Wyeville is their most efficient plant from a cost perspective. This plant can mine sand and produce proppant for close to $7 a ton. According to company management, this may be the lowest cost producing facility in the industry. This is much better than Blair which produces sand around $11-12 a ton when operating at full capacity, and Augusta which is the highest cost facility producing above $15 a ton. This facility will become cheaper as it is fully utilized. Wyeville is so cost effective due to their efficient dredging technique. Augusta has just come back online in September as rig counts are currently increasing. Whitehall is more efficient than Augusta, which supports Hi-Crush's decision to move Whitehall into their operations and out of their sponsor's. (Cost numbers in 2016 earnings transcripts)
Permian Sand Acquisition
Hi-Crush acquired sand reserves in Winkler County, TX within 75 miles of the heart of the Permian Basin. The Permian sand acquisition will be especially accretive to Hi-Crush unitholders, since the new facility is planned to function at three million tons per year of very fine mesh. The 100 mesh reserves in conjunction with the logistical advantages of being proximate to the heart of the Permian Basin combine to create a very interesting opportunity for Hi-Crush.
The acquisition didn't include a production facility, so Hi-Crush is investing $40-50 mln. into the facility with the goal have having a 3 million ton per year capacity. Production is expected to begin in late Q3 or early Q4.
The Baker Hughes rig count shows over 38% of the rigs in the U.S. are in the Permian basin where this acquisition just took place. The market is tight on finer meshes, so I have to expect this facility will most likely ramp up to full capacity within the first half of 2018. If the facility runs at a production cost similar to the other plants, the gross margin on each ton will be significantly higher at the mine gate. Hi-Crush will be able to receive higher pricing due to the logistical advantage for E&Ps. With PropStream last mile solutions and crews contributing a positive margin, Hi-Crush can really benefit from this facility.
PropStream
In September 2016, Hi-Crush formed PropX to develop critical last-mile logistics equipment for the proppant industry. The first major piece to PropStream is the PropX containers (seen below) designed for easy transportation and handling of proppant from the in-basin terminal to the well site. The second piece to PropStream is the PropBeast. PropBeast is a fully enclosed conveyer belt that transfers proppant from PropX containers to the on-site blenders. The hidden beauty in the PropBeast, is that it removes 90% of silica emissions compared to widely used alternatives. This logistics solution makes Hi-Crush compliant to the new respirable crystalline silica standards set by OSHA, effective in 2018. Hi-Crush has a serious competitive advantage at the well-site with this equipment.
PropStream is expected to have a positive contribution margin in all future quarters. For a joint-venture less than 6 months old, this is impressive, and shows that the last-mile service is in demand. I would look for their two permanent Permian crews to increase to three or four in 2018, as the Permian sand facility and Pecos terminal are up and running.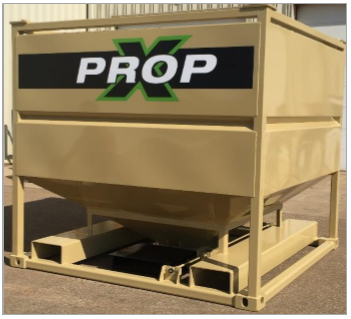 Terminals
Hi-Crush has 11 terminals. Three have been temporarily idled due to market conditions. Six have unit train capability. Hi-Crush has been investing in their terminals to ensure they're equipped to efficiently carry out PropStream operations. Another positive note for Hi-Crush's terminals is the addition of a terminal in Pecos county. The Pecos terminal is under construction currently, but is projected to be completed by October 2017. The terminal will have unit-train capability, and will be a crucial logistics point for PropStream operations as well as serving the Delaware Basin. I haven't seen any other terminals in Pecos, Texas, yet, so being this close, this early, could prove more beneficial than expected to Hi-Crush.
The Value
The real value of Hi-Crush is their ability to sell proppant. Now that the proppant market is coming back to full strength, or stronger, Hi-Crush has been taking full advantage. As I said before, they were completely sold out of all grades of sand in mid-January. Management has been very bullish on earnings calls regarding selling their complete capacity. At the end of Q1, they were hoping to get Augusta up to 100% utilization, while Wyeville and Blair are at ~100% utilization. By the end of Q2, management says Whitehall will be producing close to 100% as well. Hi-Crush clearly feels they will have the demand to bring on 715,000 tons of sand per quarter and sell it from Whitehall, even after the ramp up of Augusta's 715,000 tons a quarter.
Frac sand pricing is finally picking up and Hi-Crush is taking advantage of the up-turn more than some of their peers. Hi-Crush disclosed they're receiving pricing of over $40 a ton at the mine gate in the first quarter. This is compared to about $23 a ton at the mine gate for Fairmount Santrol (NYSE:FMSA) and $32 at the mine gate for Emerge Energy Services LP (NYSE:EMES). If you look at the effect of increased pricing (at mine gate) on the bottom line, the results are clear. Pricing is the best way to bring these sand producers back into the black, which only furthers the case for Hi-Crush.
If the product is sold at the mine gate then all logistical infrastructure such as silos, terminals, or last mile solutions are factored out in price. The type of reserves is important since 100 mesh and 40/70 mesh sands are in much higher demand (at least in the Permian) than the coarser grade sand, so the finer meshes demand a higher price. There is also a shortage of finer meshes. Hi-Crush stated that they were dumping the coarser grades to mine more fine mesh to match customer demand. As the whole sand market tightened, Hi-Crush started selling all grades of sand and sold out of sand in mid-January, as I said before. The average price at the mine gate will most likely stay the same or increase as demand heats up. Since Hi-Crush is no longer dumping the coarser grades, cost of goods sold should come down per ton. Assuming management is correct by saying PropStream will have a positive contribution margin, Hi-Crush's margins will be improved significantly going forward.
Potential Risks
A full list of risks is available in Hi-Crush's 10-K. Some risks that deserve highlighting are if their Permian sand acquisition can't produce as efficiently as they hope. If all sand demand goes back to Northern White, the brown sand underneath the new acquisition will not be worth nearly what they paid. Another risk is rail pricing rising to a point where Hi-Crush can no longer remain profitable. Besides these risks, I still believe Hi-Crush is positioned for success going forward.
Conclusion
I believe Hi-Crush will return to profitability in the third quarter of 2017. In the fourth quarter of 2017 or the first quarter of 2018 distributions will probably resume, assuming the Permian sand facility and property are as accretive to the bottom line as expected.
Hi-Crush runs a lean shop which is important in the new $50-60 WTI environment. They haven't attempted to synthesize a new proppant and force it onto consumers the way FMSA has done, and failed. They are looking to upgrade their current facilities instead of spending money on multiple acquisitions of other companies and diluting shareholder's stakes. Even their last-mile logistics has been formed with a joint venture agreement to mitigate risk in another downturn. If you're looking to put money into the sand sector, Hi-Crush is the best bet.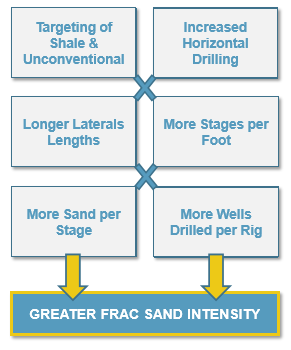 Disclosure: I/we have no positions in any stocks mentioned, and no plans to initiate any positions within the next 72 hours.
I wrote this article myself, and it expresses my own opinions. I am not receiving compensation for it (other than from Seeking Alpha). I have no business relationship with any company whose stock is mentioned in this article.