Introduction
Our philosophical view is that real gold is real money. However, in today's financial system it is traded primarily as a paper derivative. One day, we believe that gold will be set free from its paper chains and leap in value. We can't predict the timing of the monetary reset we believe is inevitable; therefore, our strategy is to remain long precious metals in a nimble way, looking for clues that the market may provide for near-term price direction. We write weekly columns on the SPRD Gold Trust (NYSEARCA:GLD) and the iShares Silver Trust (NYSEARCA:SLV) which outline our week-ahead views and positioning.
The price of GLD is dependent upon the value of gold in the futures market. The futures market trades more hours than GLD, and at much greater dollar volumes. As a result, we view technical analysis of GLD to be inferior to technical analysis of the COMEX futures market.
Summary View
We just finished an eventful week in the gold market, and late Thursday and early Friday morning were particularly memorable. The U.S. missile strike on Syria brought out many gold bulls, and the price shot above its 200 DMA. Then on Friday morning, the jobs report came in with worse news than expected. This caused another upward spike in the price of gold. Nevertheless, gold finished the day with strong selling pressure. We view the rejection of the 200 DMA after the avalanche of normally bullish news to be a cautionary flag. Without further geopolitical headlines, we anticipate the selling pressure to continue into next week. A tweet from U.S. president Donald Trump over the weekend could of course change everything. We enter next week flat on GLD, with an expectation of further downside.

Technical Indicators
As with last week, our view of the technical picture is straight-forward. Gold was rejected at the 200 DMA (red line), and fell back to $1,256/oz. Last week, we cautioned against potential head fake momentum over the 200 DMA, and there were likely momentum traders on Friday who bought above the 200 DMA, and covered their longs with stop losses when the market sold off later in the day. Feeling the sting, these momentum traders may be less likely to make the same trade next week on the upside 200 DMA cross. As a result, we may see less upside ignition on the upside 200 DMA cross (if it occurs) next week. Upside sentiment has taken a body blow.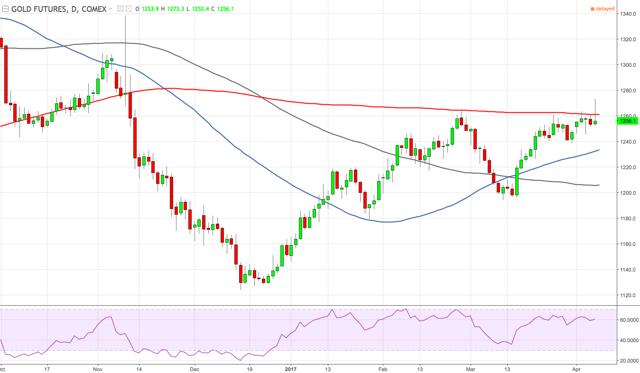 To the downside, there will be likely downside ignition if the price of gold crosses below the 50 DMA (in blue) and 100 DMA (in grey). As with last week, there could be head fakes and stop loss targeting at all of these key levels. The discussion here explains in part why we prefer to take a weekly trading view of this market, rather than an intraday view. Pulling the camera back a bit, it is easier to see the bigger picture and be less subject to the intra-day swings in price.
Commercial Positioning
Here are the week-to-week summary changes in the Commitment of Traders ("COT") report published each Friday (with Tuesday's data). From Tuesday to Tuesday, the commercial shorts increased their positioning by 12.4% in the COMEX gold market and 10.4% in the silver market. Hedge funds increased their long position in gold by 12.8% and in silver by 11.8%. These are significant changes.

In addition, the gold open interest increased by another 13,365 contracts, and the silver open interest increased by another 4,191 contracts (preliminary) from Tuesday to Friday. As a reminder, increases in open interest tend to correspond to increases in commercial short position. Increases in commercial short position - over time - tend to be preceded by sharp sell-offs in both precious metals.

Overall, the gold commercial short interest remains well below recent averages, which suggests that there could be continued room to run for gold to the upside. The commercial short interest and moving average is denoted in the weekly graph below by the black arrow.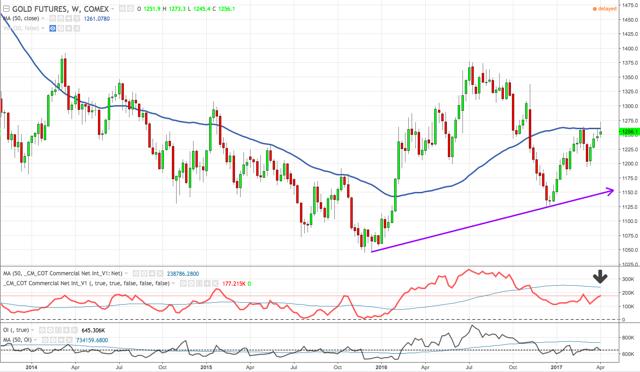 Safe Havens
We follow several safe haven alternatives for clues on possible price direction for gold: the Japanese Yen, the U.S. dollar, the value of Treasury Inflation Protected Securities, and U.S. real interest rates. It is our view that the paper gold market is generally a price follower to these safe haven alternatives.
Currently, we see safe havens as presenting headwinds to the price of gold. In particular, the U.S. Dollar has broken through technical resistance, and may have further room to run to the upside. A strong dollar often is usually with weakness in gold prices in dollar terms. If the USD breaks over its 100 DMA, then it may see continuing upside, putting further pressure on the price of gold. Below, we see the dollar index plotted together with the inverse of the gold price.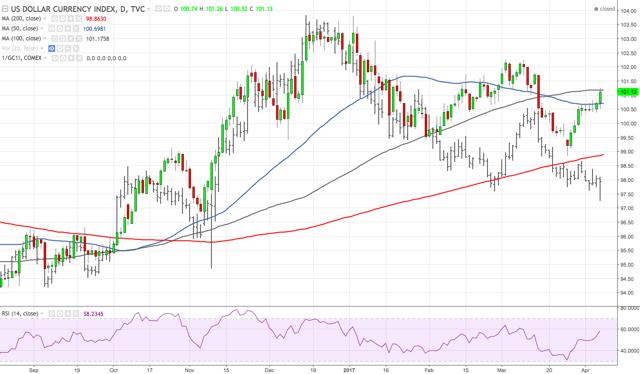 In addition, U.S. real interest rates have strengthened in the past week, increasing the chart gap between real rates and the inverse price of gold. As you can see, none of the safe haven alternatives have perfect correlation to the price of gold. Nevertheless, the chart gaps in all cases tend to fill at some point, which gives us some caution.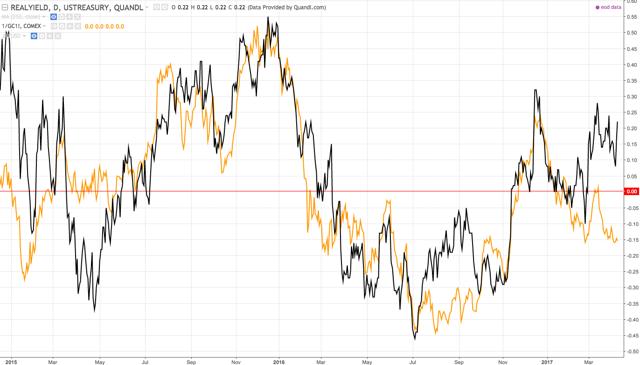 Thanks for any feedback below. We are flat on our GLD exposure heading into the week. If you liked this article, please hit the follow button above.
Note: all charts were created on the TradingView website, and the tables were created by Viking Analytics if not otherwise credited.
Disclosure: I am/we are short SLV.
I wrote this article myself, and it expresses my own opinions. I am not receiving compensation for it (other than from Seeking Alpha). I have no business relationship with any company whose stock is mentioned in this article.