The company that debuted its shares in perhaps the most ambitiously valued and controversial Initial Public Offering of the past month also presents one of the most polarizing investment options of recent memory. Does the company's story warrant an extraordinary valuation, or is it succumbed to too many competitive pressures to deliver on expectations?
Contrary to what many would assume, the polarizing company described above is not the exhaustively debated Snap (NYSE: SNAP), it is Canada Goose (NYSE: GOOS). The luxury outerwear brand possesses a valuation unparalleled within its industry, and an analysis of its strategy and growth limitations suggests investors may be overpaying for the stock.
Canada Goose's Revenue Growth and The Consumer
There is no denying the robustness of Canada Goose's astronomical revenue growth: the company achieved a 38.3% compounded annual revenue growth rate from 2014 to 2016. Anecdotally, fellow contributors have pointed to a proliferation of Canada Goose jackets on college campuses.
These contributors are certainly not being deceived by a mirage, and they are also probably starting to see the Canada Goose logo appear on clothing items other than the brand's signature parka. As the chart below demonstrates, Canada Goose's growth strategy is levered to the company's ability to expand into new products: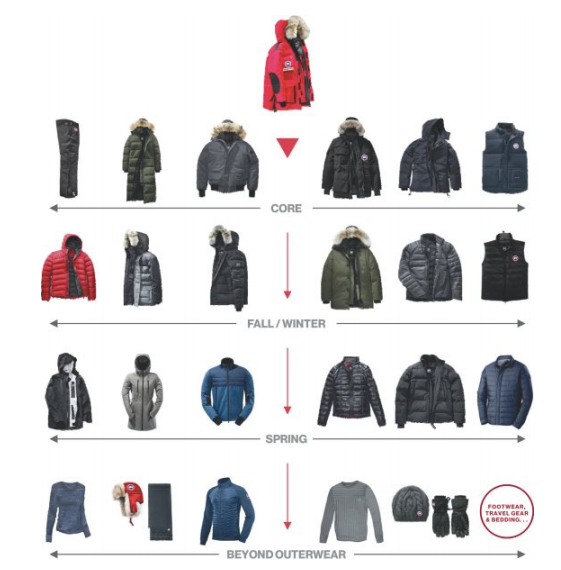 Source: Canada Goose Form F-1
This expansion strategy is the result of a harsh reality: the market for $750 jackets is inherently limited, and the prospects for recurring revenue from customers is limited by the durability of the company's jackets (price and use cases also play a role). That is, consumers are not in the market for a plethora of ultra-heavy winter jackets. Like an outstanding college basketball player, Canada Goose parka customers are, more often than not, "one and done."
The growth of the overall pie available to luxury apparel makers is hardly outpacing GDP growth, as shown below; this means that, in order to grow, Canada Goose cannot rely solely upon new market participants. It must tap its existing customer base to embrace the brand in new ways.

Source: Canada Goose Form F-1
Becoming a publicly traded luxury company entered Canada Goose into the same paradox that plagued Michael Kors (NYSE: KORS) over the past two years. This paradox is a shareholder-value eroding carousel that limits growth and craters pricing power, as I wrote recently about Michael Kors' precipitous fall. In essence, growth undermines long-term profitability as an expansion of products dilutes a brand's value in the mind of consumers.
Michael Kors' pricing power diminished and the exclusivity factor wore off after the company relied upon new product launches and licensing to appease Wall Street's growth expectations. The story of Michael Kors should sound caution sirens for Canada Goose investors, who appear to be buying into a similar story.
The more a logo appears, the less exclusive it becomes. With its expansions into footwear, travel gear, and spring clothing, Canada Goose is already risking its brand's exclusivity factor and blurring its distinct competitive advantage. While the company's jackets may be, or at least appear to be, second to none, its new products are likely to lack the established advantage in the mind of consumers.
Canada Goose's esteemed craftsmanship and differentiating warmth make some believe that a comparison between the coat maker and Michael Kors (or any other company on the growing list of depressed apparel stocks) is deeply flawed. Although I believe my fellow contributor did a good job articulating this idea, the parallels between the two prevent me from feeling sympathetic to this argument.
Michael Kors may have never possessed a competitive advantage as apparent as that of Canada Goose parkas, but its fall as a public company results from obstacles spurred by the very reasons Canada Goose bulls point to in their investment thesis. Consumers potential devaluation of Canada Goose's products after the company's logo appears on new products and the inherently limited rate of repeat purchases of the company's signature product each impose daunting constraints on Canada Goose's long-term growth prospects.
Still, perhaps a better comparison would be Wall Street's ex-darling Under Armour (NYSE: UAA): Did Under Armour's warm long-sleeves not possess a distinctive competitive advantage? Of course they did, and - in many products - Under Armour still holds technological edges over the competition. Lack of a competitive edge is not the reason for Under Armour's collapse; instead, the company's stock faltered due to a flood of competition and an erosion of pricing power that occurred after the company attempted to expand into new categories and markets. Presently, this threat looms over Canada Goose as it aims to balance growth with an exclusive brand image.
To the company's credit, CEO Dani Reiss seems to be aware of the inherent risks of overextending the brand, telling Fortune two years ago that "we have to continue to make amazing product," Reiss said. "We have to stay away from licensing, stay away from diluting the brand, stay away from making crappy stuff and throwing our logo on it, because I think that kills anything. We're not just a logo."
The type of balanced growth that prohibits the company from suffering from dilution, however, is inconsistent with the level of growth the stock's multiple implies.
Price Is What You Pay, Value Is What You Get
Even though the company recently improved gross margin to 50.1%, comparing the company to long-established competitors on the basis on an earnings multiple is a fruitless exercise. Competitors' earning streams benefit from the type of scale and operational expertise developed over years of competing in a crowded market; moreover, Canada Goose's necessary investments in building out the infrastructure necessary to sustain long-term growth limit the company's present earnings power.
Thus, examining Canada Goose's Price-to-Sales ratio (P/S ratio) and comparing it to competitors leads to a better overall understanding of whether the stock offers a compelling investment given the risks and growth assumptions. Canada's Goose's valuation on this basis is, in fact, much closer to Tesla (NASDAQ: TSLA) and Netflix (NASDAQ: NFLX) than it is to the North Face maker VF Corp (NYSE: VFC) and other luxury retail stocks:

Author Generated; Figures from Company Filings, Market Data
Of course, since Canada Goose's recent growth outpaces all competitors, it makes sense that the company's P/S ratio exceeds its competitors. One argument made by bulls is that lack of brand awareness presently limits Canada Goose's sales in the US; once US consumers become more aware of the company, sales will skyrocket, bulls maintain.
Accounting for lack of brand awareness in the US does little to suggest Canada Goose's valuation is rational compared to peers. After expanding the 16% brand awareness in the US, highlighted in Canada Goose's Form 7-F, to match the surveyed 76% in Canada, and assuming a generous 1-to-1 correlation with sales, Canada Goose's Price-to-Sales ratio falls to 2.92, still much higher than most industry comparables.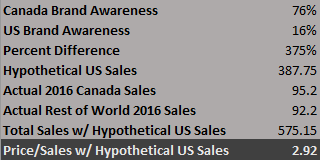 Author Generated; Figures from Company Filings, Market Data
Even after the adjustment, Canada Goose's valuation implies greater-than-average growth prospects. What makes this problematic, asides from the optimistic assumption that increasing brand awareness does not suffer from diminishing returns as the company expands into warmer geographies, is that the hypothetical US Sales in this scenario will take over three years to achieve at an annual revenue growth rate of 50%.
This represents the fact that bulls have placed an unrealistic price tag on the stock that can only be reached if the company executes flawlessly on growth initiatives without compromising the luxury status of the product. It also assumes that Canada Goose's brand favorability and pricing power will not suffer over the long-term from rapid short-term growth initiatives.
Conclusion:
People have stood on rooftops shouting that Amazon (NASDAQ: AMZN) and Tesla are overvalued from the moment they debuted as public companies. These people, yielding traditional valuation methods not dissimilar to my Price/Sales analysis, missed out on two of the most prolific shareholder wins of the past decade: Tesla's stock is up almost 1,500% since its IPO and Amazon is up over an astounding 50,000% since its 1997 debut.
Am I one of these roof-dwelling voices of doom set to miss out on one of the greatest stock runs of our time? It is possible, but extremely unlikely. The Canada Goose story seems incompatible with the extravagant growth assumptions baked into the company's stock price. Expecting Canada Goose to deliver in proportions similar to Amazon and Tesla mistakes the company's story for one that omits the harsh reality in which the company's competitive advantage is limited and its addressable market pales in comparison to previous high-growth Wall Street favorites.
Given the challenges outlined above, I'm initiating my coverage of the company with a Sell rating, since the obstacles ahead outweigh the hype surrounding the company's recent share offering. Despite successful expansion the past three years, Canada Goose remains exposed to a limited, competitive marketplace and potential pricing power issues.
Disclosure: I/we have no positions in any stocks mentioned, and no plans to initiate any positions within the next 72 hours.
I wrote this article myself, and it expresses my own opinions. I am not receiving compensation for it (other than from Seeking Alpha). I have no business relationship with any company whose stock is mentioned in this article.
Additional disclosure: Investors are encouraged to always do their own due diligence on any investment vehicle mentioned in this article. Nothing in this article constitutes an investment recommendation; all content is intended for general information purposes only.