UnitedHealth Group (NYSE:UNH) is the largest health insurer in the world based on market capitalization. The company mainly operates through two business platforms, UnitedHealthcare for providing health benefits to customers and Optum for providing various healthcare services. With its focus on technology and innovation, Optum has been a key differentiating factor for UnitedHealth Group.
The failure of Trumpcare in repealing and replacing Obamacare had a negative impact on the investor sentiment for the overall health insurance industry. However, despite this development, I strongly believe that UnitedHealth Group will prove to be a solid large cap growth opportunity in 2017. In this article, I will present my investment thesis for favoring UnitedHealth Group, especially before its quarterly earnings scheduled to be released on April 18, 2017.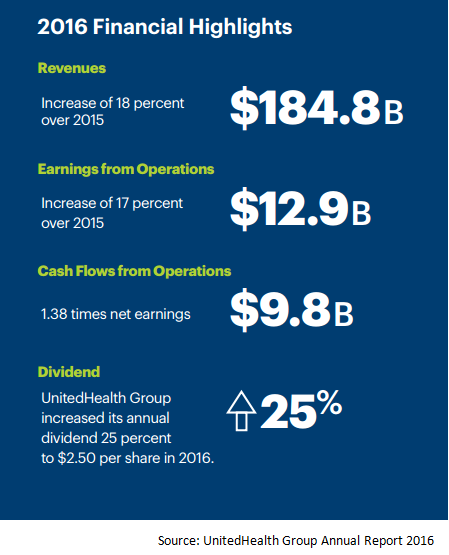 UnitedHealth Group has projected robust revenue growth in 2017
UnitedHealth Group has projected its 2017 revenues to fall in the range of $197 billion to $199 billion, which is year-over-year or YoY rise in the range of 6.6% to 7.7%. The company has further estimated its net earnings per share to fall in the range of $8.75 to $9.05, which translates into YoY growth in the range of 16% to 21%. The company expects adjusted net earnings per share to hover in the range of $9.30 to $9.60, which is again a study YoY growth of around 15% to 20%.
Now for a mature company with market capitalization close to $159 billion, these growth numbers are certainly impressive. UnitedHealth Group is thus offering the investors a high return low risk growth prospect.
UnitedHealth Group has been consistently enrolling new members and retaining older ones
The year 2016 can only be called phenomenal for Unitedhealth Group. The company managed to increase the total number of medical members by 2 million organically.
In case of full-risk or fully-funded commercial segment, UnitedHealth Group saw an addition of 375,000 people in 2016. This growth is well diversified across customer types, products, and geographies, providing a healthy base for 2017 revenue growth.
In 2016, UnitedHealthcare also added 335,000 self-funded or commercial-fee based members mostly from its existing accounts due to increasing employment rate.
The year 2016 proved to be the best year for UnitedHealth Group in terms of Medicare business. The company added 625,000 Medicare members organically to its portfolio, of which two-thirds are enrolled in various Medicare Advantage plans. The spectacular performance has been on account of the company focusing on offering stable benefits at appropriate price points and improving stars for majority of its Medicare Advantage plans. Besides new enrollment, UnitedHealth Group also demonstrated a robust customer retention rate in 2016.
All these factors point to an inherently strong business model with diversified customer base and high focus on clinical performance and customer service levels. I believe that these factors can enable UnitedHealth Group to hit its target of 1 million Medicare members in 2017.
In 2016, UnitedHealth Group added 585,000 new Medicaid members to its portfolio, both from existing and new contracts with states. The year 2017 is expected to see UnitedHealth Group become a state partner for Medicaid program in Virginia, Missouri, and Colarado.
The robust enrollment trends ensured that every business segment of UnitedHealthcare has grown its revenues by double-digit percentage in 2016. Further, UnitedHealth Group has been consistently witnessing higher net promoter scores. In 2016, customers earned healthy behavior incentives worth $255 million.This is testimony to the solid business fundamentals of UnitedHealth Group.
The ghosts of struggling individual business will not be haunting UnitedHealth Group in 2017
The ACA-compliant public exchange business has been a pain point for majority of health insurers such as Aetna (NYSE:AET), Anthem (NYSE:ANTM), and UnitedHealth Group. In January 2016, UnitedHealth Group announced its estimation of losses from public exchange business in 2015 and 2016 to be greater than $1.0 billion. The company recognized $450 million losses in year 2015 and close to $650 million in first half of 2016. The company does not expect any major financial exposure from its individual business in 2017.
Being the first health insurer to completely understand the problems in the individual insurance market, UnitedHealth Group managed to safeguard its margins with minimal impact. Peers such as Aetna and Anthem are still facing the brunt of the delay in their decision to pull out from certain unprofitable individual exchanges.
Optum has entered into multiple strategic partnerships in 2016
Under the Optum platform, UnitedHealth Group operates three distinct businesses, a pharmacy care services company called OptumRx, a healthcare delivery business called OptumHealth, and technology and consulting services business, OptumInsight.
In January 2016, Optum partnered with technology provider, Availity, to improve the claims submission process. This aims to make the entire process easier to handle for healthcare professionals, customers, and health plans.
Besides managing majority of prescriptions for UnitedHealth Group, pharmacy benefit manager, OptumRx also offers services to several large organizations. This PBM is known to manage around one billion prescriptions every year. Utilizing progressive clinical models which can effectively fill gaps in care for the patient, OptumRx manages to lower healthcare costs and improve overall quality of care.
In March 2016, OptumRx entered into partnership with Walgreens (NASDAQ:WBA), a leading drugstore chain in USA. This helped improve access for patients and helped control costs for sponsors. Further, in November 2016, the company also entered into strategic relationship with CVS Pharmacy.
In September 2016, Quest Diagnostics also partnered with Optum to reduce billing complexity in the latter's leading revenue management solution, Optum 360, for laboratory and other related services. This collaboration is expected to help Unitedhealth Group control its medical costs as it gets more insights related to expenses. Further, this step is expected to further drive adoption of Optum360 in the US market.
Optum360 is just the beginning of this long term relationship with Quest Diagnostics. UnitedHealth Group plans to integrate diagnostics across multiple offerings, to optimize their output.
Through its healthcare delivery organization, OptumCare, UnitedHealth Group supports healthcare providers and practitioners in 49 geographic markets. The company not only uses OptumCare for improving its quality and reducing costs but also offers it as a solution to other healthcare payers. Currently, UnitedHealth Group has a target of expanding OptumCare's presence in 75 geographies and capturing significant share of the $1.0 trillion market.
In August 2016, OptumCare entered into a 10-year agreement with Allscripts TouchWorks (NASDAQ:MDRX). Allscripts will collaborate with OptumCare's existing technology to offer improved electronic health record and practice management solutions to physicians.
While Optum was always a matter of pride and major competitive advantage for UnitedHealth Group, these strategic relationships have definitely raised the allure of this very strong and stable business. In 2017, UnitedHealth Group expects Optum to report revenus in excess of $90.0 billion while earninsg from operations are expected to be in the range of $6.2 billion to $6.4 billion.
Unitedhealth Group remains committed to lower its medical care costs in 2017.
In 2016, UnitedHealth Group's medical care ratio was 81.2%, a 50 basis point improvement s compared to 2015.
Right from the start of 2017, the company has started taking steps to further reduce expenses in 2017. And OptumCare is expected to be a big part of this equation. Since inpatient and outpatient surgeries account for a significant part of a health insurer's medical expenses, UnitedHealth Group has planned to shift some of them to less expensive ambulatory care setting.
So, in January 2017, the company announced its plans to combine surgical care affiliates or SCA with OptumCare. This step is expected to enable UnitedHealth Group offer not only surgeries but also primary care and urgent care services in ambulatory care setting. Ambulatory care is expected to cost nearly half of that spent in hospital setting. Further, it has also been preferred by patients and will further help boost the company's already high net promoter score.
SCA surgeons have been performing around 1 million surgeries every year across 33 states in USA. Currently, only half of UnitedHealth Group's business is a part of OptumCare and only 12% of SCA business is UnitedHealthcare. This underlines the significant growth opportunity available for UnitedHealth Group, both in OptumCare and SCA areas.
Beyond reducing expenses for UnitedHealth Group, acquisition of SCA is also expected to boost OptumCare's revenues.
UnitedHealth Group faces few unique risks
UnitedHealth Group has to borne a liability worth $350 million related to Penn Treaty, a distressed long-term care insurance company. This is as per the state laws requiring health insurers to bear a portion of the funds owed by Penn Treaty to its members. In case the final court order for liquidation of Penn Treaty is released in 2017, UnitedHealth group will witness a corresponding drop in its GAAP EPS.
While this is more of an industry-wide risk, UnitedHealth Group also faces a more company specific risk in Pennsylvania Medicaid program. While the company planned to expand its footprint in the state, it was eliminated from the Medicaid program for 2017. The company serves a sizeable 220,000 Medicaid members in this state. UnitedHealth Group has protested against this decision and expects to be allowed to participate in the state Medicaid program. However, if this does not come true, the company may have to face some revenue impact for its Medicaid business in 2017.
Low valuation multiples
Despite robust organic growth in new member enrollments and high customer retention, the stock is trading at forward price-to-earnings or PE multiple of 17.45x, significantly lower than the managed care industry average which is close to $28.20x. Owing to solid business fundamentals, I believe that the stock should atleast trade in the range of 20.0x to 22.0x, closer to the industry average.
Considering the 2017 consensus analyst estimate for UnitedHealth Group's EPS which is around $9.50, the stock should trade in the range of $190 to $209. This will imply a return of around 14% to 26% in the next 12 months. Based on this assessment, I believe that UnitedHealth Group can prove to be a low risk high return investment opportunity for a retail investor.
Disclosure: I/we have no positions in any stocks mentioned, and no plans to initiate any positions within the next 72 hours.
I wrote this article myself, and it expresses my own opinions. I am not receiving compensation for it (other than from Seeking Alpha). I have no business relationship with any company whose stock is mentioned in this article.