On Friday (April 7) the USA launched a missile attack against Syria. Gold responded accordingly - for example the SPDR Gold Trust (NYSEARCA:GLD) prices broke above their hard resistance at around $120. However, then the prices retreated and…they ended the day below $120. So, the situation in the medium-term remains generally unchanged: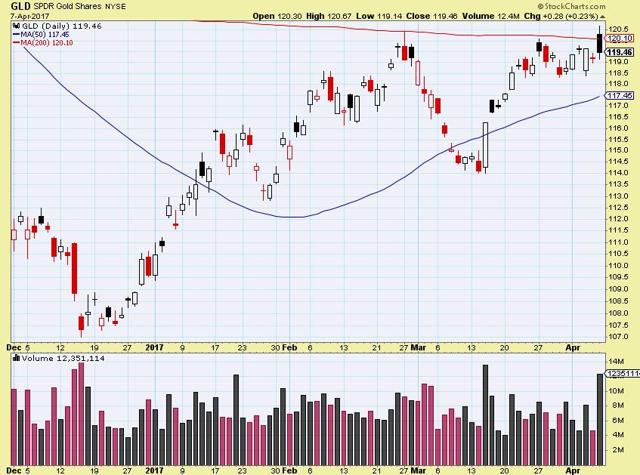 Source: stockcharts.com
As the chart shows, GLD is still flirting with its 200-day simple moving average and investors are once again confused about the direction the precious metals market is heading for.
To be honest, I like it. Or, using different words, I do not like the patterns where gold prices break out (below a strong support or above a strong resistance) on the so-called "news". I remember the election day in the US, when gold prices firstly went strongly up (on exit polls news that Mr. Trump won the presidency) and then retreated and made a strong dive at the end of the day when Trump's victory was confirmed. So the fact that the Friday's gold rally, triggered by a political event, ended with nothing should be, in my opinion, considered as a positive. I believe that any relevant price move is driven by demand / supply forces or/and sentiment. In the case of gold, one of the best ways to get some insight into investors' sentiment is the Commitments of Traders report (the COT report).
COT report
Let me start with the last week figures:
Source: Simple Digressions
The table shows the changes in net positions held by big speculators (mainly hedge funds) in gold and a few gold-related futures (silver, the US dollar and 10-year treasury notes). As the table shows, the changes in net positions held by speculators last week were supporting a bullish thesis on gold:
Long positions in gold futures increased by 17.6 thousand contracts Long positions in silver futures increased by 10.7 thousand contracts Speculators cut their long bets on the US dollar by 1.3 thousand contracts Speculators were keeping on cutting their short bets on US treasury prices (which is indicative of the dissipating pressure on higher US interest rates)
I would summarize these events in the following way:
The current sentiment among US speculators is supporting my thesis that gold prices are preparing for another strong rally.
Another indication of an incoming change is the strength of gold against the US dollar.
Gold and US dollar
Look at the chart below: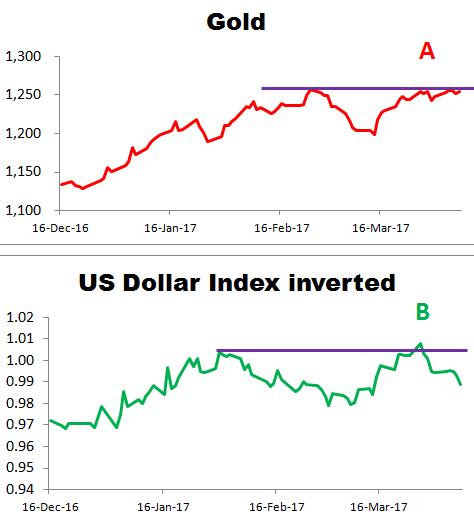 Source: Simple Digressions
To make things simpler, I have plotted the inverted chart of the US dollar index. As a rule, gold prices go in tandem with the inverted US dollar index. For example, when gold prices make a new high, the inverted US dollar index should make a new high as well. And vice versa. If this rule is broken - be cautious because something big may be in the making.
Now look at the lower panel of the chart - at the end of March the inverted US dollar index bounced off a strong resistance level at around 1.07 (the horizontal, violet line). However, gold prices have not followed this pattern and now they are still very close to a strong resistance at around $1,250 per ounce (the horizontal, violet line on the upper panel of the chart). In my opinion, it is another indication that gold is relatively strong against the inverted US dollar index and the US dollar itself.
Physical market
Last but not least - the physical gold market. After a strong selling wave in March, this month the Western investors seem to be adding gold to their physical holdings:

Source: Simple Digressions
For example, in April GLD has added 4.2 tons of gold to its vaults. Another popular gold ETF, IAU, has added 0.8 tons. Then there is the COMEX where nothing special has happened up till now. However, JP Morgan (NYSE:JPM), a big speculator in precious metals, did a strange thing. On April 4, for the first time since February 24, it added 7.8 tons of gold to its vaults. Well, most recently JP Morgan was very active in adding silver to its vaults: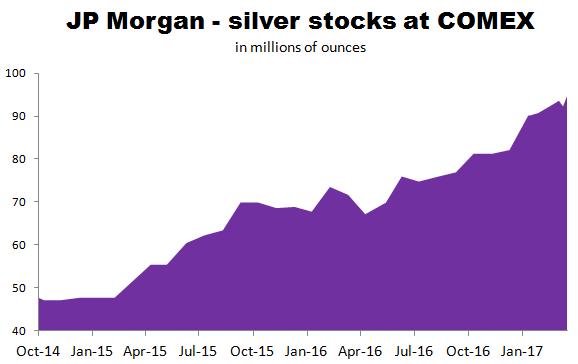 Source: Simple Digressions
Now it looks like this bank is also interested in gold…
Disclosure: I am/we are long GDXJ.
I wrote this article myself, and it expresses my own opinions. I am not receiving compensation for it (other than from Seeking Alpha). I have no business relationship with any company whose stock is mentioned in this article.