Welcome to another edition of 'Elroy's Elliott Wave Weekly' where I will review possible scenarios in various markets using Elliott Wave, fractals and other technical analysis.
There's a lot to get through this week, so let's get straight to it.
Equities
To set context, here is the medium term S&P500 (NYSEARCA:SPY) chart from a few weeks back. I won't update it as the view is still valid.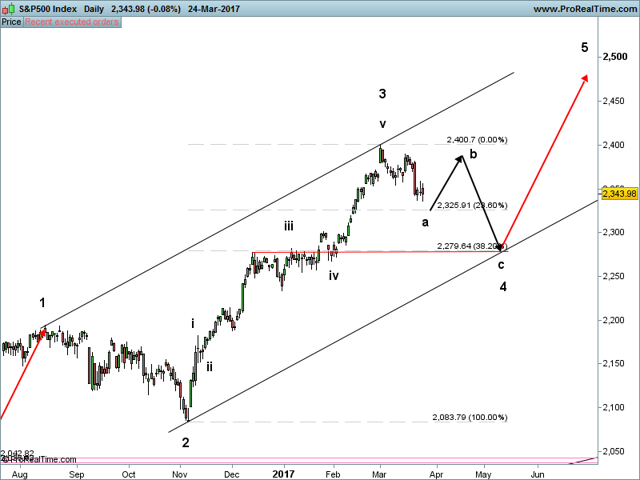 The current bounce is labeled wave 'B' in the chart above, and it has now met the 2377 target I gave last weekend. However, this was just a minimum retrace and in theory this wave B could go to new highs. In fact, the above count could still be valid at 2450, which is the 161.8* extension of wave A.
With this in mind, shorts need to be careful, especially when a drop seems the consensus view. In this situation I zoom into a 60 minute chart and look for additional clues to where wave B may end. Unfortunately this kind of correctional rally can be very complex and hard to count.
2377 was a decent short, but the way price go there doesn't give me too much confidence that the rally has completed. For now, another drop looks likely, but be careful of a reversal around 2335: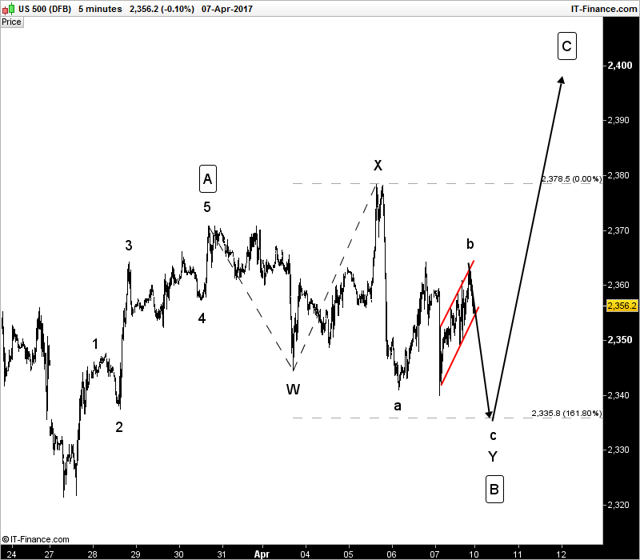 The safest bet is to wait and buy closer to 2280, or if you shorted 2377 keep a stop above the 2378 high.
Precious Metals
Precious metals reversed on Friday, just when they looked like breaking out. Hopefully you caught my article on silver (NYSEARCA:SLV) warning not to get too bullish. The count from the article is still valid: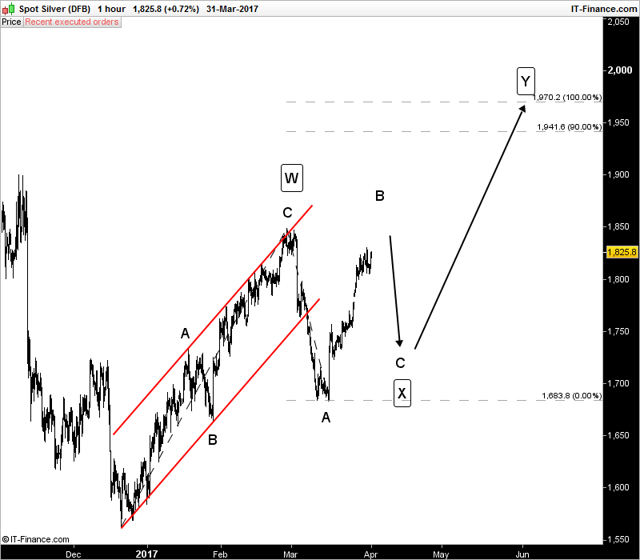 Gold (NYSEARCA:GLD) has a similar set-up, and provides further evidence of the proposed path through the self similarity I pointed out last week: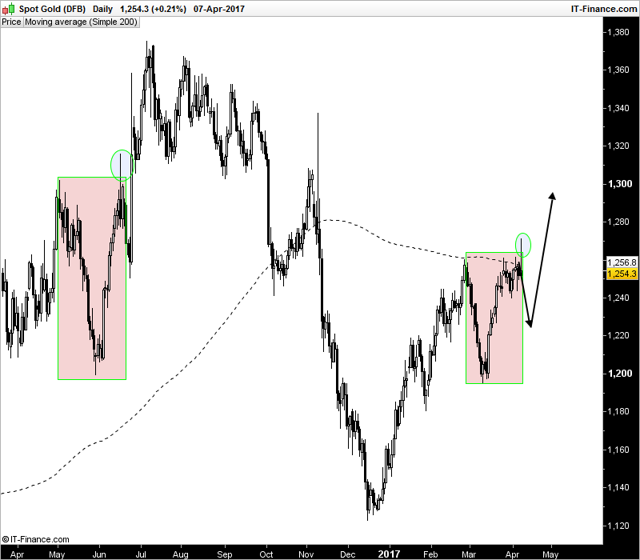 The fake break may take a while to repair, but I am sticking with my longer term longs.
Bonds (NASDAQ:TLT)
TLT had a very similar reversal to precious metals.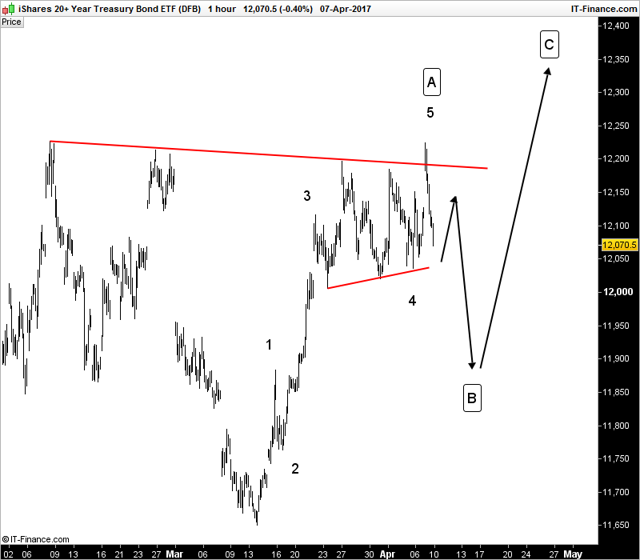 The presence of a 5 wave rally from the lows is encouraging, but there is one bearish scenario to monitor (the 5 wave could be part of an irregular flat).
With the next rate hike widely expected in June, the pattern pointed out a few weeks ago to call a move above $122 may repeat once more: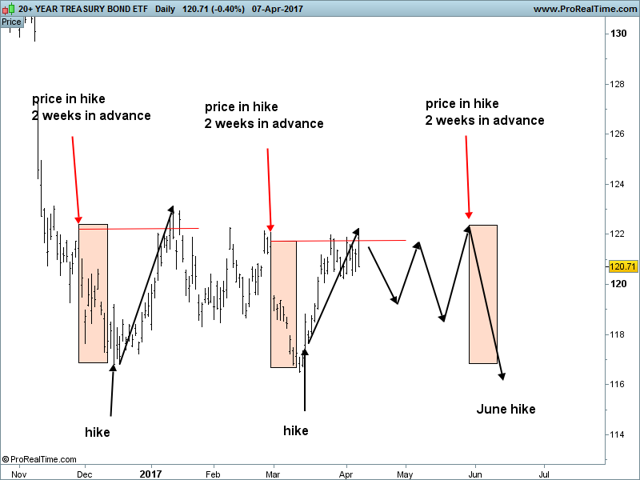 As I said in March, 'one short-term bearish scenario sees TLT rally to just over $122 and then make one more low to $115'.
In a situation like this I usually hold one position longer term and use a separate account to trade short term clarity in both directions.
Oil (NYSEARCA:USO)
Oil reversed from the $53 minimum target given last week, but there's still not much clarity. The highest probability set-ups are short at $60 and buy in the mid $40s. $53 us dead centre; no man's land.
The Dollar (NYSEARCA:UUP)
By the time I get to this stage in my weekly updates I usually know what should happen to currencies given the current correlations with equities, bonds, precious metals etc...
A pop up in the dollar followed by a move lower fits the moves proposed elsewhere, and could look like this: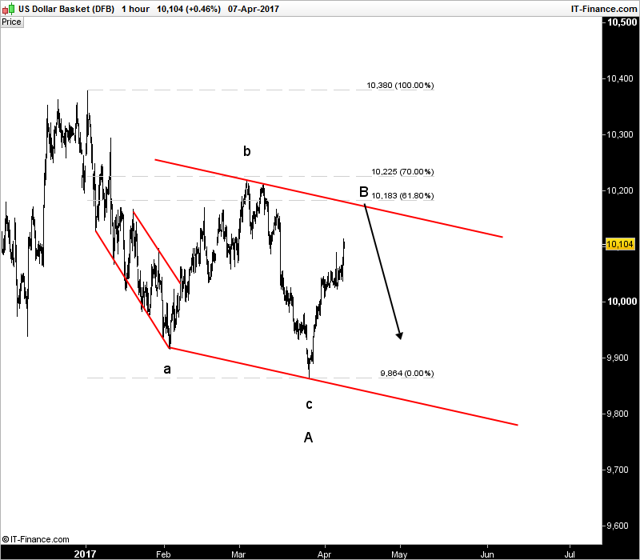 This is slightly different to the count given last week, but there are still many possible scenarios. I am only taking short swings when good opportunities arise. The last trade was long at 98.67 and the next will be short at 101.85 if and when it gets there.
Requests
Readers' requests have been moved over to a separate article, 'Elroy's Chart Corner'. The plan is to write a weekly update which also highlights my top 3-4 trade ideas and explains different techniques and T.A. tips. If you have any requests or ideas, please leave them there.
Conclusions
The dominant trends in many markets are correcting. It's a difficult period to trade as trades don't often 'stick' (continue for any length of time without reversing). This may continue for a number of weeks, but there are still decent opportunities in both directions. Either be nimble or patient. Good luck next week.
Disclosure: I am/we are long GLD. I wrote this article myself, and it expresses my own opinions. I am not receiving compensation for it (other than from Seeking Alpha). I have no business relationship with any company whose stock is mentioned in this article.
Additional disclosure: I am long gold and oil futures