News and Macro
Federal Reserve Minutes
The Federal Reserve minutes released this week gave investors something to mull over: the possibility of a reduction on the Fed's balance sheet and a warning from the Fed that stock valuations are too high.
Syria
I do not want to get too political, but the brand I am creating is called "Trading Politics," so I want to point out that people continue to say that we are now at war in Syria, but we already have been at war in Syria for years. Now, supposedly the US was just fighting ISIS, but I would call that more of an excuse. Now with the recent attack, we are simply openly fighting the Syrian government.
Since the US strike on the Syrian airbase, Syrian forces have continued to launch new attacks. This suggests that a single strike is ineffective and it signals the potential for additional military action in the region. The strike has also increased tensions between the United States and Russia.
Trump-Xi Meeting
The tone of the meeting between the two leaders was encouraging. It suggests that the odds of trade protectionism have dropped a bit. This is great news for the tech industry. As I said in "Protectionism And The Tech Industry," a protectionist America would be very bad for the tech industry, especially if a trade war starts between the US and China.
Jobs & Earnings Data
Jobs numbers for March came in well below estimates. Furthermore, the nonfarm payroll number for February was revised lower. Average hourly earnings growth for March came in at 2.3% (annual rate). Whether or not this amounts to real growth will depend on March's inflation rate.
While the miss has not had an immediate impact on the market, continued misses certainly could. There is an argument that this is a product of a maturing labor force, as new job creation gives way to earnings growth. But I have yet to see any evidence of significant earnings growth, at least when adjusted for inflation.
Consumer Credit
For the month of February, consumer credit increased by $15.2B. This increase, along with an upward revision in January's consumer credit utilization, has pushed total utilization above $1T, putting it within reach of the level of debt held before the last recession.
S&P 500
The S&P 500 (SPY) ended the week down slightly. The close for the week of 3/26 was 2362.72 while this past week's close was 2355.54. The candlestick was a mildly bearish spinning top. This suggests that even with Syrian attack and worse than expected jobs report, investors are still looking for direction. Also, while the index is still more or less trading within the downward channel that I have mentioned in prior articles, there is significant upward pressure which has so far prevented it from falling.
There is also another possible support level at 2322. This is my next price target, should the index significantly breach 2350.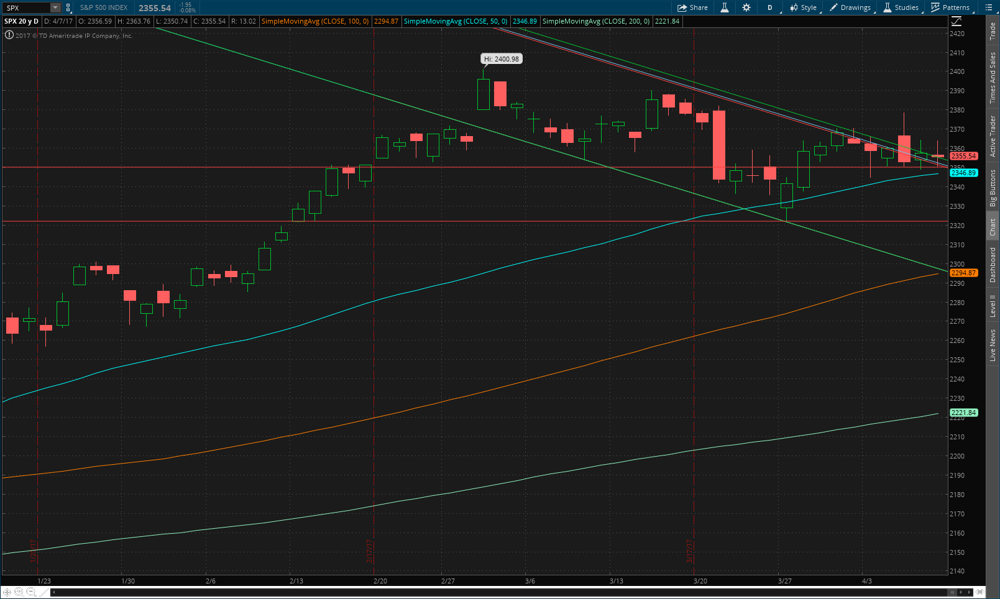 Risk & Volatility
The Yen and gold both jumped Thursday night as people ran to safe haven assets after the Syria attack. Gold sustained most of its gains, but USD/JPY bounced off of resistance and recovered for a large part. Some of this was helped by a strengthening dollar. By the end of the day on Friday, gold had given up most of its gains and USD/JPY (FXY) was over 111. However, the dollar index was up by 0.46% to 101.130. Using the risk appetite index, that suggests that day over day, risk appetite decreased. Overall, the recent downward trend in the index has put risk appetite at levels seen just before the November election.
However, the VIX is much lower than it was during that time. Right before the election, the VIX spiked to 22 - 23. It is now sitting at just 12.87. It is true that the VIX has been managing to stay above its 50 day moving average, which has helped pull the average higher. Also, the 100 day average has also started to show upwards concavity. But we just are not seeing the amount of expected volatility that we should expect to see, given all the recent news.
F1-F2 contango has also been moving in the negative direction, which has helped prop up (VIXY) although it is hard to say whether or not backwardation can last. Generally, negative contango has only lasted a few days during recent backwardation events. However, the increasing number of backwardation events does suggest that (XIV) might not be as great an investment vehicle as it has been in the past.
Russell 2000
This is going to be very short. The R2K (IWM) continues to trade within its sideways channel, and has shown little signs of breaking out. That being said, the rapid climb and then topping off leaves very little in terms of support, and so if there is a breakdown, 1265 is the next price target I am going to be watching.
Atlanta GDP Now
While there are many sources for GDP predictions, I do generally like GDP Now. For a while, the forecast for Q1 GDP growth had been hovering at just around 1%, but with the most recent forecast, that figure has been dropped to just 0.6%.
Next Week
There are a few things I am looking to see next week. One of the most important pieces of data on which I am waiting is the CPI for March. February's CPI growth rate was fairly low. If this remained the case for March, then the average hourly wage growth was real. If however we see even close to the 0.2% CPI growth that we saw in January, then the wage growth was simply a product of inflation, and real purchasing power did not increase at all.
This coupled with higher credit utilization would suggest that the only reason consumer spending has been increasing is because of an increase in credit utilization. This disconnect would be very troubling. People may have greater confidence in their economic outlook, but if reality does not catch up to expectations, sentiment could slip, and the market could slip with it.
Furthermore, as I mentioned earlier, employment growth giving way to wage growth is indeed a sign of a maturing labor market. We need to see real wage growth, or I will flatly reject the idea that we are anywhere near such maturity.
Retail sales are also another figure I am waiting on. While online shopping seems to be doing fine, brick and mortar retailers are hurting. Given that auto sales were far less than expected and less than March's sales, we could be in for a painful report.
Disclosure: I am/we are long RWM,VIXY,SH,PSQ,DOG. I wrote this article myself, and it expresses my own opinions. I am not receiving compensation for it (other than from Seeking Alpha). I have no business relationship with any company whose stock is mentioned in this article.