Penn West Petroleum (PWE) decided to retain some assets that it previously intended to sell, and instead sold royalties on those assets to raise a similar amount of funds to what it previously targeted. A look at Penn West's corporate presentations indicates that the retained production doesn't appear to add anything significant to operational cash flow at current strip prices, so my estimate of Penn West's value remains unchanged despite the additional production. Despite oil and gas prices declining somewhat recently though, it appears that Penn West should be able to achieve positive cash flow, although only a minimal amount at current strip prices.
Note that Penn West typically reports in Canadian dollars, but this article uses US dollars unless otherwise noted. The exchange rate used is C$1.325 to $1.00.
Retained Assets
Penn West mentioned that it decided to retain some outer Cardium and central Alberta assets that it previously intended to sell. It sold a portion of its freehold and gross overriding royalties instead to raise its targeted funds. This boosted Q4 2016 production by around 3,500 BOEPD versus original expectations and also allowed it to increase its 2017 guidance by 3,000 BOEPD at its midpoint.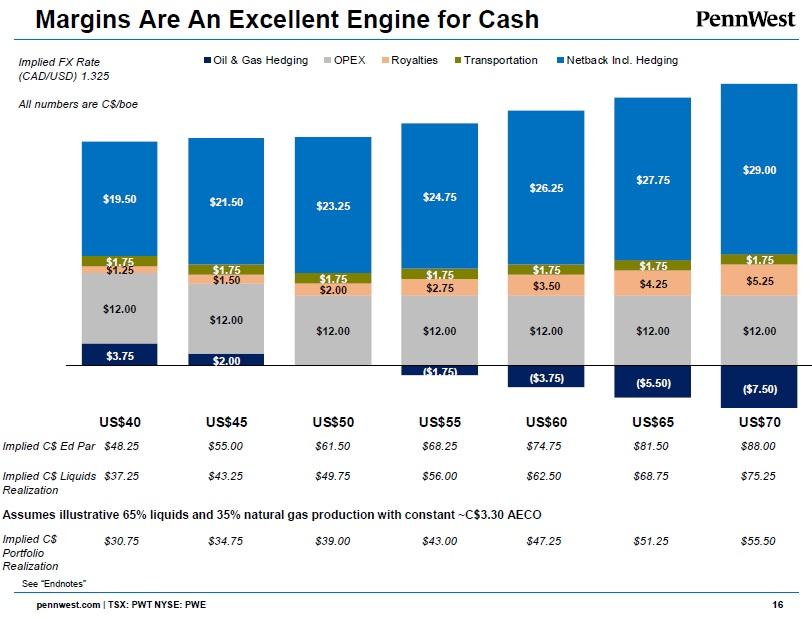 Source: Penn West - January 2017 Corporate Presentation
This retained production appears to be primarily natural gas (around 66%) based on Penn West's slide on margins mentioning 35% natural gas production in its January presentation and around 38% natural gas production in its March presentation. A significant proportion of the remaining production appears to be NGLs, so that retained production is fairly low value (realized price estimated at around $21 per BOE at $55 WTI oil and C$3.30 AECO natural gas).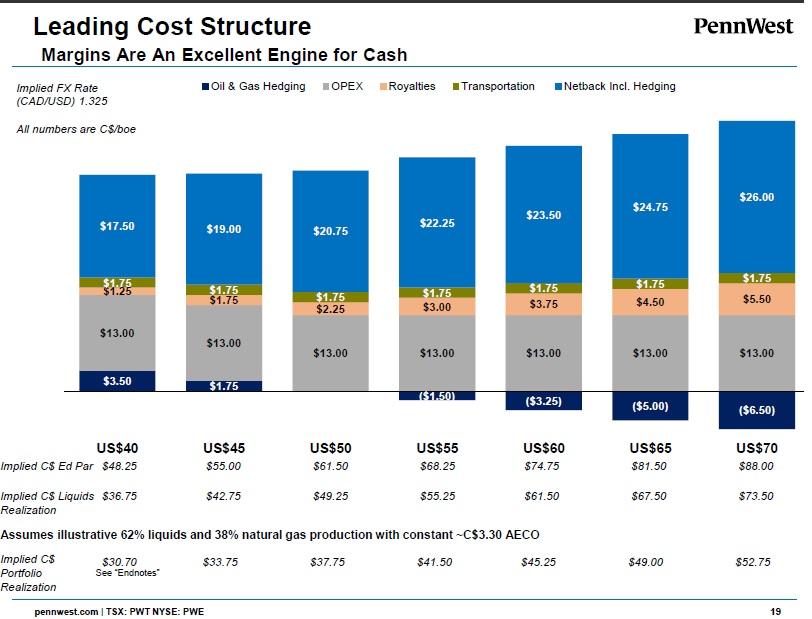 Source: Penn West - March 2017 Corporate Presentation
Other differences between the January and March presentations include that operating costs have gone up around C$1.00 ($0.75) per BOE, while royalties have generally gone up around C$0.25 ($0.19) per BOE. This is assumedly due to the cost structure of the retained production and Penn West's selling of some of its royalty interests.
It appears that the effect of the retained production on operating cash flow (at $50 to $55 WTI oil and C$3.30 AECO natural gas) is close to zero. Penn West's production numbers are boosted by the retained production, but higher natural gas and NGL prices are needed for that production to deliver noticeable positive cash flow.
Penn West's New 2017 Outlook
Penn West's new guidance results in 11% higher production in 2017 (compared to its January guidance), although its total oil and gas revenue only increases marginally due to the lower prices and higher percentage of natural gas production now. However, Penn West's hedges also have less negative value now, so its total revenue (net of hedges) increases by around $11 million compared to my January calculations.
Penn West is now expected to end up with around $326 million in revenue, net of hedges. This is based on WTI oil averaging approximately $52.50 during 2017 and AECO natural gas averaging approximately C$3.00 ($2.26) per Mcf. Penn West had used C$3.30 ($2.49) per Mcf AECO natural gas in its corporate presentation margins slide, but that looks too optimistic now.
| | | | |
| --- | --- | --- | --- |
| | Units | $/BOE | $ Million |
| Production | 11,315,000 | $29.40 | $333 |
| Hedge Value | | | -$7 |
| Revenue | | | $326 |
Penn West is expected to have approximately $324 million in cash expenditures now, resulting in approximately $2 million in positive cash flow during the year.
| | |
| --- | --- |
| | $ Million |
| Operating Expense | $111 |
| Transportation | $15 |
| Royalties | $22 |
| Cash G&A | $25 |
| Interest | $15 |
| Total Capital Expenditures | $136 |
| Total Expenses | $324 |
Penn West's Q4 2016 to Q4 2017 production growth rate has been reduced to around 10% to 15% from 15% with its updated guidance, although that is mainly the effect of the higher production base. The production growth rate in terms of BOEPD is similar between Penn West's original and new guidance, as its C$180 million ($136 million) capital expenditure budget results in roughly 3,600 BOEPD in exit rate growth.
Debt Maturities
Penn West's debt maturities appear quite manageable now that it has dramatically reduced its debt. Penn West's credit facility borrowings accounts for $248 million of its $261 million in 2019 debt maturities, and I don't believe that Penn West will have trouble extending its credit facility. Aside from that, Penn West's note maturities are spread out, and it can deal with them by utilising its credit facility or operational cash flow, depending on how much it wants to spend on growth.
| | |
| --- | --- |
| Maturity | $ USD (Million) |
| 2017 | $21 |
| 2018 | $24 |
| 2019 | $261 |
| 2020 | $27 |
| 2021 | $12 |
| 2022 | $6 |
| 2025 | $2 |
| Total | $353 |
Conclusion
Penn West's position remains solid as it is able to grow exit rate production by around 3,600 BOEPD in 2017 and still have neutral to slightly positive cash flow at strip prices. Penn West's debt situation appears quite manageable now, although that came at the cost of selling the majority of its production.
I previously estimated Penn West's value at around $2.00 to $2.50 per share at mid-$50s future oil prices, with its value changing by around $0.50 per share with every $5 increase in future oil prices. I am maintaining that estimate here, so with oil futures in the low-to-mid-$50s, Penn West is probably slightly undervalued (trading a bit under the low end of my valuation range) based on current strip.
Author's Note: If you thought this article was interesting, please scroll to the top of the article and click on "Follow" next to Elephant Analytics. Thanks for reading!
Disclosure: I/we have no positions in any stocks mentioned, and no plans to initiate any positions within the next 72 hours.
I wrote this article myself, and it expresses my own opinions. I am not receiving compensation for it (other than from Seeking Alpha). I have no business relationship with any company whose stock is mentioned in this article.