Last year, at about this time, I wrote an article about Paychex (NASDAQ:PAYX), a provider of HR outsourcing to small and medium-sized businesses in the US. This industry and this company are both favorites of mine: This is a very capital-light industry with decent barriers to entry. The extra cherry on top could be increased job growth under the Trump administration (although last month's job numbers were not so great).
Paychex is high on my short list because it is a big name in this industry and has a good record of dividend growth - a record which is getting better each year. In my previous article, I was cautious on Paychex. It just seemed too overvalued and the yield wasn't quite generous enough.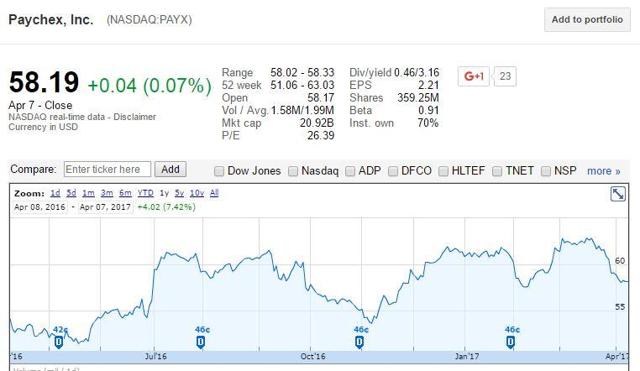 Courtesy of Google Finance
Since that last article, shares of Paychex have gone pretty much sideways, from $54 then to just $58 and change today. Not a big change. However, earnings per share increased high single-digits, and management increased that dividend by another 9.5%; always a good sign. This article takes a look at Paychex's fundamentals, and takes another look at its valuation.
Solid growth ahead
Over the last nine months, total revenue has grown 7%, with operating income up 8% and earnings per share up 7%. Of the company's two business segments, payroll service revenue increased 3%, with human resource services revenue increasing 13%. ('Human resource services,' in this case, refers to retirement, benefits and hiring services and programs, which is growing significantly faster.)
Last year, Paychex invested heavily in a new, cloud-based "human capital management" platform - one which provided HR, payroll and benefits services to clients. The company announced an expansion of the portfolio of partners offering investment and fiduciary protection to 401k sponsors.
Expectations for next year are very good. Management expects service revenue growth between 7% and 8%, with payroll revenue growing by between 3% and 4%, and HR service revenue to grow between 12% and 14%.
Paychex is in a good place. Small and medium-sized businesses often find it difficult to provide benefit, HR and insurance services to its employees; so oftentimes, they just outsource these tasks to Paychex. The impetus for this only increased with 'Obamacare' and the ever-increasing regulatory burden on healthcare for employees. With Trump's to-date failure to repeal Obamacare, and the proposed plan seeming to be equally complex, it looks like Paychex's services will be in higher and higher demand.
Valuation and financials
Last year, when I reviewed Paychex, I concluded it was a bit overvalued. Let's see where valuations have gone since then. According to data from FAST Graphs, shares of Paychex have averaged 24 times trailing, operating earnings; right now, shares trade at 26.5 times trailing earnings. Shares are more reasonably valued than last time, but are still about 9% overvalued despite the recent dip. Sometimes it isn't always good to buy on the dip.
As far as that dividend goes, it is solid and in great shape. The dividend is 71% of free cash flow and 80% of trailing earnings. These ratios are comfortable, but leave little room for dividend growth exceeding growth in earnings and cash flow. That means, mid single-digit earnings growth will probably bring dividend growth of the same amount.
Conclusion
Much as I like Paychex, I don't like overpaying, and I don't recommend overpaying for this stock at this time. Paychex is one of those names income investors should put on their watch list. When Paychex comes down to a reasonable valuation, I will be the first to recommend it.
If you're interested in Paychex, feel free to follow me here on Seeking Alpha. I've been following this company for a while, and will provide update articles when doing so is both material and relevant.
Disclosure: I/we have no positions in any stocks mentioned, and no plans to initiate any positions within the next 72 hours.
I wrote this article myself, and it expresses my own opinions. I am not receiving compensation for it (other than from Seeking Alpha). I have no business relationship with any company whose stock is mentioned in this article.