On the Nasdaq stock exchange, short-selling increased in the first-half of February as the appetite for risk increased. A blind view on future risks for Greece's debt led to the share price for many companies. In the semi-conductor sector, short-interest volume increased two bell-weathers, and was flat or slightly lower for three others:
| | | | |
| --- | --- | --- | --- |
| Company | Feb. 15 | Jan. 31 | % Change |
| QUALCOMM Inc. | 14,017,464 | 9,952,636 | 40.80% |
| TEXAS INSTRUMENT | 17,455,272 | 14,340,161 | 21.70% |
| CREE INC | 15,240,541 | 14,755,822 | 3.30% |
| NVIDIA CORP | 17,843,944 | 17,570,596 | 1.60% |
| MICRON TECH | 50,921,383 | 54,175,032 | -6.00% |
Does the short-volume change signify a buy or a sell for these companies?
Trading at nearly its 52-week high at a recent price of $62.68, Qualcomm (NASDAQ:QCOM) saw its short share volume rise the highest on the Nasdaq exchange. The open interest rose to 14.02M shares, up 15.6M or 40.8%. During Mobile World Congress (denoted MWC), Qualcomm held a Q&A session for its latest processor. Smartphone demand continues to rise unabated, and Qualcomm's 28mm chip ensures that the company will deliver on high-performance chips for its customers.
Pointing to the higher short-share volume, traders are not so bullish: the production shift has yield risks, which could delay Qualcomm's production schedule. Given the advances with Qualcomm's products, the company is a buy, should share prices dip.
Short-interest stayed nearly flat for Nvidia (NASDAQ:NVDA) shares between January 31 and February 15, at 17.84M shares. At the MWC, Nvidia presented the use of the 40nm Tegra 3 processor. The company highlighted its that it had over 6000 windows certifications as compared to Qualcomm or Texas Instruments (NYSE:TXN).
Texas Instruments, whose short interest volume increased 21.7% to 17.45M on February 15, up from 14.34M, demonstrated the OMAP 5 platform at the MWC. The advanced platform supports wi-fi connectivity, HD, and web page acceleration. Texas Instruments closed recently at $33.72. Shares failed on three occasions to trade above $34 in February, supporting the increased bearish bet made by traders.
Micron Technology (NASDAQ:MU) saw short interest decline by 6% to 50.92M shares. Shares closed recently at $8.88, after bottoming in October 2011 at $4. Memory chip prices rose unexpectedly, after a Japanese competitor, Elpida Memory, filed for bankruptcy. Micron shares are still 25.32% from its 52-week high. Micron is a buy, because higher stable memory prices will help the company in the medium term.
In the LED semiconductor space, Cree Inc. (NASDAQ:CREE) saw short selling volume increase by 3.3% to 15.24M shares. Cree closed at $31.30, up 9.1% on February 28 and up 42.01% in 2012. Gross margins remain an ongoing concern, but traders are ignoring operational risks. This view was helped by competitors are trading at higher multiples. After the market closed, Universal Display (NASDAQ:PANL) reported a 73% revenue increase to $18.7M and earnings per share of $0.12. Both Universal Display and Cree are companies to buy at lower prices. Investors should avoid these companies for now, because of valuation. Shares rose far higher in percentage terms than the Nasdaq index in 2012. Risk is high that positive sentiment will reverse for Cree and Universal Display: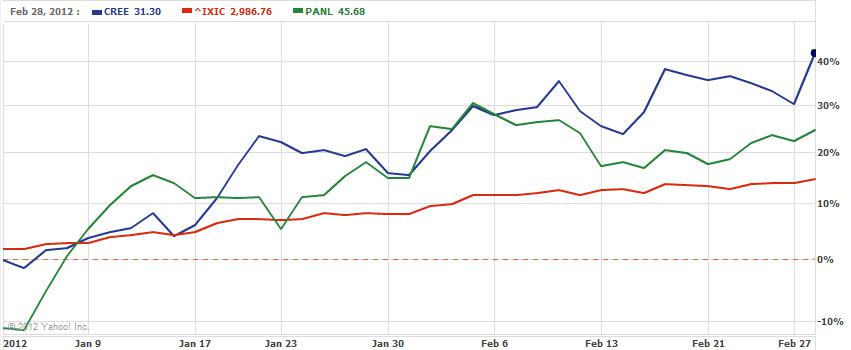 (Image source: Yahoo Finance)
Disclosure: I have no positions in any stocks mentioned, and no plans to initiate any positions within the next 72 hours.