By Parke Shall
We have been Pandora (NYSE:P) skeptics for quite some time now. Our entire canon of Pandora articles has, for the most part, been based around debunking buyout rumors and trying to inform the investing public that we believe the company has passed its prime and may wither away on its own. As reported this week, facts that support our thesis continue to make themselves known.
It was reported this week that Pandora has gone back to record labels for better terms and perhaps direct investments, and that the company has tried to broker new deals for itself where it is able to financially benefit further from relationships that it already has with labels. We think this is a move that shows the company has no leverage and could be desperate in terms of options. Seeking Alpha reported:
Facing continued losses, Pandora Media has begun going to major record labels to seek better terms and even direct investment, Bloomberg reports.
Labels aren't likely to go along with requests for money or for better licensing terms that lower costs for Pandora, sources said.
Pandora's losses doubled last year to $345M.
The company isn't short of cash, but faces pressure to show shareholders that improvement is on the way. It began rolling out its Premium subscription tier last month.
Remember the old saying, "Negotiate from a position of leverage"?
This is exactly what Pandora is not doing. It has faltered significantly, and numerous buyout rumors from Sirius XM (NASDAQ:SIRI) and others have been squashed and turned out to be unsubstantiated. The company continues to bleed business to competitors like Spotify (MUSIC) and Apple Music (NASDAQ:AAPL). It was late to implement changes that made Spotify and Apple Music great "on-demand" music services that would draw any attention of new customers. In essence, Pandora has simply just watched the industry fly by it without adapting accordingly.
Remember this old logo? It's true that Pandora was the first in streaming radio and used be a pioneer.

While the company gets some credit for being the first in the space, at the end of the day that doesn't pay the bills. Now, we believe this attempt at reaching better terms with labels is a clear sign that the company isn't growing well any further and is looking to do anything that it possibly can to help out its financials.
Pandora was once, years ago, pitched as a growth story. When the company laid off a fair amount of its workers about a quarter or two earlier, we wrote an article stating that growth from the company was likely over. Growing start-ups and young tech companies that have a lot of promise in front of them go on hiring binges - they don't start downsizing before they ever reach profitability. That was what happened with Pandora, and we thought that was a sign the company was trying to pull as many levers to simulate the financial effect of growth instead of just growing organically.
This recent request from labels to help with pricing and perhaps provide investment seems to only be another lever that the company can, and would, pull if organic growth had dried up. Granted, this may be something Pandora could negotiate if things were going very well, but when put into context of how it has performed financially of late, it seems to us that the company may be trying to negotiate without any leverage at all.
We believe these talks will likely yield nothing of a tangible nature for the company, and we also think this is a sign that it continues to head in the wrong direction. Also, Pandora, we have some required reading for you: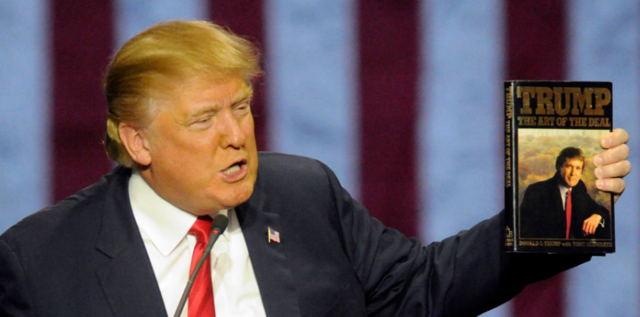 As an investment, Pandora should continue to be avoided. Its only upside of recent, we had thought, was a small hope that it might receive some type of takeover interest from Sirius XM or another company of the sort. None of this seems to be materializing. Certainly, from an operational perspective, the metrics don't make Pandora an appealing candidate for any type of investment. The company continues to burn through cash, has yet to turn a consistent profit and has recently taken on debt that has ruined its once pristine balance sheet.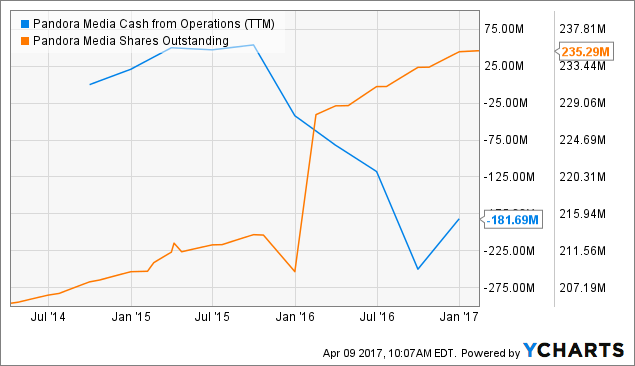 P Cash from Operations (TTM) data by YCharts
We would not rule out the company needing to raise money again in the future, and any such action would be a significant negative for shareholders, as it may result in dilution. On top of that, we think the business model is broken, and there is no niche for Pandora's business any longer.
We expect to see the stock wither away into the single digits soon, and we would continue to avoid Pandora as an investment.
Disclosure: I/we have no positions in any stocks mentioned, and no plans to initiate any positions within the next 72 hours.
I wrote this article myself, and it expresses my own opinions. I am not receiving compensation for it (other than from Seeking Alpha). I have no business relationship with any company whose stock is mentioned in this article.