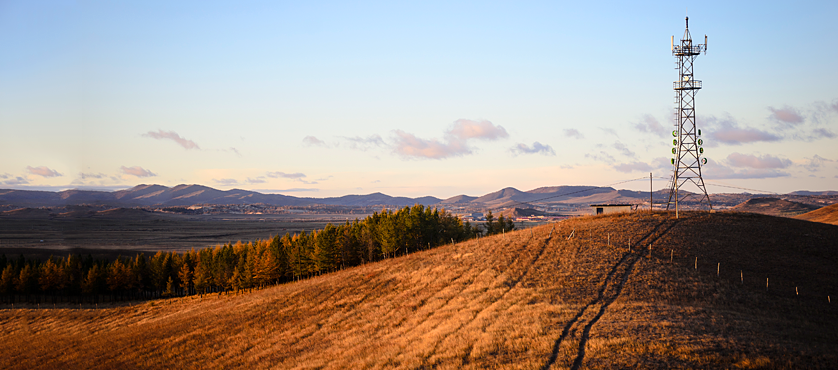 Asset Overview
With pressure building on the short to medium term yield of bonds and fixed income products, consideration should be given to assets which offer capital growth but also bond-like yields over the longer term. An asset class to consider in diversifying portfolios is global listed infrastructure, investing in quality infrastructure assets that demonstrate two key characteristics:
provision of a service that is essential for the efficient functioning of a community, and
where cash-flows generated by the asset are reliable and external risks are limited if not avoided (i.e. sovereign risk, competition risk, cyclical commodity price movement, technological obsolescence).
American Tower Corporation (AMT) is a REIT at its core, but can also be considered a diversified infrastructure asset postured to support the future growth of wireless communications networks.
AMT is headquartered in Boston, Massachusetts, and has operational offices across the United States, Argentina, Brazil, Chile, Colombia, Costa Rica, France, Germany, Ghana, India, Mexico, Nigeria, Peru, South Africa and Uganda. The company is a leading independent owner, operator and developer of multi-tenant communications real estate assets, with a portfolio of approximately 147,000 communications sites, including approximately 40,000 towers in the United States and more than 106,000 towers internationally.
The asset portfolio is diversified between self-owned and operated and self-managed externally-leased assets, and including companies like AMT in their portfolios provides an opportunity for investors to gain exposure to assets they would be unable to hold directly without significant funds (e.g. commercial real property or communication towers).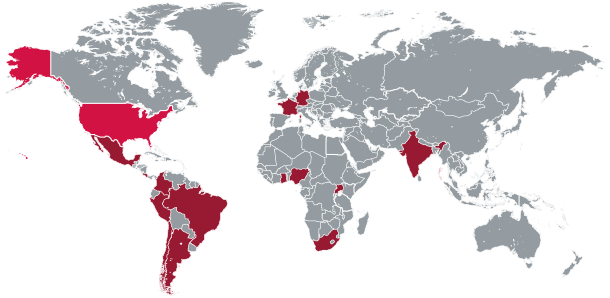 Map of AMT assets held and operated globally.
Current Financial Position
AMT is currently trading at all-time highs, with a 52-week high of $122.69 and a 52-week low of $99.72, and has a forward dividend yield of 2.03%, delivering a return on equity of 13.13%.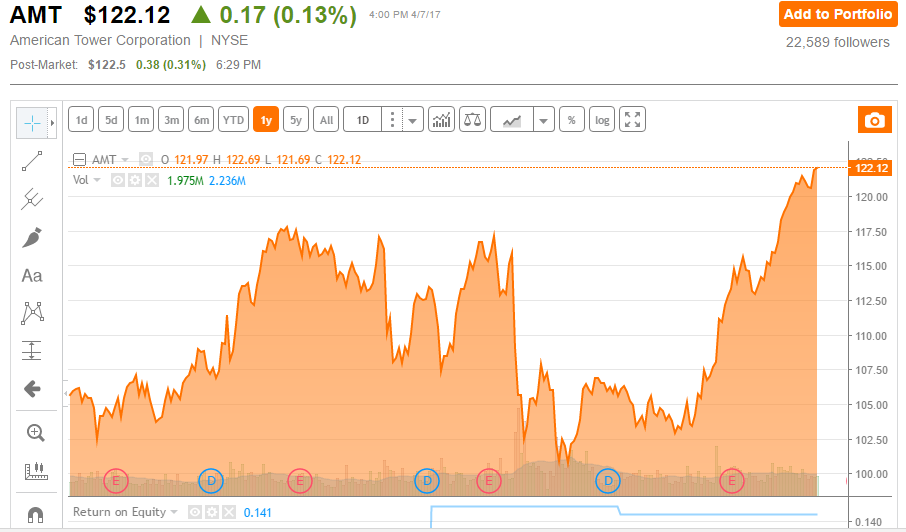 Fixed-line Infrastructure versus Fixed Antenna Infrastructure
In developing long-term infrastructure assets to support a growing consumer society, sometimes the focus on what is required now to meet demand overlooks the focus on what is required tomorrow, (or more colloquially as not being able to see the forest for the trees). The attractiveness of AMT is that it has and continues to position itself to support new and emerging communication technologies, such as the infrastructure underpinning wireless networks, versus investing in dated (becoming obsolete) technologies such as fixed line above and below ground assets (e.g. copper wire, cable and fibre optic).
The existing telecommunications architecture can be likened to the Henry Ford analogy of "any color as long as it's black," whereas the adoption of wireless capabilities connected to new cloud-based technologies significantly opens up the potential to support multiple diversified networks and derive revenue. This is illustrated in the following extract from Vish Nandlall on how our communications infrastructure will evolve:
The key metric here is number of servers operated by a single system administrator. Today that ratio is around 40:1, this involves individual servers with unique installs, low levels of automation, compliance requirements and time-intensive support requests. To reduce the marginal cost of adding an application, carriers would need to migrate to cloud architectures. Cloud systems offer a unified platform for applications and allow for high levels of automation with server to system administrator ratios greater than 5000:1".
Infrastructure assets represent organic future growth in rising markets
Infrastructure companies generate growth from structural change, rather than cyclical market changes. Change will often occur in different sub-sectors as those areas experience structural change (e.g. the evolution of wireless connectivity and cloud-based computing). Some examples beyond the development of mobile communication networks requiring the infrastructure to support expanding networks include changes in the energy industry, requiring pipelines across massive distances and networks to support multi-generational supply lifetimes, and changes in the renewable energy sector requiring construction development and maintenance of sustainable energy generation assets.
The OECD estimated in 2014 that the world needs to spend $50 trillion in infrastructure over two decades to meet the demands of global growth. Companies such as AMT are well positioned to take advantage of this pipeline of infrastructure growth as the demand for wireless communication networks grows, which will require it to increase its asset holdings of fixed towers and leasing of commercial buildings to host antennae arrays on their rooftops.
Capacity for Offshore Expansion
As the leading communications leveraged REIT in the USA, AMT has the systems, resources and management to expand earnings through further growth offshore. Increased international earnings from emerging markets can help AMT to build on its growth objectives which may plateau in more mature markets such as North America. In doing so, though, a key risk to be managed is political and legislative risk. Some emerging markets have fragile political environments, and companies need to be cautious about investing large sums of capital to develop an infrastructure network, if the access or certainty to the market can be quickly changed due to changes in political policy, or legislation affecting a company's ability to control revenue (e.g. mandated lease increases over the duration of multi-year contracts).
An example of a good opportunity of an untapped market for AMT is Australia, where the rollout of the National Broadband Network (NBN) updating a legacy copper communications network with fibre optics will be superseded (almost immediately) by the need for a comprehensive wireless network, underpinned by antennas on fixed towers and commercial buildings. While this would be a potentially capital-intensive market to enter, it would be in a safe political environment, underpinned by a growing economy with little competition (an oligopoly-like market environment).
Multi-Channel Infrastructure Revenue Streams
Infrastructure Companies positioned for technology driven change will endure longer term viability and a greater return on investment than legacy-based infrastructure assets. With technology driving change at a rate 20 times faster than the industrial revolution, the ability of companies to stay relevant and profitable is more important than ever. Key consumer driven changes driving business to wireless infrastructure network providers such as AMT include the following:
The looming cashless society – the rise and rise of electronic payments

Automatic Teller Machines superseded by Mobile Technology: Increasingly the requirement for physical cash is being replaced by mobile and wireless payment systems, increasing the need for guaranteed wireless networks.
Contactless Credit Card Payment: The adoption of cashless payments is being driven by payments able to be effected directly from mobile to invoicing technology, or by contactless credit/debit cards; both systems reliant upon strong wireless networks.
Mobile Banking: Increasing number of consumers including Gen X and Gen Y adopting everyday banking through mobile or tablets over and above desktop and landline-based solutions.

Wireless-driven lifestyle connectivity

Google Home: Like Amazon Echo, this type of new wireless technology and its machine-learning capabilities understands you and your personal preferences. Devices like these centralise and automate the control of smarthome devices and activate your IFTTT recipes using the speaker.
Retail connected White goods - increasingly smart technology such as smart fridges which detects when supplies are running low and utilises wireless technology to automatically re-order.
Online retail – the continuing push to clicks over bricks retailing will ensure that online browsing, ordering and delivery systems will sustain demand for wireless networks (which may also underpin the potential impending adoption of drone delivery systems).
Revenue Dependability
Coming back to the two tenants of superior infrastructure assets: Provision of a service that is essential for the efficient functioning of a community and where cash flows generated by the asset are reliable and external risks are limited if not avoided - the communications network that AMT enables meets both.
In a wireless enabled economy, this is an advantage for revenue streams of AMT in both bullish and bearish economic cycles. In difficult market conditions or macroeconomic change, infrastructure assets are less susceptible to negative influences, because they deliver essential goods and services.
If we reflect on the global financial crisis of 2008 – 2009, earnings of global infrastructure companies fell by 10% compared with 60% for general equities. If we were to compare AMT to a pure play REIT, its exposure to a consumer essential service (the assets underpinning the provision and maintenance of a communications network) provides an additional degree of revenue redundancy than would otherwise be the case for a REIT built around the provision of commercial office space.
From an infrastructure sector perspective, I would proposition that the importance of infrastructure in underpinning the economy and the operation of essential services has increased significantly in the last decade, and any negative impact would be less on AMT in comparison to infrastructure sector peers.
Long-Term Infrastructure the Key to Long-Term Profit
Some of the key counter arguments to infrastructure as a suitable investment asset are that they are bond like proxies (sensitive to interest rate risk) and are correlated to energy markets (adverse share price movement for energy sector infrastructure companies). While interest rate risk is a risk to be managed, companies with strong free cash flow and good profit margins should be able to manage this risk effectively. Energy market risk is not correlated to ongoing business of AMT, and as such they are an appropriate infrastructure asset to consider holding as part of a diversified investment portfolio. While the one-year share price chart shown earlier demonstrates current volatility and all-time highs (in share price), a longer-term chart since inception shows there is merit in the company's long-term profitability and potential for ongoing growth: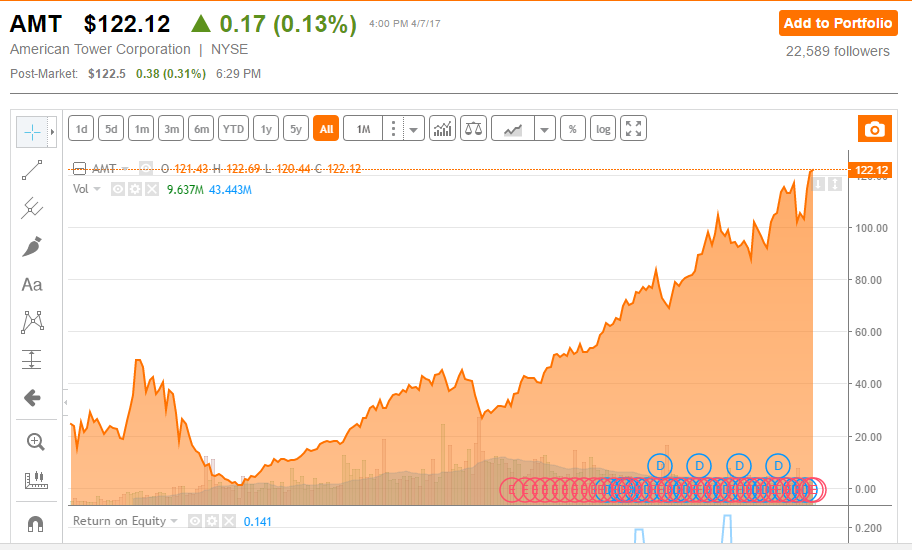 Summary
The continuing growth of wireless communication networks, linked to wireless based products and multi-channel revenue streams, favourably positions companies with the required supporting infrastructure such as AMT to support organic long-term growth. AMT's position as a dual play investment as an REIT with infrastructure sector like exposure, diversifies its revenue streams and makes it more attractive than a pure play REIT or Infrastructure investment. Investors may wish to consider the suitability of infrastructure as being a component of their diversified investment portfolios, and in doing so consider market leaders with established track records like AMT as being more hedged against risk than emerging market providers. Given the pace at which technology continues to evolve and act as a disruptor across many established sectors, the ongoing suitability of AMT for investors' portfolios will require ongoing review and analysis.
Disclosure: I am/we are long AMT.
I wrote this article myself, and it expresses my own opinions. I am not receiving compensation for it (other than from Seeking Alpha). I have no business relationship with any company whose stock is mentioned in this article.
Additional disclosure: This information is of a general nature only and has been provided without taking account of your objectives, financial situation or needs. Because of this, you should consider whether the information is appropriate in light of your particular objectives, financial situation and needs.