Argument
"Short Treasuries" (IEF), (TLT) is a very popular trade at the moment, but has numerous factors running against it. Treasuries are neither a long nor a short.
Stocks (SPY) are not necessarily "in trouble" at their current valuations, but forward returns prospects suggest that an adverse shock could send prices materially lower.
High yield (HYG) doesn't sufficiently compensate investors for long-run default expectations.
Overview
Whether stocks are "overvalued" or not is a personal opinion that depends on returns expectations, risk tolerance, time horizon and personal beliefs about the market, among other factors. Nonetheless, stocks are not inexpensive intrinsically or by historical standards in terms of corporate revenue or profit multiples, even adjusting for the impact of low rates.
The market has shifted its expectations on earnings since March 1. Back on that date, if we assumed historical average risk-taking propensity (i.e., return of stocks over Treasuries at 4.1%, roughly the rate from 1960 forward), the forward five years' year-over-year earnings growth was estimated at approximately 11.44%. This figure has dropped to 11.01% since.
It could also be that the market is collectively pricing in lower growth figures, but is more content to bid down the equity risk premium in the search for adequate yield. Especially when the economy appears stable overall and investors and the Fed alike consider the possibility of adverse credit shocks to be low.
If earnings growth comes in at 8% year over year over the next five years (above the 7.5% y/y trend since Q1 1990), we would back out an equity risk premium of 3.55% in order to match this assumption to the current price of the market as of market close on April 7.
Forward real would come to around 3.9% annualized (3.55% premium + 2.35% 10-year Treasury - 2.0% 10-year breakeven inflation), or around 5.9% in nominal returns.
Whether this represents good value or not is in the eye of the beholder, but it suggests stocks are susceptible to a notable re-rating in the event earnings don't meet the market's expectations. And they have some ways to go in order to do so.
High Yield
Any drop in stocks would also bleed over into other risk assets, including its close cousin high yield bonds, and potentially real estate to a degree. The spreads between high yield and Treasuries have become compressed to lows that have not been seen since July 2014 and July 2007 before that.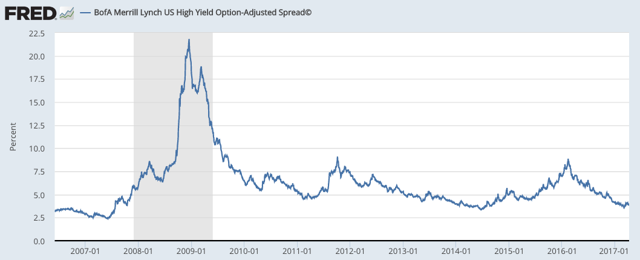 (Source: St. Louis Federal Reserve)
Overall, high yield investors are currently paying too much for the asset class relative to long-run default rates. Buying high yield at today's prices is defensible over the short term - and that's not to say high yield can't continue to appreciate. But it doesn't provide sufficient compensation relative to long-run default rate expectations. US corporate bonds on the investment-grade (NYSEARCA:IG)/non-IG boundary are only offering approximately 4.5%, on average. This is only about 2.5% in terms of real yield.
Moreover, if a systemic shock does occur, capital costs will surge upward, prompting defaults as businesses become unable to pay their debts. The effect is domino-like in nature, with defaults causing a further increase in capital costs, which triggers even more defaults. This also comes with a tightening in lending practices, which exacerbates the effect of a shock given the flow of credit comes to a relative standstill.
Hence, we see, for example, the extraordinarily high peak in the graph above in December 2008 at a high yield/Treasuries options-adjusted spread of 2,200 bps despite long-run support for a spread of roughly 500-600 bps. As a result, many companies with highly leveraged balance sheets struggle for solvency.
An excessive climb by interest rates could also stimulate a sell-off in stocks if back-end yields rise to accommodate increases on the front end. If 10-year Treasury yields rise to around the 2.8% mark, investors are likely to pull more money out of stocks out of concern that relative risk-adjusted returns are no longer as compelling as they are now with sub-2.4% yields.
Even so, bond yields have not moved in conjunction with the Fed's two rate hikes in its past three meetings. A parallel shift in the yield curve following the rate increases would have put 10-year yields right around the 2.9-3.0% level. However, in accordance with the market pricing in a lower probability for meaningful fiscal stimulus, 10-years have trended down to near the 2.3% level. The two recent moves up to 2.6% since the November US elections have been met with resistance.
Instead, the yield curve has flattened some 60-70 bps in anticipation of lowered expectations for GDP growth ahead. Real GDP growth for 2017 is expected in the lower-2% range and 4.2-4.3% in nominal terms.
If the level of fiscal stimulus underwhelms and stocks continue to trend flat to down, this will correlate with a decrease in 10-year yields. Treasuries, as "safe assets," do better in environments where the outlook for risk assets worsens. (The two have nonetheless correlated well since the financial crisis, due to quantitative easing and low rates that support a rise in both bonds and stocks.)
Relative Valuation
A simple ratio of the S&P 500 to corporate profits shows that stocks are in a relatively reasonable range. (Note: The value of the ratio itself on the vertical axis is meaningless.)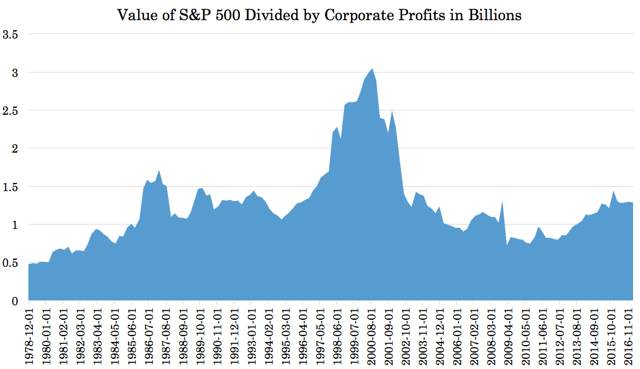 (Source: Author)
They are above valuations seen from 2008 (which was a credit shock, not so much "overvaluation" on its own), but lag behind ratios seen before the 1987 crash and 1990-91 recession, and far behind the levels seen from 1997-2000 and in the "bubble deflation" phase going into 2002, when money was excessively pushed into stocks where productive future economic behavior was thought to reside.
If we go on the basis of a productivity measure, we can use gross value added, which is an economic term describing the amount of goods and services produced minus the cost of all inputs related to their production. It's essentially a stand-in for corporate net revenues, excluding financials. Using this metric, the valuations of stocks look less compelling.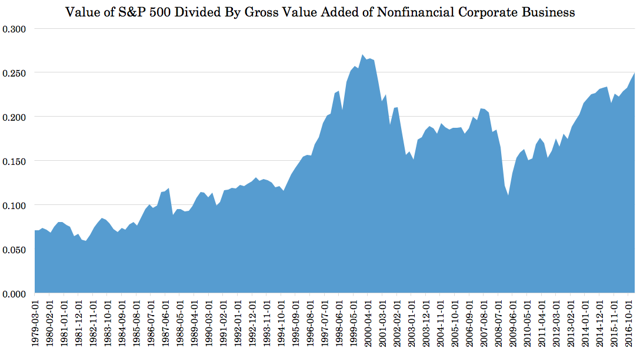 (Source: Author)
According to this ratio, valuations reached an all-time peak in Q3 2000. Currently, market values as a percentage of gross valued added are at levels not seen since Q3 2001 and past the point observed in Q3 1999.
How long will the bull market go on?
Investors and the Fed alike believe that the economy will remain on good footing for the next 2-3 years. The Fed writes in its projection materials of its expectations to raise rates another 200 bps through year-end 2019. This means raising rates every 2-3 meetings, or three times per year.
I wrote in a separate article that the Fed will have trouble keeping the US economy on a steady diet of rate hikes if its efforts continue to flatten the yield curve. Doing so strains bank profitability, and an inversion of the curve is a leading indicator that precedes an end to virtually every business expansion. To counter this, the Fed could tighten policy by targeting back-end yields, with the easiest method of doing so being allowing the run-off of higher-duration securities on its balance sheet (i.e., not reinvesting the proceeds) or selling these securities outright. (Fifty percent of its balance sheet is comprised of remaining maturities of ten years or greater.)
It's virtually a guarantee that once the next recession hits, interest rates will be reduced back down to zero. And depending on the severity, quantitative easing will need to be resumed, which we've never unwound from in the first place (the aforementioned Fed balance sheet). This will drive Treasury yields lower in tandem.
The 10-year Treasury yield will rise back above 3% in time. For it to do so during this cycle, the expansion in the business cycle will very likely need to persist at least into 2018. The 10-year has not maintained an average of a 3% or above yield for a single quarter in six years.
The market has not been able to hold 3% on account of the fact that GDP growth has simply been too weak and consistently underwhelmed forward expectations. This has caused investors to continue to seek out safe yield assets. Even if the Trump administration can push through most of its fiscal policy goals - lowering nominal corporate taxes down to around 20% from 35%, deregulating certain sectors and updating other business rules, passing through a comprehensive infrastructure plan - it will difficult for GDP to average 2.5% or better over the next 5-10 years. A range of 2.0-2.3% is more realistic.
The Atlanta Fed's GDPNow forecast is especially bearish on the annualized rate of real growth for Q1 2017. It currently projects a rate of just 0.6%. Blue Chip consensus is around 1.7% and less volatile than GDPNow, which had projected a 3.4% annualized growth rate for Q1 just nine weeks ago.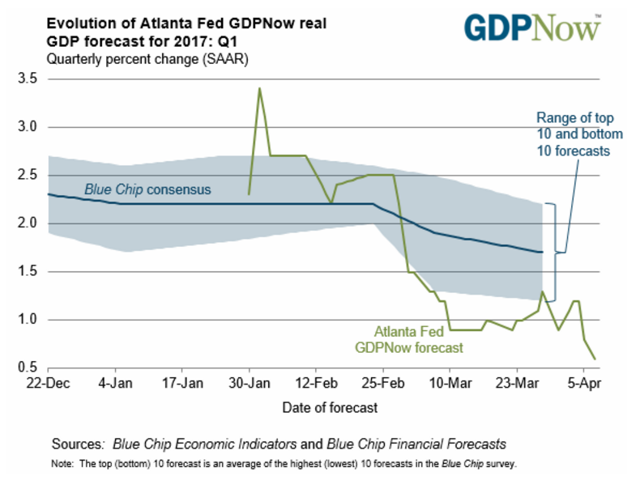 If consensus opinion continues to overestimate GDP growth and inflation as it has in recent years - prompting a continuous fall in Treasuries and no action from the Fed on rates aside from a small increase in December 2015 (before the "reflation" expectation was put into gear after the election) - Treasuries are likely to fall further, and investors can continue to remain relatively bullish on rates as well (i.e., expecting them not to be increased as heavily).
The Fed is expecting three rate hikes each in 2017, 2018, and 2019. If Q1 growth comes back disappointing, it will likely hold until September. Inflation will run at or above the 2% target for most of 2017. But domestic and global factors will create disinflationary headwinds. Even if investors and the Fed are correct in assuming another 2-3 year runway for the current business cycle, rate hikes at a three per year clip may put too much pressure on stocks and high yield spreads, and could cause the US dollar to become too strong and drag on US growth through its adverse impact on exporters. Accordingly, it's very possible the Fed skips 1-2 increases over this time frame to alleviate these pressures.
Conclusion
The "reflation trade" fizzled out by the beginning of March, and now the market is mostly waiting on evidence that fiscal policy legislation will actually be enacted. Even though the 10-year US Treasury has spent most of the past week under the 2.40% mark, yields may be likely to further compress if: (1) fiscal policy reform is underwhelming; (2) disinflationary factors remain underappreciated; and (3) GDP growth comes in lower than anticipated. All of this will support a flight to safe assets. Gold (GLD) has also been up 4.4% in the past month.
GDP will need to materially exceed its long-run potential at 2.5% or better, or else exceed the 2% PCEPI inflation target for an extended duration in order to move the 10-year Treasury above the 2.8% mark. I don't believe either of these is likely to happen. The likelihood of near-term fiscal stimulus is low, and inflation has too many headwinds to maintain a pace above 2% for an elongated period.
Even if the 10-year moved up to 2.8%, investors might look at the risk-adjusted trade-off between stocks - at under 6% forward nominal yields - and choose to put their money in safer fixed-yield instruments, pushing Treasuries back down. This is one of the fundamental reasons why I believe Treasuries will remain range-bound rather than selling off in accordance with the standard hypothesis that inflation and real GDP will be higher moving ahead. The reality is that sustaining GDP growth and inflation trends above 2.5% and 2.0%, respectively, is not easy with the low productivity and aging demographics we see in the US.
Moreover, if the Fed is finding that its rate hikes are doing little to boost back-end yields and simply flattening the yield curve, it may need to slow its pace of hikes or turn to an alternative tightening strategy, such as selling or running off higher-duration securities from its balance sheet.
For these reasons, I believe the "Short Treasuries" trade continues to be the most overrated trade currently popular among investors.
Disclosure: I am/we are long IEF.
I wrote this article myself, and it expresses my own opinions. I am not receiving compensation for it (other than from Seeking Alpha). I have no business relationship with any company whose stock is mentioned in this article.
Additional disclosure: Short HYG.