Welcome to the fourth edition of:
Focus on Europe
(vol. 4 - April 10, 2017)
As always, I will highlight one interesting fact on the European markets and provide a somewhat more in-depth background story on what appears to be a headline story (or should be a headline story) on the European markets. This will be followed by some Euro-focused articles written by other authors that appeared on Seeking Alpha in the previous week and deserve to be highlighted.
And in the final section, you will find a myriad of short updates on several European companies. Keep in mind the European investment universe is huge, and not all updates and companies will be covered in the news releases section.
Did you miss the previous editions of 'Focus on Europe'? You can re-read them here, here and here.
Did you miss the previous editions of the Nest Egg Portfolio? Re-read them here and here.
What's up in Europe this week?
In a previous edition of 'Focus on Europe', I zoomed in on the elevated level of M&A activity in Europe. This renewed interest was kicked off with the failed attempt of Kraft Heinz (NASDAQ:KHC) trying to acquire Unilever (NYSE:UL) (NYSE:UN), but smaller deals have also been announced. The Wood Group (OTCPK:WDGJF) wants to purchase Amec Foster Wheeler (NYSE:AMFW), whilst other companies are also in the process of buying another company.
One authority is central in this process. Although the EU regulators might be seen as a 'softer' counterparty than the American colleagues, it's very clear the European anti-trust bodies are also very cautious before approving any mergers.
Recently, the giga-merger between Dow Chemical (DOW) and DuPont (DD) was approved after a very long deliberation process. Both companies are required to sell assets to satisfy the regulator, so the EU definitely doesn't approve anything without any in-depth consideration. In fact, the decision document contained over 1,000 pages to motivate the outcome of the deliberation process.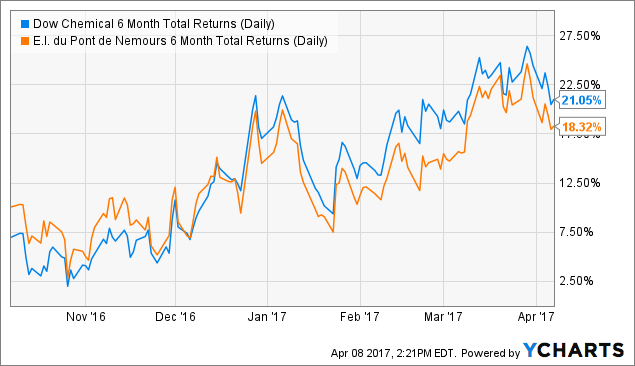 DOW 6 Month Total Returns (Daily) data by YCharts
Now the anti-trust concerns have been addressed, it will be really interesting to see who will acquire the assets. which need to be sold (as this by itself could spark more M&A frenzy in the coming weeks and months).
That being said, it looks like it was 'decision month' at the EU, as another huge deal was approved. ChemChina has now been cleared by the EU to acquire Syngenta (NYSE:SYT) one day after the US already gave the green light. One mega-merger is still under review, as Bayer (OTCPK:BAYZF) still hasn't received the approval to complete the Monsanto (NYSE:MON) deal. Bayer is confident the transaction will be approved, but just like the Dow-DuPont deal, it might have to sell a substantial part of its assets.
Of course, not every deal on the anti-trust committee table is huge. Danone (OTCQX:DANOY) is acquiring Whitewave Foods (NYSE:WWAV), and this deal should be cleared really soon.
A bunch of smaller deals will be up for approval in the second half of the year. The previously mentioned Amec Foster Wheeler-Wood Group deal makes a LOT of sense from a business perspective. The combined entity will have a market capitalization of 5.4B GBP, but generate at least 150M GBP per year in synergy advantages (almost 3% of the combined market caps!). But it's not unlikely the groups will have to shed some assets as well, to avoid a dominance in the North Sea. But we would expect the deal to be cleared, just like the Akorn (NASDAQ:AKRX) and Fresenius (OTCQX:FSNUY) merger rumor.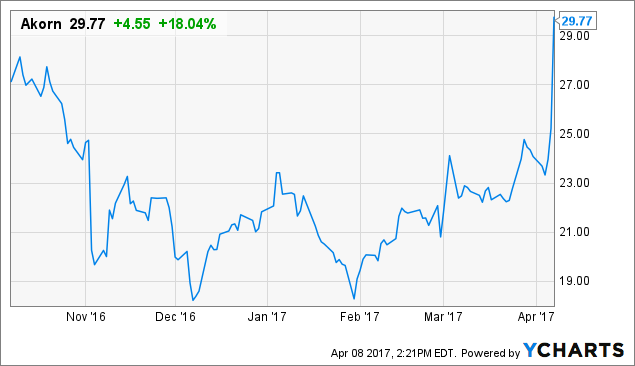 As both companies don't have a lot of overlap, this could really be one of the better acquisitions of the year - assuming Fresenius won't 'overpay' for Akorn. Fresenius doesn't have a dominant position in the medicines industry, and the Akorn acquisition could indeed strengthen its position, but wouldn't set off any alarm bells.
Sometimes deals fall through when an anti-trust authority argues that even asset sales could not satisfy the requirements. Belgian Resilux (no US ticker) saw its share price fall by 20% after private equity group Bain Capital walked away after a negative ruling by the German watchdog.
Interesting reads from last week's Seeking Alpha harvest
- Renaissance Research had a closer look at Lloyds Banking Group (NYSE:LYG), and is wondering what's holding the stock back. Lloyds was one of the British banks which had to be saved (together with Barclays (NYSE:BCS) and the Royal Bank of Scotland (NYSE:RBS) as main 'victims'), but is doing much better now. But why isn't the share price moving?
- Franklin Templeton submitted a brief review of how the markets might react to the upcoming elections in France (NYSEARCA:EWQ). For those who haven't really been following the news lately, it might be an excellent read to be brought up to speed!
- Seeking Early Retirement (aren't we all?) had another look at the failed acquisition of Unilever by Kraft Heinz. SER argues the offer, even though it has failed, has benefited Unilever shareholders as the UL-share price is still trading 20% higher than the before the offer was made.
A relatively quiet week in the run-up towards Easter!
In this section of the newsletter, I will provide brief blurbs on updates from the European markets that caught my attention. Of course, not every single news fact will be covered, and I obviously might miss something. Feel free to leave a comment under this article to point out other interesting Euro news!
Great news for Petrofac (OTCPK:POFCF) (OTCPK:POFCY), as the British company was able to secure a $1.3B EPC contract by the Kuwait Oil company. The project, to be built by the Kuwaiti's, will process crude oil and gas from the nearby oilfields, and the facility should be completed by mid-2020. Elsewhere in the oil space, Premier Oil (OTCPK:PMOIF) (OTCPK:PMOIY) continues to work towards reducing its debt, as the company sold its Pakistan operations for almost $66M in cash.
The UK government has sold an additional 700 million shares of Lloyds Banking Group, raising approximately 450M GBP in the process. The government now owns 1.97% of the bank that needed state aid during the Global Financial Crisis. Elsewhere in the UK, Sports Direct (OTCPK:SDIPF) has purchased an additional 2.7% in retailer Debenhams (OTCPK:DBHSY) (OTC:DBHSF). Definitely an interesting development.
Schneider Electric (OTCPK:SBGSF) (OTCPK:SBGSY) is selling Telvent DTN, an agricultural information company, to TBG for $900M. The deal will close in the current quarter, and Schneider will use the proceeds for a 1B EUR share buyback program, to be completed in the next two years. Ahold Delhaize's (OTCQX:AHODF) (OTCQX:ADRNY) share repurchase program is now in full swing, and the company has now repurchased almost 15 million of its own shares, as part of a 1B EUR share buyback program.
The share price of Imagination Technologies (OTCPK:IGNMF) (OTC:IMGTY) completely crashed on Monday, as Apple (NASDAQ:AAPL) gave notice it would stop using the company's graphics technology in its iPhone product. A surprise, as Apple was rumored to have been talking to Imagination to discuss a buyout of the company, in which it already owns an 8% stake.
Great news from Quest for Growth (OTC:QGPLF), as one of the companies its private equity division invested in will be acquired by Astellas Pharma (OTCPK:ALPMY). Quest estimates this transaction will have a positive impact of 8.6M EUR, or 0.57 EUR per share on its NAV. Quest for Growth has put in an amazing performance since I first discussed the company here on Seeking Alpha.
The share price is trading approximately 10% higher, but the company has paid 60% of its share price in dividends in the past 3 years. More M&A news from the UK as Reckitt Benckiser (OTCPK:RBGPF) (OTCPK:RBGLY) is considering to sell its food division to Kraft Heinz in a $3B deal to help it fund the acquisition of Mead Johnson (NYSE:MJN).
A joint venture including Boskalis Westminster (OTCPK:KKWFF) (OTC:RBWNY) has been awarded a 250M EUR port dredging contract in Mumbai, India (BATS:INDA). Boskalis' share in the JV is 50% (125M EUR), and the job should take approximately two years to be completed.
BP (NYSE:BP) has now confirmed it has reached an agreement with Ineos to sell the Forties pipeline in the UK North Sea. Ineos will pay an initial $125M, and will wire an additional $125M over the next seven years. More M&A in the UK, as Canadian SNC Lavalin (OTCPK:SNCAF) is very interested in acquiring WS Atkins (OTC:WATKF) (OTC:WATKY).
Ryanair (NASDAQ:RYAAY) reported its load factors remained stable at 94% (which is a great achievement), and it transported 10% more customers in March. The rolling annual traffic has now increased 120 million passengers per year.
Banco Popular (OTCPK:BPESF) (OTCPK:BPESY), the Spanish bank that needed to attract fresh capital last year, saw its CEO leave. No explanation was given, and this obviously fueled some rumors. BBVA (NYSE:BBVA) and Banco Santander (NYSE:SAN) also lost ground, but I'm not sure this was directly related to the Banco Popular resignation.
Ferrexpo (OTCPK:FEEXF) reports a lower pellet production in the first quarter, as it shut down some lines for basic maintenance. The 9.1% lower production shouldn't be a reason to be concerned, as the higher iron ore price will probably make up for the lower output.
Yara International (OTCPK:YARIY) (OTCPK:YRAIF) has received board approval to repurchase up to 5% of its share capital as long as the price is between 10 and 1,000 NOK (as the current share price is in the mid-300s, this basically is a carte blanche). Yara is also proposing a dividend of 10 NOK, for a yield of almost 3%. Yara is one of the largest fertilizer companies in the world, and is often overlooked by the investment community, which predominantly focuses on the US-based fertilizer companies like CF Industries (NYSE:CF), Agrium (AGU), Potash Corp. (POT) and Mosaic (NYSE:MOS). I might publish a more in-depth review of Yara soon.
Whilst Vienna Insurance (OTCPK:VNRFY) (OTCPK:VIAAY) has placed a 200M EUR bond with a 30-year duration, Subsea 7 (OTCPK:SUBCY) has been repurchasing its convertible bonds through on-market purchases. Subsea has been buying those bonds at 99.4% of the par value.
That's it for this week, and I hope to see you all again next week!
As mentioned before, consider joining European Small-Cap Opportunities to gain exclusive access to actionable research on appealing European-focused investment opportunities, and to the real-time chat function to discuss ideas with similar-minded investors!
Disclosure: I am/we are long CF, LYG, POFCF, SAN, YRAIF, AHODF, AMFW.
I wrote this article myself, and it expresses my own opinions. I am not receiving compensation for it (other than from Seeking Alpha). I have no business relationship with any company whose stock is mentioned in this article.
Editor's Note: This article covers one or more stocks trading at less than $1 per share and/or with less than a $100 million market cap. Please be aware of the risks associated with these stocks.