The eighty-third edition of:
Resource Sector Digest
(vol.83 - April 10 , 2017)
an offering that is brought to you by Itinerant and The Investment Doctor.
As always, this edition of our newsletter will:
set the scene;
highlight actionable ideas;
comment on news releases;
and link to relevant articles.
In case you missed out on previous editions of this newsletter, simply click here, here or here to catch up.
Setting The Scene
On all possible fronts, the decision of President Trump to approve a missile launch on a Syrian airbase changes the picture completely. Whereas Trump previously gave the impression he was solely focusing on the domestic (economic) situation, the missile streak confirmed he's determined to show the world the United States is still 'numero uno' when it comes to public safety.
That being said, apart from Raytheon (NYSE:RTN) and Syrian post-war contractors, it's not certain who will emerge as a winner from an armed conflict. Most market spectators are pointing out we're risking to get involved in another 'Cold War', but the lack of any counter-reaction from Russia (NYSEARCA:RSX) (NYSEARCA:RSXJ) probably says a lot. Not a single party will let this conflict escalate.
This might be an extremely perverse remark, but if the risk for a worldwide economic conflict is decreasing, so will the gold price. After all, gold (NYSEARCA:GLD) remains the biggest and most important insurance policy against uncertainty. However, if Russia doesn't react, and the USA tries to control the situation in Syria, the uncertainty will actually decrease rather than increase.
To make matters 'worse' (worse for gold, but better for the world), it looks like there's tremendous domestic support for the missile strike, even from the Democratic party. So not only does it look like the strike won't increase the uncertainty on the world scene, it might actually decrease the risks in the American political system. Anyway, it will take a few months to see if this theory could be even remotely correct, but the correction in the gold price on Friday afternoon wasn't a coincidence, and we wouldn't be surprised to see it dip towards $1200/oz again in the very near future.
Enough about the Syrian situation. Time to pull up some charts!
Let's compare last week's performance of gold and silver (NYSEARCA:SLV) with the major indices like the S&P 500 (NYSEARCA:SPY), the NASDAQ (NASDAQ:QQQ) and the Dow Jones (NYSEARCA:DIA).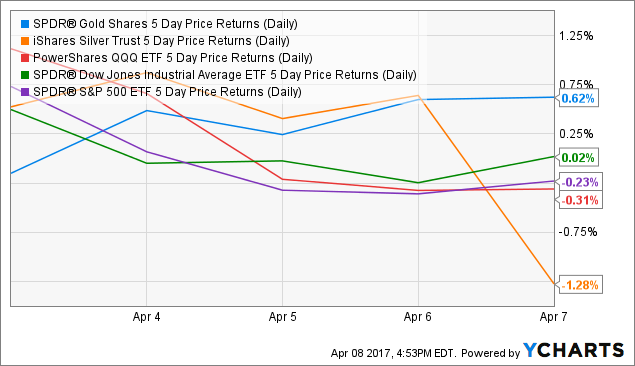 GLD 5 Day Price Returns (Daily) data by YCharts
The oil price (NYSEARCA:USO) (NYSEARCA:OIL) price also performed well, even though we are closing in to the summer. Some might argue this is the start of 'the driving season' and whilst that might be completely true, it also marks the end of 'the heating season'.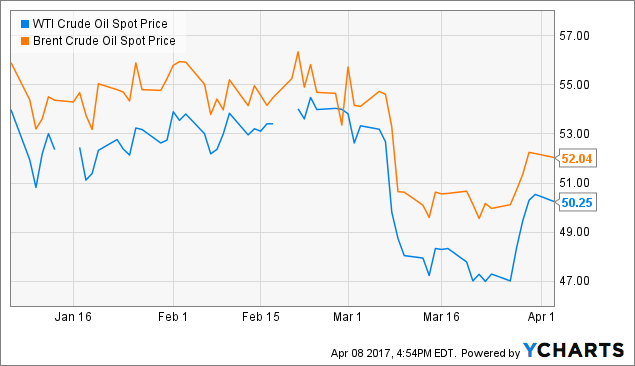 WTI Crude Oil Spot Price data by YCharts
There are a lot of moving parts in the commodity world, but we wouldn't be surprised to see the gold price go south again after a very weak performance on Friday afternoon. Only time will tell.
Actionable Ideas
Some interesting articles were published on Seeking Alpha last week:

· Callum Turcan has a look at Exxon Mobil (NYSE:XOM) and its plans to drill for, and recover oil offshore Canada.

· Meanwhile, Fun Trading is looking at the results of the deal between Transocean (NYSE:RIG) and Statoil (STO). Statoil is engaging the Spitsbergen rig at a rate of just over $180,000 per day.

· Leo Nelissen thinks Freeport McMoRan (NYSE:FCX) is heading towards $20 per share. The reasons for this thesis are explained in his article. Whilst Freeport probably is one of the best-known companies, you should also keep an eye on Southern Copper (NYSE:SCCO), HudBay Minerals (NYSE:HBM) and BHP Billiton (NYSE:BHP) for your copper exposure.
News Releases
Continental Gold (OTCQX:CGOOF) has awarded Merit Consultants and M3 Engineering the construction management and engineering & procurement contracts for its gold project in Colombia. In another corporate update, IAMgold (NYSE:IAG) confirmed it has completed the early redemption of its 6.75 senior notes, due in 2020.
Northern Empire Resources (OTCPK:PSPGF) has released its first resource estimate on the sterling gold mine, which it is acquiring from Imperial Metals (OTCPK:IPMLF). This first resource estimate contains 9.9 million tonnes with an average grade of 2.23 g/t for 709,000 ounces of gold. Endeavour Silver (NYSE:EXK) also released an updated resource estimate on a property. The Terronera project now contains 37 million ounces silver and in excess of 300,000 ounces of gold for a total silver-equivalent resource estimate of almost 60 million ounces. At $18 silver, the after-tax NPV is US$78M, whilst the IRR is just 21%. That's pretty low, but the project is highly levered to the silver price. At $20 silver and $1400 gold, the NPV increases to US$112M whilst the IRR increases to almost 30%.
Banro (NYSEMKT:BAA), the Congolese gold producer, has released its financial results for FY 2016. The company produced almost 200,000 ounces of gold at a cash cost of $761/oz. The all-in sustaining cost came in below $1000/oz.
Atlantic Gold (OTCPK:SPVEF) and Teranga Gold (OTCQX:TGCDF) released drill results with Atlantic reporting on 21 holes on the Fifteen Mile Stream project in Canada, whilst Teranga continues to drill its Sabodala project with a 115 hole program. Both companies seem to be happy with the progress they are making.
Advantage Lithium (OTCQX:AVLIF) and its joint venture partner, Nevada Sunrise (OTCPK:NVSGD) have hit lithium (NYSEARCA:LIT) in two holes at the Clayton Northeast property. Hitting lithium is fine, but TID isn't overly impressed with the average lithium grade (72.5-243 mg/l). But it's a good start. Orocobre (OTCPK:OROCF), a lithium producer in Argentina, has confirmed the acceleration of the VAT repayments. Its 2/3rd owned subsidiary received a US$6.7M cheque from the government, with an additional $1.4M having been approved to be repaid.
Timberline Resources (OTCQB:TLRS) (NYSEMKT:TLR) has made a $1M cash payment to a subsidiary of Gunpoint Exploration (OTC:CJIMF) as an option payment to acquire the Talapoosa gold project in Nevada.
Torchlight Energy (NASDAQ:TRCH) has signed a drilling and development unit agreement on the Orogrande Basin project, covering the 133,000 net acres leased from University Lands. Elsewhere in the energy sector, Pengrowth Energy (PGH) has prepaid $300M of the $300M of 6.35% senior notes which are maturing in July this year anyway. Pengrowth is still trying to reduce its net debt, and expects to generate an additional US$200M+ in the current quarter when the Bernadet and Swan Hills projects will be sold.
Golden Star Resources (NYSEMKT:GSS) has commenced the development of the first stope at the Prestea underground zone, whilst it has started mining the high grade B-shoot at the Wassa underground mine in Ghana. Kootenay Silver (OTC:KOOYF) also released an update, and confirmed it continued to find more silver-heavy drill intervals at the La Negra zone, a part of the Promontorio property. As a reminder, Pan American Silver (NASDAQ:PAAS) is completing an earn-in agreement to acquire a majority stake in Promontorio.
Sandstorm Gold (NYSEMKT:SAND) has sold in excess of 15,000 ounces of gold-equivalent in the first quarter of this year, which is a new company record. The cash flow result will very likely also be quite strong, and that's why Sandstorm has renewed its Normal Course Issuer Bid. Sandstorm is allowed to repurchase up to 5% of its share count.
Zinc companies Arizona Mining (TICKER) and Tinka Resources (OTCPK:TKRFF) also published updates. Arizona Mining reported an updated NPV of $1.26B and an after-tax IRR of 42% at its Taylor project in Arizona. The NPV and IRR are based on a zinc price of $1.10/lbs and a lead price of $1/lbs. Tinka, on the other hand, has published drill results from its 10,000 meter drill program at the Ayawilca zinc project in Peru. Two holes have been reported on, and both holes confirmed zinc mineralization outside of the current zinc resource.
More drill results were released by Paramount Gold Nevada (NYSEMKT:PZG) which confirmed the continuity of the mineralization of the Grassy Mountain project in Oregon. The ongoing 29 hole drill program will provide the company with more data for its pre-feasibility study wherein an underground mining scenario will be discussed.
Trilogy Metals (NYSEMKT:TMQ) has released its Q1 financial results and even though this has no meaning or purpose at all (considering the company has no revenues), investors will be happy to know the company still has a working capital position of in excess of $12M, with more than $6M in cash. Timmins Gold (TGD) has also reported on its progress in Q1 FY 2017, and the company produced in excess of 26,000 ounces of gold, as the San Francisco mine is producing ore from all three operating pits.
Elsewhere in Mexico, Almaden Minerals (NYSEMKT:AAU) released the results of its PFS on the Ixtaca project. With an after-tax NPV5% of $310M and an AISC of $862 per gold-equivalent ounce, the company should be pretty pleased. Even at $1150 gold and $15 silver, the post-tax IRR remains high at 28%. A result Serengeti Resources (OTC:SGRNF) can only dream of.
Fortuna Silver Mines (NYSE:FSM) is still delaying the filing of its financial statements for 2015 and 2016 as it's trying to resolve a dispute with the Securities and Exchange Commission.
Spartan Energy (OTCPK:PTORF) has been very active in the first quarter of the year, and it looks like the company might be ahead of schedule (as the March production rate was 500 barrels per day higher than anticipated). The Investment Doctor still is a huge fan of Spartan, and tries to buy more stock on every dip. This company is led by a management team which knows what it's doing. Another one of TID's favorites, Parex Resources (OTCPK:PARXF) reported really good well results with new wells producing almost 2,000 boe/day. This should enable the company to meet its production growth targets. In Q1, the total production rate already increased by approximately 5%, and the Q2 production rate should increase by an additional 5% to 34,000 boe/day.
Atacama Pacific (OTCPK:ACPGF) has received a $1.8M cash payment from Gold Fields (NYSE:GFI), related to the sale of water assets in Northern Chile. Atacama will receive 60,000 per litre/second of water.
Barrick Gold (ABX) is really reinventing itself, and has now sold 50% of its Veladero gold mine in Argentina to Shandong, a Chinese gold mining company. Both companies will also explore the joint development of the Pascua-Lama project, where Silver Wheaton (SLW) owns a streaming right on.
Cenovus Energy (NYSE:CVE) has already closed its C$3B bought deal which is another milestone to complete the deal where it's purchasing ConocoPhillips (NYSE:COP) Western Canadian assets in a $17.7B deal. This could really change the future for Cenovus Energy, but the company's net debt position will increase by C$8.6B.
Platinum Group Metals (NYSEMKT:PLG) provided a production update on its Maseve mine in South Africa, and confirmed the production of less than 2,500 ounces of 4E in concentrate. The production levels were disappointing in January and February, but March was already much better as it produced twice as much 4E ounces.
Great Panther Silver (NYSEMKT:GPL) said CEO Bob Archer will step down later this year. A replacement is currently being searched, so it will be interesting to see who'll replace Bob at the helm of the company.
Uranium Resources (URRE) has provided an update on its lithium-focused activities after its independent consultant confirmed the depth of the Columbus Salt Marsh basin is deeper than expected. URRE is now aiming to drill some holes in the third quarter of this year.
Kirkland Lake Gold (KLGDF) (KGILF) is taking a large stake in Metanor Resources (OTCPK:MEAOF) to increase its footprint in the Abitibi gold belt. This deal makes a lot of sense, as TID feels Kirkland Lake will be able to bring the necessary technical know-how to assist the current exploration team. Another Canadian mid-tier producer, Tahoe Resources (NYSE:TAHO) has confirmed yet another monthly dividend.
Rio Tinto (NYSE:RIO) is facing an additional tax bill of almost half a billion (!) Australian dollars due to a pricing dispute. Not only will Rio Tinto have to negotiate itself a way out of it, but Harmony Gold (NYSE:HMY) also has to deal with its own issues as there seems to be an on/off on/off strike mentality at its Kusasalethu mine.
Barkerville Gold Mines (OTCPK:BGMZF) reported an updated resource estimate at the Cariboo Gold project. The Bonanza Ledge and BC Vein now host a combined 180,000 ounces of gold, at an average grade of approximately 7g/t.
Marlin Gold (OTCQX:MLNGD) really shows how important grade is when you're mining a gold deposit. The company reported it shipped almost 19,000 ounces of gold in the first quarter of this year, at a total cost per shipped ounce of less than $500. This will help the company to reduce the debt position on its balance sheet really fast.
Itinerant's Musings, with exclusive access to our small and mid-cap ideas with high growth potential and regular commentary and outlook on metal prices. He'd love to have you on board and it's fun. I promise.
Disclosure: I am/we are long RTN, KOOYF, PARXF, PTORF, MEAOF, OROCF. I wrote this article myself, and it expresses my own opinions. I am not receiving compensation for it (other than from Seeking Alpha). I have no business relationship with any company whose stock is mentioned in this article.
Editor's Note: This article covers one or more microcap stocks. Please be aware of the risks associated with these stocks.