Introduction
Over the last 3 years, Ford (NYSE: F) hit an intra-day high of $18.08 but today sits at a low of $11.23 as of Friday's close. That is a drop in share price of 38%. Likewise, General Motors (NYSE: GM) in that same time frame hit a high of $38.93 but has languished since then and today sits at a price of $33.71. Not nearly as bad as Ford's stock performance, GM dropped 13.4% since hitting its 3-year high. Of late, I've seen a number of Seeking Alpha articles recommending Ford, GM or both based on their having fallen in valuation, thus presenting a good entry point for investors. This article delves into the macro trends that affect vehicle sales and profitability for both companies and presents the rationale for holding off on new investments in both Ford and GM. There will very likely be better entry points over the next couple of years for both GM and Ford.
Background For This Article
I'm a bit of a car nut and have been since I was about 14 years old. The car I drove with my learner's permit was a white 1968 Camaro with a 327. It was my mother's car and I know for certain I gave her a few premature grey hairs while riding with me in that car. The first car I owned was a yellow 1968 Firebird with a 326 under the hood which I promptly painted candy apple red. I've owned a number of other memorable cars and blew up a couple at the drag strip. The last sports car I owned was a 2006 Porsche Cayman S in speed (ticket me) yellow. I bring this up because my recent search for a good used late model Cayman S is what initiated the research for this article. I'll explain how I got from shopping for a Porsche to writing an investment thesis on Ford and GM.
In looking for a Porsche Cayman, I was surprised to find a large number of 2014 and newer used examples with low mileage on dealers' lots. In my research, I ran across several articles about the increased use of leases starting in 2013 because the prices for new models have risen to the point where many people are unable to purchase using a more typical financing arrangement. I found that the 2014 and newer Caymans I found were off-lease vehicles. Three (3) years is the most popular term for new car leases. I found that leasing is now a very popular option for a significant share of the current new vehicle sales, particularly so for vehicles priced north of $35,000. My initial research on the Porsche Cayman expanded out into the larger automobile sales market since I'm also always on the lookout for potential investments. Let's have a look at what is driving the automobile markets today.
New Car Prices Continue to Rise
Most people will look at the title for this section and think "Well Duh! of course, prices continue to rise." We have a low but positive inflation rate and vehicles just keep getting better with more features and higher quality. In 2016, the average price of new car rose to $31,074. I often change the oil in my vehicle myself but this month I had a free oil change coupon from the Kia dealer so I took my wife's Kia Sorento to the dealer for its oil change. While waiting on the Sorento, I spent some time looking at the newest offerings from Kia. I was really surprised by the prices on new Kias. The dealer had a 2017 Sportage LX on the lot with some extra options with a sticker of $36,000 on it. Granted, it had some additional dealer doo-dads and paint/interior protection that the dealer thought was worth an extra $2235 on top of the MSRP but even $33,765 is a lot to pay for an entry level compact SUV. Why is this significant? The continuing rise in vehicle prices is driving behavior that is detrimental to future auto sales. People are having to stretch more in order to acquire a new vehicle. That stretch is taking the form of longer financing terms, roll-over financing, and a higher reliance on leasing versus purchasing.
Loan durations on cars and light trucks used to be limited to 5 years by most lending institutions and the most common term for an auto loan was 4 years. Around 2012, lending institutions started offering longer term loans. As of November 2016, the average term had reached 68.3 months with some lenders offering loan terms as long as 8 years. In fact, roughly 28% of all new vehicle loans issued in 2016 were for a term between 73 and 84 months. The chart below shows the increase in average loan durations and the rise in the average monthly payment on those loans.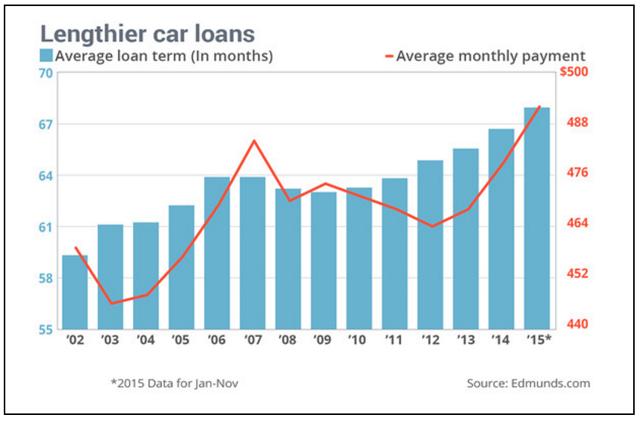 Stretching out loan durations has resulted in more loans being upside down when the vehicle owner trades in his current set of wheels for a new set. Because the heaviest depreciation on new cars happens during the first 3-4 years of ownership, if the financing was done without a large down payment, the owner will find that the value of his trade-in is below the remaining loan balance. Sometimes, it is thousands lower than the value of the trade-in vehicle. The chart below shows the growth in loans underwater at trade-in.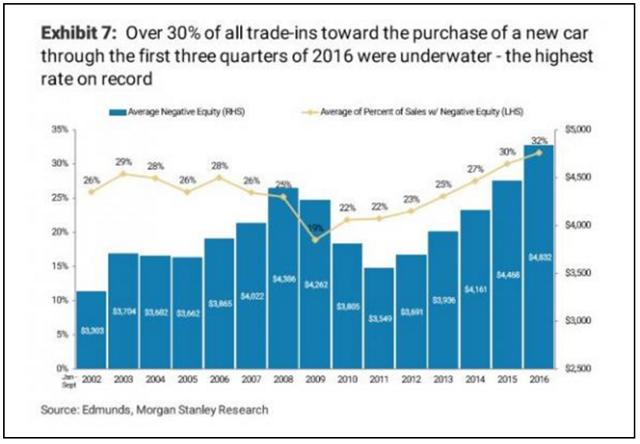 To "help" owners in this situation afford the new set of wheels, some financing institutions have started to offer a roll-over loan on new vehicles. The concept is that the negative equity on the vehicle traded in is rolled into the loan amount on the new vehicle. The result is that the owner of the new vehicle is upside down on their new vehicle loan even before the new car is driven off the lot. The reality of roll-over vehicle loans is that the negative equity continues to grow with each successive trade-in on a new vehicle. Clearly, this arrangement cannot perpetuate and it increases the likelihood that the purchaser simply defaults on the loan after discovering the large negative equity that has built up.
The third negative consequence of heady new vehicle costs is the increased use of leasing rather than purchasing new vehicles. With a purchase, you at least retain some equity when the loan is finally paid off. With a lease, you are simply renting the vehicle for an extended period and it will be turned back to the dealer at the end of the lease period, most commonly after 3-4 years. According to Edmunds, the number of vehicles leased in 2016 hit an all-time high of 4.3 million, representing an all-time high of 31% of all vehicle sales. This is almost double the share of leased vehicles 5 years ago. The growth off-lease accelerated sharply starting 2012 and continues to grow.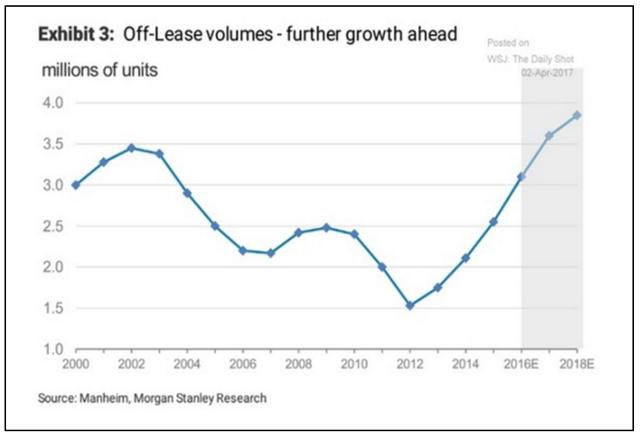 The increased volume of late model used cars on the market as a result of growing numbers of off-lease vehicles is beginning to depress used car prices. Because vehicle leasing continues to increase in popularity, we can expect to see continued pressure on used car prices for the foreseeable future.
Conclusion
We saw last month, in March, the impact to the automobile manufacturer stocks when Ally Financial (NYSE: ALLY) announced that falling used car prices would have a negative impact on its 2017 earnings. Automobile manufacturer stocks took a drubbing worse than Ally. The rationale for falling used car prices was the large number of off-lease vehicles beginning to hit the used car market. I view this as the tip of the iceberg with respect to off-lease volumes hitting the market. This trend is expected to continue for the next few years and it will continue to put a damper on new vehicle sales.
When the negative impacts from longer financing terms and many owners' negative equity are also factored in, the headwinds working against future new vehicle sales appear to me to be significant.
I'm not invested in either Ford or GM at this time but I have held positions in both companies in the past and I may initiate positions again in the future. However, with the building headwinds against new vehicle sales, I'll wait for an improvement in the new vehicle market before committing any funds to either company's stock. It does not appear to me that now is the time for investing new money in either company.
Disclaimer: This article is intended to provide my opinion to interested readers and to serve as a vehicle to generate informed discussion in the comment posting. I have no knowledge of individual investor circumstances, goals, portfolio concentration or diversification. Readers are strongly encouraged to complete their own due diligence on any stock, bond, fund or other investment mentioned in this article before making their own investments.
Disclosure: I/we have no positions in any stocks mentioned, and no plans to initiate any positions within the next 72 hours.
I wrote this article myself, and it expresses my own opinions. I am not receiving compensation for it (other than from Seeking Alpha). I have no business relationship with any company whose stock is mentioned in this article.