By Parke Shall
Mallinckrodt (NYSE:MNK) has certainly seen its fair share of criticism over the last six months or so. We are starting to feel as though the company is getting a little bit of the criticism that it deserved during the entire drug price outrage that has been taking place since October 2015. Amazingly, during the height of the outrage on drug pricing, companies like Valeant (NYSE:VRX) and Mylan (NASDAQ:MYL) became the targets while MNK, who some argue to be one of the most egregious offenders, slipped by without notice.
That has been starting to change of late, with exposés on the company written in both the New York Times and in Business Insider over the last few months. In addition, news was announced late last week that the company was actually being sued by an individual city in Illinois, seeking class status, for the monopolization they have on their drug Acthar. This suit claimed that Acthar was being sold now for over $54,000 per vial, a price that is significantly higher than last we checked. This chart, included in a great Business Insider write up by Linette Lopez on Friday, tells the story of how egregious its price hikes have been. Keep in mind that we have added a notation of where prices are reported to be now.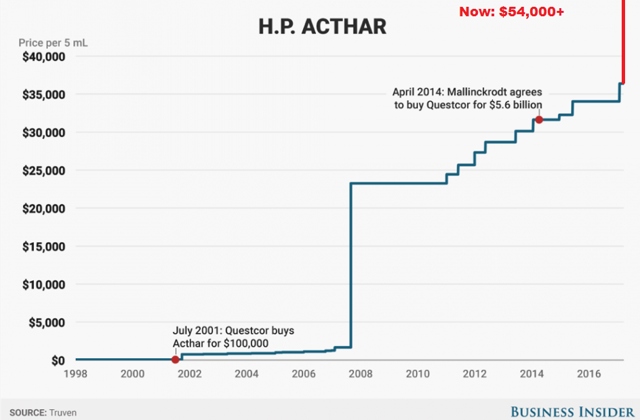 The main gist of the lawsuit is the following, according to Business Insider:
In 2015 the town paid almost $500,000 for just nine prescriptions of the drug to treat two children, according to the complaint. The gross, per-vial cost of the medication was $54,339.76.

"By engaging in the antitrust conduct and other unlawful conduct described herein, the Defendants have been knowingly enriched by the amount charged for Acthar over and above what they could have charged in a competitive market, and what was charged previously before the unlawful conduct was undertaken," the complaint said.

"By establishing and maintain a monopoly, exercising monopoly power, and engaging in other unlawful acts and practices, the Defendants were able to extract exorbitant revenue from consumers that had nowhere else to turn for treatment."

The city is accusing Mallinckrodt of violating antitrust laws and the Illinois Consumer Fraud and Deceptive Practices Act. The lawsuit also names United BioSource (NYSEARCA:UBC), a subsidiary of the nation's largest pharmacy benefit manager, Express Scripts as a defendant. It alleges that UBC and another Express Scripts subsidiary, CuraScripts, colluded with Mallinckrodt to maintain its monopoly.
You may notice that the suit also names ExpressScripts (NASDAQ:ESRX) as co-defendants. Scrutiny over whether or not PBMs like ESRX have "colluded" to help Acthar keep its price points has increased.
This is a somewhat interesting twist to the tale as many people assumed that most Acthar scrutiny had already come and gone with the company recently settling monopolization charges with the FTC.
As a condition of the settlement, the company had to pay a fine and had to dish out rights to a synthetic version of Acthar to be developed by another US company. As we said after the settlement, it was pretty much a win for the company because it will take a while for the synthetic to be developed and approved in the US, and the fine was easily payable by the company.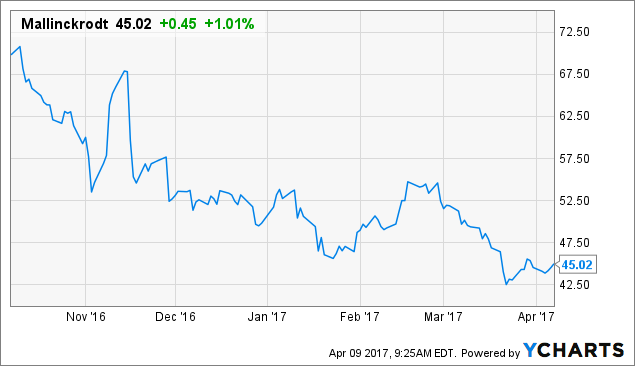 Since then, however, shares have continued to fall dramatically, as the public doubts the company's ability to operate without a strict reliance on both Acthar and its price points in order to stay cash flow positive. If the drug is viewed skeptically or removed from any indications it is being used for, this could severely impact the company. If the company even just has to cap the price, and not reduce the price of the drug, it will have a materially negative impact on the company going forward. While the company has stated numerous times in the past that they seek to create diversification within their product portfolio in order to avoid being a "one trick pony", it just doesn't seem as though the company will be able to do that without making some acquisitions. The company needs all of its cash to service its debt right now and its stock, which is its other currency, is nearing lows and therefore may not be the best choice to issue right now.
The lawsuit is seeking punitive damages and seeking class status, as you can see here: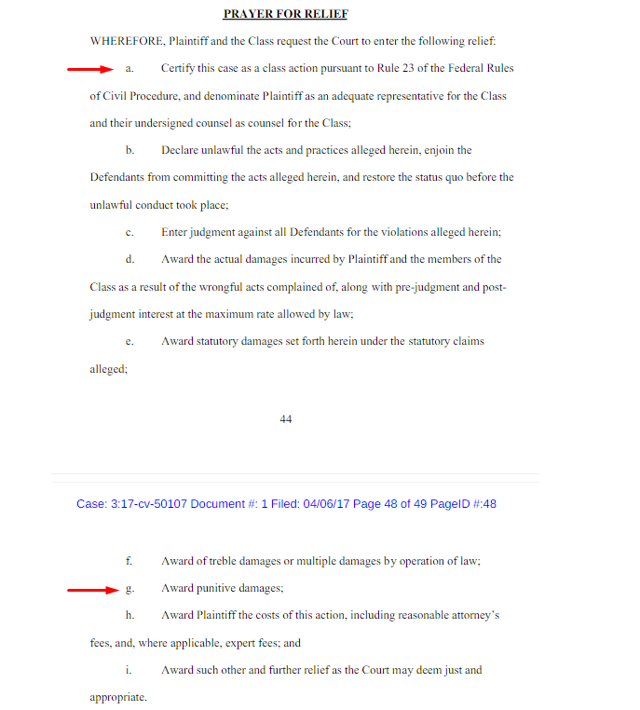 On top of that, it was also reported this week that MNK had dropped out of trade group PhRMA, which has been an advocate for price constraints and an advocate for increasing R&D for companies in the past. MarketWatch reported,
Mallinckrodt PLC resigned from the Pharmaceutical Research and Manufacturers Association on Monday ahead of potential changes to the trade group's bylaws that could exclude companies that don't spend significant funds on researching and developing new drugs, according to a person familiar with the matter.

PhRMA, a Washington-based group that represents many of the largest global drugmakers, will vote on changes to its membership criteria at its next board meeting in early May, the person said. The changes, if approved, would require that members are committed to conducting significant medical and scientific research, though the person didn't say what the specific criteria would be or whether there would be a monetary threshold for R&D spending.
While the company positions this as simply reevaluating its position in one of various trade groups it is in, we look at it as an admission that the company may not be able to uphold the standards that the trade group stands for.
In the past, we have written critically about MNK not just due to the price of their sole cash cow, Acthar, but also because of dwindling questions about efficacy that have loomed around the drug. Lack of rigorous clinical data should give critics an extra reason to be skeptical about this company on top of the fact that they have raised prices so significantly.
With the stock price this low we understand how it could be easy for investors to look at the quantitative metrics and decide that MNK may be a good investment. From a price to earnings perspective, the company may seem very cheap. However, almost all of the company's positive cash comes from one drug, and this drug remains under significant scrutiny and has now become the basis for a lawsuit. In light of this, we think investors should continue to reevaluate their decision to invest in MNK and stay on the sidelines like we have.
Disclosure: I/we have no positions in any stocks mentioned, and no plans to initiate any positions within the next 72 hours.
I wrote this article myself, and it expresses my own opinions. I am not receiving compensation for it (other than from Seeking Alpha). I have no business relationship with any company whose stock is mentioned in this article.