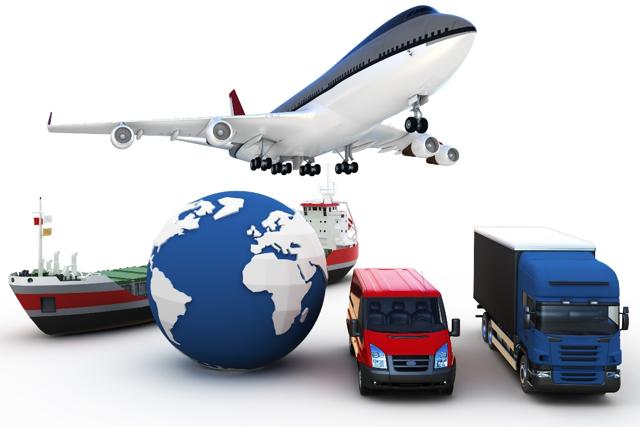 Source: Google Images
As we closed the week on April 7th, markets continued to show a strong deviation from transports. The conflict with Syria and mixed economic indicators have weighed on markets.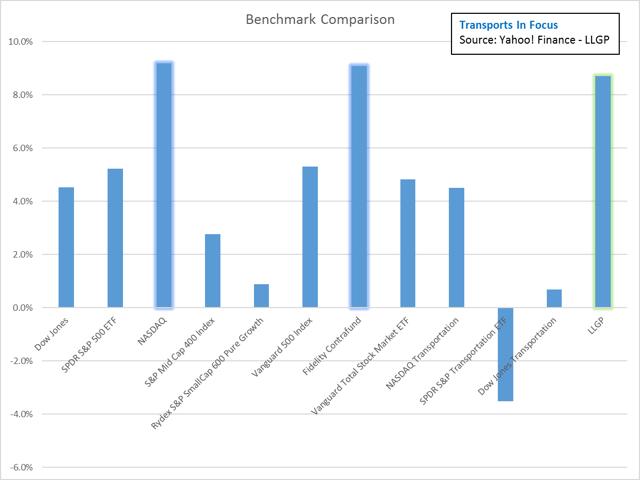 I manage the Lean Long-Term Growth Portfolio (LLGP). To date, performance has declined to 8.7 percent, as highlighted in green. As transport indices remain mostly weaker, the Nasdaq (IXIC) and Fidelity Contrafund (MUTF:FCNTX) remain atop all peers, up 9.2 and 9.1 percent.
The Dow Jones (DJT) SPDR S&P 500 ETF (NYSEARCA:SPY), Vanguard 500 Index (MUTF:VFINX) and the Vanguard Total Stock Market ETF (NYSEARCA:VTI) were all up around four to five percent.
Geopolitical tensions are never very predictable, and always tend to have short-term impacts. Recent examples have included the Brexit vote and President Trump's election. The attack on Syria may not have led to a strong decline, but it did add to the prohibitive increase in stock prices for the week.
YTD 2017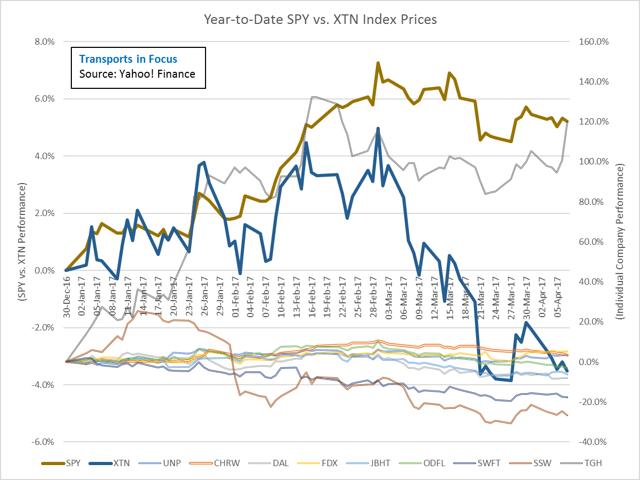 For the thirteenth week of 2017 (first quarter of the year), the spread between the SPY and the S&P Transportation ETF (NYSEARCA:XTN) increased with the SPY up by 8.7 percentage points. The SPY declined by 30-basis points (bps) to 5.2 percent, while the S&P Transportation ETF declined by 140 bps to -3.5 percent for 2017.
Week thirteen was marginally negative for broader indices, with transports underperforming. Transports' performance has been choppy all year, with consistent deviation occurring as of mid-February. Last year, transports were strong and broader markets eventually improved, but never performed in-line. This year, a similar opposite trend may occur.
Rail Operators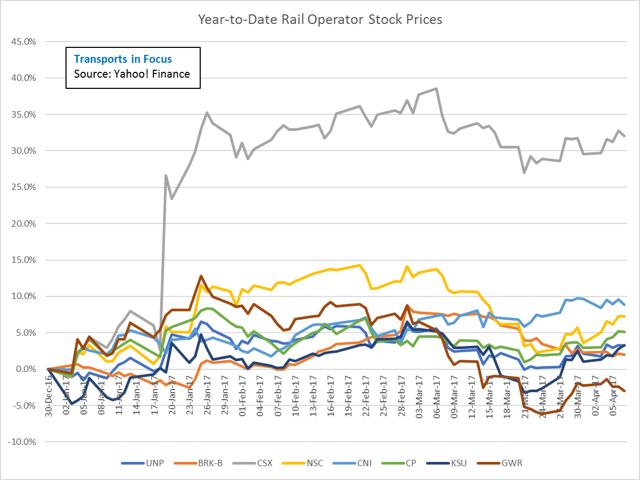 Rail operator performance was mostly positive for the week with exceptions being Canadian National (NYSE:CNI) and Genesee & Wyoming (NYSE:GWR). CSX has been mostly flat since the Hunter Harrison news. The first quarter is setting up well for Class I's to witness strong performance.
Week thirteen of 2017 continued improvement for most Class I's based on total traffic carried. All Class I railroads remained positive for the year, led by Canadian National's nine percent improvement. The return to growth thesis for 2017 remains well intact. My top picks continue to be Canadian National, Union Pacific (NYSE:UNP), Kansas City Southern (NYSE:KSU) and Canadian Pacific (NYSE:CP).
Railcar Manufacturers & Lessors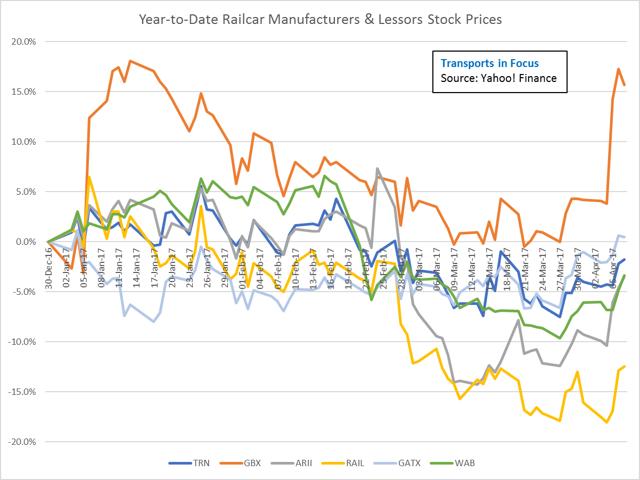 Railcar manufacturers and lessors were up strongly for the week. The Greenbrier Companies (NYSE:GBX) witnessed two strong catalysts, which basically propelled this peer group. Greenbrier witnessed a substantial earnings beat. Additionally, the company witnessed a major exclusive rail car manufacturing and leasing syndication deal with a large Japanese corporation. This is the second time of the year which Greenbrier has exceeded estimates, but the price has remained near a similar peak.
I have exercised patience in consideration for gaining exposure to this group. My focus has been on finding a strong entry point for Greenbrier. The stock price did recently dip to $41 per share; unfortunately, I was looking for a price closer to $40. It would appear that things are turning more positive for this group. I remain focused on Greenbrier.
Truckload Carriers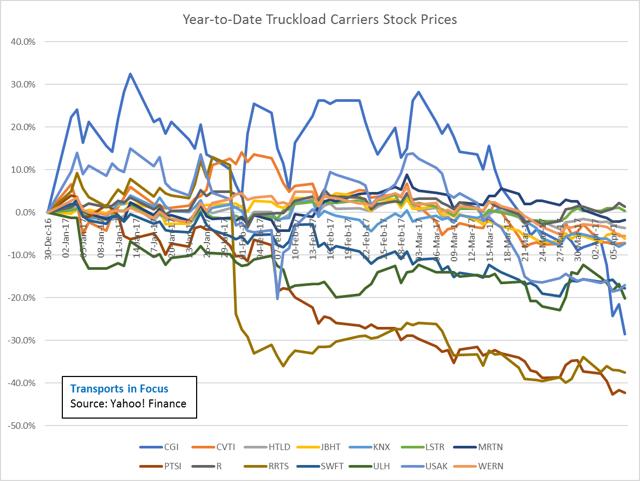 Truckload carriers were down substantially for the week, with some companies being flat. The trucking industry continues to struggle the most out of all other transports. Weaker smaller peers have witnessed some of the poorest performance. The potential for the industry remains bright. This may lead to strong performance by larger peers and some smaller players.
The trucking industry was extremely overvalued once Trump became president. Stock prices have receded, which has been beneficial for investors. Some companies still remain at elevated levels, but overall, prices are at a much better valuation level for investors.
Less-Than-Truckload Carriers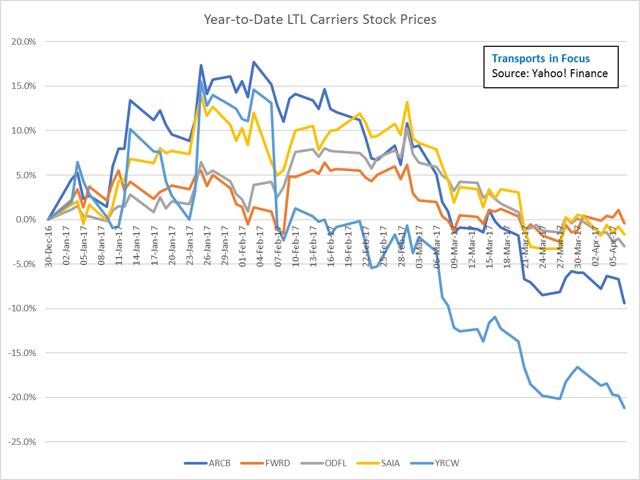 Like truckload peers, less-than-truckload (LTL) carriers were down for the week. The story is the same for LTL carriers. FedEx's (NYSE:FDX) results were very strong from a yield perspective, while volumes were muted. For the first quarter, other peers will likely follow suite.
For long-term investors, the focus should continue to be on Old Dominion Freight Line (NASDAQ:ODFL), Saia (NASDAQ:SAIA) and Forward Air (NASDAQ:FWRD). Traders will be able to take their chances with ArcBest Corporation (NASDAQ:ARCB) and YRC Worldwide (NASDAQ:YRCW).
Air Freight, Package & Delivery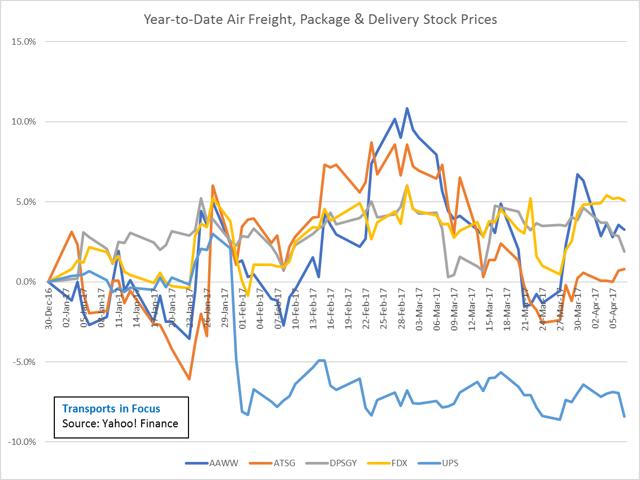 Air freight, package and delivery companies were all down for the week, with FedEx Corporation as the only exception. The upgrade helped FedEx, which is my pick to outperform this peer group for 2017. FedEx did witness an expansion for volume growth in some segments, and yields were very strong across the board.
I continue to view FedEx as a better pick versus United Parcel Service (NYSE:UPS) and Deutsche Post DHL Group (OTCPK:DPSGY). Investors need to keep their eye on FedEx's $1.5 billion in additional operating income by 2020.
Contract Logistics, Forwarding & Brokerage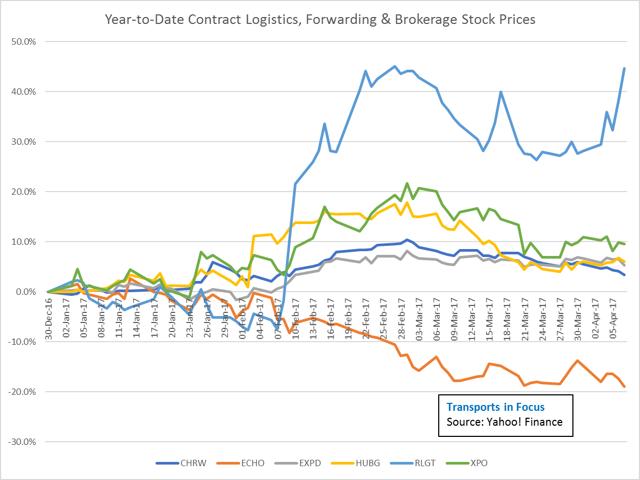 Contract logistics companies were mixed with the majority down, with Hub Group (NASDAQ:HUBG) and Radiant Logistics (NYSEMKT:RLGT) flat and up. Radiant Logistics continues to be propped up by acquisition speculation. Echo Global Logistics (NASDAQ:ECHO) remains depressed from recent earnings performance.
Both Hub Group and XPO Logistics (NYSEMKT:XPO) are positioned to perform well for the year. I expect both to benefit from domestic intermodal services, sustained retail sales, and for XPO, increased last-mile and LTL services.
Container Shipping Lines, Charter Owners & Container Lessors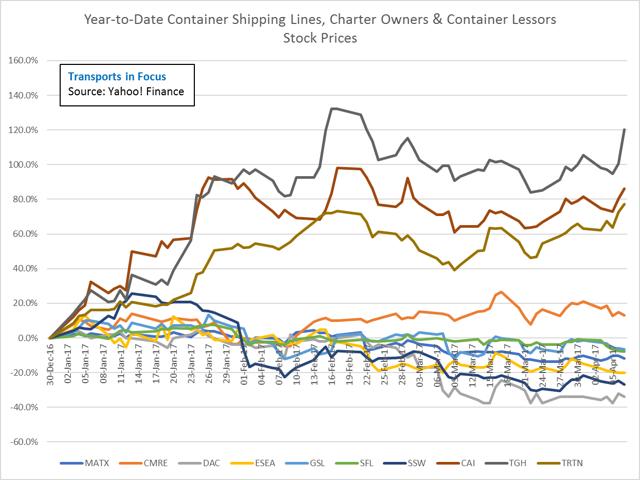 The container shipping industry remains highly volatile; all container shipping companies declined, with the exception being container lessors. There remains a strong deviation for the shipping industry with many companies down, but container lessors continue to be driven higher by an improving rate environment.
A lot will be changing as new vessel sharing alliances impact the industry. In the event freight rates continue to decline, container lessors could see less of a positive benefit than what is expected. The next year will be required to see the full impacts from these new alliances.
Airlines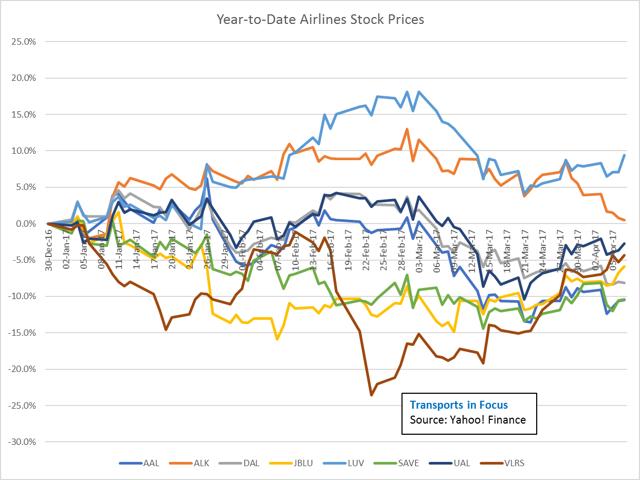 Airline stocks were mixed with the majority being positive for the week. Alaska Air Group (NYSE:ALK) has witnessed a steep decline of late. Controladora Vuela Compania de Aviacion (NYSE:VLRS) has rallied strongly since late-February.
Investors should continue to keep an eye on oil prices; they will go up at some point. Timing of fare hikes, unionized labor and protests at airports remain other challenges.
Demand Trends
Key demand-based indicators that are monitored include Class I rail traffic, trucking industry tonnage, shipments, and loads, air cargo tonnage, container shipping line twenty-foot equivalent units, TEUs, North America seaport TEUs, shipping lane port calls, North America cross-border trade, and freight rates for most of these indicators.
U.S. & Canada Class I Rail Traffic - Carloads & Intermodal Units Carried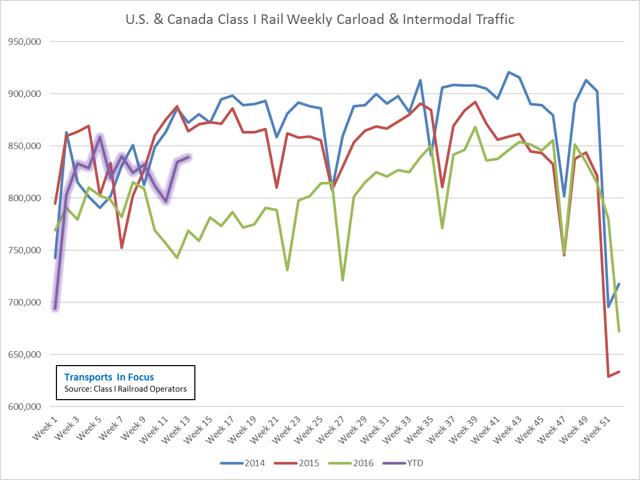 Through the thirteenth week of 2017, total traffic was up 4.1 percent with carload traffic up 5.6 percent, a 30-bps improvement, and intermodal traffic up 2.4 percent, a 50-bps improvement. Week thirteen performance displayed very strong improvement, versus last year.
These numbers continue to be not far off from the total traffic originated results of 4.4 percent for the first twelve weeks of 2017 for North America rail traffic, published by the Association of American Railroads (NYSE:AAR) data. Investors should remember that total traffic carried includes both originated and received carloads and intermodal units. Additionally, U.S. traffic was up 3.5 percent and Canadian traffic was up 8.9 percent, closely tracking the carried rail traffic when combined.
Container traffic was up 2.5 percent, a 50-bps increase. Domestic intermodal pricing for both eastbound and westbound averages has remained flat week-to-week during March. Compared to last year, pricing has remained up 5 and 10 percent as of late March.
Week twelve witnessed weekly coal carload traffic at 100,000 carloads carried. This reflected a 22.6 percent increase versus last year. Coal is expected to be much stronger than in 2016. Grain performance was up 9.2 percent versus last year.
Motor vehicles and equipment carload traffic performance was up 10.8 percent versus last year. Chemicals were down 2.6 percent, petroleum products were down 1.3 percent and crushed stone, gravel and sand remained on a roll, up 34 percent.
Trucking Industry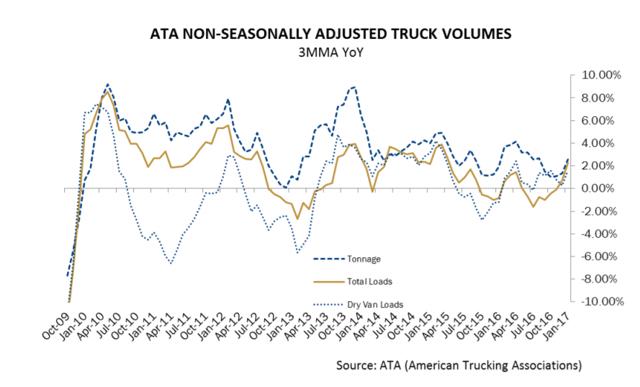 Source: Cass Information Systems, Cass Freight Index
Truck orders for new Class 8 tractors, trailing equipment, and used resale equipment has been strong to start 2017. Additionally, driver turnover rates have been substantially lower, setting a 6-year record level.
The increase in tractor, trailer and used resale equipment activity has been positive. For the first quarter of 2017, freight rates remained soft, demand was tepid and companies generally complained regarding these issues being an extension from 2016's challenges.
Last year, volume indicators were highly mixed for monthly results. This year, more of the same is to be expected. Regulatory impacts may push the second-half of 2017 to more consistent increases for freight pricing. The market will be looking for the dual effect of increasing demand to serve as a catalyst for better performance.
Air Cargo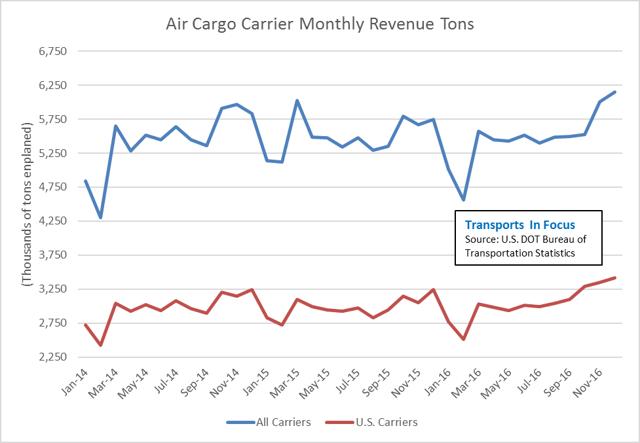 Air cargo demand thus far for 2017 has appeared to be stronger from a volume perspective in emerging markets, more so than the U.S. and some European nations. Despite this, yields have been solid for U.S. air cargo carriers. As yields remain positive, the combination of marginal volume growth sets air freight to outperform gross domestic product (NYSEMKT:GDP).
E-commerce growth is expected to continue to add to increased demand for air cargo. Digital shipments and fulfillment is not attributed as being a major driver for growth; this explains the closer correlation to GDP from companies like FedEx for recent package delivery performance.
Container Shipping Lines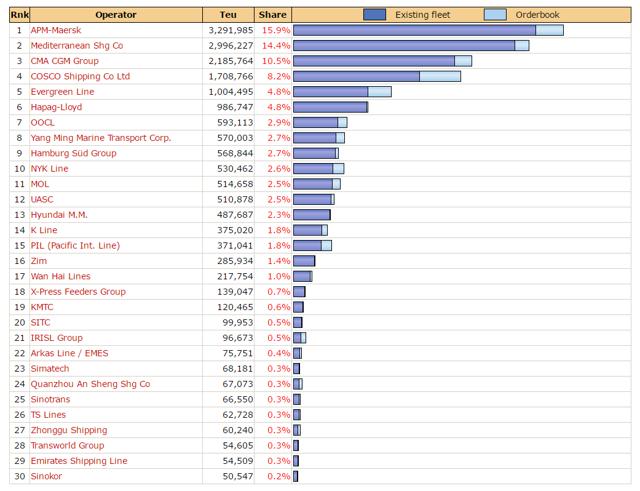 Source: Alphaliner - Top 100 Operated Fleets as Per April 9, 2017
As stated above, it will take a while before we can have strong evidence as to the impacts from the new vessel sharing alliances. Early, pricing has displayed moderate increases for some trade lanes. The key here is that it is still way too early to claim any victories, or doomsday rhetoric.
Average spot market container pricing has continued its decline into the first week of April. YOY performance has remained up substantially. Rates were up from 40 to 90 percent versus last year for eastbound traffic in the Trans-Pacific lane, up around 150 percent for eastbound-westbound traffic in the Asia-Europe lane, and remained moderately negative for the Trans-Atlantic lane.
In the event new vessel sharing alliances do not lead to stronger operating efficiencies and profits, the industry could still see further consolidation. As part of the new alliances, more partnerships, agreements and alliances between major seaports, may also begin to increase.
North America Seaports
As performance was more mixed for North America seaports in February, March becomes an important month to see if growth can be sustained. Indications based upon Class I container traffic suggests that March will indeed be a positive performing month from last year.
The seaports of Virginia and Savannah are currently exploring a joint agreement, which would consider sharing data and equipment resource allocation. This form of agreement is similar to what is in place at the seaports of Los Angeles and Long Beach, but not as joined as the Northwest Seaport Alliance (NSA).
North America Cross-Border Trade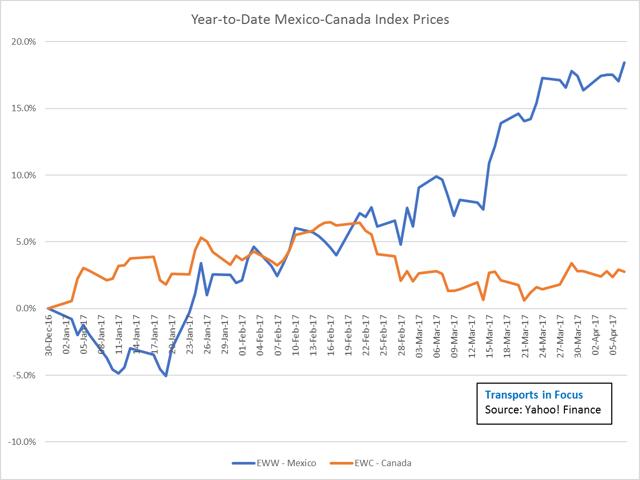 The iShares MSCI Mexico Capped (NYSEARCA:EWW) increased and remained up strongly versus the iShares MSCI Canada ETF (NYSEARCA:EWC). The Mexico index is now up 18.4 percent for the year versus the 2.8 percent result for the Canadian index.
Despite Mexico's economic challenges, recent trade policy rhetoric has revolved around a softer renegotiation stance for the North America Free Trade Agreement (NAFTA). This is much different than the harsher criticism of inequitable trade with Mexico. If NAFTA is renegotiated with less impacts, this would bode well for a variety of transport industries.
Summary
This past week was set to witness solid performance, but three events derailed higher movements. This included the Federal Reserve's cautious statements regarding overvalued equities, the attack on Syria and the mixed reported jobs numbers.
It will be very important to see how 2017 first quarter GDP comes out. A beat versus last year, will be positive, especially if it is strong. Any decline would be viewed as a disappointment, but the market would likely remain in a positive trend with expectations for stronger performance over the coming months.
Disclosure: I am/we are long ALK, CNI, FDX, HUBG, KSU, ODFL, XPO.
I wrote this article myself, and it expresses my own opinions. I am not receiving compensation for it (other than from Seeking Alpha). I have no business relationship with any company whose stock is mentioned in this article.
Editor's Note: This article discusses one or more securities that do not trade on a major U.S. exchange. Please be aware of the risks associated with these stocks.